Let us introduce you to, Yeydi, a graduate of the 90-Day program. Prior to this program, she had tried numerous weight loss plans and while she had some minor success, was never able to keep off the lost weight.
After completing the Ciccone Wellness' Weight Loss program, she has developed a different perspective on food and its purpose, regained her self-confidence both mentally and physically, created a new relationship with food, and reestablished self-control. She controls her food choices; food no longer has control over her.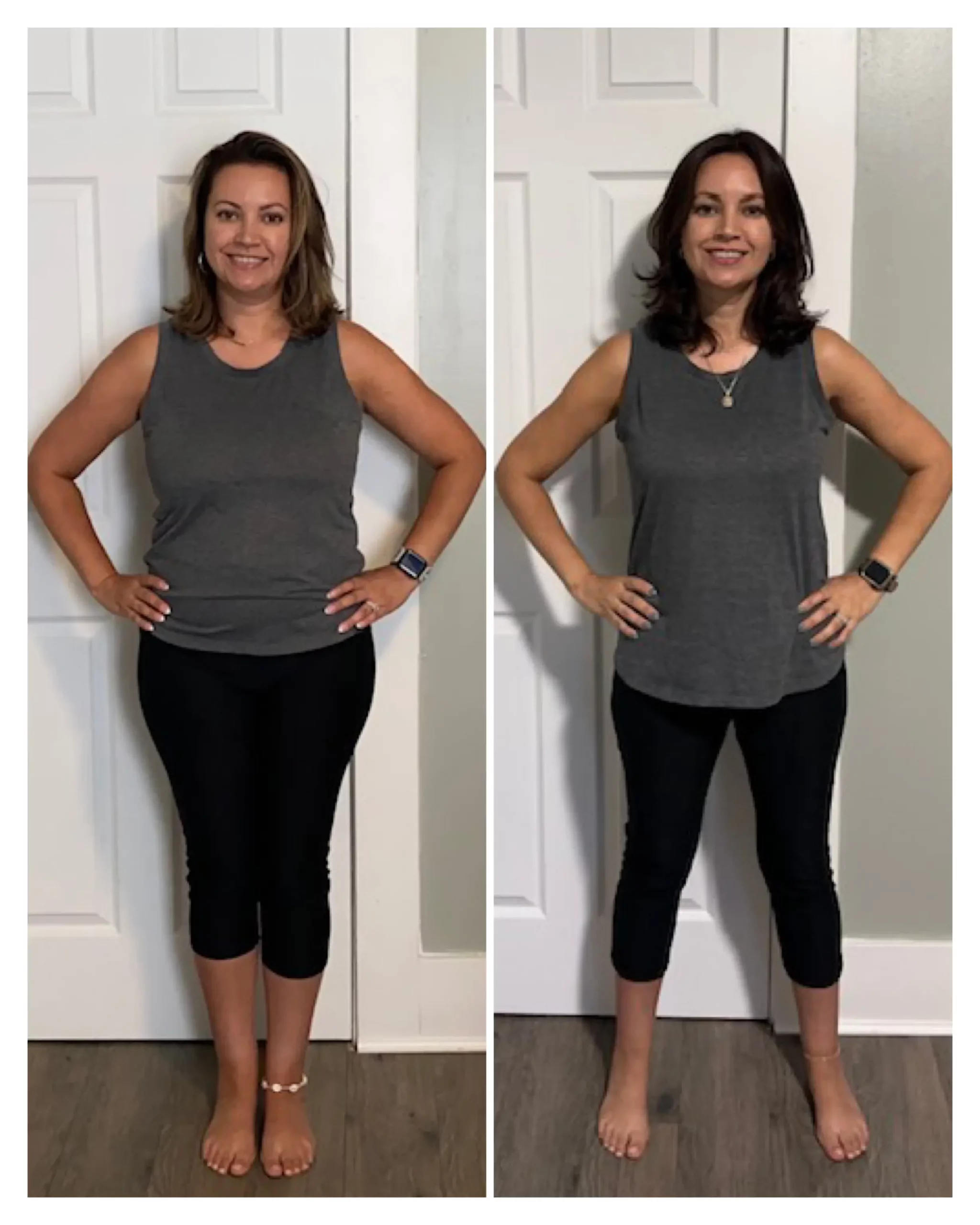 She's glowing and feeling absolutely amazing! She is no longer suffering from heartburn, headaches, neck and back pain, inflammation, dizziness, shortness of breath, and fatigue, and has had ZERO gallbladder flare-ups since starting the program! She experiences lots of clean energy, better sleep, and clear skin.
Audra is your typical lifetime athlete who has always felt the urge to be better, stronger, lighter, and faster—This is a great mentality to have, but it often comes with the feeling that food is the enemy, and the scale is its punishment. But what are you supposed to do when the diet and exercise routines that have always worked for you no longer do, or when spending three hours in the gym is no longer possible?
Try something NEW!
Audra was convinced that this program wasn't going to work because she's tried "everything." After weeks of making small changes, rewiring her mindset, and allowing her body to heal, I'm happy to report that she is exactly where she has always hoped she would be.
What started out as a mission to lose weight has turned into a journey for optimal health. Audra has worked extremely hard to create a healthy relationship with food, exercise, and the scale. I could not be prouder of her physical progress on the 90-day program, but her mental transformation is what will be most memorable!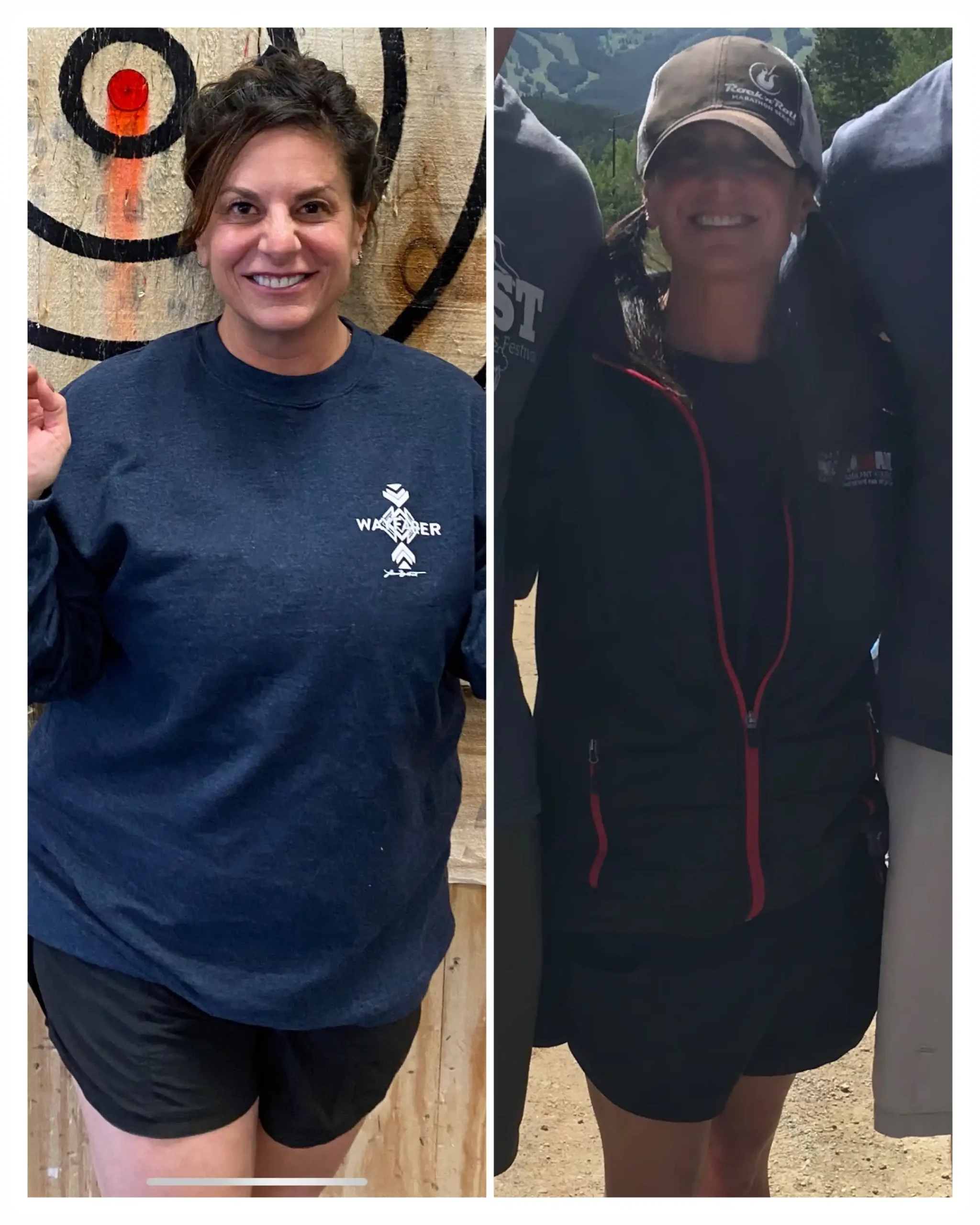 In addition to her size and scale victories, she experiences less anxiety, mood swings, and back/neck pain. She's never going back to her old ways!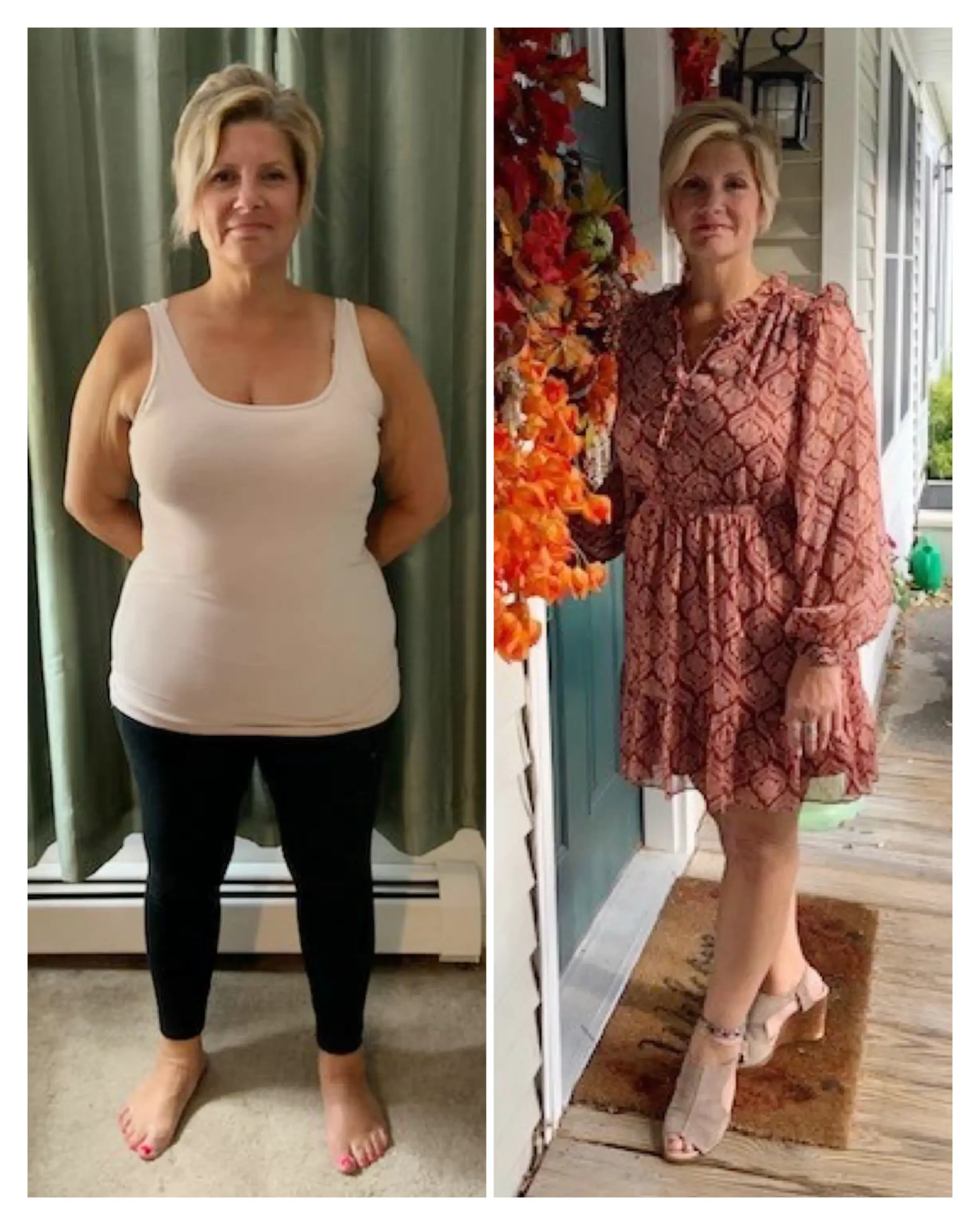 Let me share a few things with you about Patty and her journey. First, she is one of the most passionate people I have ever had the privilege of coaching. It's always fun as a coach when you have a client as dedicated to their plan as you are. From day one she was certain she was going to do everything that was required to heal her body and change the way she was feeling.
Within just a week, Patty experienced a significant improvement in her sleep quality, something she hadn't enjoyed for years. By the second week, her energy levels soared, and she had already shed nearly 10 pounds. Throughout our sessions, our discussions ranged from achieving balance, setting goals, to navigating life's challenges. What stood out was Patty's steadfast resolve; never once did she falter, doubt herself, or undermine our shared objectives.
During our Zoom meetings, I eagerly awaited glimpses of her weekly outfits and rejoiced in hearing about her improved confidence fitting into smaller sizes. Her stories of triumph, such as beating her boyfriend at paddleboarding and engaging in various outdoor activities, were always a delight.
While it's bittersweet when a program concludes, it serves as a poignant reminder of the profound impact we can achieve. Patty exemplifies the reason behind our dedication to this journey.
Here are some remarkable milestones from her transformation:
Remarkably, Patty lost over 30 pounds within a span of 90 days.
Her body fat percentage dropped from 41.3 to an impressive 31.6.
Subcutaneous fat reduced from 36.3 to a remarkable 28.5.
Visceral fat significantly decreased from 14.0 to an impressive 8.0.
I am immensely proud of Patty's relentless dedication and hard work that propelled her to this remarkable point. Without a doubt, I am confident that she will continue to conquer and surpass every goal she sets for herself in the future!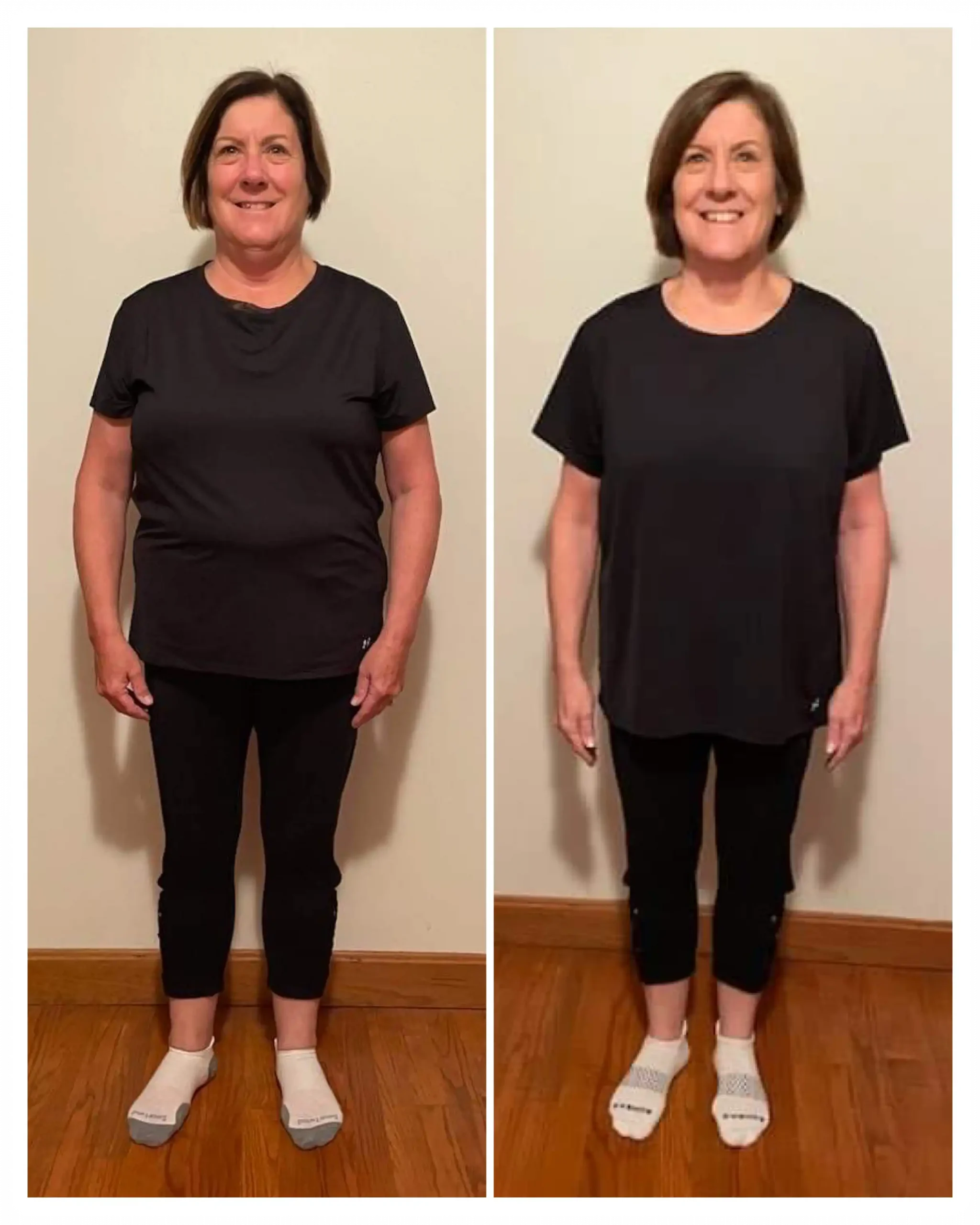 Our long-time patient, Kerry, completed the 90-Day Program and met her goals and more!
She no longer suffers with heartburn, gastrointestinal discomfort, foot pain, fatigue, or inflammation, and her energy level has increased. She has kicked her sugar cravings, and her perspective and relationship with food has completely changed. She is leaving the program in complete control of her food choices and with the knowledge and personalized plan to maintain her results.
Are you inspired? Reach out to us to speak with us about our program and how it can help you achieve the life and health you deserve.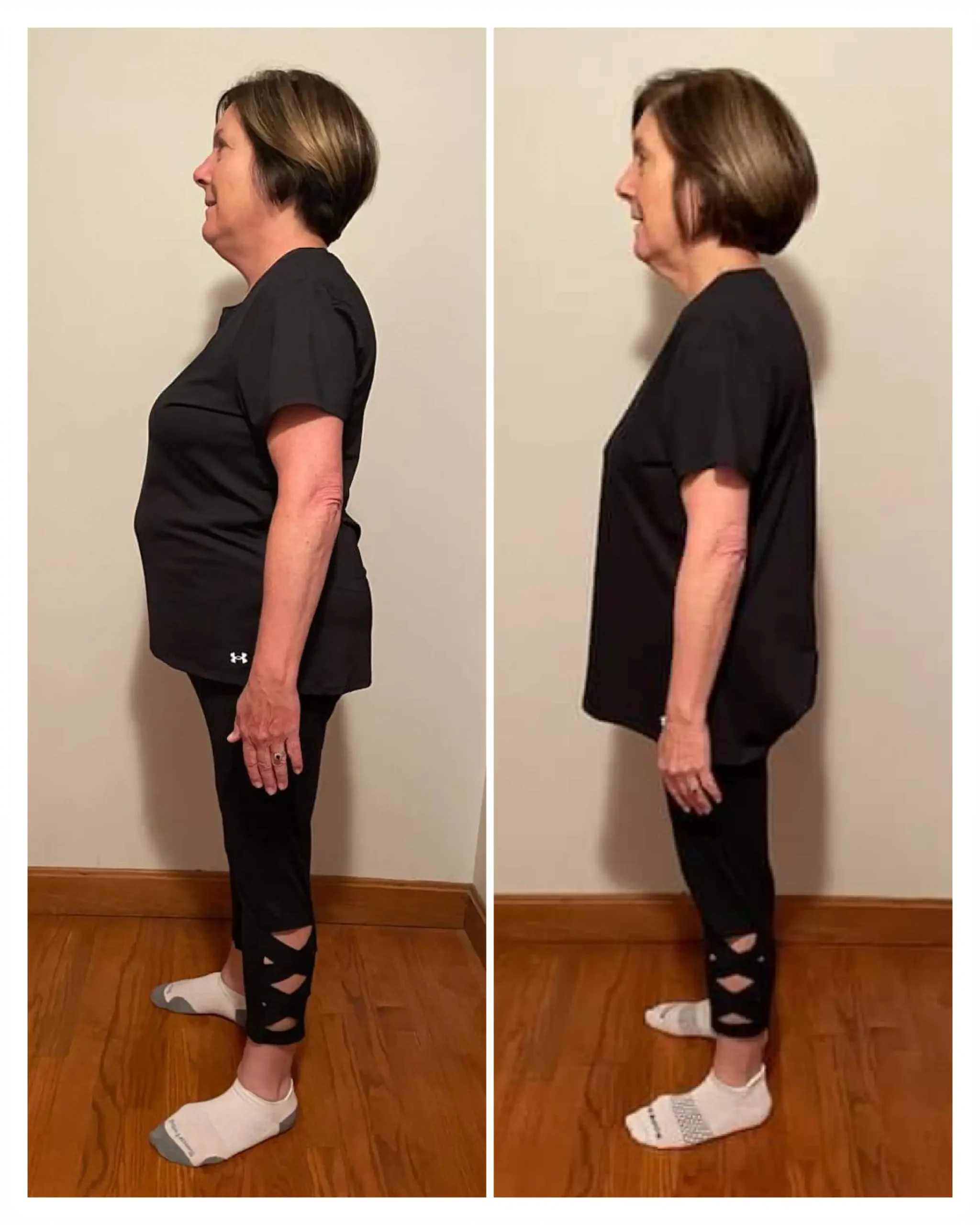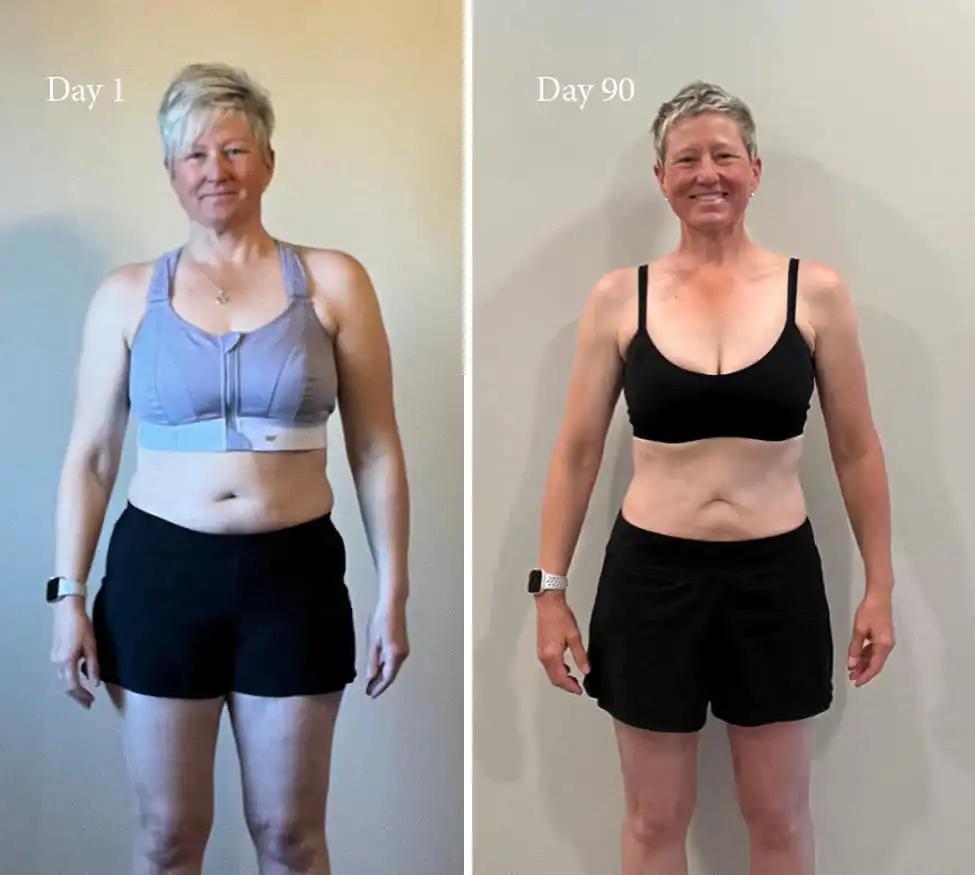 Throughout her journey through our 90-Day Anti-inflammatory weight loss program, Meghan vlogged her progress and shared her experiences with us on Facebook, inspiring countless others along the way. Her dedication and hard work have truly paid off; we couldn't be prouder!
Watch this short video and listen as Meghan's coach, Tieva, explains Meghan's on and off-the-scale victories. Not only has she found relief from pain, improved her sleep, and reduced her headaches, but she has also managed to shed an impressive 22 pounds and a remarkable 40 inches!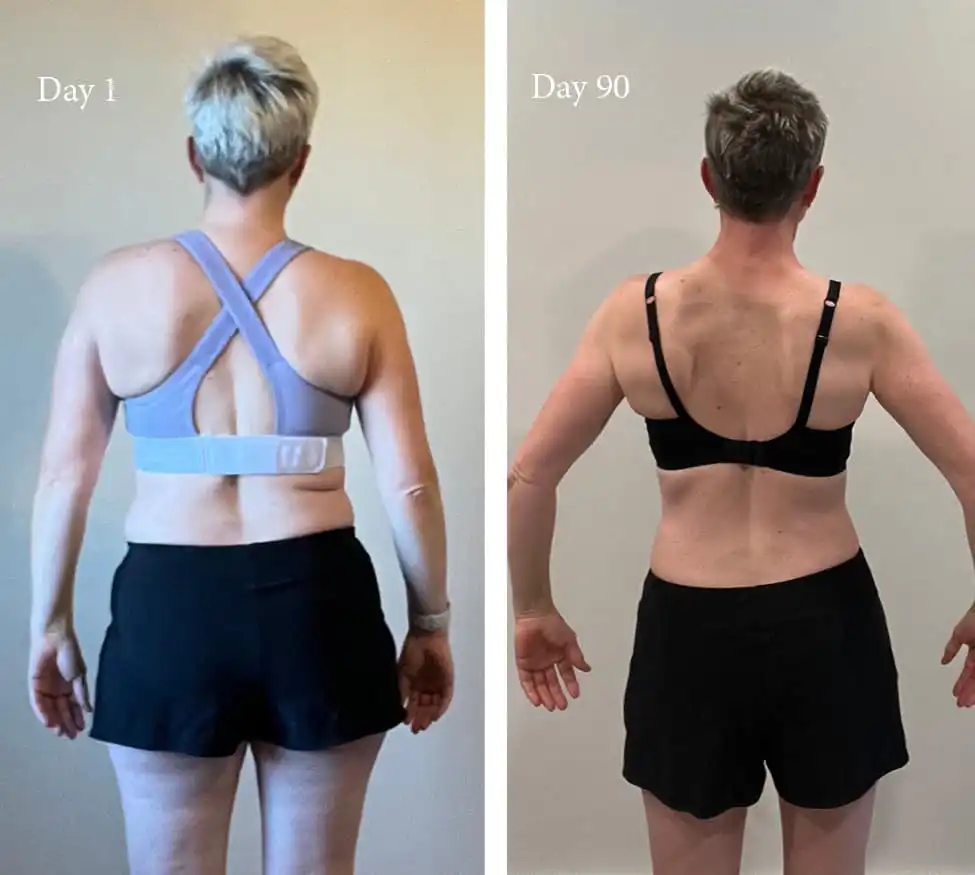 Are you interested in reading about Meghan's success 6 months post-program?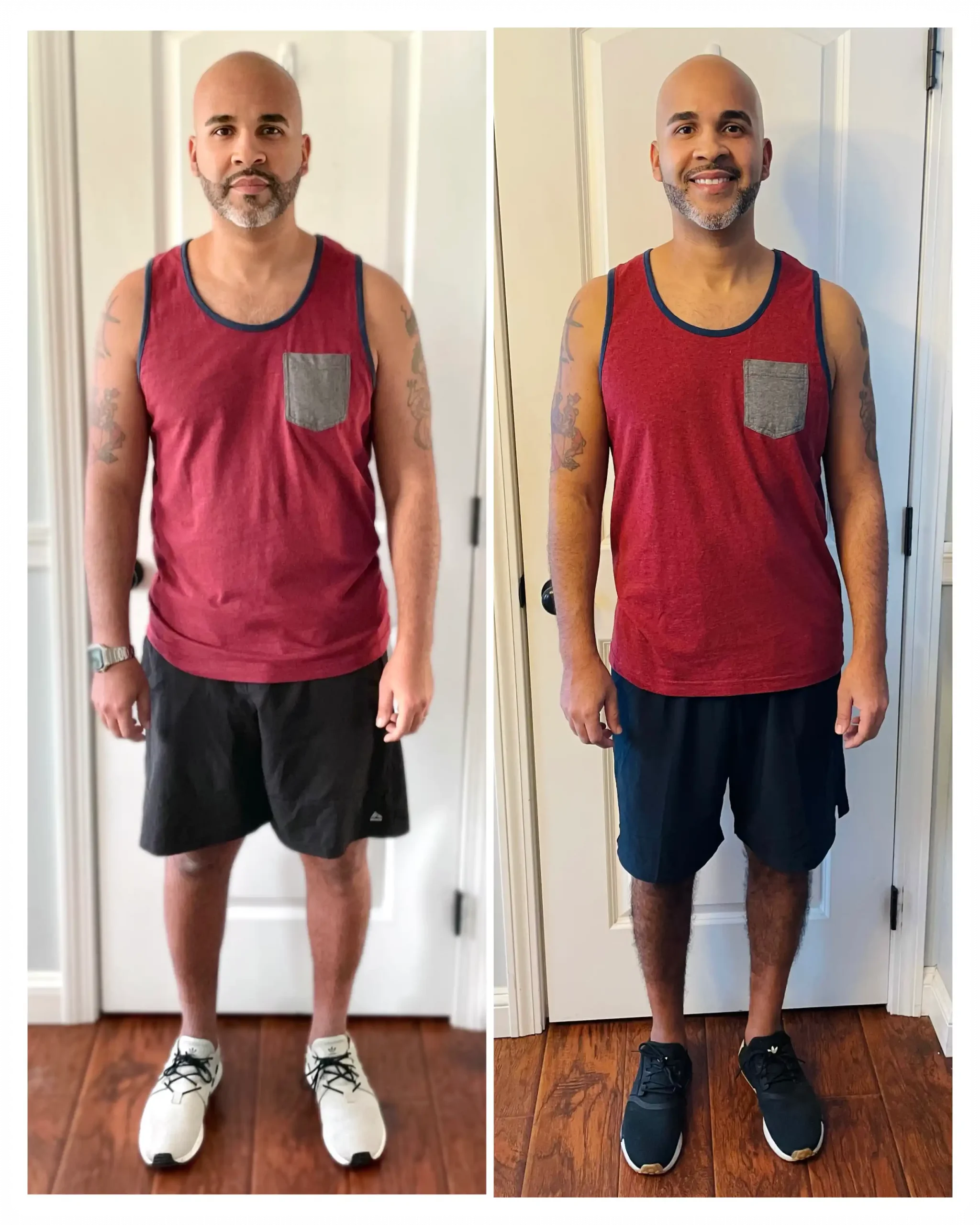 "I wasn't sure what to expect from the Ciccone Weight Loss Program. The first week was a huge learning curve on how and why the program works. It was initially a bit of a struggle while my body adjusted to only receiving whole and natural foods and detoxing from the processed and artificial foods I was ingesting, but once I passed that hurdle, I found a rhythm with meal planning and prep. If I have one piece of advice, it is to set yourself up for success and use all of the tools and suggestions this program recommends. This works if YOU work with it. In 90 days I lost 25 lbs. I love that I not only lost weight but gained some education on healthier food choices and alternatives and this has helped me keep the weight off.
I had some pretty incredible non-scale wins, too! I was diagnosed with high blood pressure and high cholesterol in my early 20s. (I am genetically predisposed to both.) After just 6 weeks on the program, I had my first normal reading of blood pressure in many years (even with medication). I also had my labs come back with cholesterol levels in the normal range. I have struggled to achieve that on my own for over a decade. And lastly, being in law enforcement, my duty belt takes a huge toll on my back and hips and causes daily pain. Losing the extra pounds has provided relief and made each day more comfortable for me physically. I plan to continue using all of my learned tools to maintain my goal weight and enjoy my new improved health and body.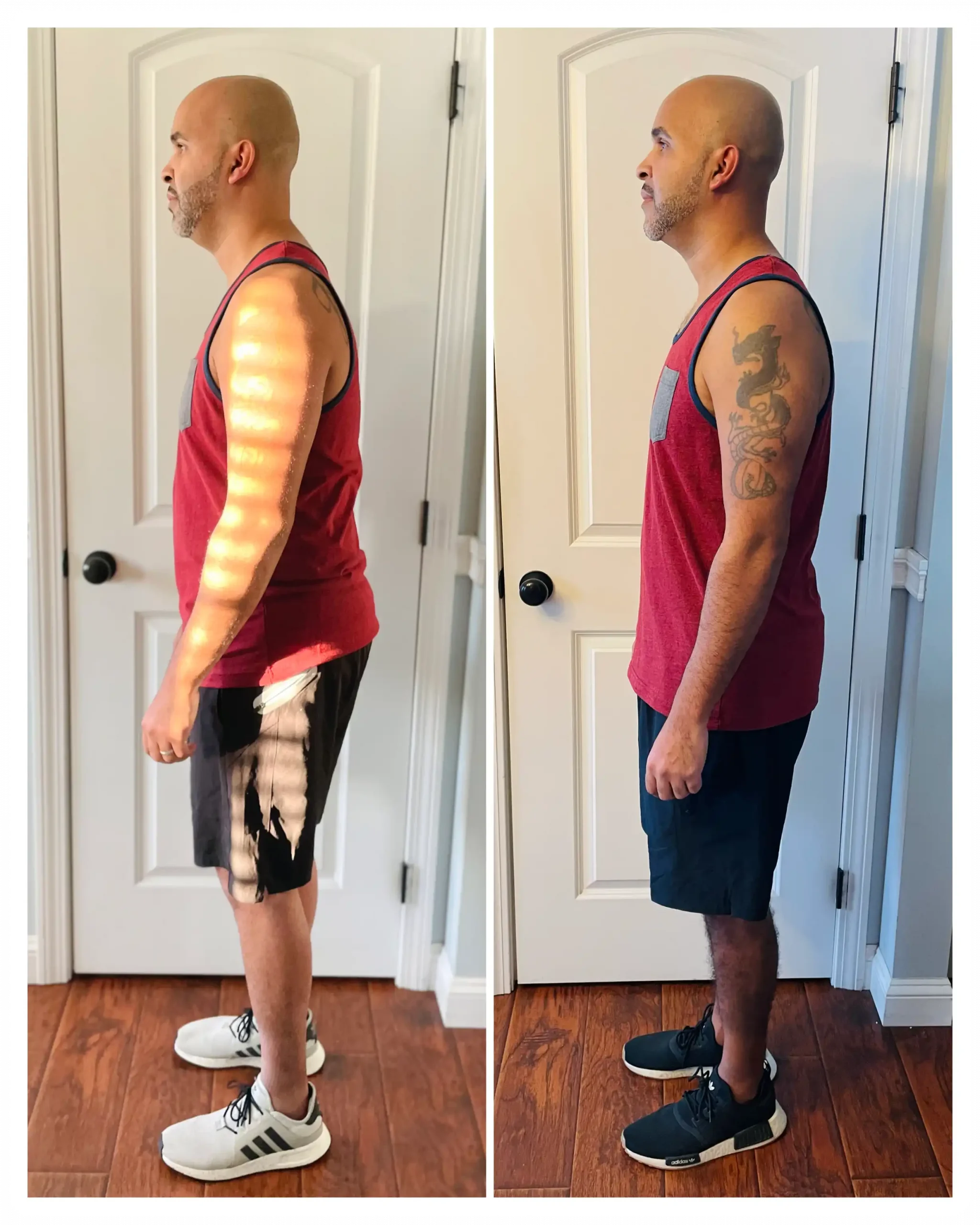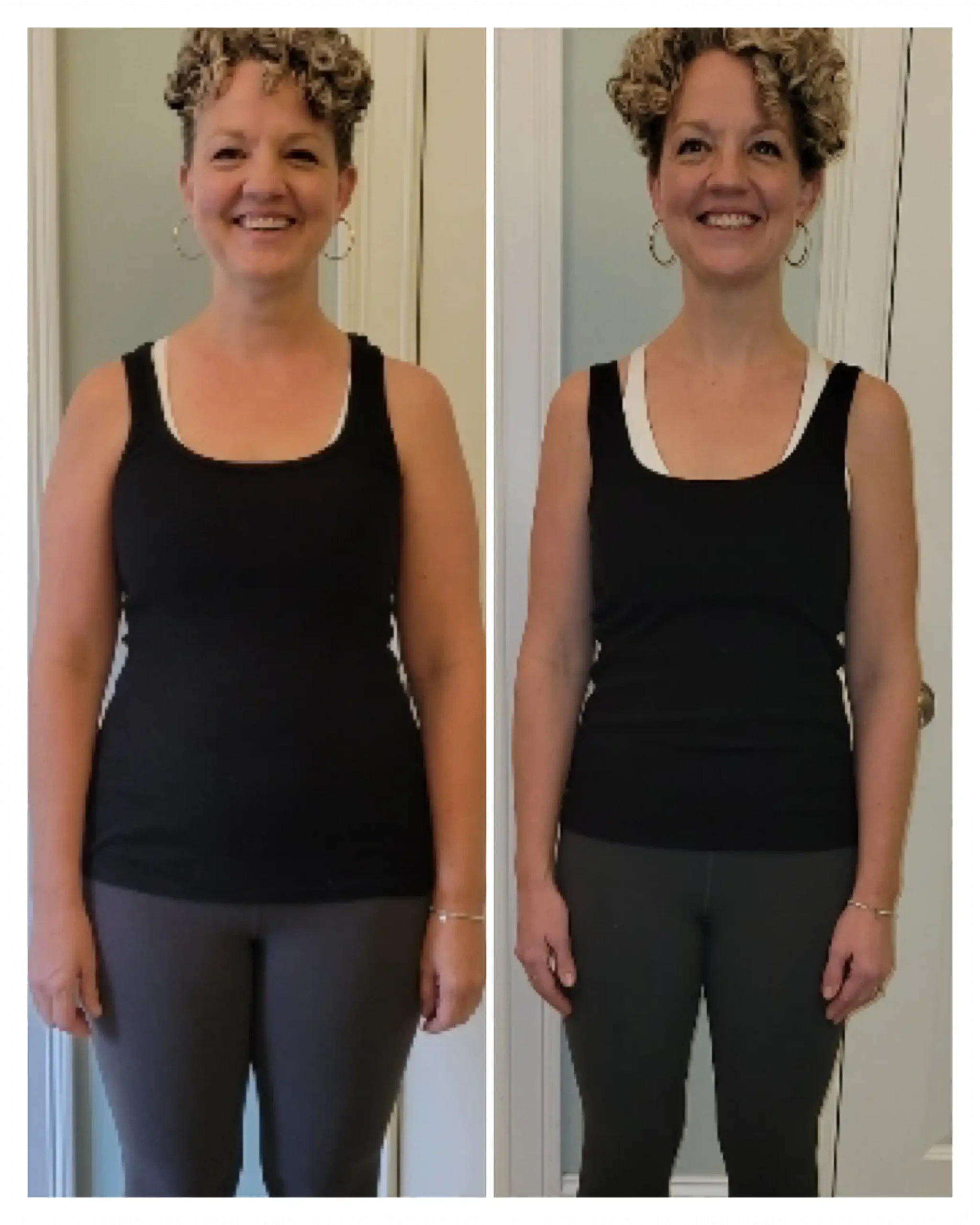 Tara came to us with a primary focus on achieving optimal health. She is a breast cancer survivor and wanted to make healing her body a priority. The trauma from cancer had caused a lot of inflammation throughout her entire body and she suffered from headaches, back pain, high blood pressure, anxiety, fatigue, and hot flashes.
We spent just as much time helping Tara understand why she was feeling the way she was as we did on understanding the methods of healing. Through each phase, Tara was able to apply what she was learning and see the impact it had on her body. When asked what she felt made this program different she said "It's life-changing! I feel like I'm in total control." She also shared that she really enjoyed testing different foods and that she was surprised by how much her taste buds had changed.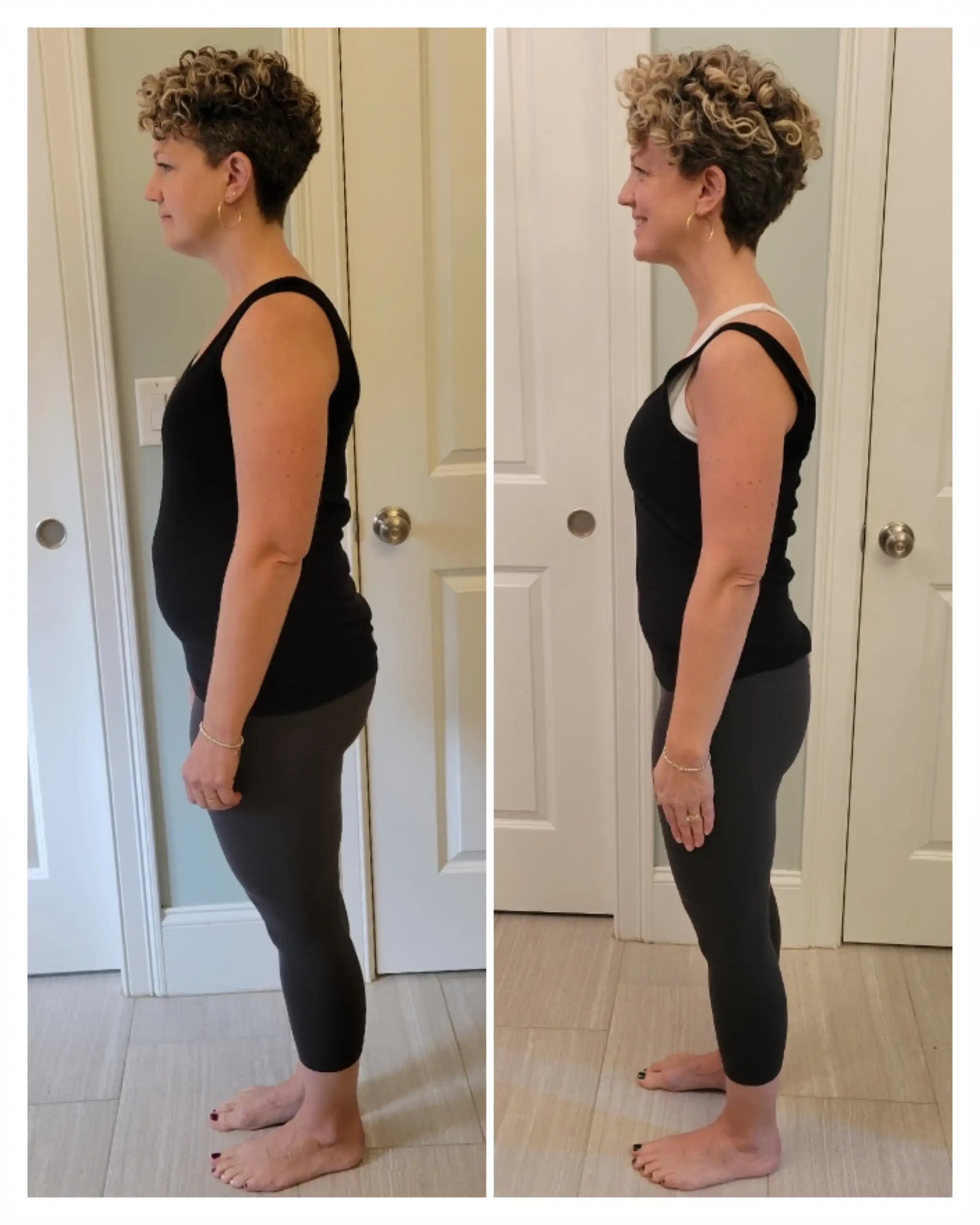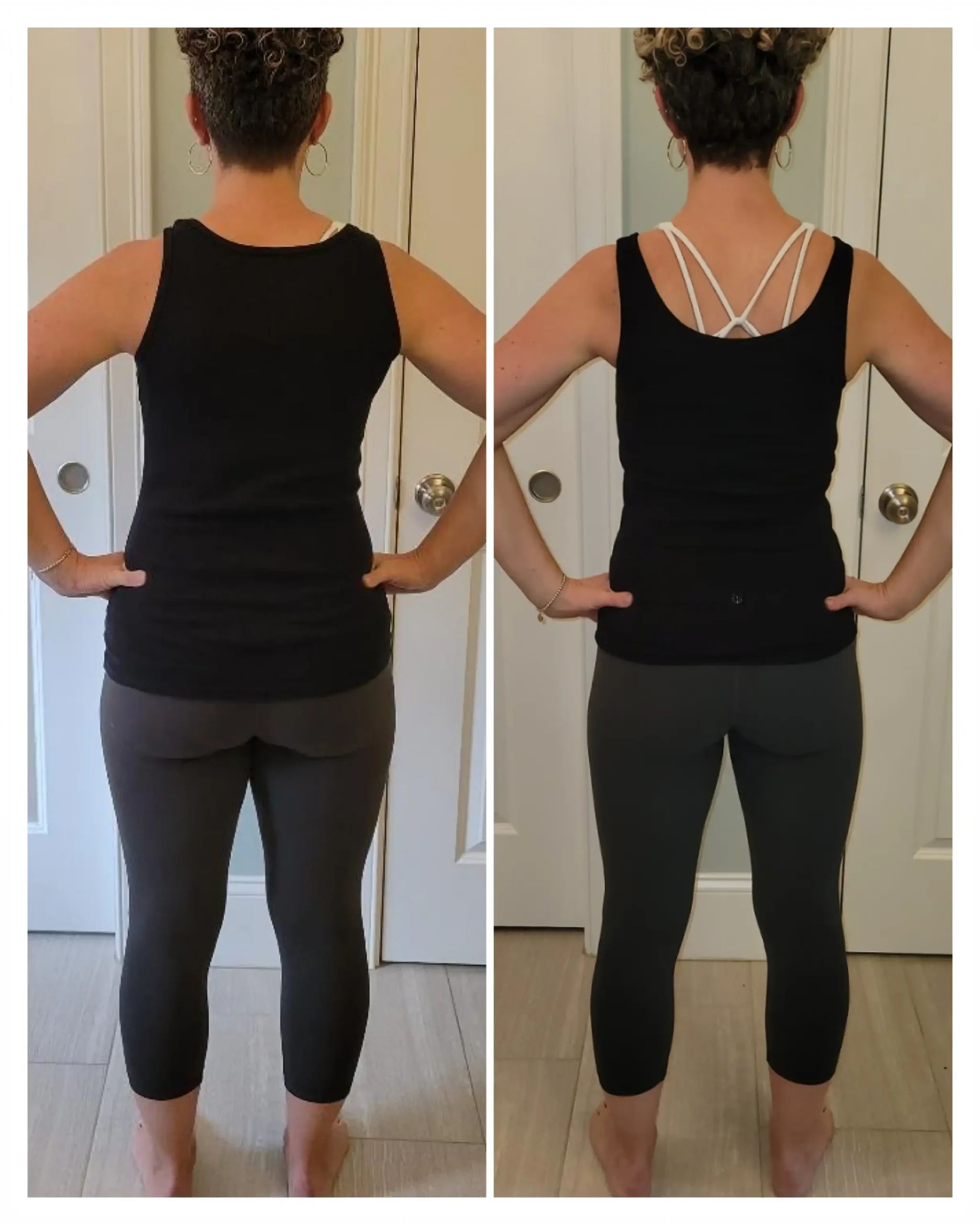 Throughout the 90 days, Tara gradually lost weight and within two weeks she was sleeping better and felt more energized. Overall, she dropped 5 pants sizes, lost 4 inches on her thighs, and all of her pains and negative symptoms are either completely gone or have decreased dramatically. She lost almost 30 pounds and can now shop confidently for healthy foods. Her entire family is now eating healthier and she's excited to pass on her healthy habits and mindset to her children.
Are you interested in reading about Tara's success 5 months post-program?
Doreen completed the 90-Day Ciccone Wellness' Weight Loss Program and lost 33lbs! 
She not only looks great but she feels great, too! Her energy level is amazing and at 70 she is now biking 6-7 miles per day!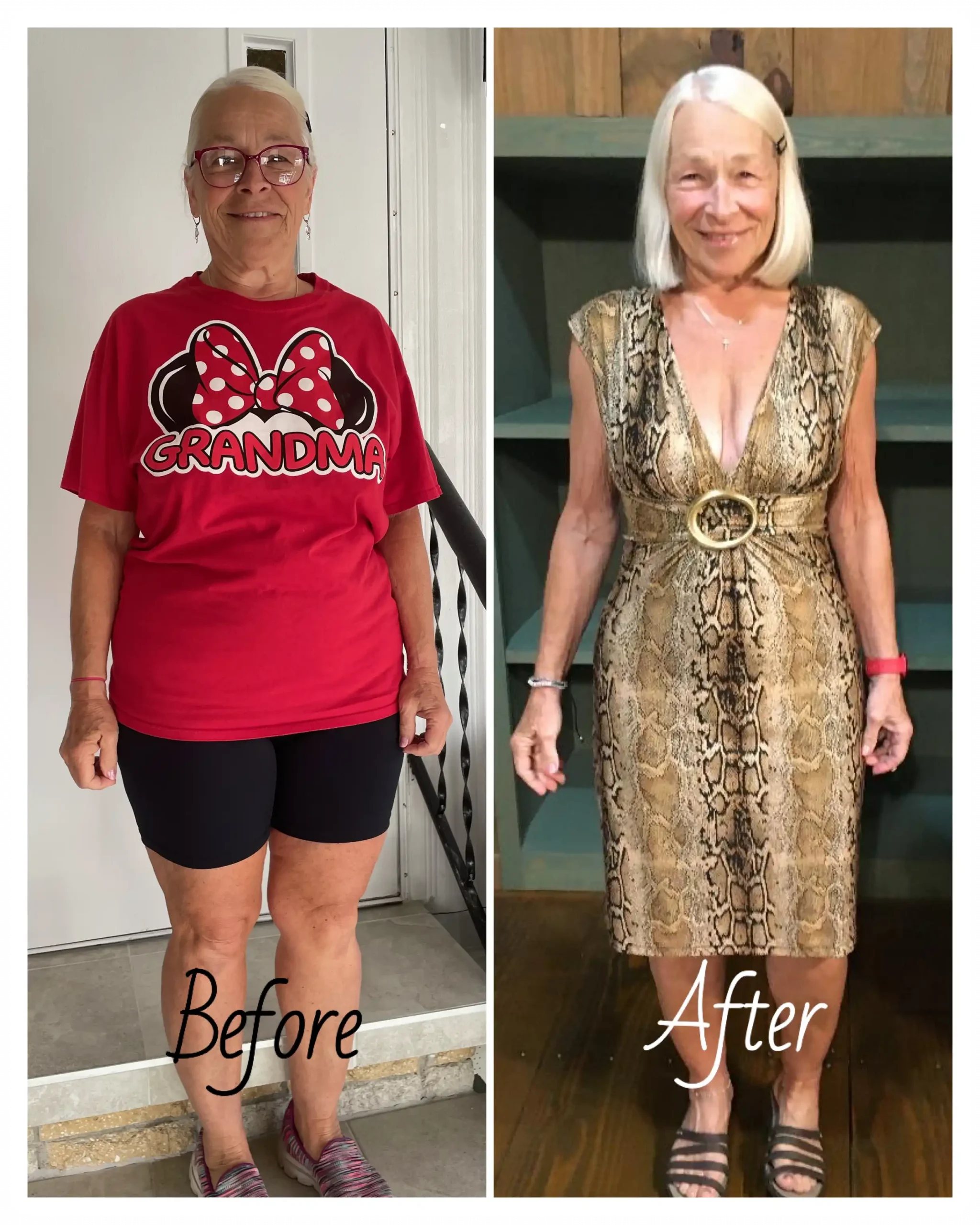 She has absolutely loved her weight loss journey and the non-scale victories have been huge for her. She has tried numerous programs prior and although she was able to lose the weight, keeping it off was where she struggled. She now feels confident in the lessons learned from the program, including what works for her body and what doesn't. She is now equipped to continue to work the program to lose the remaining 5lbs to her personal goal weight. What's the best part!? The program taught her how to maintain that goal weight while still living and enjoying food! For the first time, she feels completely in control of her body. 
It has been a pleasure to witness Doreen's journey first-hand. This is why our coaches enjoy their job so much and they genuinely celebrate their patients' victories. 
Are you interested in reading about Doreen's success 8 months post-program?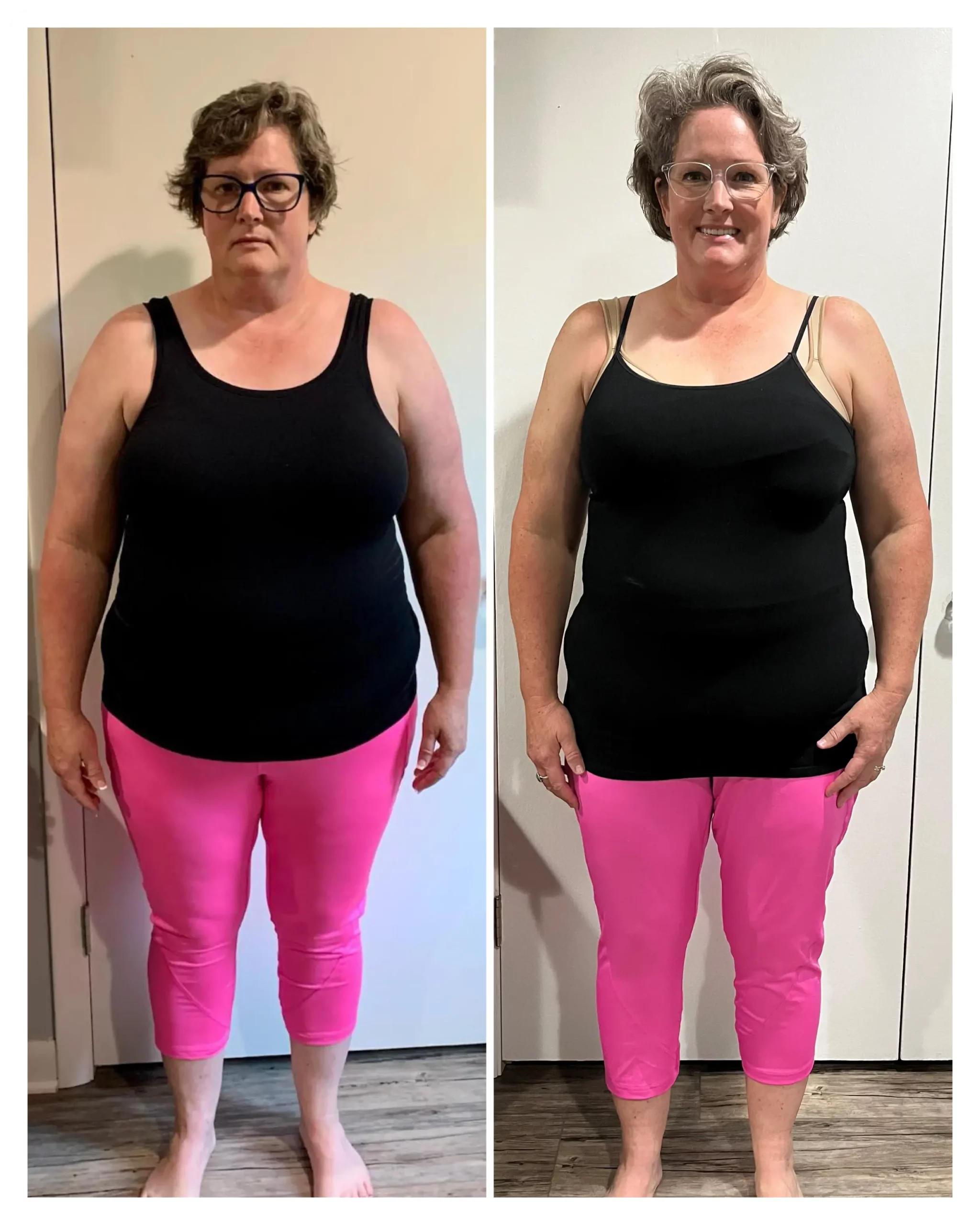 Meet Latisha—she came to us with severe joint pain, very low energy, and her weight was creeping up despite her efforts to keep it off.
Over the 90-day program, not only has her joint pain gone away, but she is now sleeping better and has "legit energy!" In addition to all those amazing benefits, she also lost 45lbs! She went from a size 22 to a size 16. Her skin is glowing and she's back to living an active lifestyle.
The most important part of her story is that she will never go backwards. We worked together to change her body, habits, and mindset, and now she knows what works for her and what doesn't.
She doesn't have to follow fad diets, count calories, or deprive herself of cake at birthday parties. She has the keys to continued health and weight loss!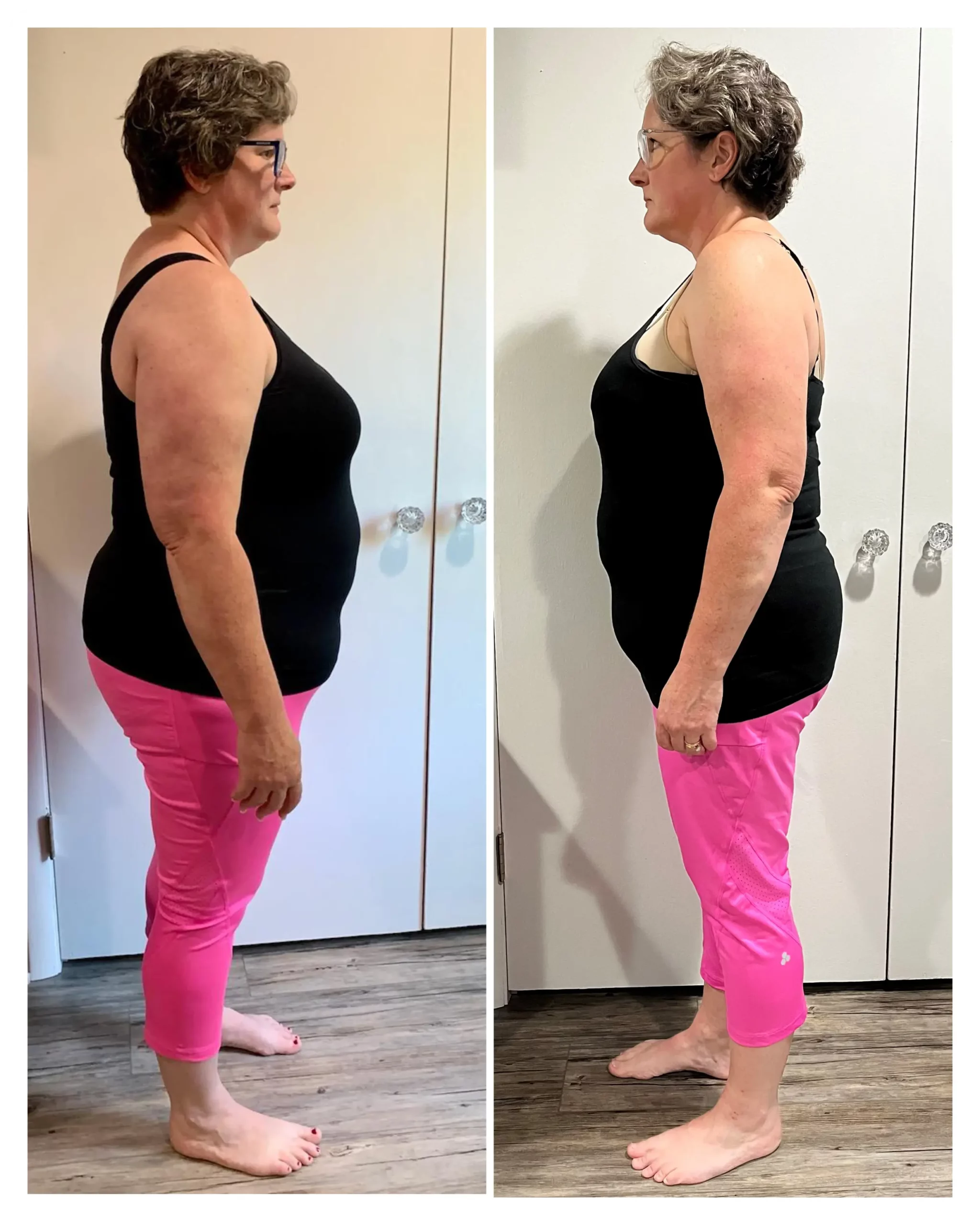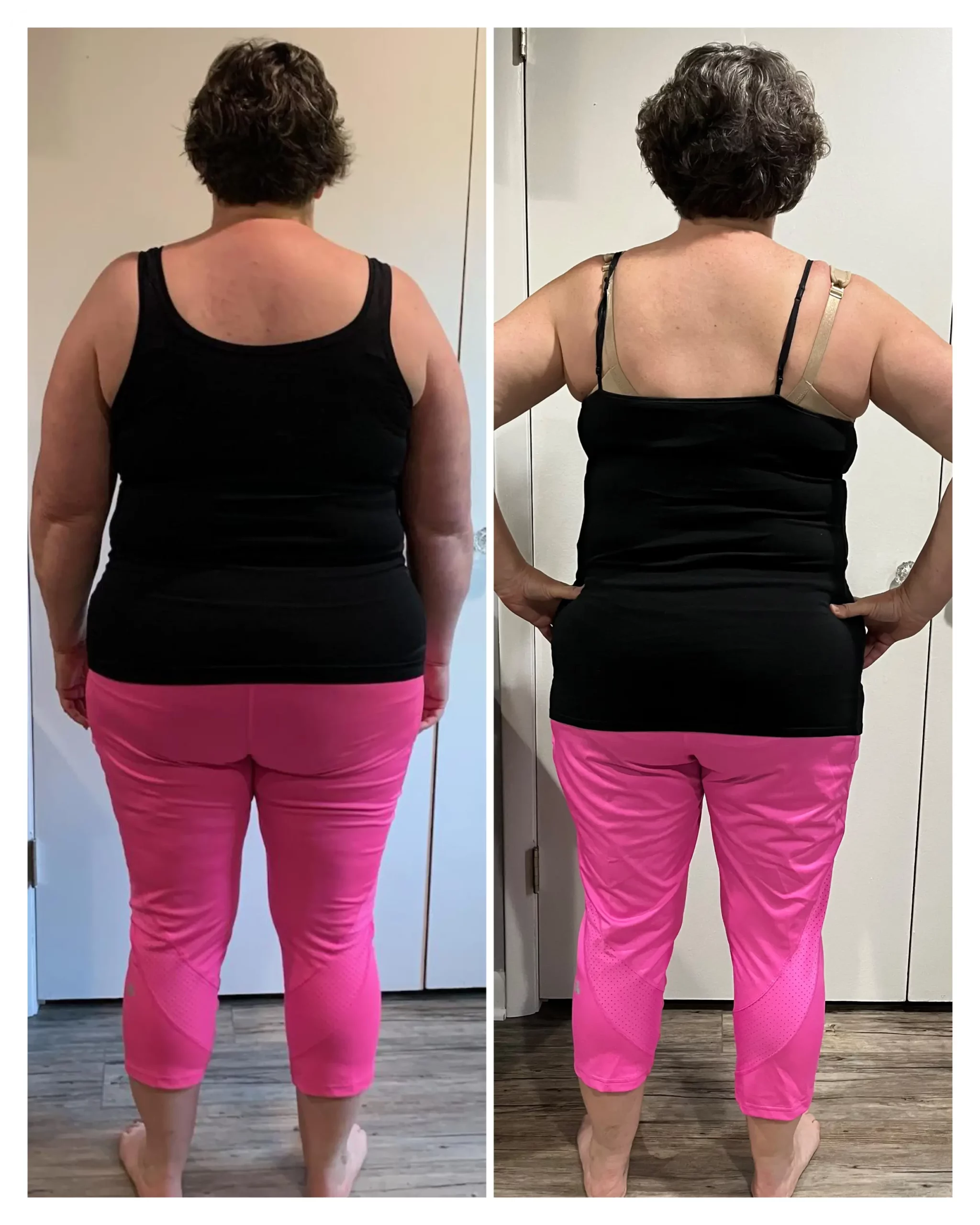 Here's what helped Latisha:
She had incredible results with the program, and you will too!
Are you interested in reading about Latisha's success 5 months post-program?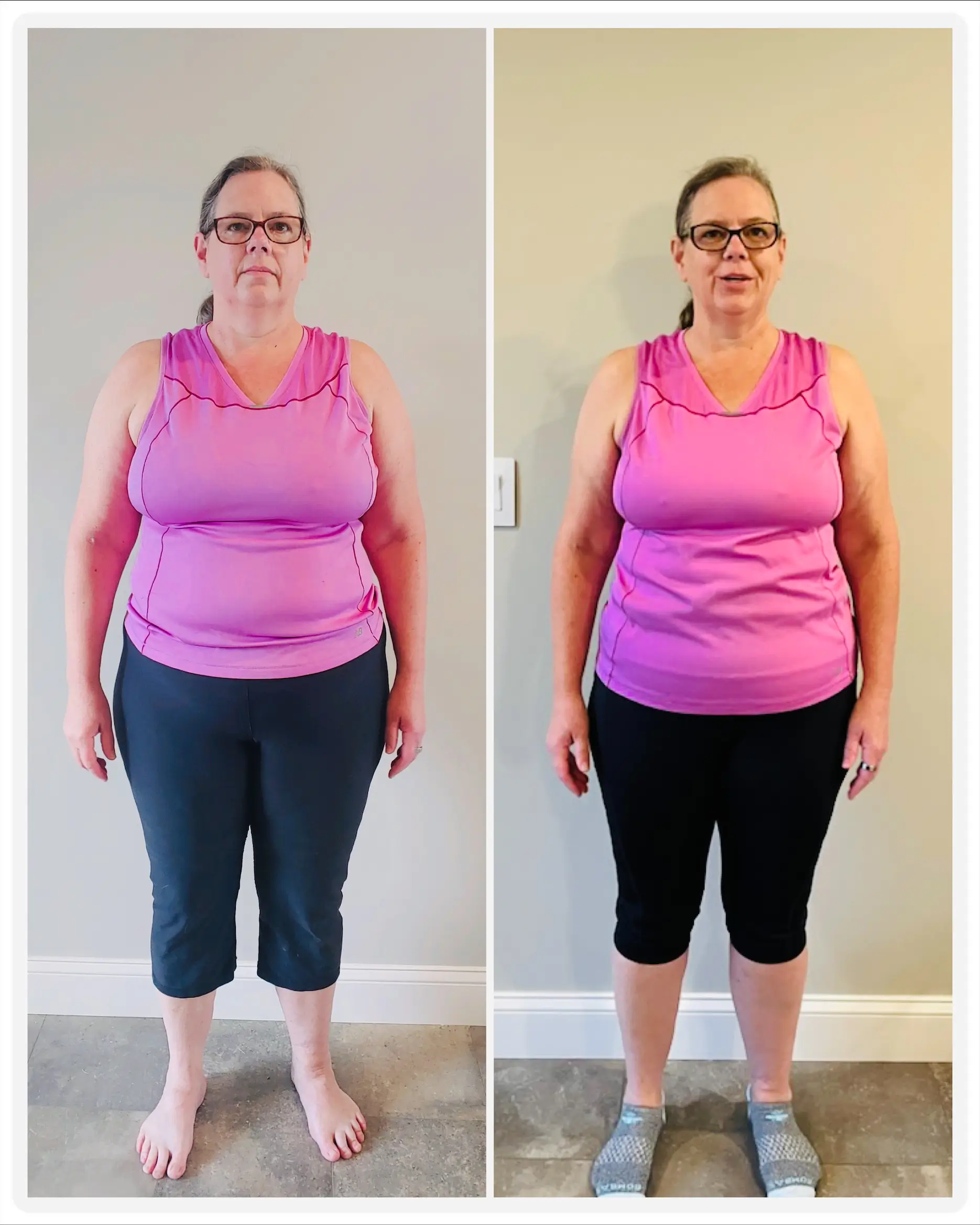 Where do we start with this client?! Cathy has been a beloved patient of ours for many years and we knew she would see amazing results with our weight loss program. Cathy, however, is also the biggest skeptic I know—her first thoughts and words were, "This likely will not work," but she trusted me enough to try it anyway. I am happy to report that she is now a full-blown believer, and her commitment and hard work have paid off. She is a graduate of the 90-day program and can proudly boast the following stats:
More important than any of these stats though, is that she is sleeping better, feeling better, and just living her best life! Two weeks after graduating, she's maintaining her weight using everything she has learned about her body along the way. Thank you, Cathy, for trusting us and giving yourself this gift!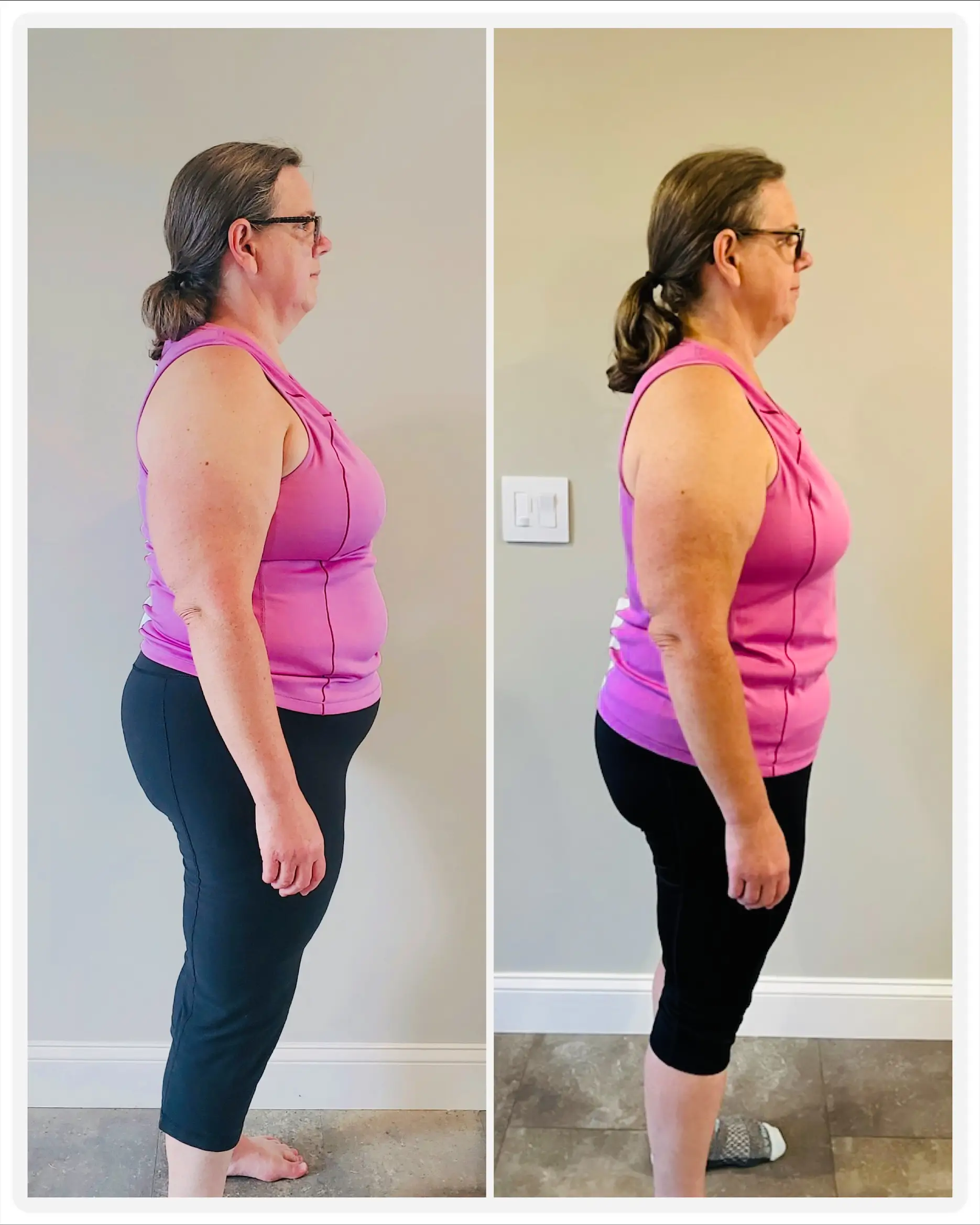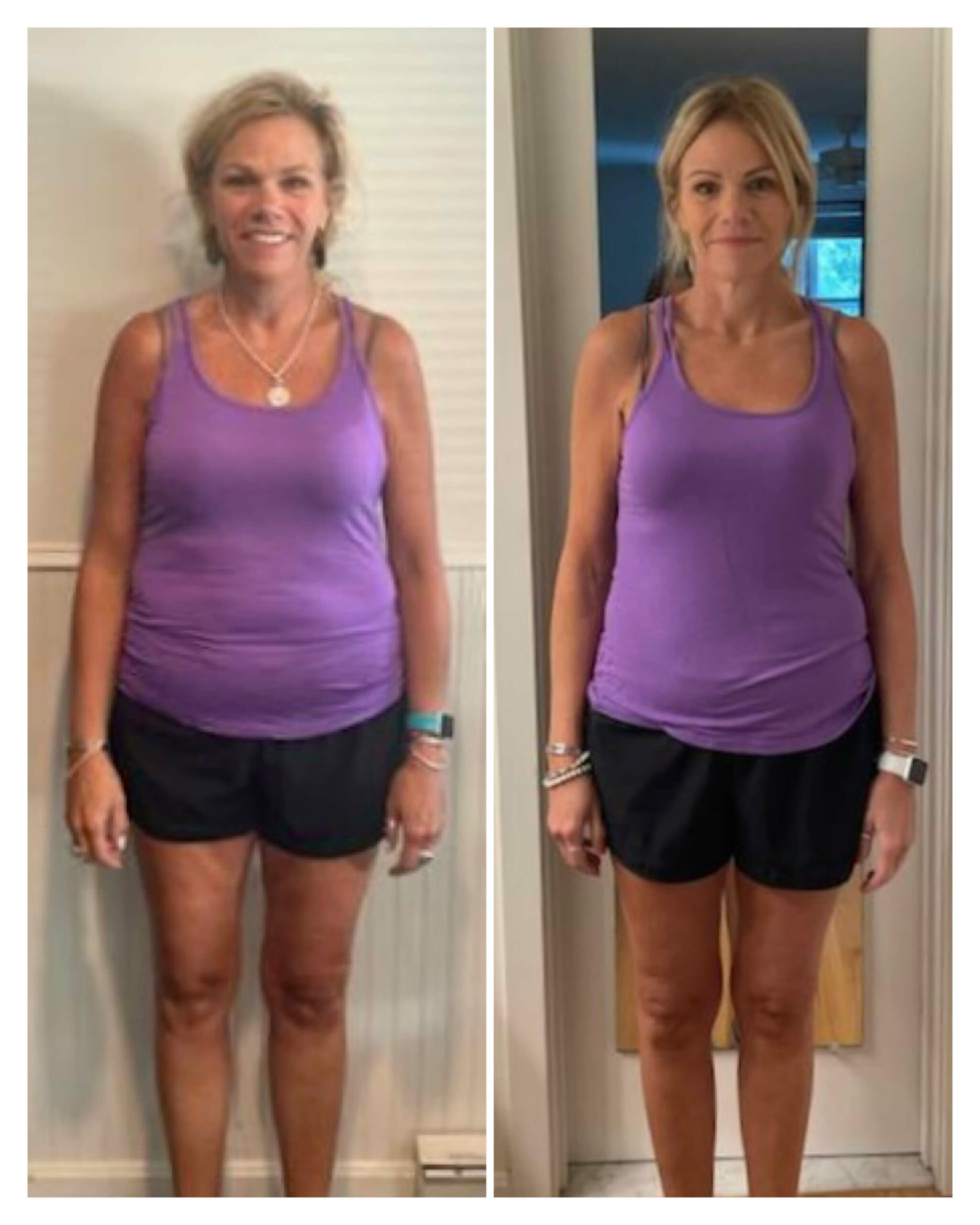 Hello, my name is Rhea Harkins, a proud graduate of Ciccone Wellness's 6-week Anti-inflammatory Program. I first heard about this program from a FaceBook post featuring Dr. Dennis. He was speaking about Thyroid issues and how they are overlooked and often just treated with medications without finding the root causes. Other symptoms mentioned were trouble sleeping, low energy issues, and chronic pain. My immediate response was "Is this guy talking directly to me?". I spent time listening to each of his podcasts and knew immediately this was exactly what was happening to me in my own life.
I am a 57-year-old woman, I present healthy to the common eye, however, I have consistently complained over the years to doctors about extreme exhaustion, chronic aches and pains, stubborn weight gain, one failed diet after the other (and I've tried every one of them), horrible sleep at night and needing a nap during the day. My final scare was being diagnosed with sleep apnea! No way was I going to wear one of those monster masks! I was scared that if I felt this bad now, what was I going to be like in another year? I'm too young to feel this old!
After meeting with Tieva, I was hooked. I was determined this was going to be my LAST ditch effort to save my life, take control back and stay accountable to myself. No one else had my best intentions more than I did.
To say I was a little intimidated at first is an understatement. I had trips planned, social events to go to, and friends to see. I was already nervous about how I was going to handle it all, thinking I had to deprive myself of all things happy. I did it, with absolutely no problem. I kept my WHY FIRST AND FORMOST, and it was the KEY TO MY SUCCESS! The TRUTHs came a little humbling, but the WHYs just got more and more intense to me as I focused on healing my body, realizing what's most important in my life, and how I want to continue living my life.
I found that at the end of the day, I felt satisfied and fulfilled with the foods I was eating and couldn't believe how great all foods tasted, appreciating the flavors more.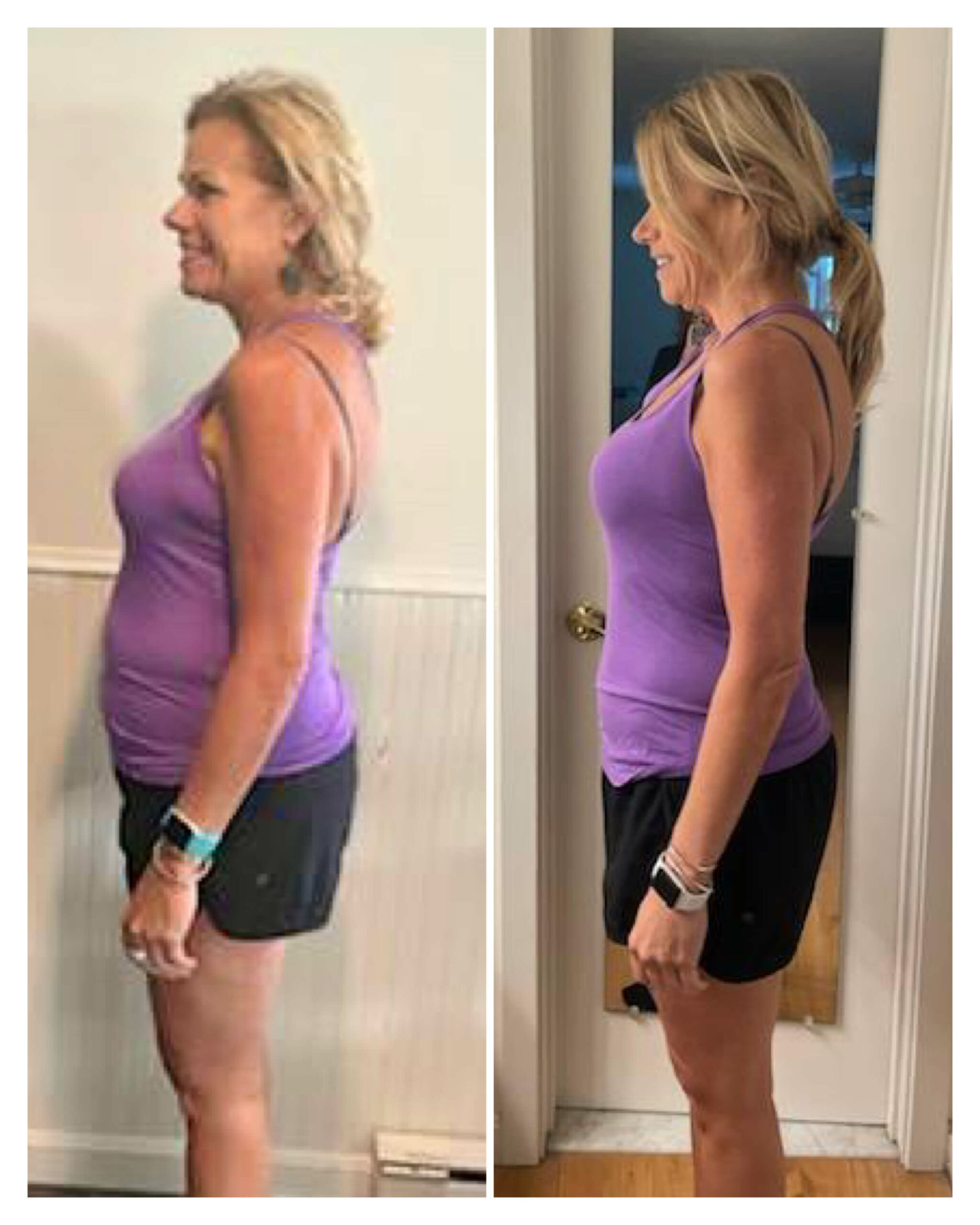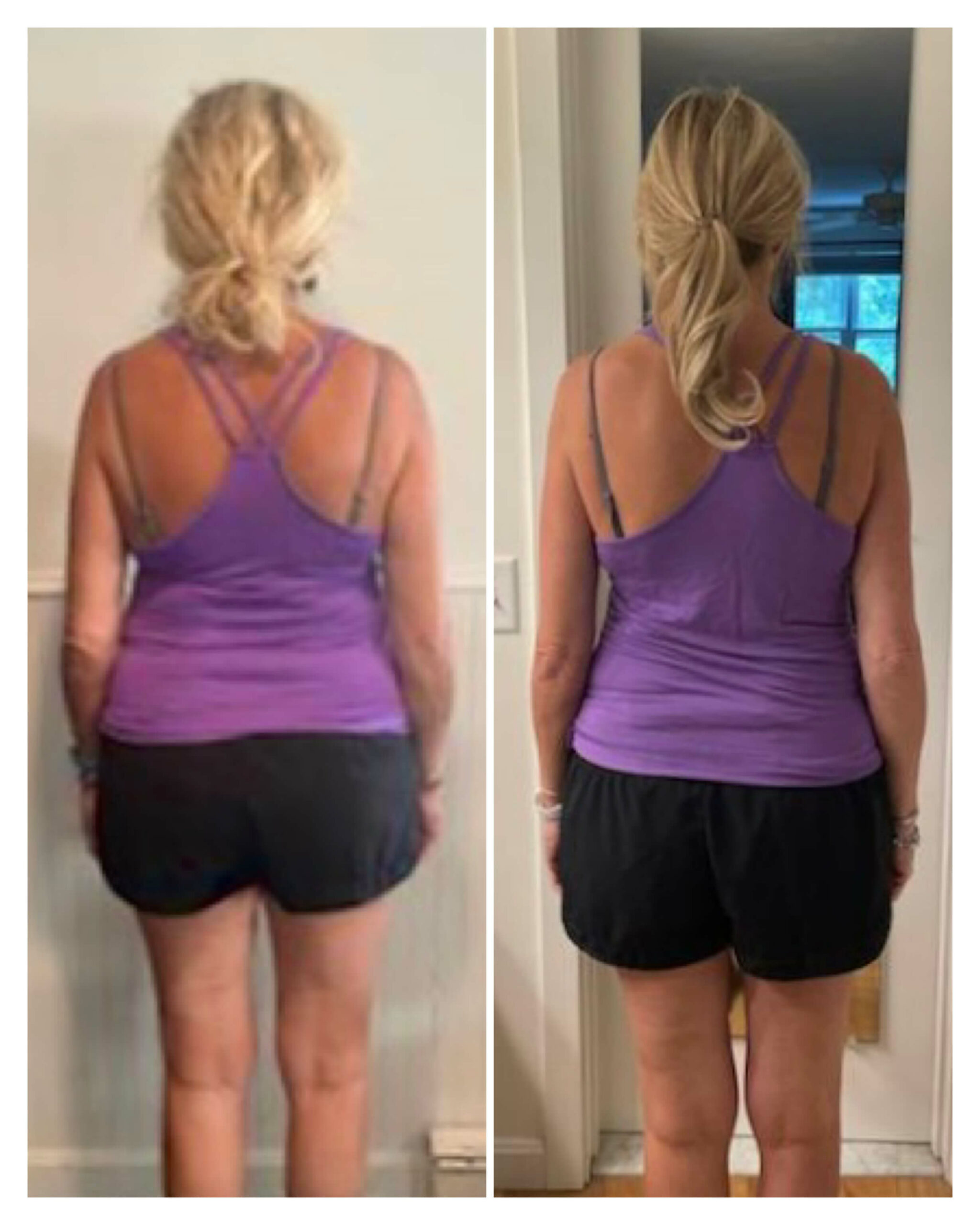 The Coaching aspect was also absolutely key to success, having accountability, pep talks, and talking me off the edge of disappointments led me to believe in myself and not worry about fluctuations but rather to look at them as a tool to figure out what my body needed next. The FaceBook Support Group is equally amazing! All participants are either in the program or graduates. Everyone supports each other and helps with encouraging words or amazing recipes. It is an amazing compliment to the program itself.
During my time in the program, I encountered MANY obstacles. I broke my right foot, took 3 vacations, and was hospitalized for a blood issue, all within 6 weeks, and yet, I STAYED ON PROGRAM, was STILL successful, and lost over 17 lbs! When they tell you that you'll never worry about going on vacation, regaining weight, or depriving yourself of birthday cake, or celebrating any way you chose, believe it! It's all true! I will never have to even think about what to do as long as I know what day of the week it is, I'm golden. If I forget that, then I have bigger problems ahead. LOL
Do this for yourself, YOU'RE WORTH IT!
"Let's talk about how a little goes a long way!
This is Zenaida and she recently completed our six-week program. Her goal was to lose 10lbs and lower her A1C's to reduce her risk of diabetes. She was able to accomplish BOTH goals, along with a few others.
All accomplished in 42 days!
More importantly, she has kept the weight off and now has all the tools needed to determine her future health. We truly enjoyed having her in one of our wellness programs and look forward to updates on her future success!"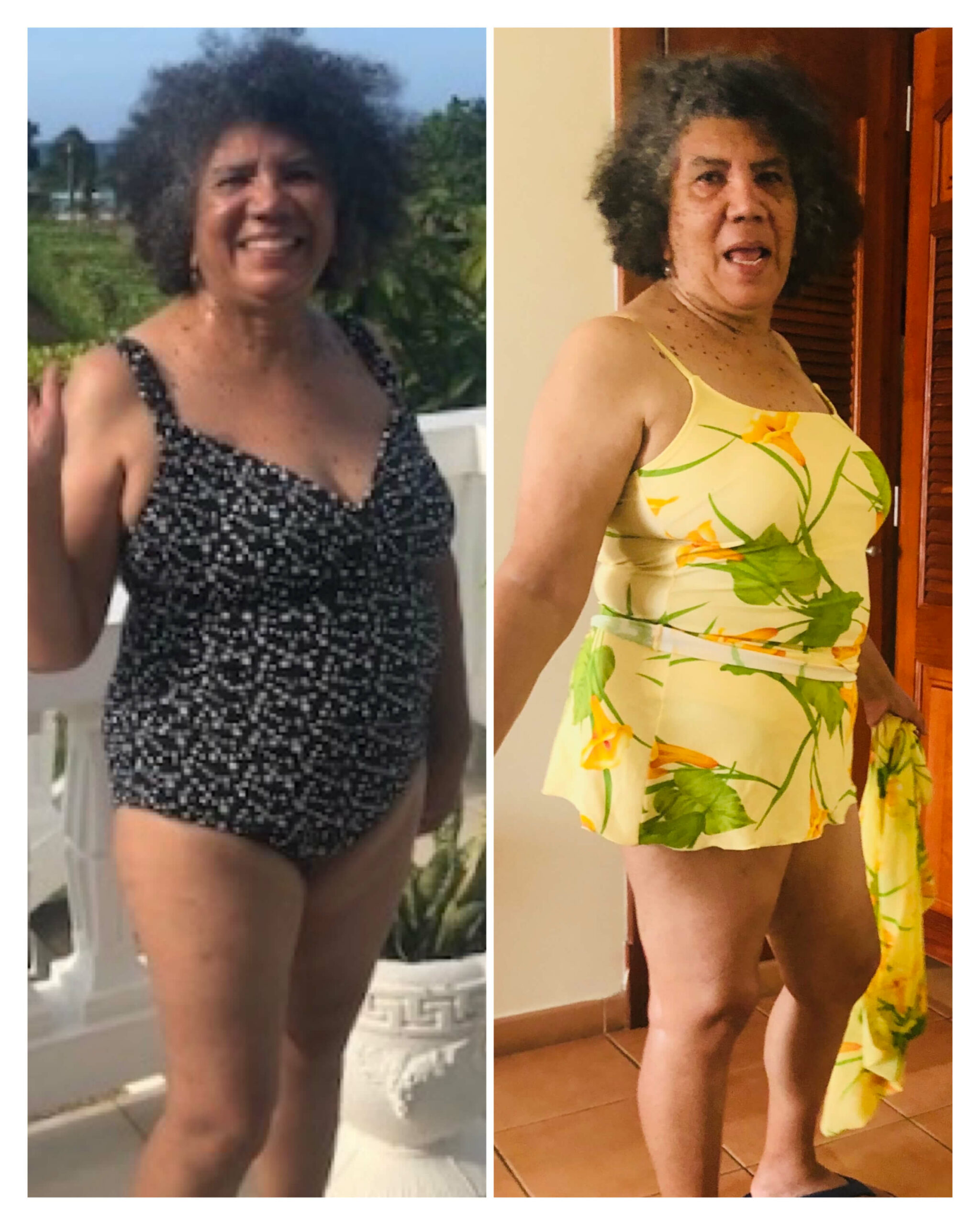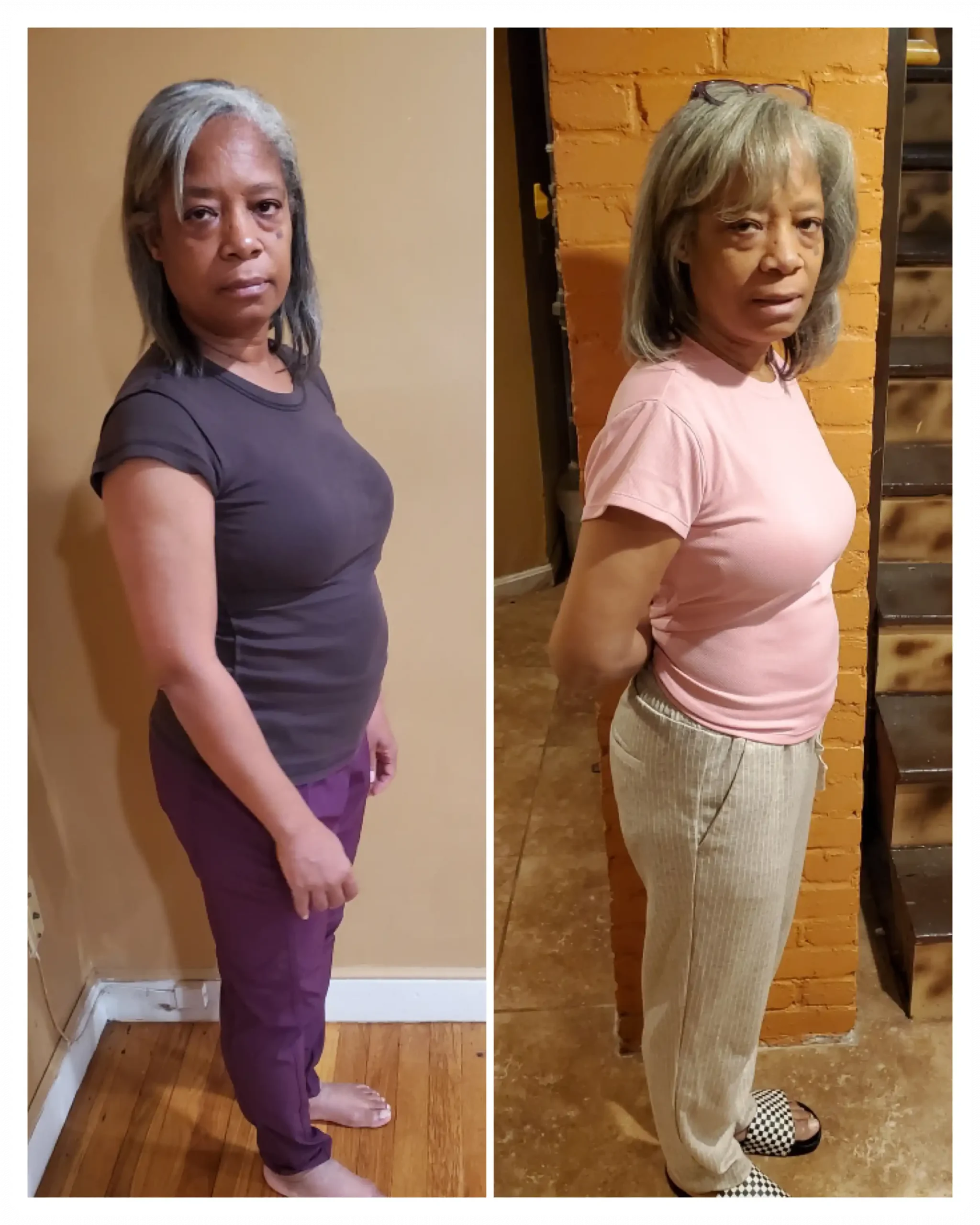 France is a long-time wellness patient of ours and health has always been her top priority. She recently came to us wanting to lose some weight that she has been struggling with, improve her sleep, and get relief from her hot flashes.
After identifying her goal weight and discussing some lifestyle changes, we decided that the 6-week program was the best fit for her. Fran not only hit her goal weight, but she surpassed it. She lost 16 pounds, she's sleeping better, and her hot flashes no longer disrupt her life. 
Here are some additional stats from her program: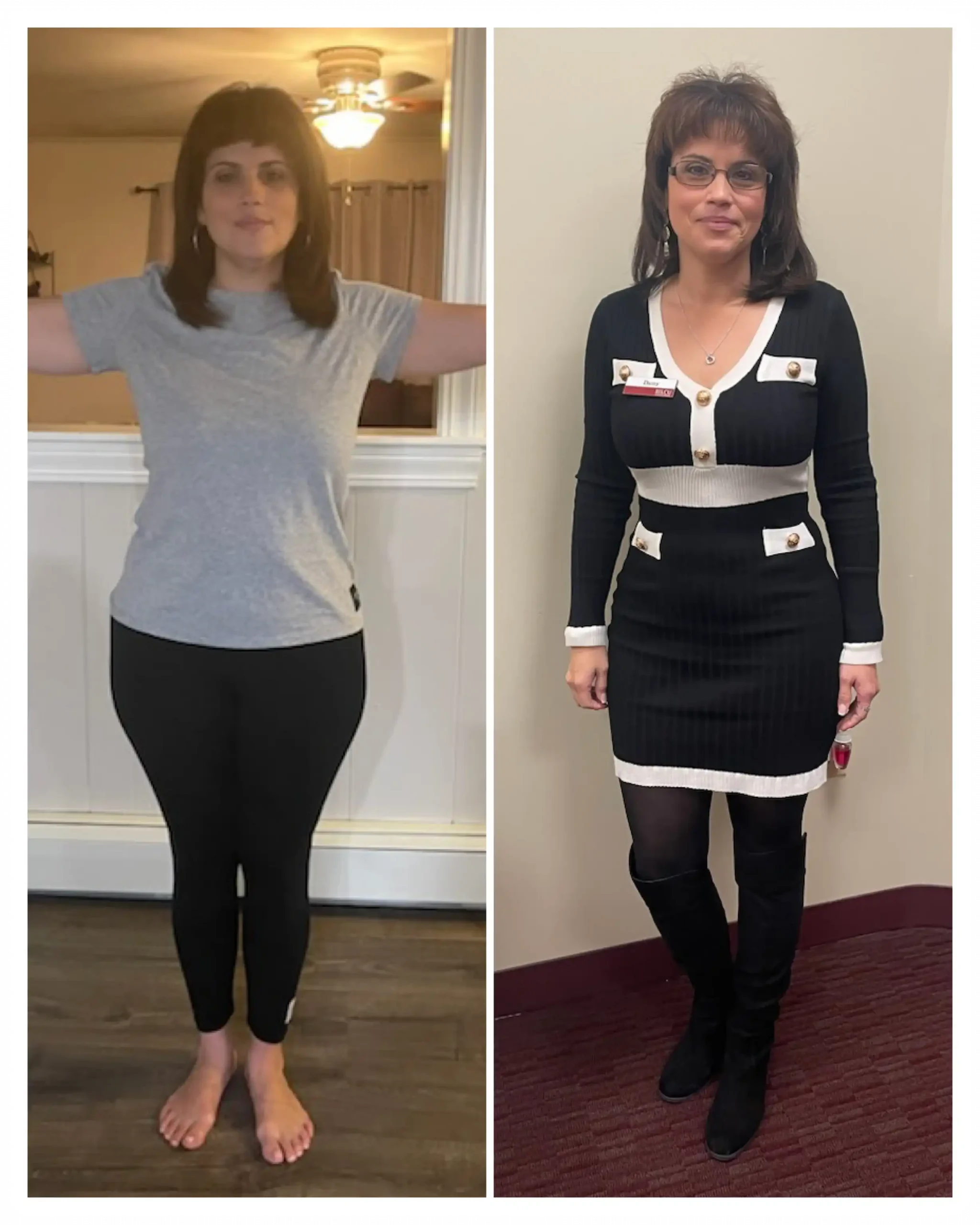 Daisy is a recent graduate of our weight loss program and is leaving the program 22 lbs lighter and infinitely healthier.
In addition to losing the weight she wanted, she also lowered her A1C's to 6.5 and no longer suffers from back pain, headaches, or anxiety. She has dropped 2 pant sizes and now has more energy to do all the things she loves! It's been great watching Daisy experiment with new foods and testing foods that are beloved in her culture to see how her body responds.
Daisy will leave the program with several useful new tools in her tool belt, including a new understanding of balance—she can easily balance her diet with the foods she loves and the foods that help her body maintain her work. It has been such a pleasure being part of her journey and we look forward to updates on her future success!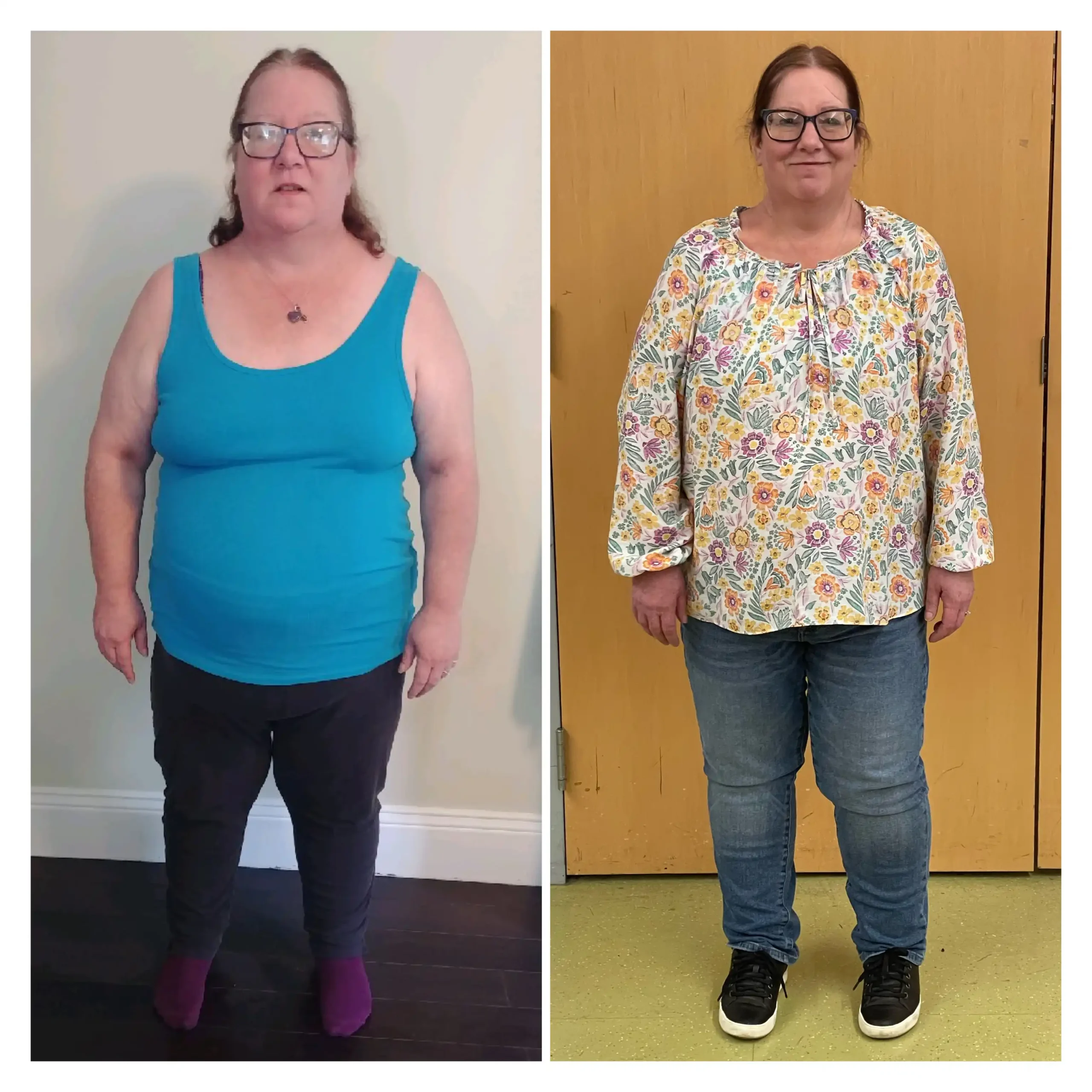 Maria has been a long-time wellness patient and wanted to add weight loss to her list of things she was doing for herself. During her 90-day program, she was able to lose over 50 pounds. 
Prior to starting, Maria struggled with standing for short periods of time and experienced shortness of breath, headaches, stiffness, pain in her feet, and anxiety—all of which have either completely resolved or dramatically decreased as a result of our program. Her body fat went from 63.8 down to 48.1, her subcutaneous fat went from 54.4 down to 41.7 and her visceral fat went from 27.0 to 17! 
Along the way, Maria has learned which fats and carbs actually help her lose weight and which foods she must balance in order to maintain. We are so excited to continue to watch Maria thrive and do more of the things she loves, like dancing!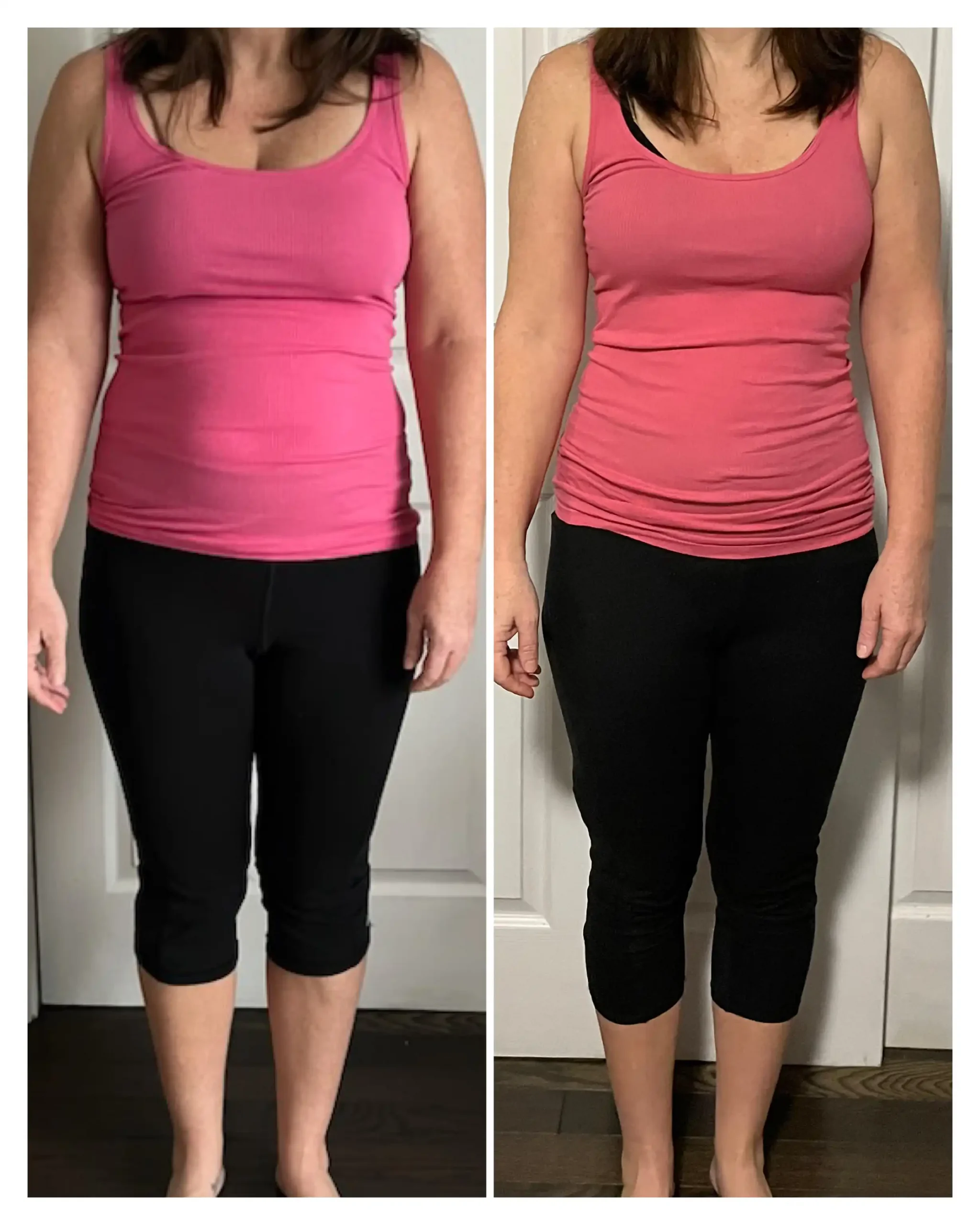 Kelly is a long-time wellness patient and a six-week weight loss program graduate. During her short time on the program, she was able to lose 13 pounds! More importantly, she developed a new relationship with food that will help her keep the weight off; she now knows exactly which fats and nutrient-dense carbs are burners for her, and which ones she should avoid (this is different for everyone!).
Kelly achieved her goal weight, lost 4 inches on her waist, 2 inches on her hips, and 1 inch in her chest, neck, and arms! My favorite part of Kelly's journey is that when we first met to discuss the program she said, "Nothing seems to work anymore," and I'm so glad she gave us a chance to change that statement.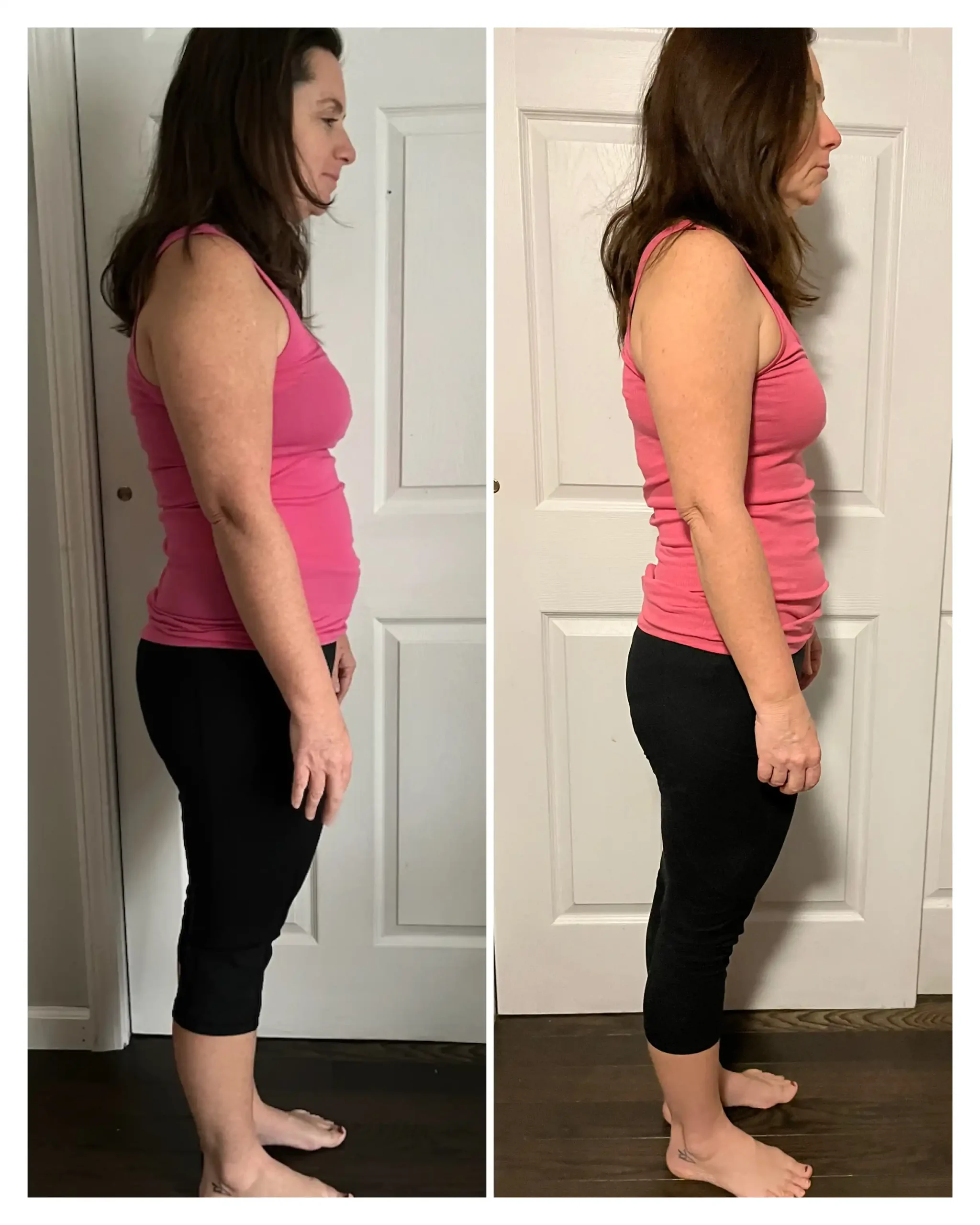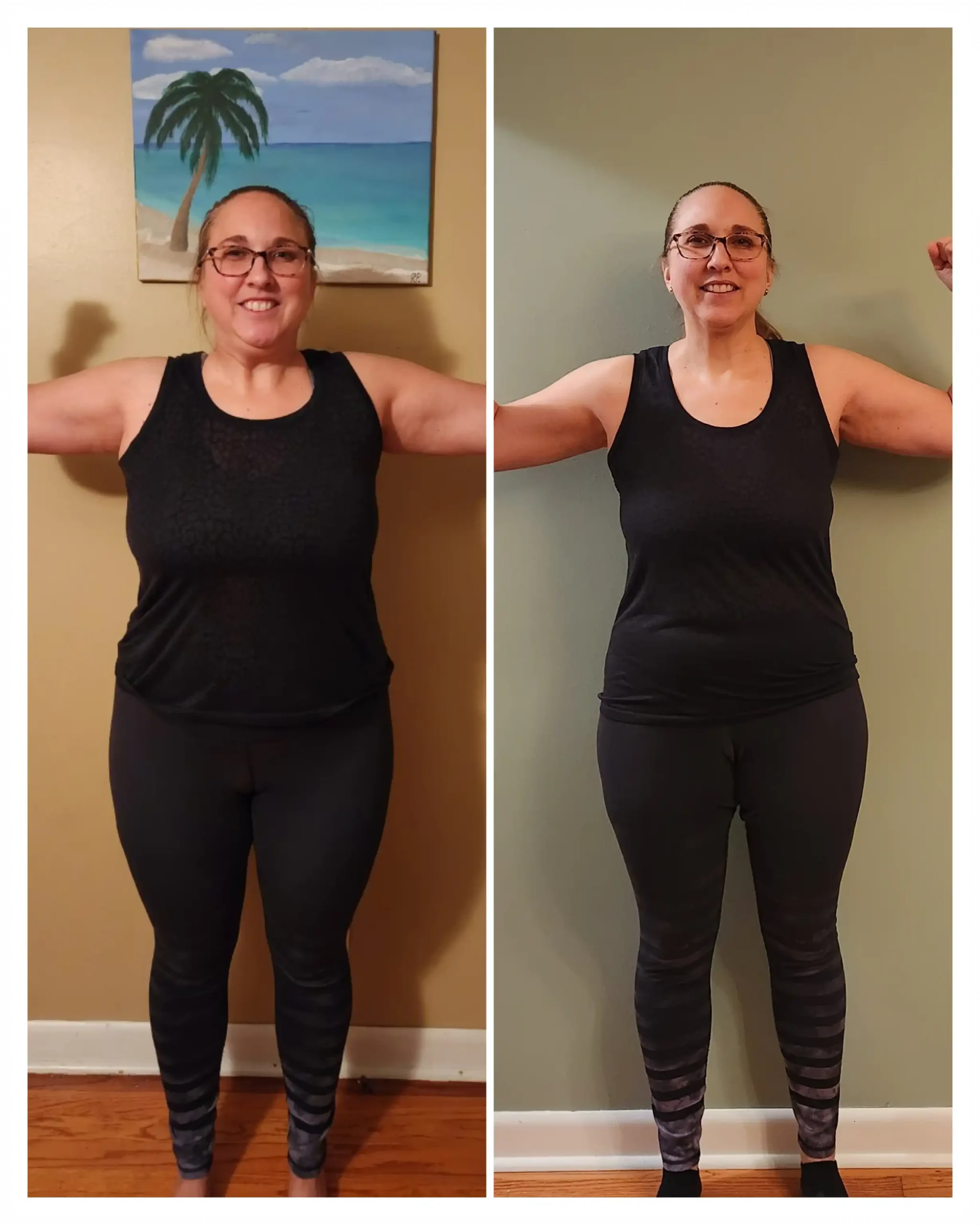 Barbara is a recent graduate of the 90-day program. She came to us not only to lose weight but, but to find long-term solutions for a healthier life. Barbara, like most of our clients, had tried several different programs in the past with little or no satisfaction. During her time in our program, she was able to identify foods that helped her lose weight and created balance in her life. This allowed her to keep the weight off and enjoy the things that she loves.
Prior to starting, Barbara suffered from heartburn almost daily. By week two, when asked about the heartburn, her response was, "What heartburn? I forgot I even had it." When asked about what made this program different from the rest, she said, "It's so easy to follow when you have a coach. It keeps you accountable until it becomes a lifestyle. I felt supported and there was zero guessing involved or trying to figure things like 'plateau' out on my own. The coaches have it all already figured out for you!"
Barbara also shared that her favorite part of the program was that she never felt hungry. There was no stress of counting calories or measuring serving sizes—she could just eat until she was full! Barbara also shared that her entire family has embraced this healthy change.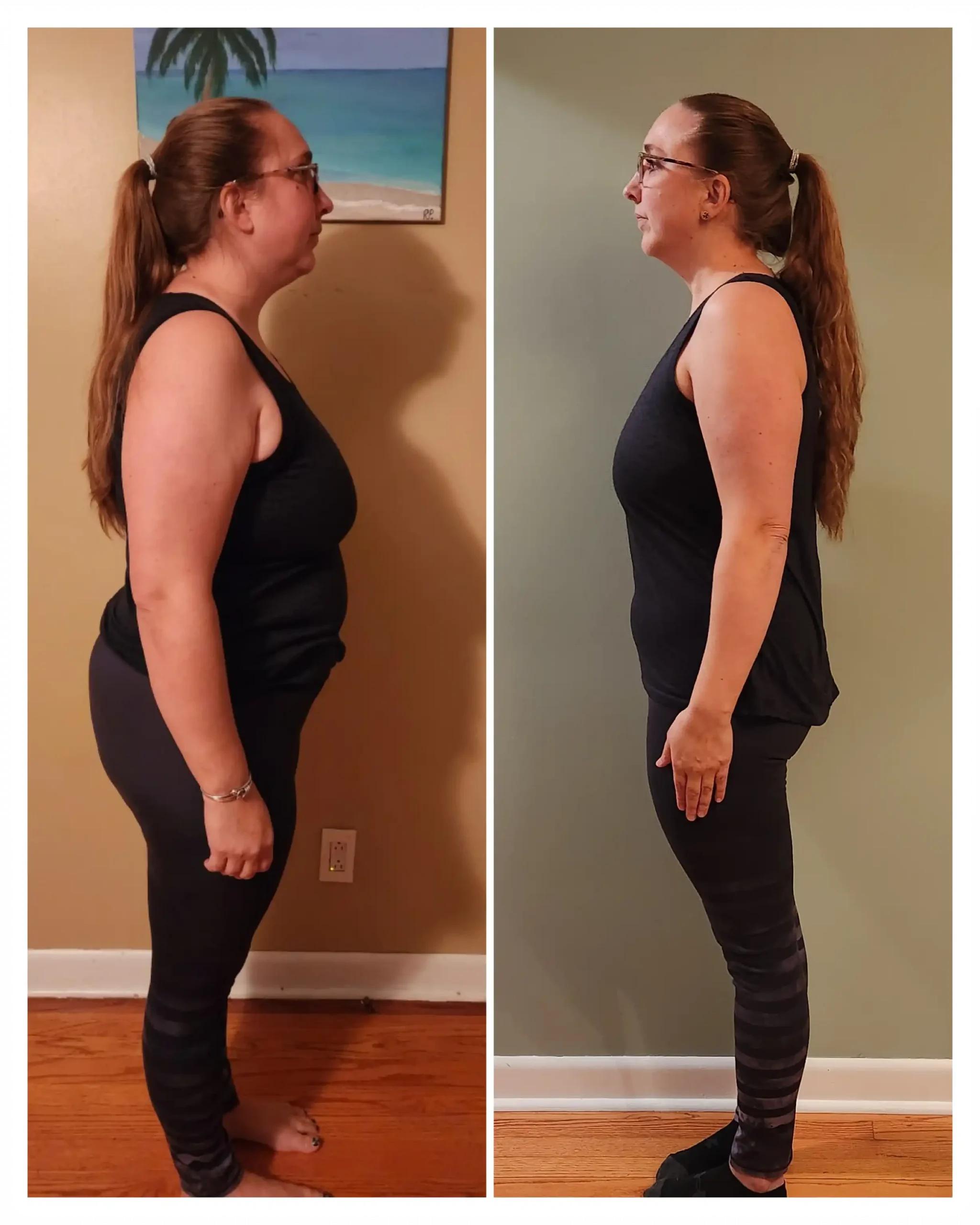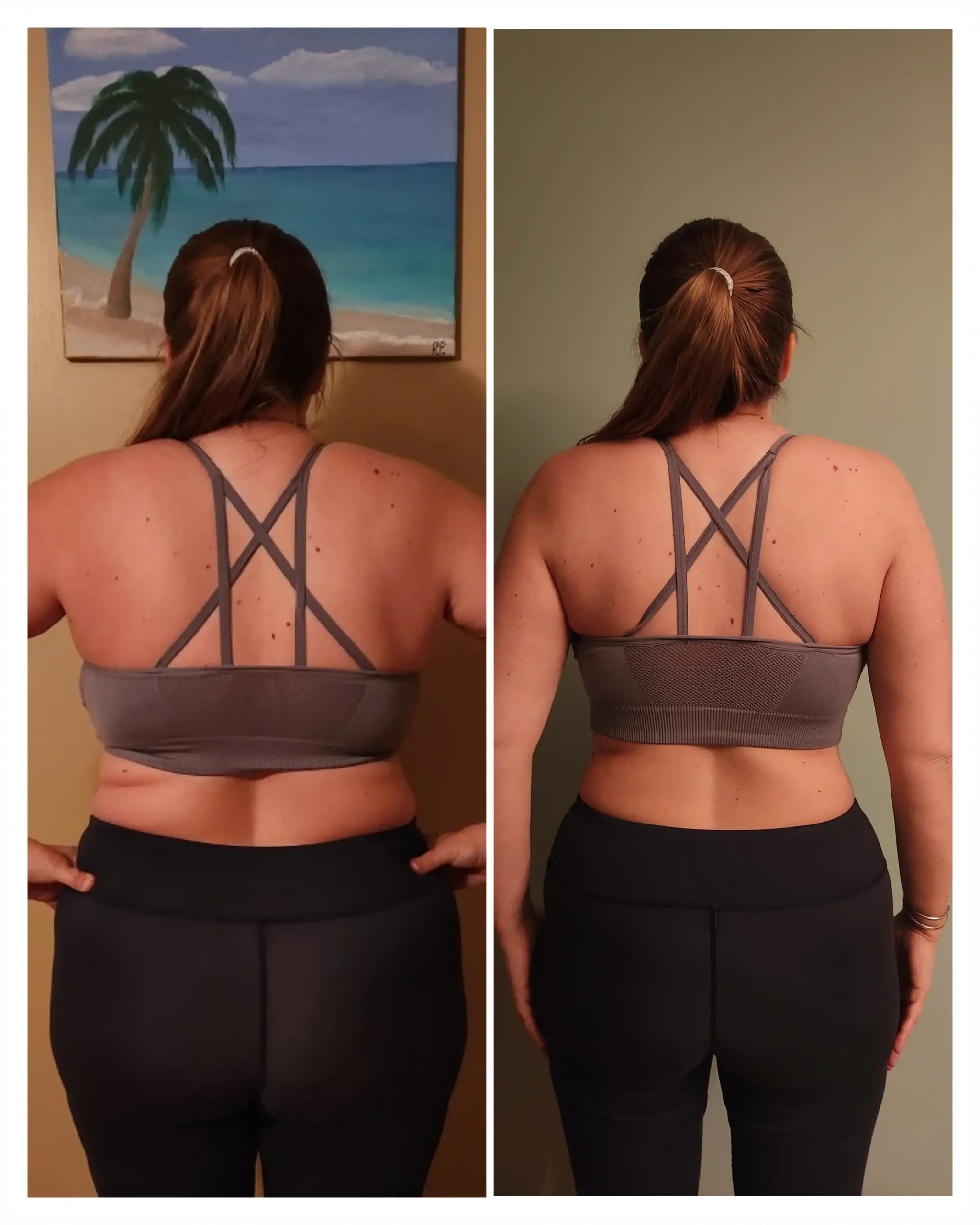 During her 90 days on the program, she lost a total of 40 pounds and all of her stats dropped!
She lost 7 inches on her waist, 8 inches on her hips, 5 ½ on her thighs, and 6 inches just on her chest.
To other people considering the program, Barbara said, "Just do it. Take the leap and you'll come out on the other side feeling like a completely different person!"
Are you interested in reading about Barbara's success 40 days post-program?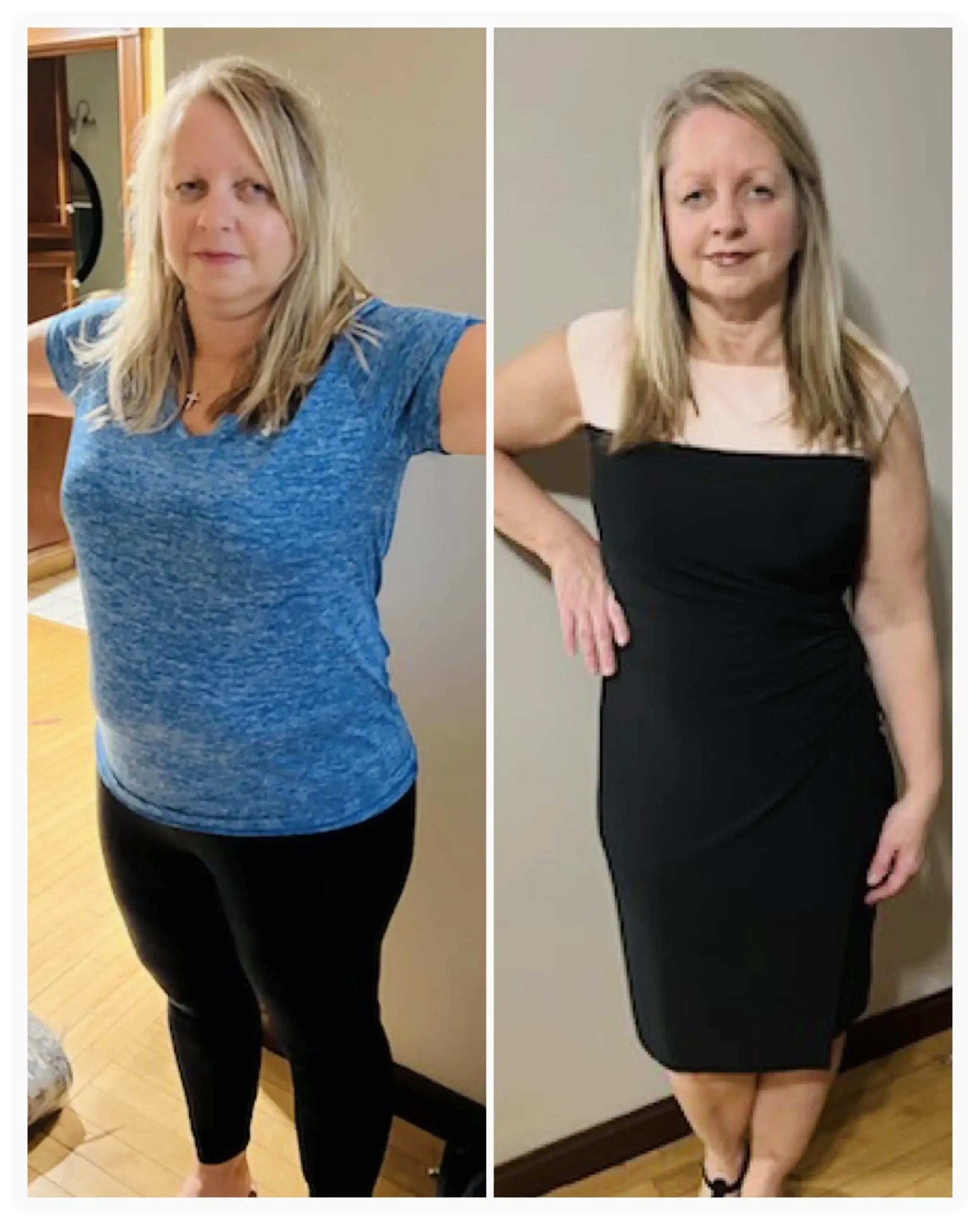 Maria came to us quite skeptical. Like most of our clients, she has had great success in the past losing weight but keeping it off has been an issue. During our initial call, I shared with her that, unlike other programs, we will learn what works best for her body together. Once we have that information, she can apply it long after the program ends to help her maintain her success. She would be in full control of her body and her weight.
Today, Maria is enjoying the feeling of being both happy and healthy! Her favorite part of the program was having a coach to eliminate all the guesswork. Whether it was sending over a label to see if an item is approved or asking for help choosing the best options from a restaurant menu, Maria liked not having to go it alone. She also felt more confident starting the program when she heard about the guarantee. She knew her coach was committed to hitting the agreed-upon goal and that we were in it together.
During the 90-day program, Maria lost a total of 32 pounds and dropped 5 points off her body fat, 5 points off her subcutaneous fat, and 6 points off her visceral fat.
We are so happy and thankful that she took a leap of faith and joined us for her health and wellness journey!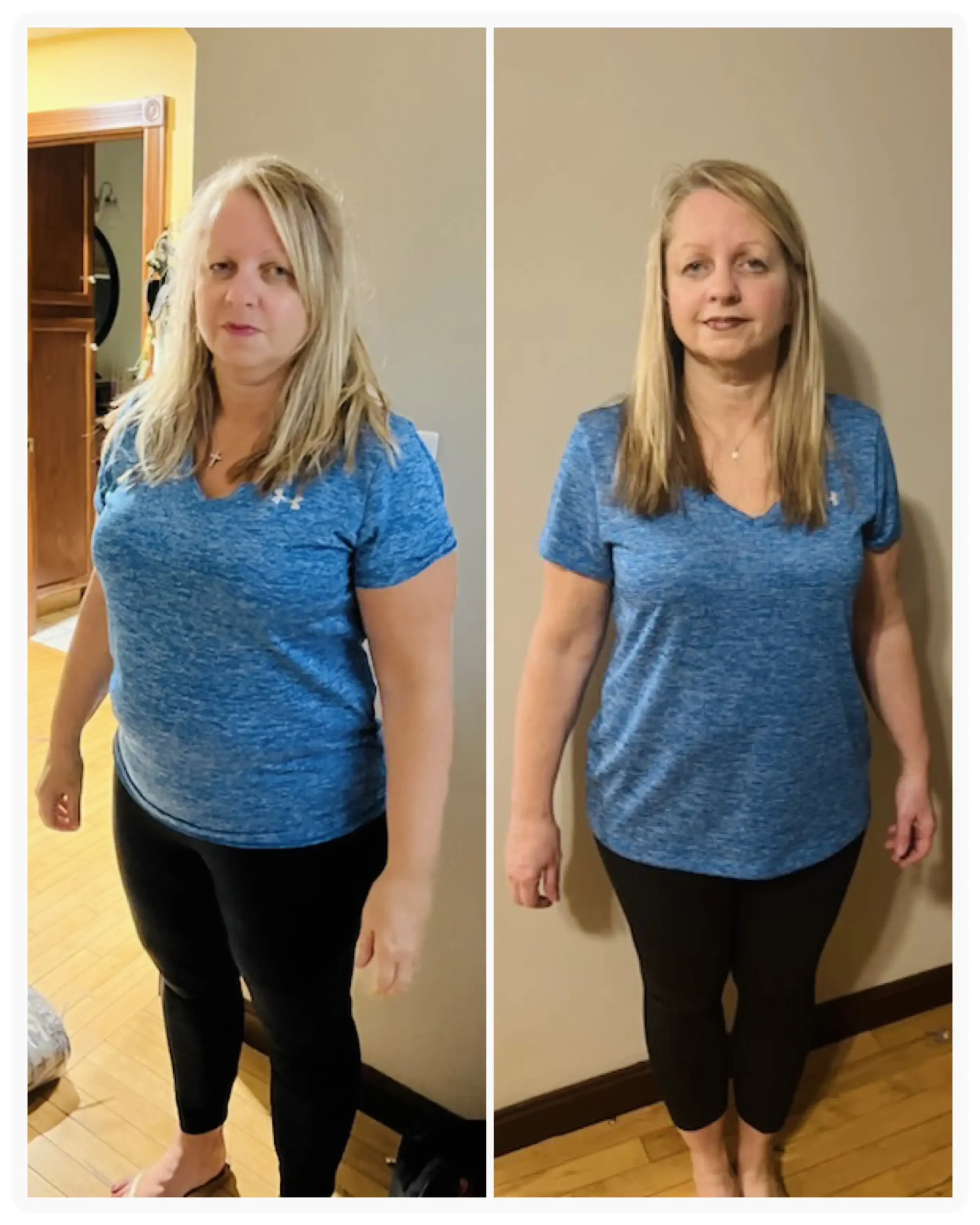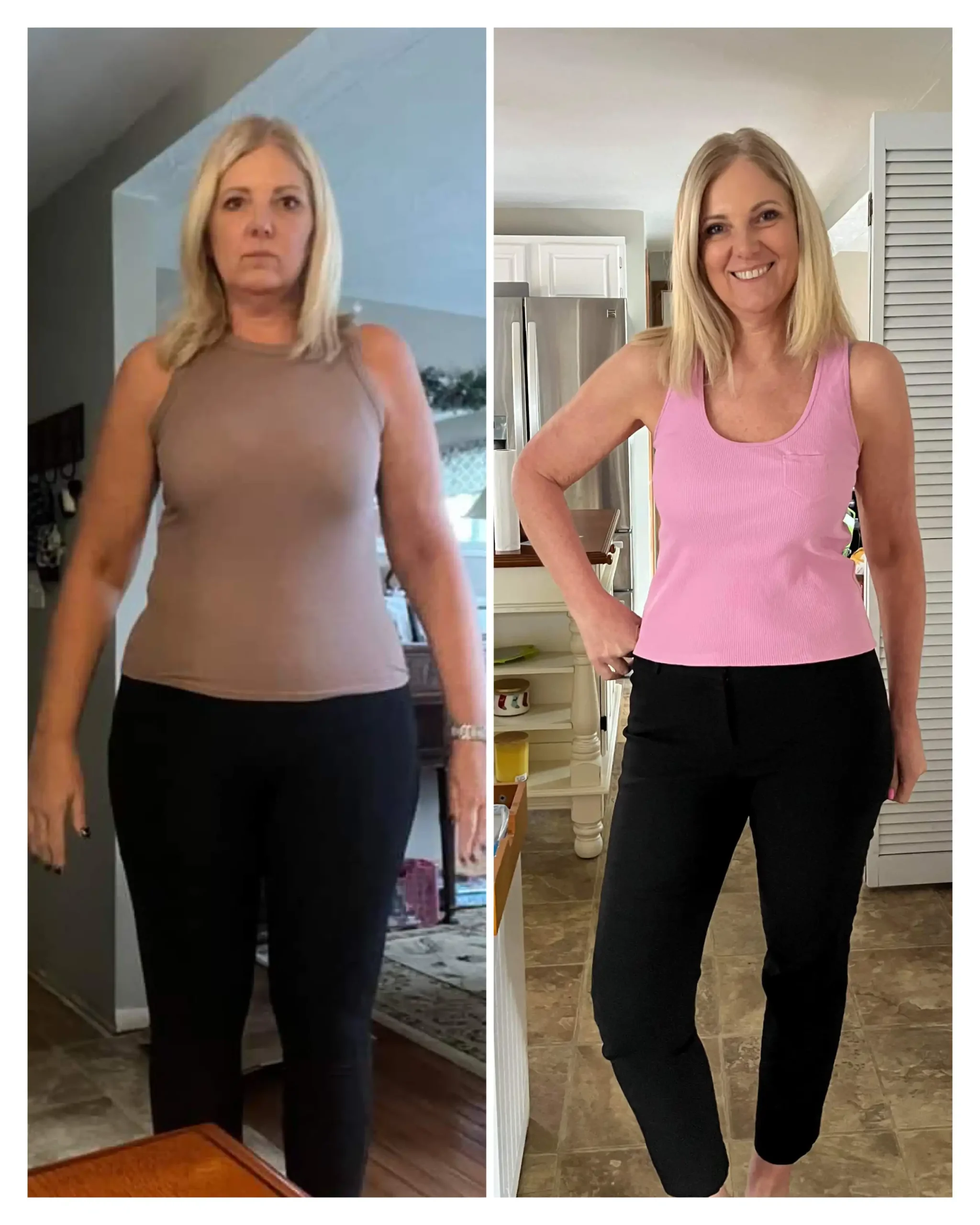 Tracey reached out to the Ciccone Wellness Center after struggling to lose the 30+ pounds she gained. A few of her friends had immense success with our program and after seeing their results and knowing their weight loss struggles, she found hope that she would also achieve her weight loss and wellness goals. And she did! Over the course of 90 days, Tracey lost 30 pounds, decreased her BMI by 4.5 points, her body fat by 7.1, her visceral fat by 4, and lost 5 years off her metabolic age!
Before starting the program, Tracey didn't understand why she wasn't losing weight despite her attempts. After completing the food testing portion of the program, she learned which foods caused her inflammation and weight gain and this made it clear what was causing her weight gain and her inability to shed the pounds. She also learned which foods helped her lose weight and now has a better understanding of how and what to eat. She also learned a system to continue losing or maintaining her current weight. She feels in control, happy with her current results, and confident she can continue to her goal weight.
We asked Tracey a few exit questions on her program graduation day and this is what she had to say:
What are your most significant takeaways from the program?
I feel I have a much better understanding of my body and what it needs. Decreasing inflammation and focusing on fueling my body with what it loves is such a healthier way to live. Knowing I have a support system should I ever need it is also huge.
If you were telling a family member that was struggling with inflammation and weight gain-what would you say about the program and your journey?
Definitely do it!!! So many people have tried fad diets, pills, shakes, etc with no results it's time to invest in yourself and get your health back!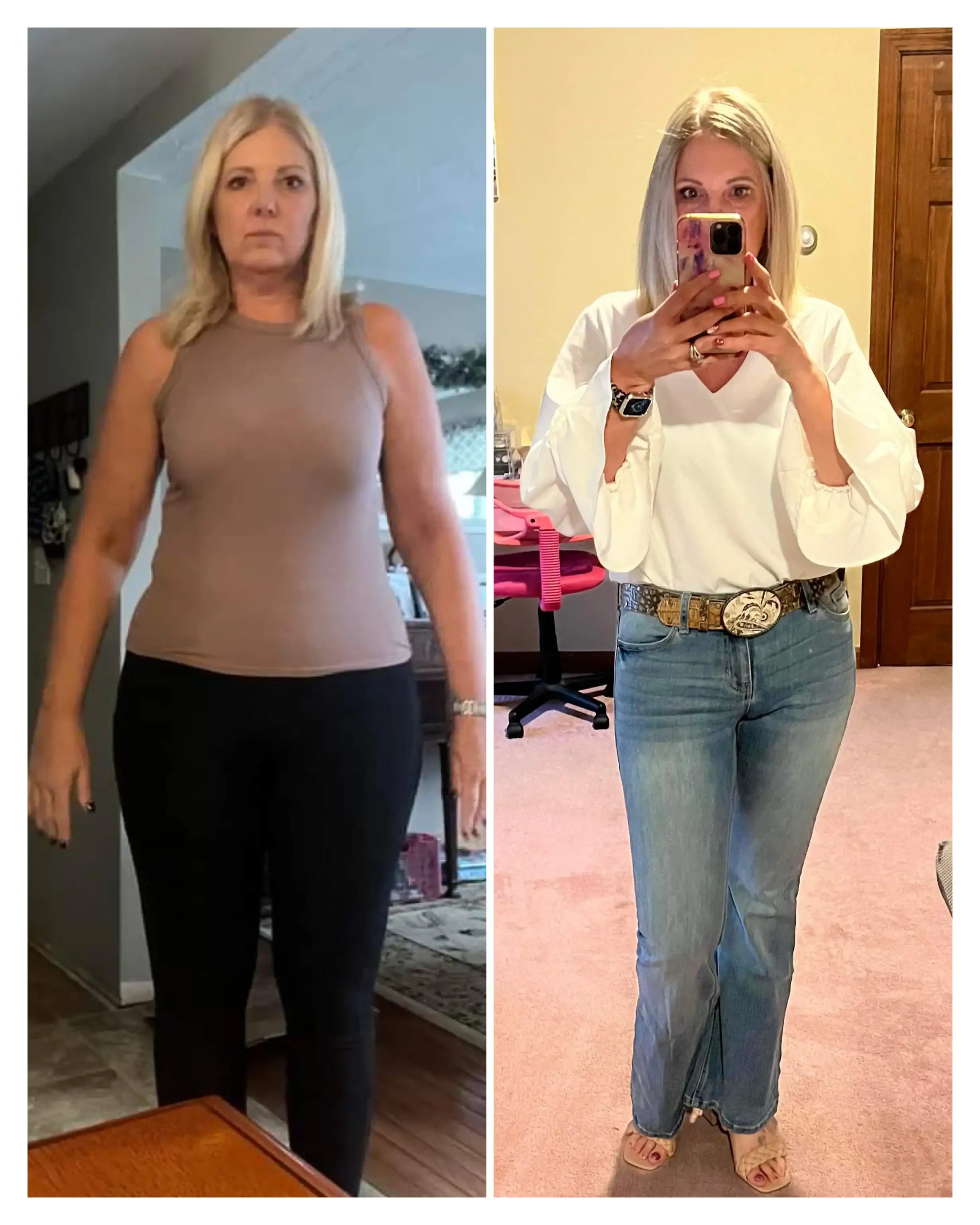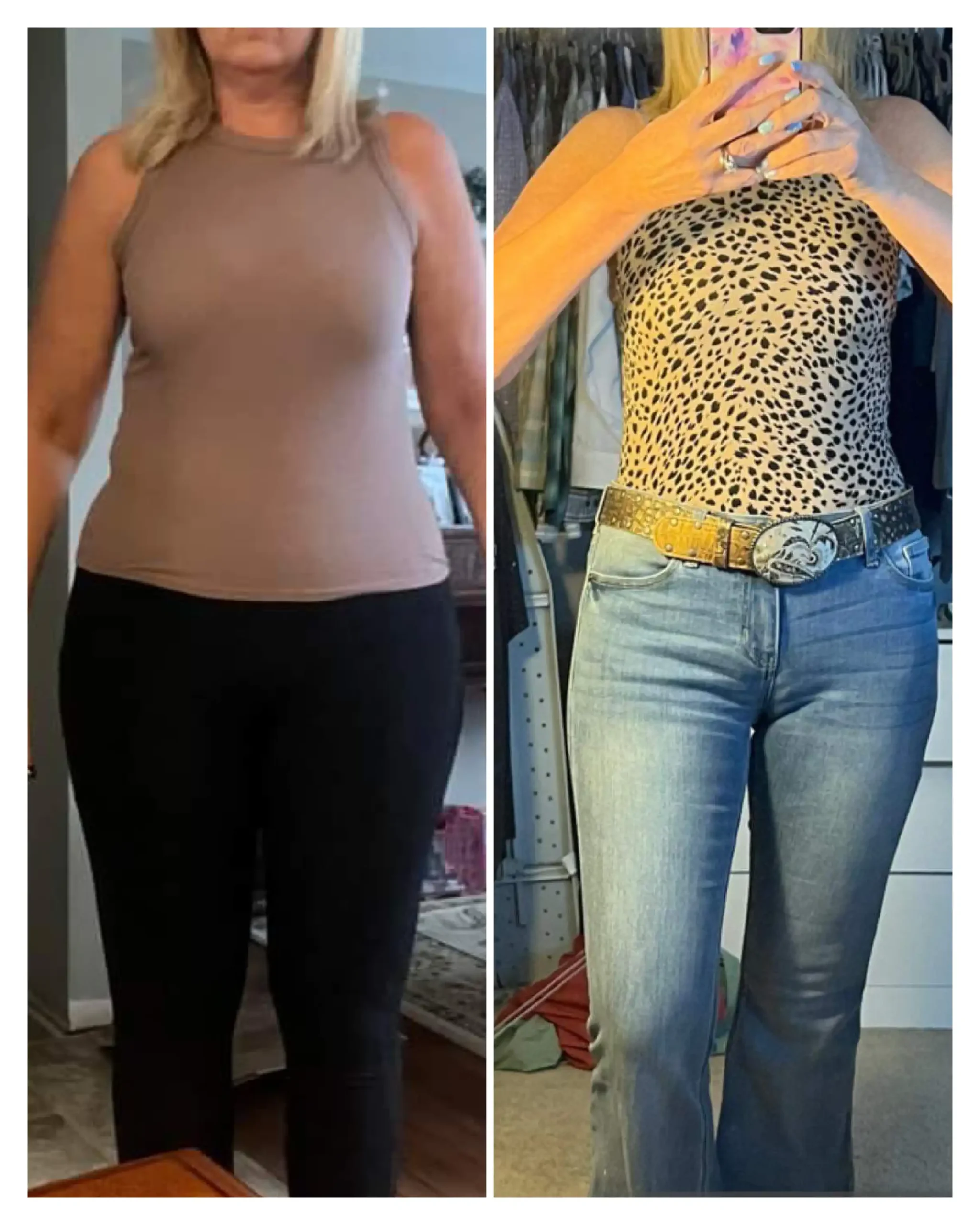 On a scale of 1-10 what number accurately describes your experience with us?
10+ Malory you have been amazing, patient, and never gave up or got frustrated even with all my challenges! I truly appreciate you and thank you from the bottom of my heart for being my rock! I am going to miss our check-ins. It's a bittersweet feeling. I'm so happy I graduated from the program but will really miss you. Thank you so much for everything!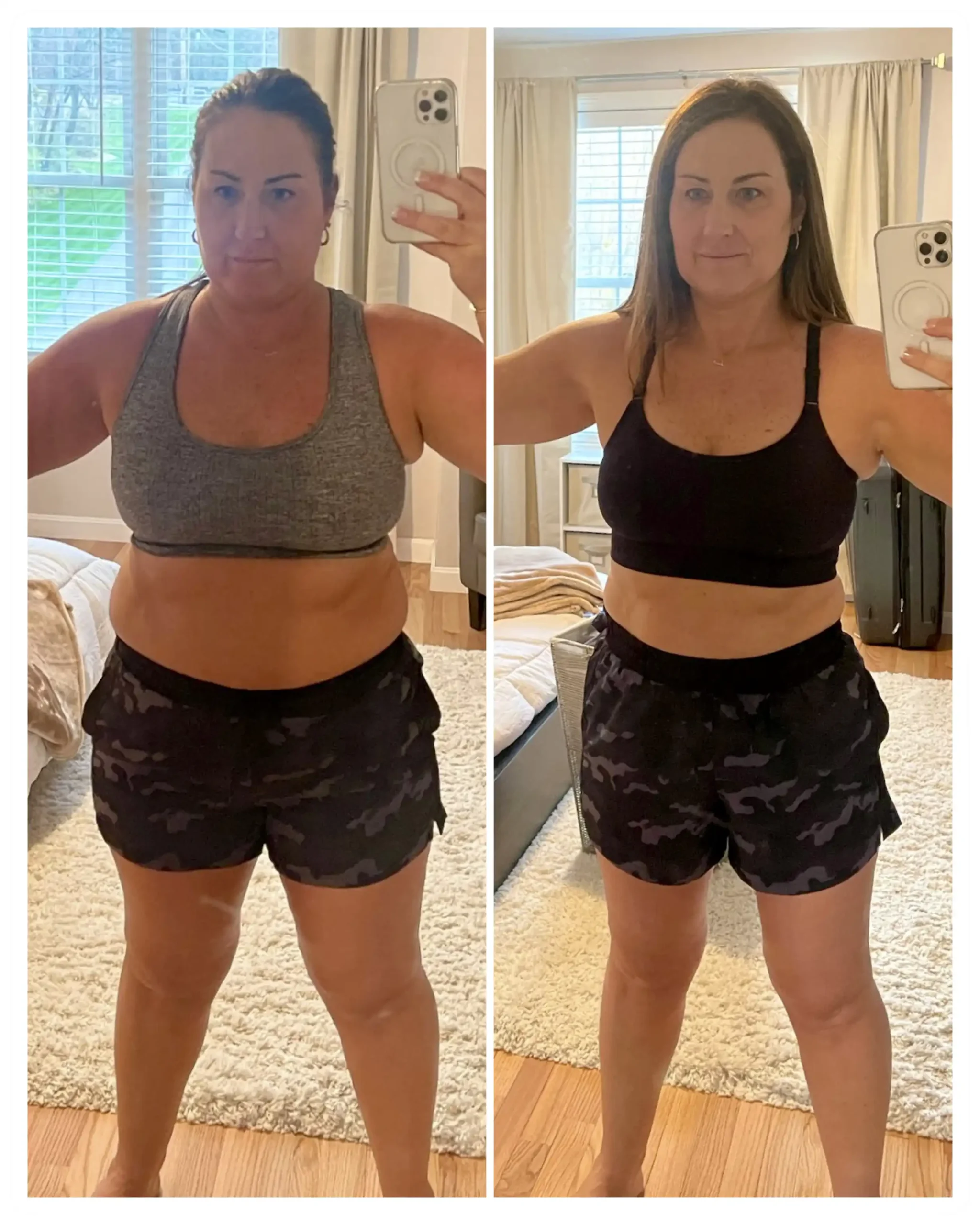 Let's talk about having Faith! Faith came to us looking for a lifetime solution to health and weight loss. Like most of our clients, she has tried multiple programs and diets but has never found one that helped her create a healthy lifestyle.

Clients always start out with skepticism, and understandably so. There are so many plans on the market that promise weight loss, detoxing, increased energy, and so on, but we didn't make these promises to Faith—we promised her that we would help to heal her body, and the rest would come.
We wanted to keep her body's individual needs at the forefront. Our goal was to discover the foods that would actually heal her body, while also working to help her burn fat. Weight loss is just one component among all the other benefits.
We wanted to get Faith's metabolism back to working the way it was always intended to. During her 90-day program, we tested healthy fats, carbs, and sugars to see what her body would burn as fuel and what her body would store as fat. Based on our results, Faith was able to create meals that she knew would nourish and fuel her body, and she now has the keys to controlling inflammation, keeping her weight where she wants it, and no longer letting food dictate her life. She is in total control!
During Faith's program, she was able to drop almost 40 pounds. Her body fat dropped 9.9 points, her subcutaneous fat dropped 8 points, and her visceral fat dropped 6 points! All of these numbers are extremely important for living a long healthy life. In addition to these stats, Faith has more energy and confidence and has transformed into someone capable of maintaining everything she has learned through the program. Working with her has been an absolute pleasure, and I'm excited about her future!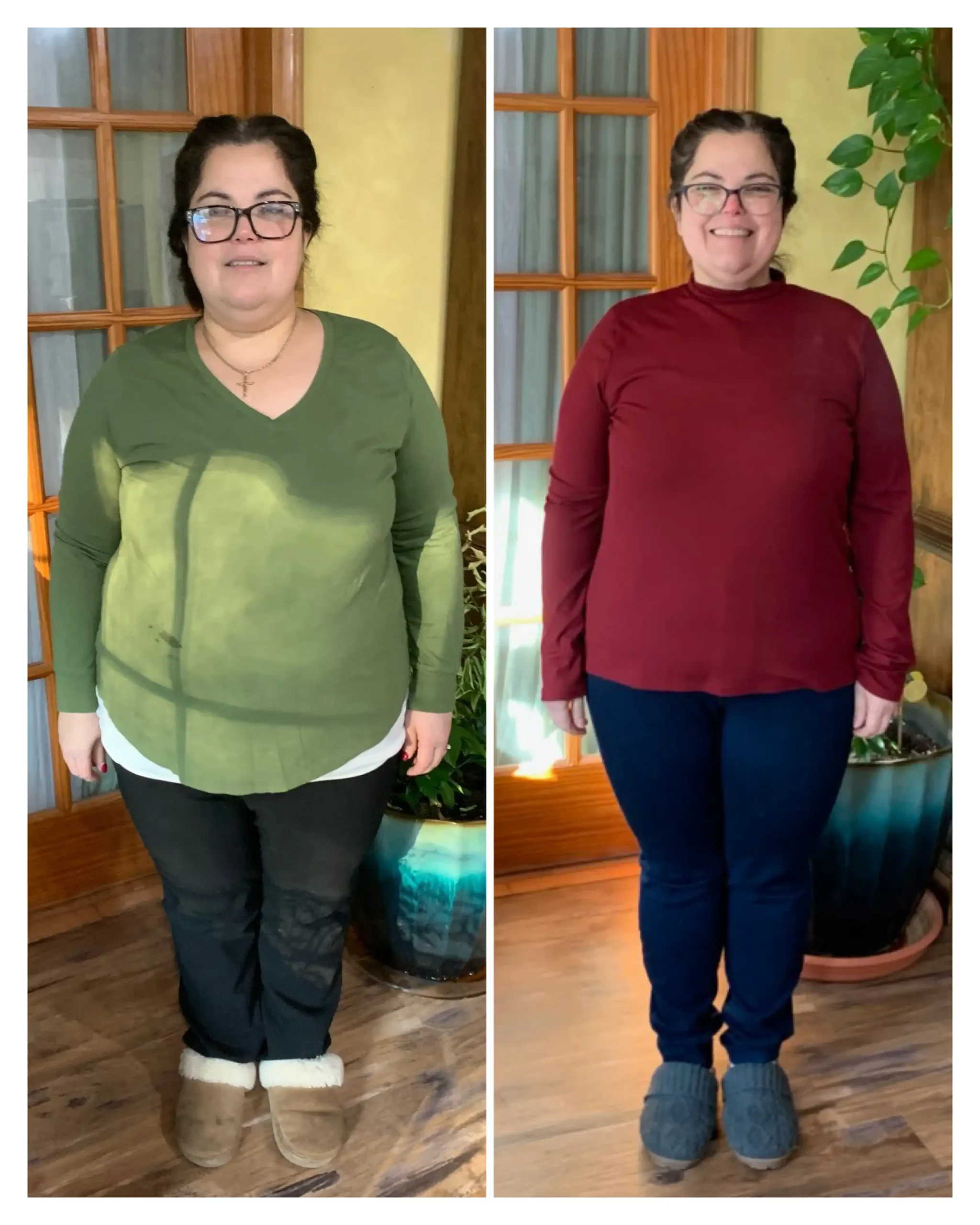 Out of all the clients that I've ever worked with, Damaris's journey will be a memorable one for sure.
She came to us initially because her sister Daisy had completed our 90-day program with great success. Both Damaris and her mom attended one of our live events and both hesitantly signed up for our free new-patient appointment.
I clearly remember the utter lack of hope that she had during that first visit. Damaris had lost weight in the past by doing dramatic, unsustainable weight loss plans that involved excessive hours in the gym and unhealthy eating habits. I explained to Damaris that her failure to keep the weight off wasn't her fault—the programs that she was doing set her up for failure. If something starts off extreme and it works, that means you must maintain that level of extremity for it to continue to work, and that's just not realistic or healthy.
What I wanted to teach Damaris was that foods can actually help her reach her weight loss goals—that there are healthy ways to eat and not feel deprived while the scale moves in the right direction. As she lost weight each passing week, I could see a lightness in her face—a look of hope and excitement that had not been there before.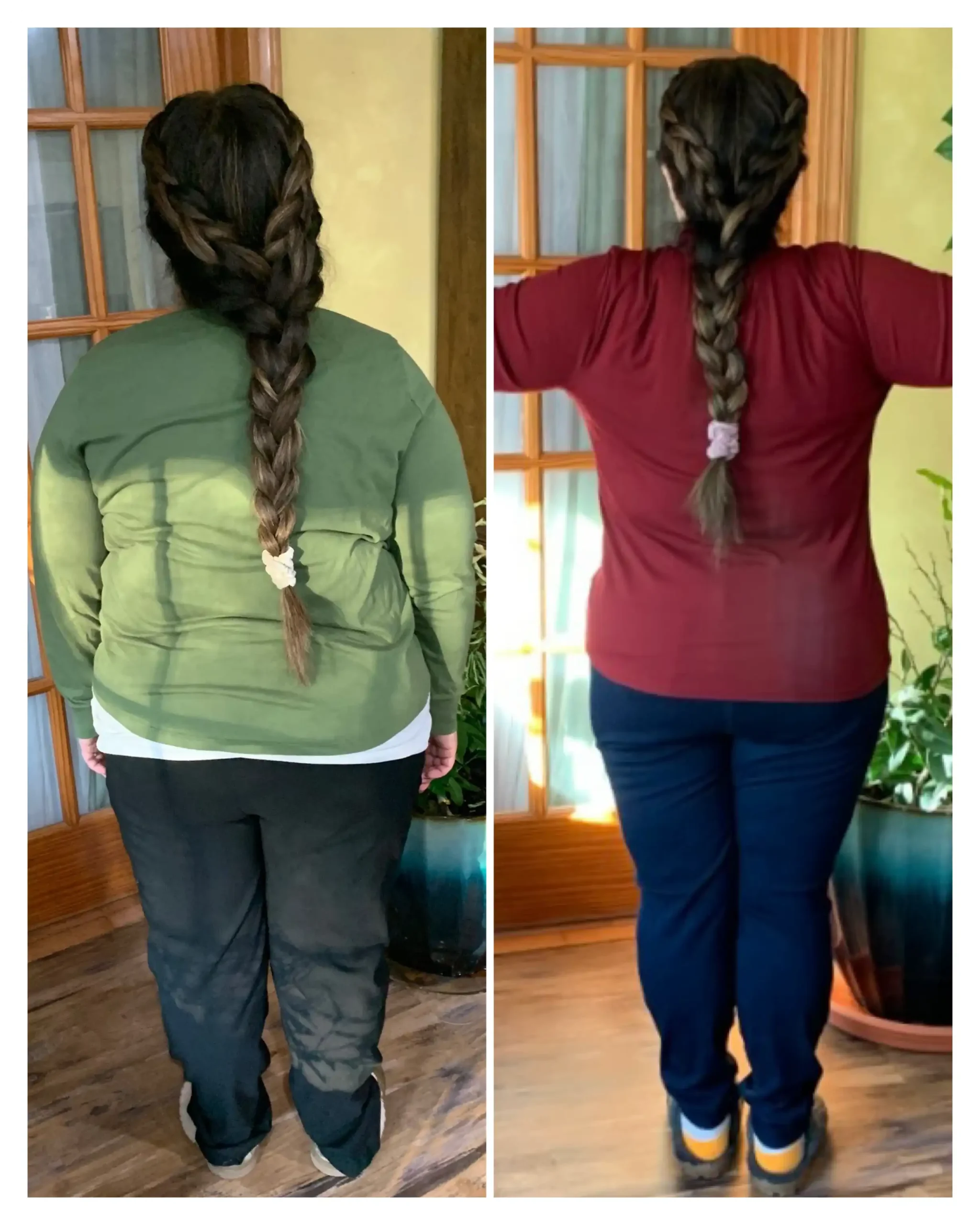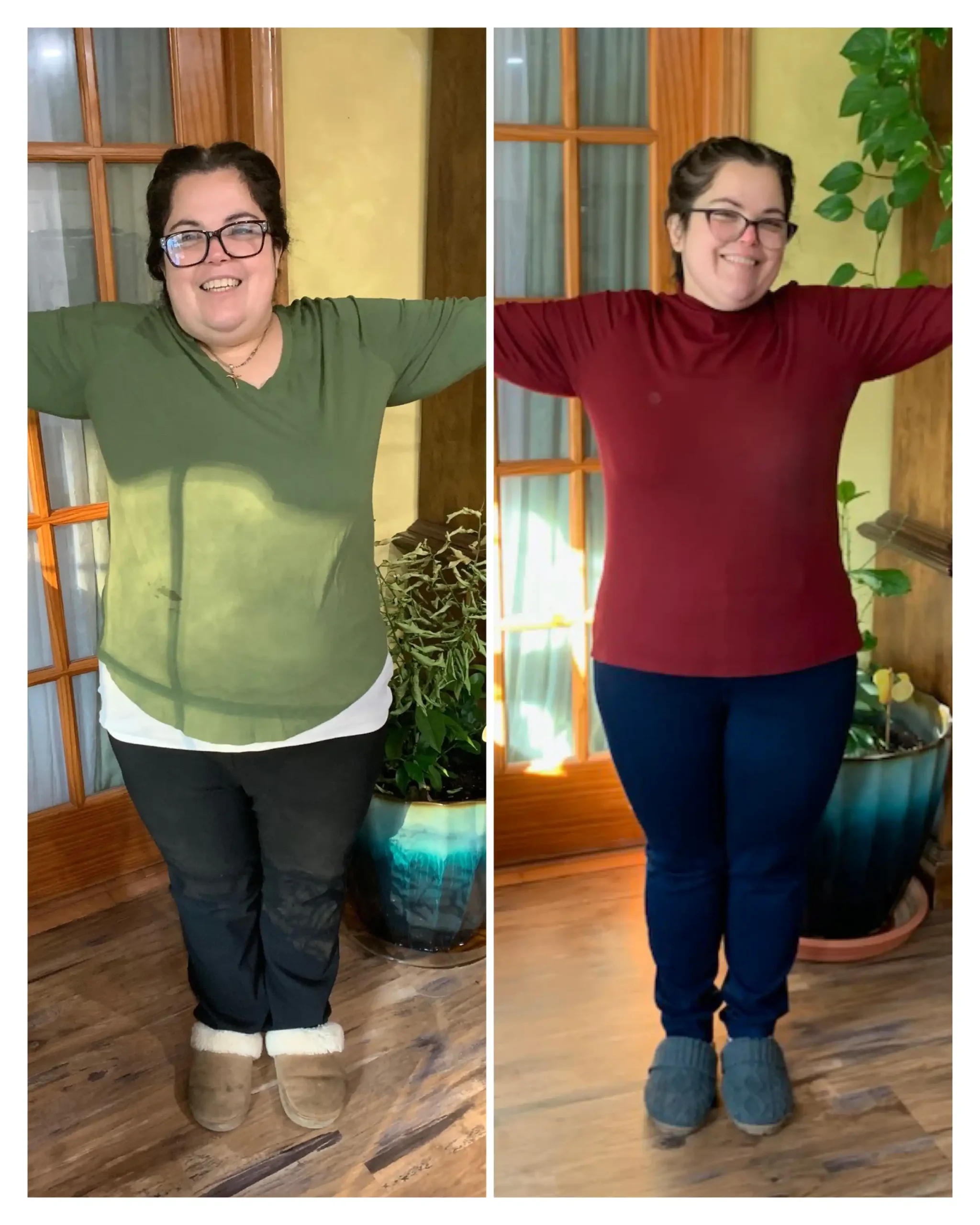 During her 90-day program, she lost 42 pounds! Her lengthy list of initial complaints included high blood pressure, heartburn, daily headaches, stiffness, and loss of balance—all these symptoms have since gone away completely or dropped significantly. She also shared with me that for the first time in a long time, she can actually do activities without losing her breath. When I asked her what her favorite part of the program was, she said, "I could actually eat food that I enjoy, and I loved that there was no measuring or calorie counting." She also shared that she enjoyed learning how to eat and discovering which foods work for her body. When asked what she would like to share with anyone considering the program she said, "No one can be more skeptical than me, but I tried it and was surprised from day one!"
Damaris still has additional goals that she would like to hit since graduating and has decided to keep the coaching after graduating to make sure she has someone to help remove the guesswork as she starts to introduce exercise.
Thank you for being a part of our program and trusting me as a coach!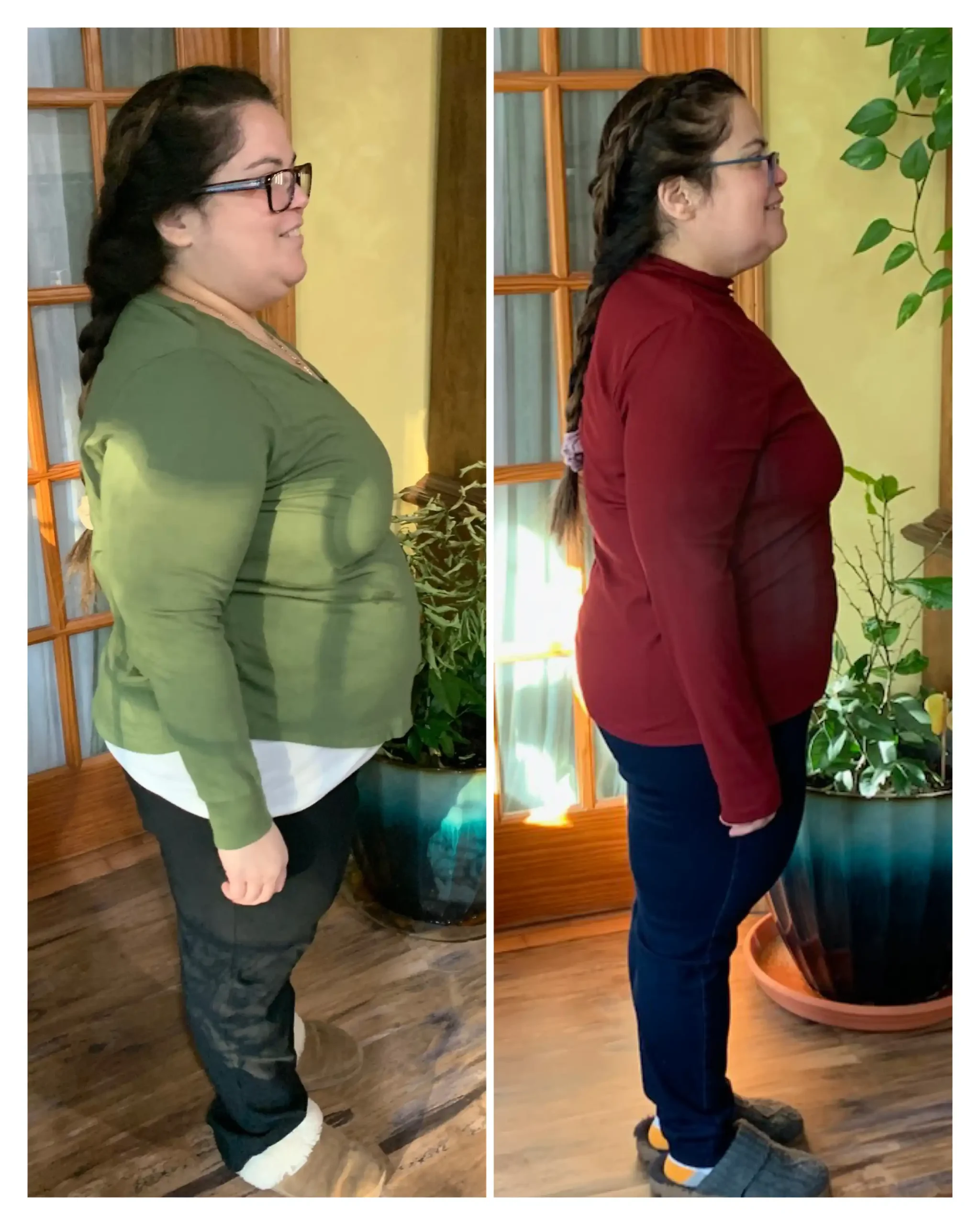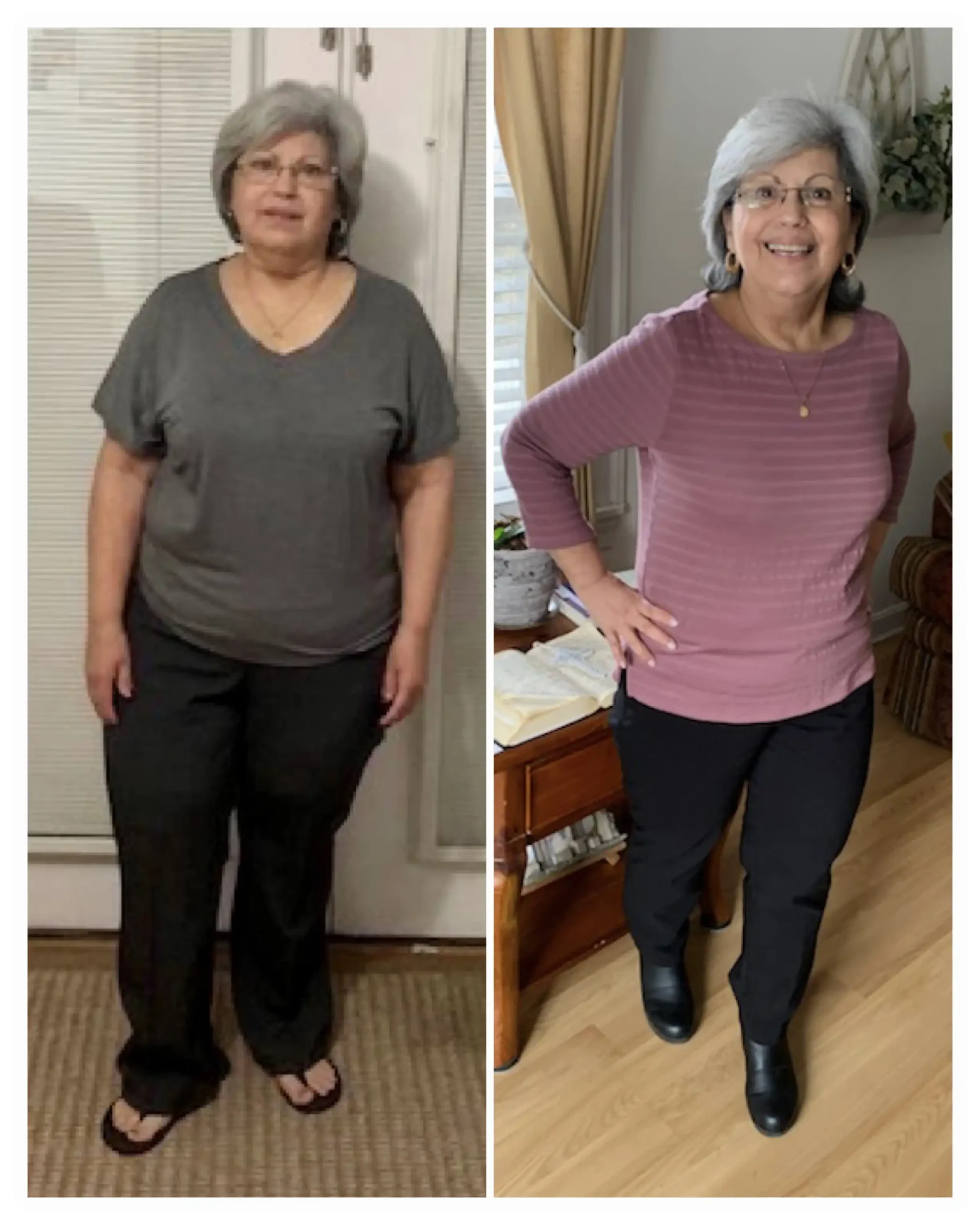 As women, we often find ourselves presented with a plethora of excuses when it comes to maintaining a healthy weight. Once we cross into the realm of our 40s and beyond, it seems like an endless list of factors stacks up against us—hormones, pre-menopause, menopause, post-menopause, a slowing metabolism, and the list goes on. However, Aurea is here to show us that we have a choice: we can either accept these excuses as our reality or take control of our health and create a new narrative.
Aurea made a courageous decision to break away from the norm. She recognized that merely going with the flow wasn't enough for her. With her daughter's previous success in our 90-day anti-inflammatory program, she decided to take the leap herself. Aurea, like many women of a certain age, had her doubts. But during her initial consultation with us, she candidly discussed her issues—heartburn, neck and back pain, shortness of breath—and her desire to shed 36 pounds.
Incredibly, within the first two weeks of the program, Aurea saw remarkable changes. Her heartburn vanished, and all her other symptoms followed suit. She even shared how her previous workouts had failed to make a difference in her body, and her mobility was hindered by stiffness. Today, her workouts have become more invigorating, and she feels significantly stronger. Aurea has triumphed over adversity, going from a size 12-14 to a size 8. With a remarkable weight loss of 30 pounds, she now confidently anticipates shedding the final 6 pounds independently.
When we asked Aurea what message she'd like to share with others contemplating our program, she emphasized, "Invest in yourself. It's absolutely worth it!"
Aurea's story serves as an inspiring testament to the transformative power of commitment and self-investment. Her journey illustrates that age is just a number, and with the right support and determination, anyone can embrace a healthier reality. Join us on this journey to reclaim your health and vitality—just like Aurea did.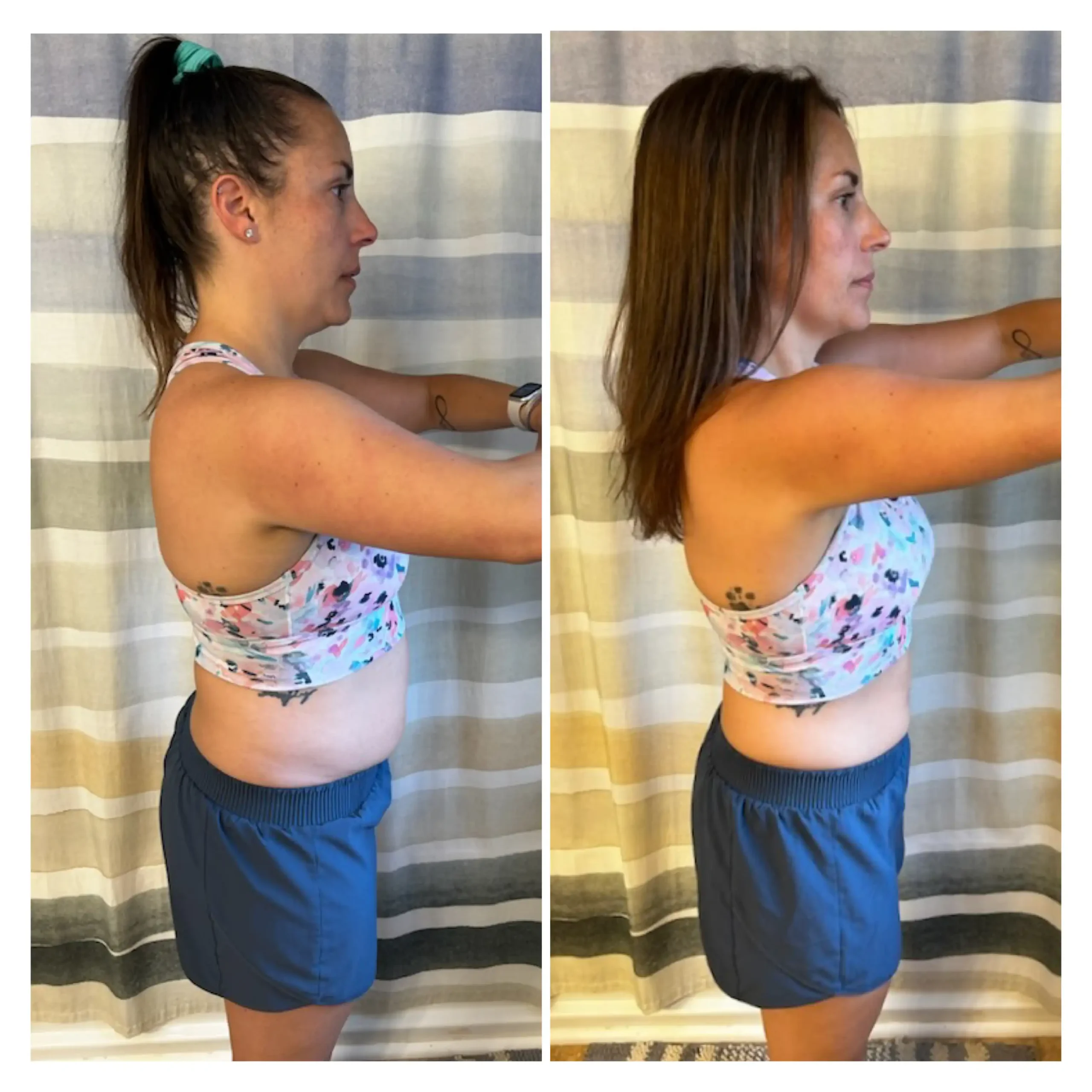 Gina Cutter has done a wonderful job with our weight loss program.
Gina lost a total of 17 pounds over her 6-week program and, more importantly, she learned how certain foods impact her health.
She also has more energy throughout the day and is feeling so much better! The best part of our program is that we make our clients completely independent with their nutrition. She now has the tools to continue her journey and maintain the progress she's made. Her husband went through the program with her and also made great progress with the program.
The 6-week program is great for someone with no health issues who is looking to lose 10-20 pounds and already has a basic understanding of healthy eating and whole foods. If this sounds like you, give us a call and we'll work with you to discover the foods that work for you.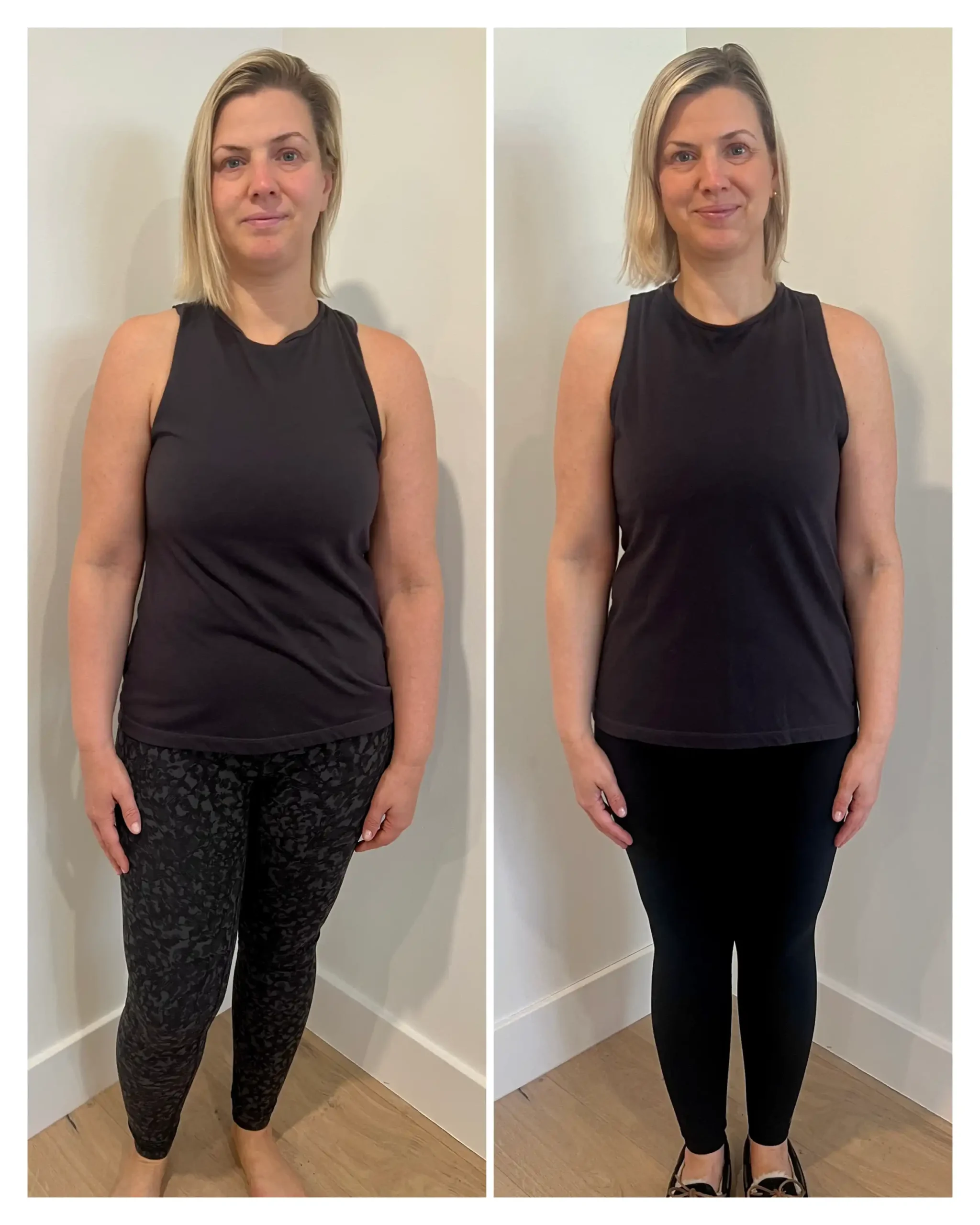 Melissa came to us wanting to lose a small amount of weight, but more importantly, she wanted to address the inflammation in her body. In her words, she was suffering from "incredible lower back pain." She would wake up in pain and would suffer for days at a time with no relief. Her ankles and knuckles felt like they constantly needed to be cracked. Melissa also said that her bloating was so severe that by the end of each day, she looked and felt like she was six months pregnant. During her 90-day program, she was able to lose 17 pounds, identify foods that supported her efforts, and identify (and limit) inflammatory foods that work against her efforts.
Today Melissa is free of back pain, she no longer feels the need to crack her knuckles, and her bloating is GONE. Her latest blood work showed that her inflammation was cut in half!
Melissa is such a great example of how you can be active (she's a tennis player), eat healthily, and do all the things you believe to be good for you and still not get the results you want. What's healthy for one body might be inflammatory for another—our job is to help you find out exactly what works for you to achieve long-term results. I truly enjoyed coaching Melissa and I'm so happy to add her to our lifetime wellness family!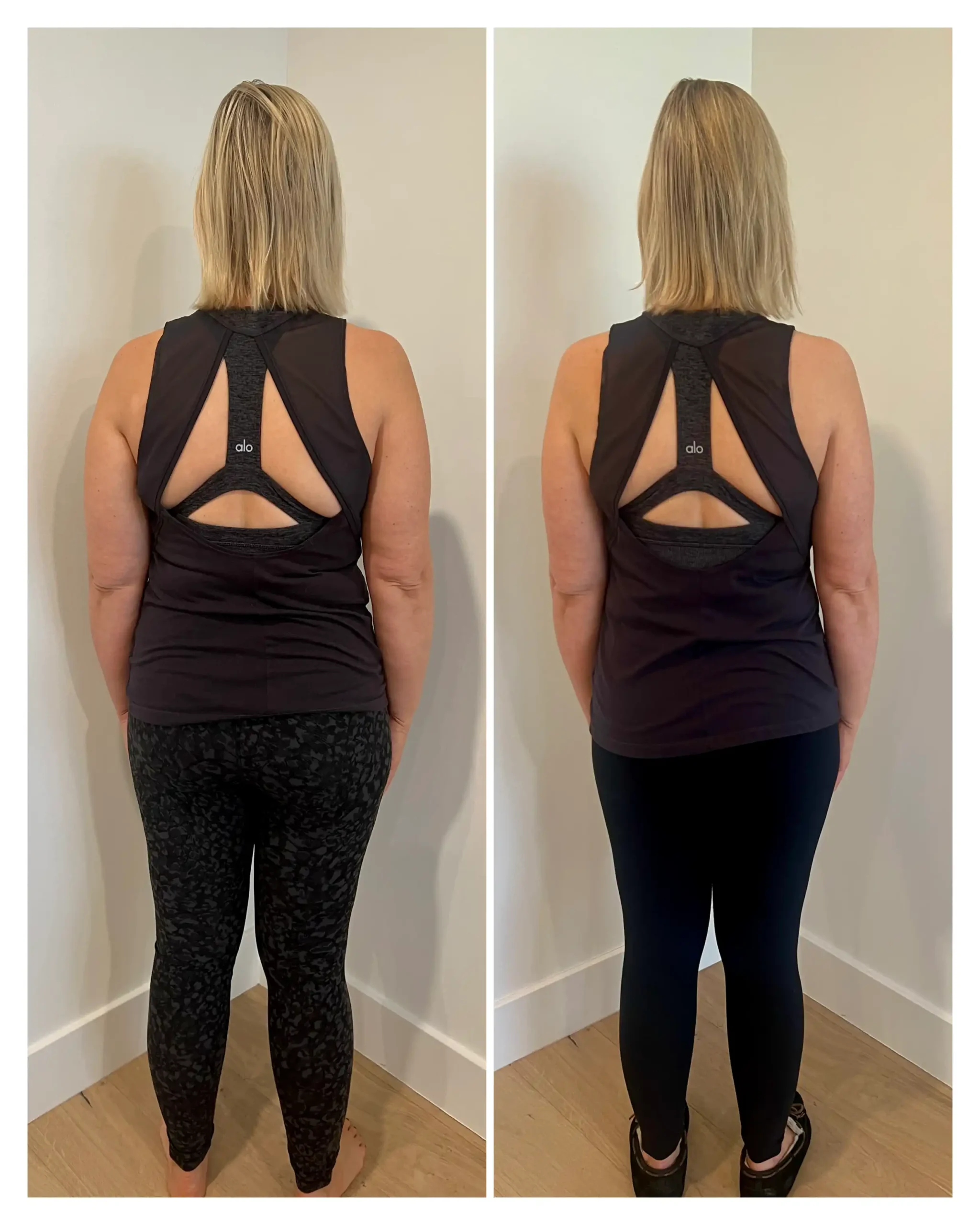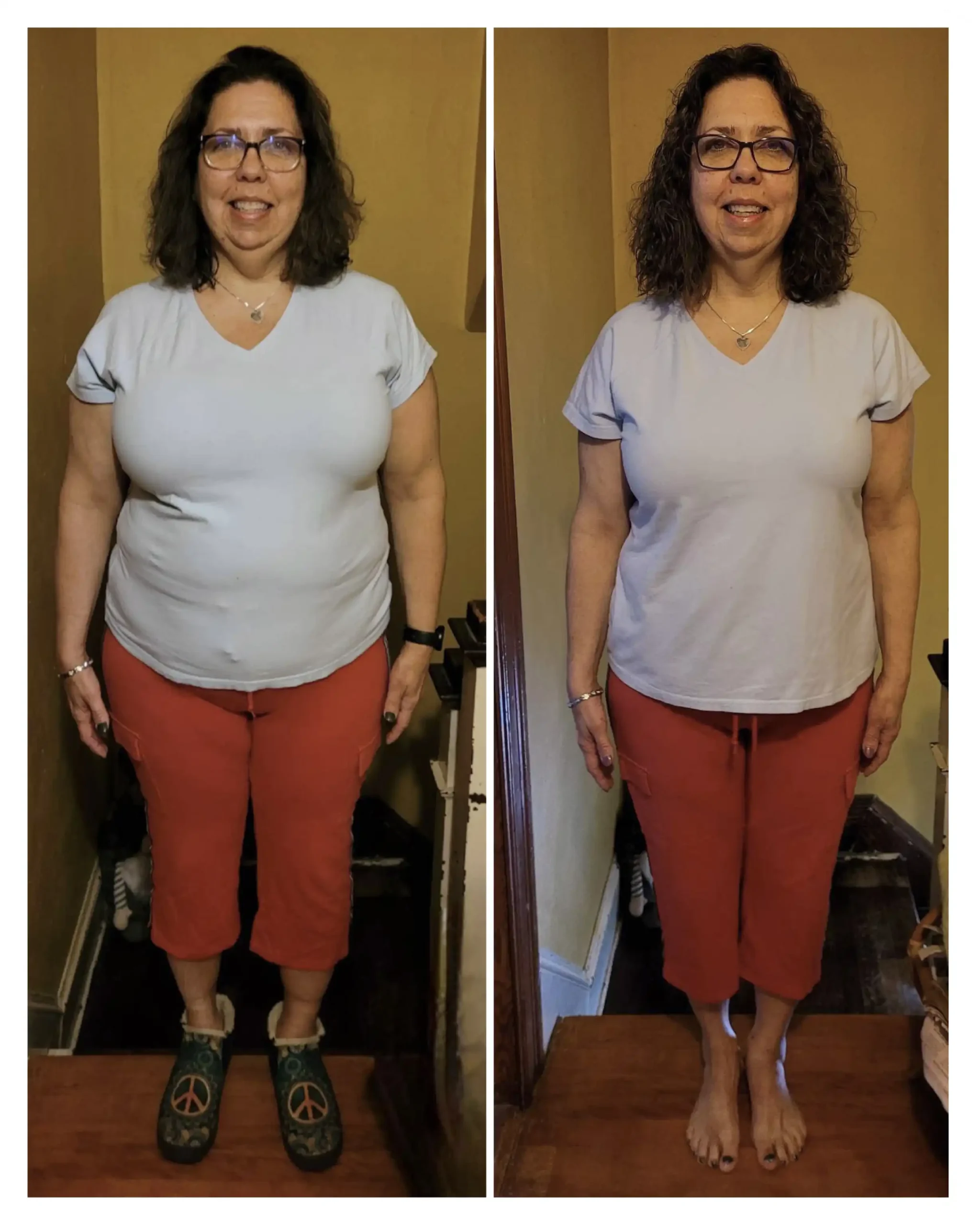 Rebecca is a long-time patient who joined our weight loss program because she felt it was time to start focusing on herself and her health. She wants to be the healthiest version of herself to enjoy her upcoming retirement. Her goal was to improve her quality of life and reduce her need for medications. After completing her program, she is now off her blood pressure and reflux medication and is a weight she hasn't been in decades. Not only did she hit those goals, but she also achieved numerous more!
Rebecca's family supported her and followed the program with her, preparing and eating the same meals together. This environment of additional support and encouragement allowed her boyfriend to lose 60 lbs and her daughter to lose 30+ lbs! Combined, they lost 135 lbs! Together they learned how to make healthier choices, understand the ingredients in food products, how to heal their guts and bodies, and how each food affected them individually. They each feel confident and prepared to continue their weight loss journeys. Rebecca is now more excited for her days of retirement and about the doors her new health has opened for her to live her best life!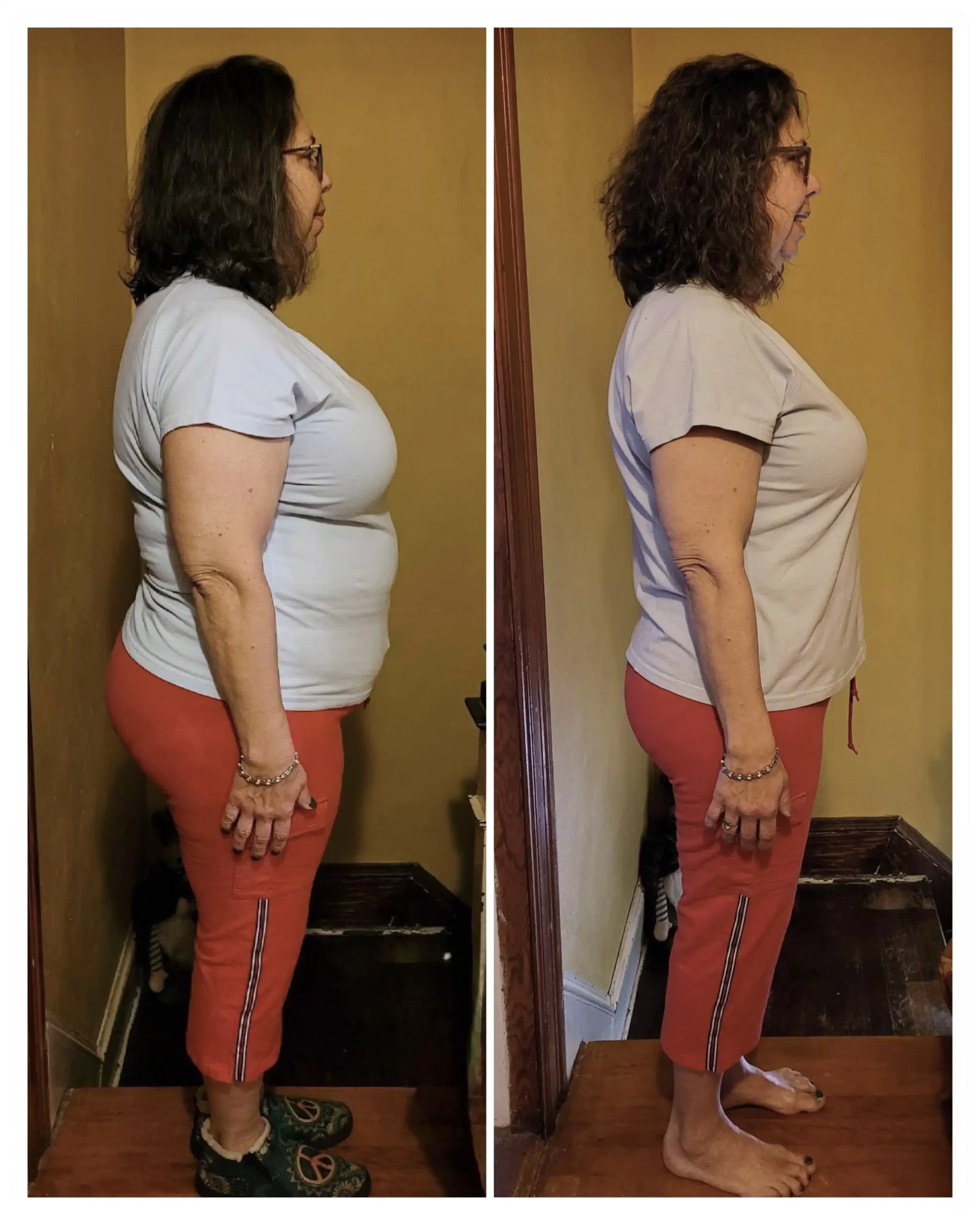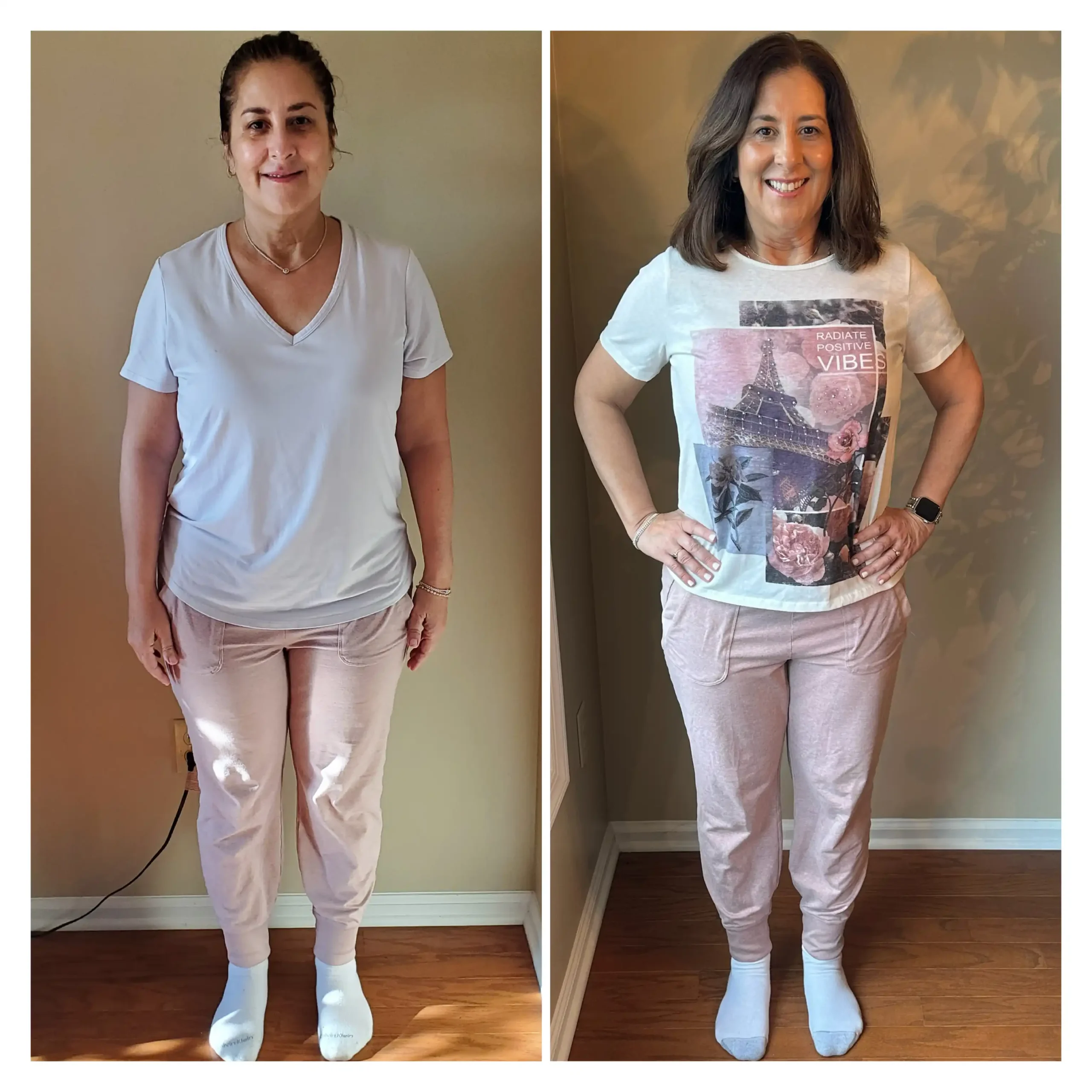 I'm not sure we've ever had a client gain a glow quite like Rosa! When we first met Rosa, she was frustrated with her weight and her hip pain—she wanted to move and feel like the person she knew she was on the inside.
During Rosa's journey, she went from feeling frustrated to enjoying learning about her body and fully embracing her new way of eating. For her, the program started as something she had to do to lose weight but became something she wanted to do because she was seeing and feeling the results.
Rosa lost 27 pounds, hit her goal weight, and her hip pain is completely gone. Her weight loss and pain relief have allowed her to be more active in her workouts, pushing her health goals even further. In addition to those amazing benefits, she is feeling much more relaxed and sleeping better than ever.
I love seeing clients transform through our process and seeing Rosa's glow-up was one of the most rewarding parts! It's amazing what feeling good did for her mindset, confidence, and determination. I will miss coaching Rosa, but I know she has all the tools she needs to maintain what she's worked so hard for.
Are you interested in reading about Rosa's success 3 months post-program?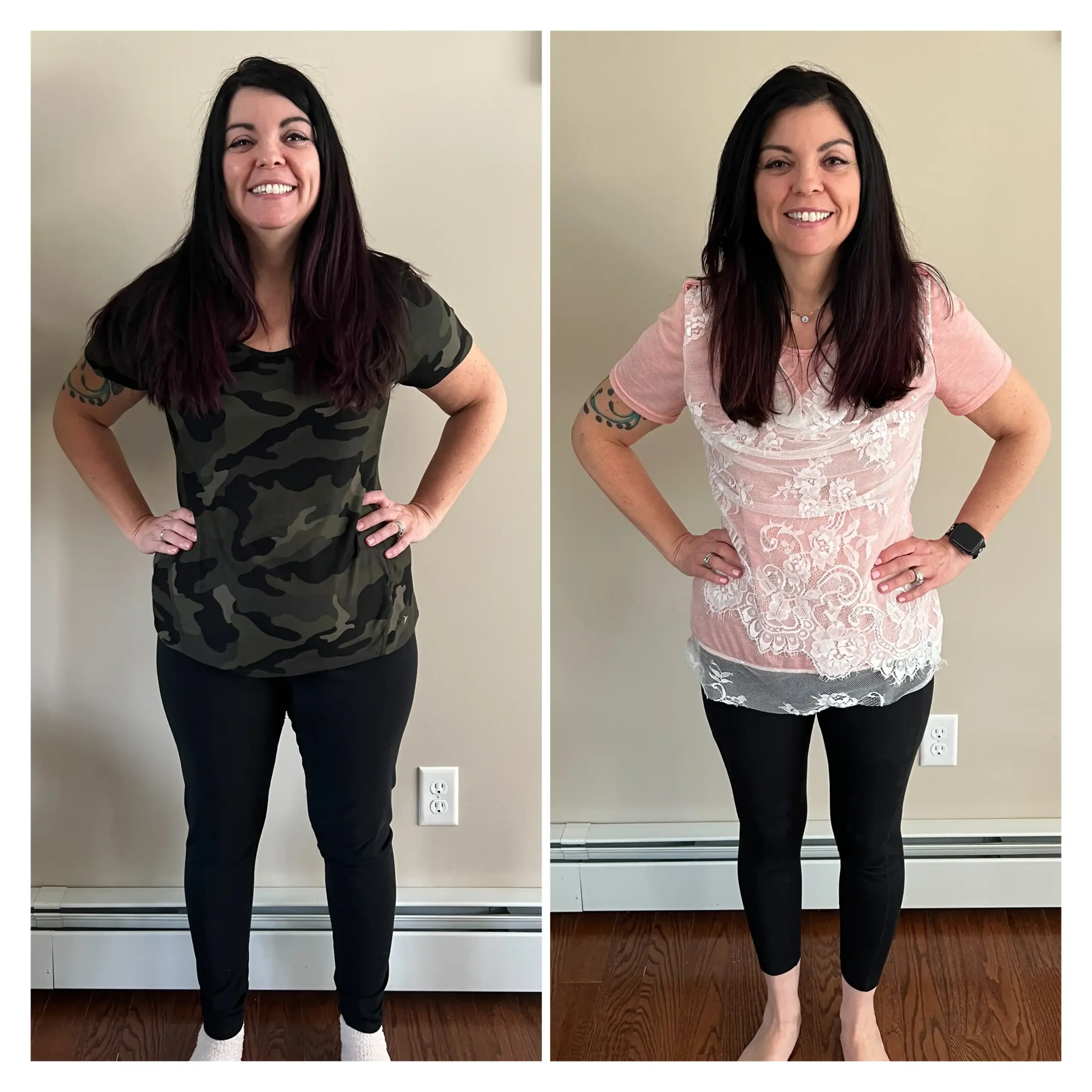 How did a busy nurse manage to lose 33 pounds in 90 days?
Karin came to us as a referral and let us know right away that she was a self-proclaimed "picky eater" and a "carb girl." She was apprehensive about giving up her beloved pasta and cheese! Right away I assured her that there is a place for everything in this program, even pasta and cheese (eventually), and that we would make sure that she knew exactly where and when that was.
One of the great parts of this program is that clients see results on day two when they step on the scale. Those results encourage the skeptical, the picky, and everyone in between. It wasn't long before Karin was completely on board. During the first 10 days, she had dropped 8 pounds and continued to lose consistently throughout the 90 days. And even more importantly, she was learning life-altering habits along the way.
During her first 20 days, she learned that she could in fact lose weight, even though she had struggled in the past. In the next 20 days, we tested different fats to see which ones her body would burn as fuel—these discoveries are essential in supporting sustainable weight loss. In the final phase, we experimented with all the foods she loved prior to starting the program and tracked how her body responded.
Prior to graduating, Karin was able to successfully apply all the tools she had gained throughout the process and demonstrated that she could move the scale in any direction she chose—she was finally in the driver's seat.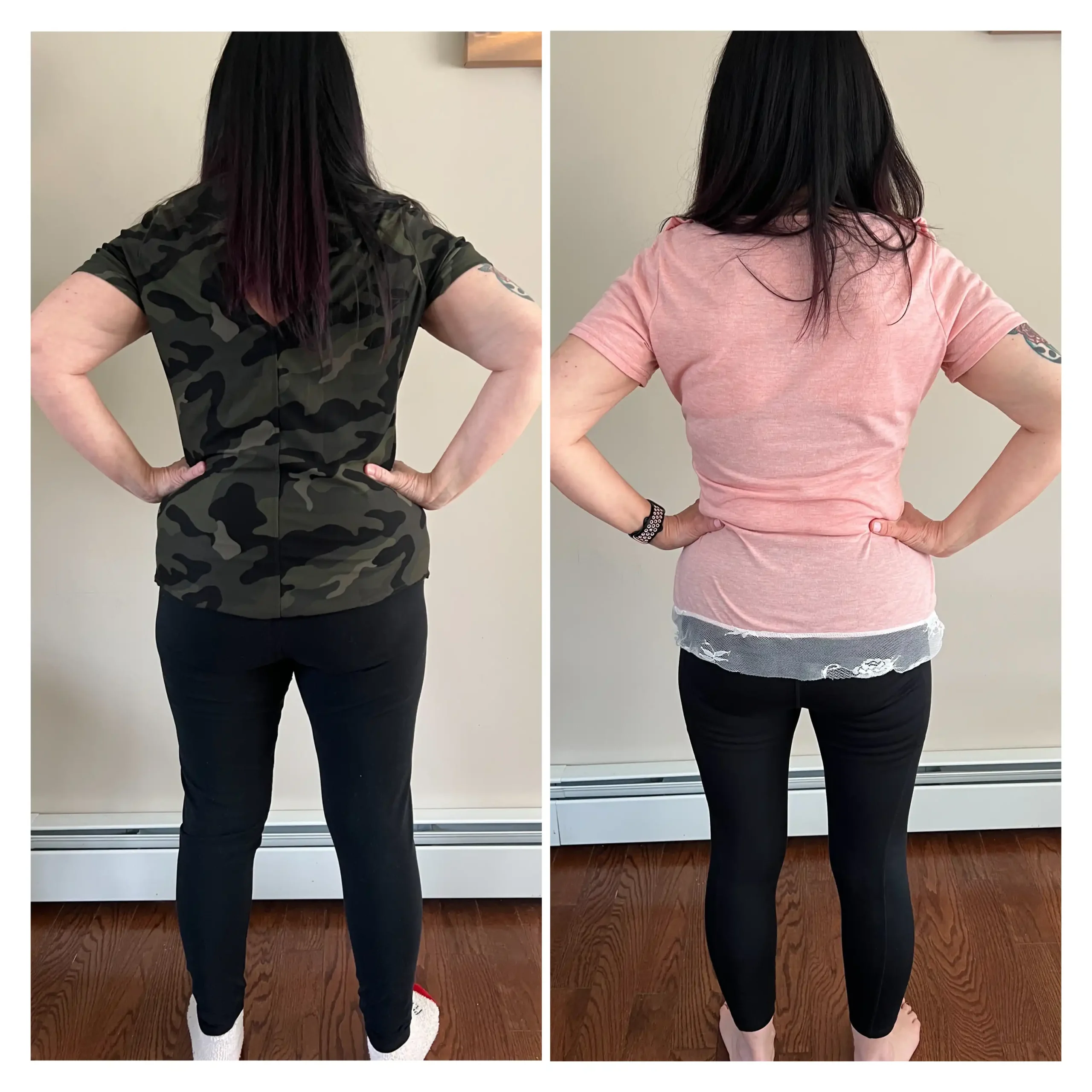 During our last coaching session, I asked Karin what her biggest takeaway was, and she said, "Control over my body. I know what I'm putting in my mouth and the impact that it has. I'm so much more aware!" She also shared that prior to the program she had lots of potatoes on hand and now her fridge is filled with all kinds of veggies! Her husband has also enjoyed the new menu and healthy changes.
Karin lost a total of 33 pounds and dropped from a size 12-14 to a size 8.
She feels physically better, is more active, and feels the most confident she's felt in years. She is eager to share the program with friends and other women in her age bracket to give them hope.
If you're inspired by Karin's story, please contact us below or attend one of our free Wellness events!
Are you interested in reading about Karin's continued success post-program?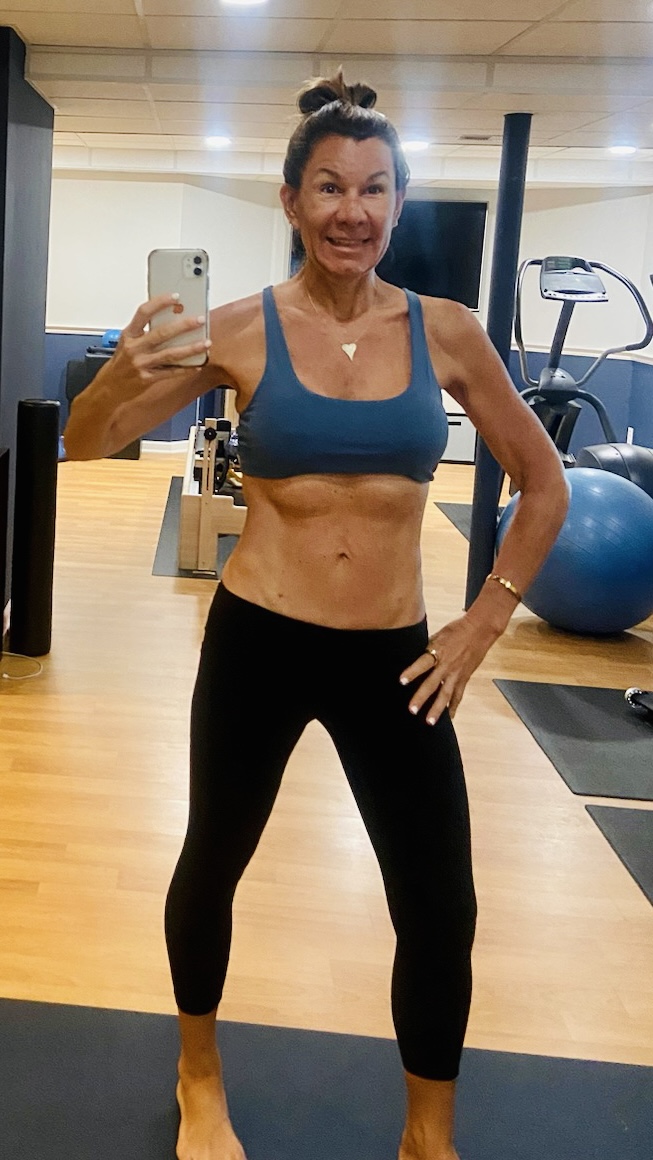 Kristin came to us looking for improvement in her overall health. She was suffering from frequent headaches, dry skin, fatigue, and hot flashes, and she wanted to lose about 15 pounds. Being a breast cancer survivor was a driving factor for her decision to try something completely different to achieve optimal health.
During our 90 days, we focused on eliminating inflammation, allowing the body to heal, and testing foods to reveal a diet specifically curated to support her mission. When we have clients like Kristin who are more focused on health as opposed to losing weight, it allows us more time to work on mindset and education. It also gives us more time to work on plateauing at the goal weight, and therefore setting a window of fluctuation of no more than two to three pounds.
During Kristin's time on the program, she lost a total of 20 pounds, her energy has increased, her skin is better, the headaches are completely gone, and hot flashes are a rare occasion.
She even went on vacation and lost weight! She said she feels better than ever and will be referring people to us, as she is 100% behind this program.
It's been such a pleasure to be part of Kristin's recovery and I look forward to seeing what other great things are to come for her!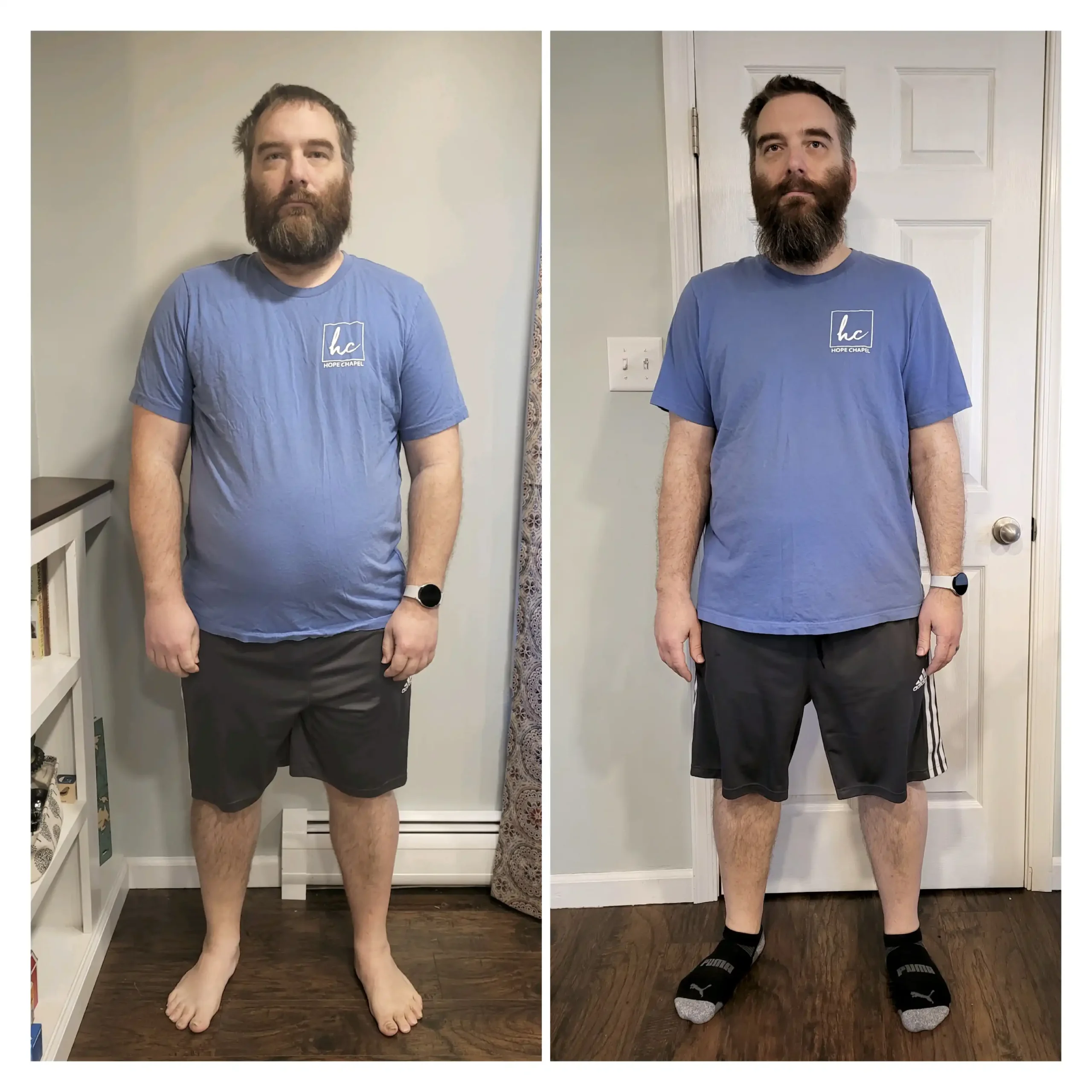 I'm excited to share the inspiring weight loss journey of Dan Dorval. He and his family have been patients of ours for many years. He committed to the 90-day program and set a goal to lose at least 50 pounds and keep it off. He has had success losing weight in the past, but it was never long-lived.
Dan was a joy to coach because he followed the program so closely—even when it didn't make sense to him, he trusted the process and stuck with it. You can imagine that as an engineer, it was no easy task for Dan to follow a path that defied the logic that he knew to be true, but we're so grateful that he did because his results are truly incredible.
He lost a total of 54 pounds, his visceral fat level dropped from 22 to 15, and his subcutaneous fat level from 36.3 to 26.5. 
More than this, he plans to maintain these changes and build them into his daily life so he can live his healthiest, happiest life and serve as a good example for his family.
Through this process, he gained a much better understanding of how many foods affect his body and how to leverage them for the best results. This is what makes this program so different—it was specific to Dan. Now he has all the tools in his tool belt to keep his hard-earned results.
Keep up the great work Dan! We look forward to watching your continued long-term success.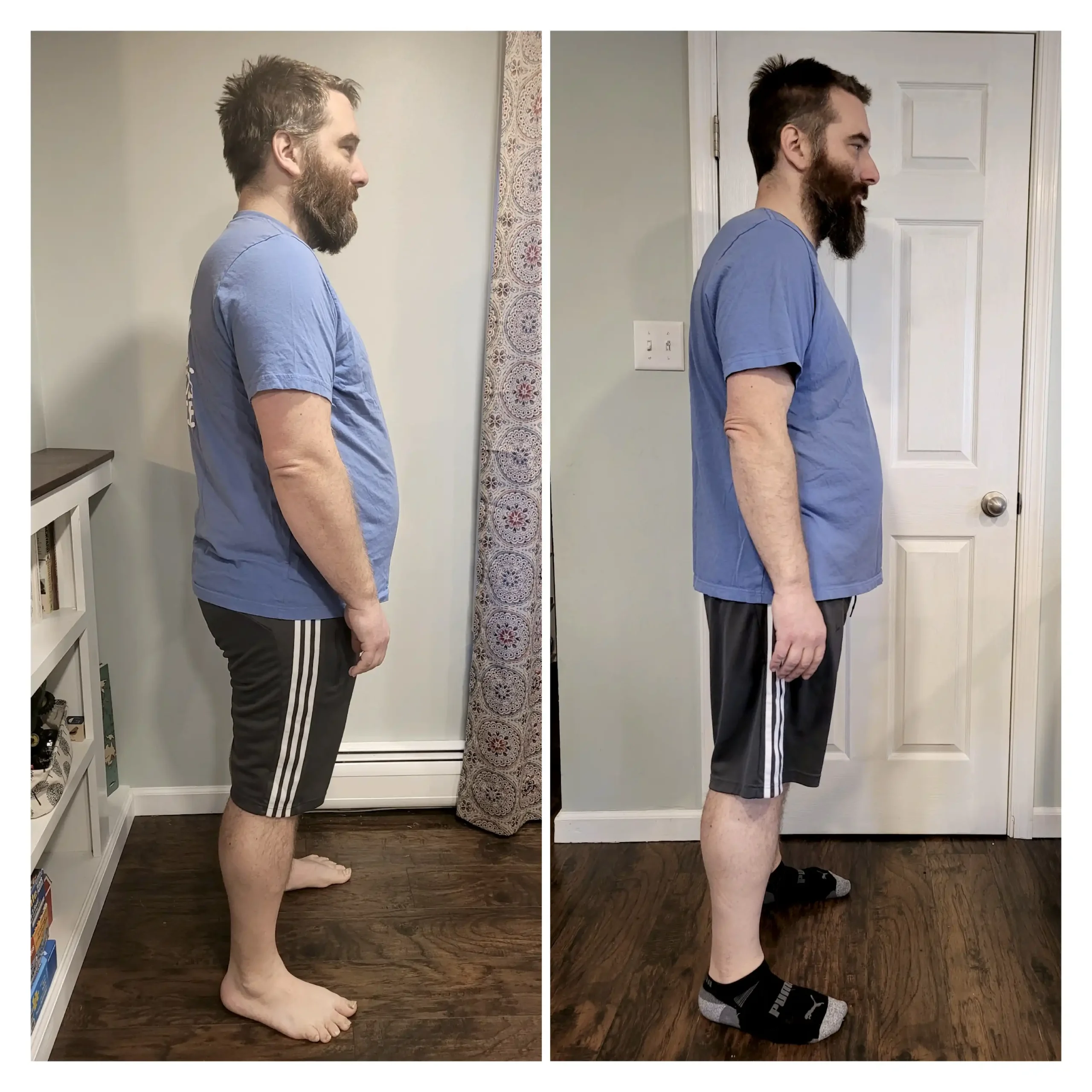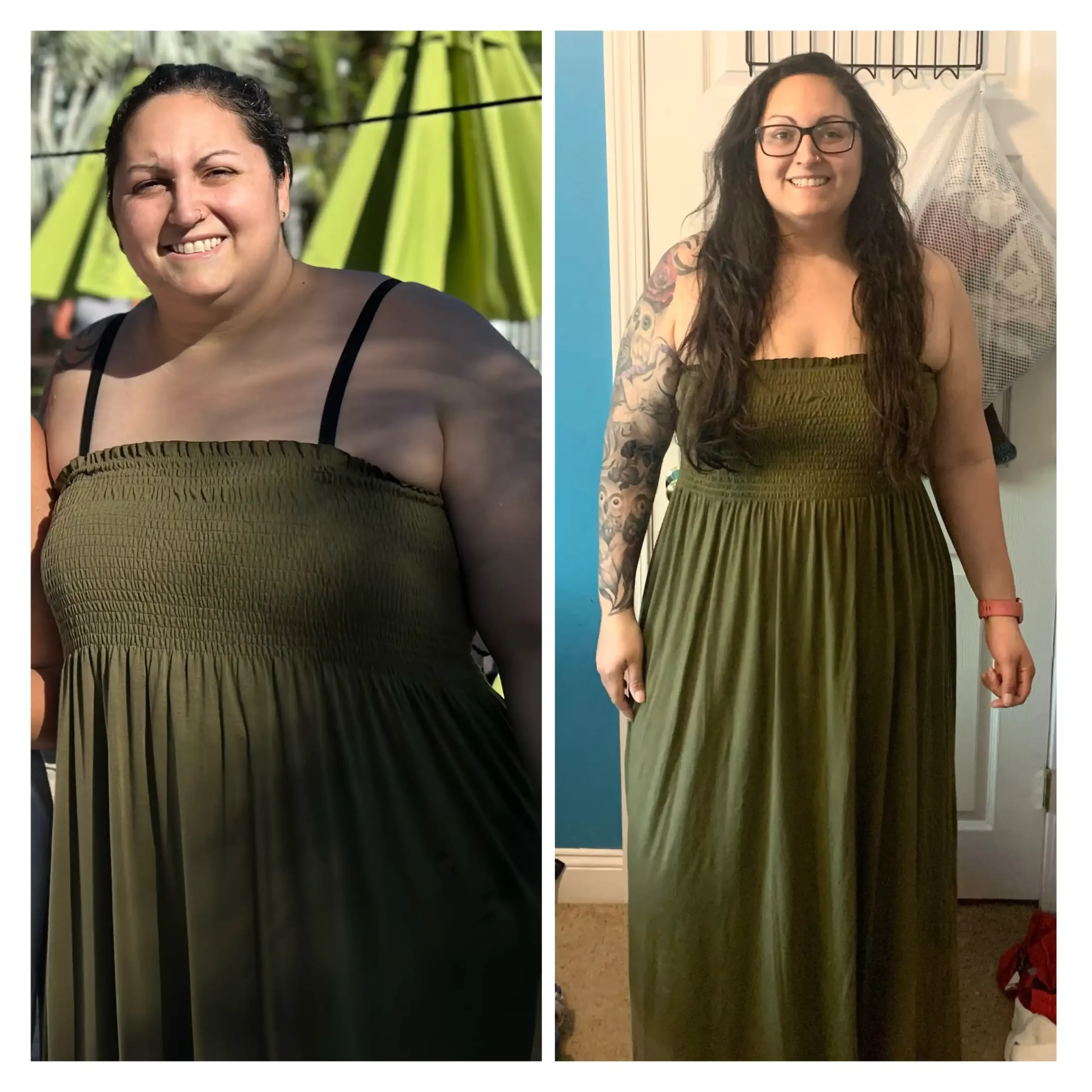 Danielle has been a long-time wellness patient that finally decided to take the plunge and partake in our anti-inflammatory weight loss program. When I first sat down with Danielle to review the program and build our plan, I could tell that she was a "been there, done that" kind of girl, and even owned a t-shirt that proudly boasted "DIETER"!
She was extremely knowledgeable, had a house full of healthy food, and knew just as much as I did about reading labels. However, she was still struggling to figure out her "health puzzle." Even with all her knowledge, she was not losing weight and was frustrated by recent gains despite her efforts. She had the right attitude for weight loss—she just needed the right tools.
During her first nine days on the program, she was able to drop 10 pounds while also consuming
more
food than she had in the past.
At 23 days in, she was down 20 pounds and starting to trust the process. At forty days in, she was already 30 pounds lighter and fully in control of her body and weight.
By the end of her 90 days program, Danielle lost just under 50 pounds.
She has improved her cholesterol and A1C's, she no longer suffers from weekly headaches, she's sleeping SO much better, and most importantly, she has gained the tools, knowledge, and confidence needed to continue to lose weight and maintain her goal weight when she gets there.
I can't wait to see Danielle hit even more goals and I'll be right beside her celebrating every step of the way!
We are so proud of her for making the decision to change her life and join our team. If you or someone you know would like more information about our program, please comment below or email us at [email protected].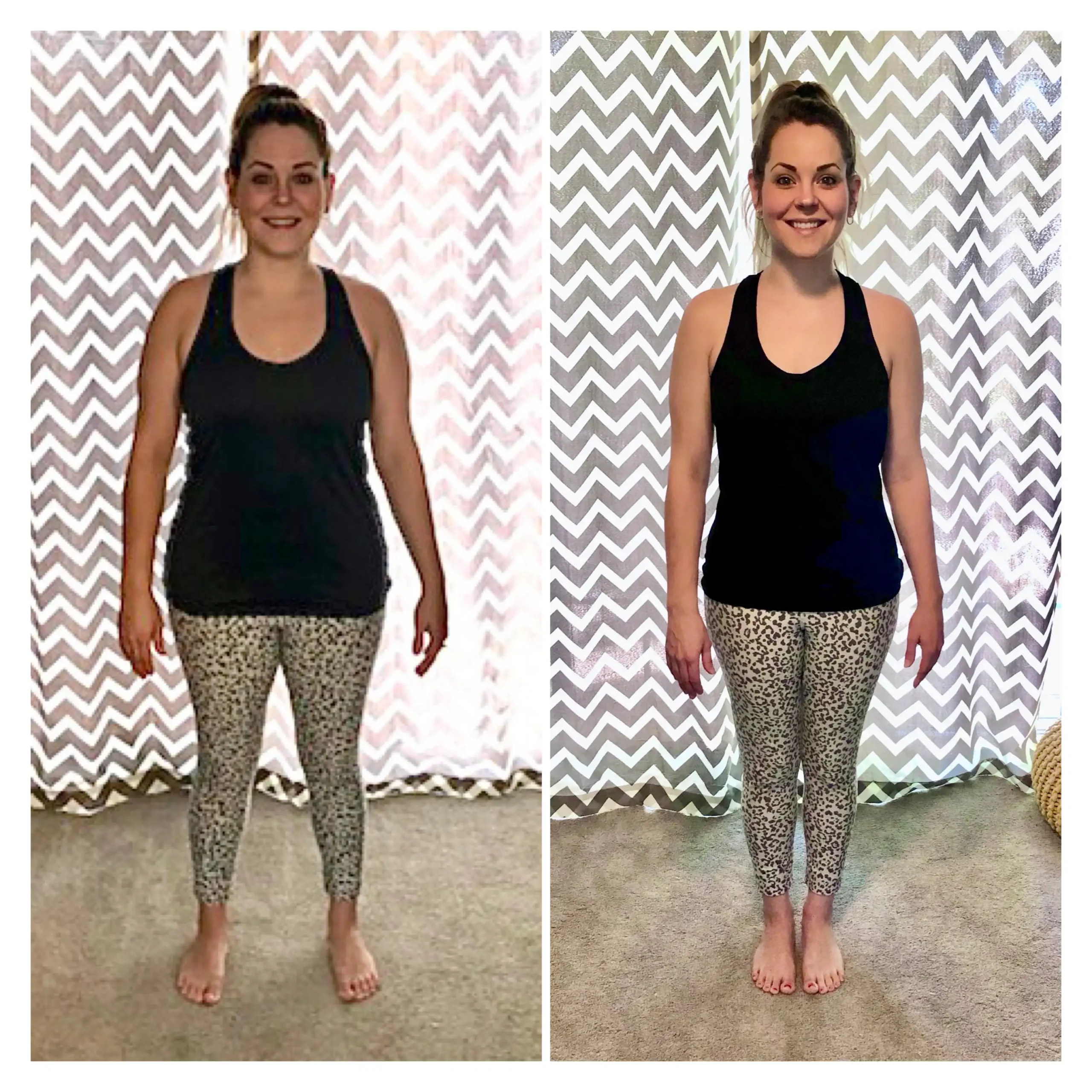 Sarah came to us looking to change the way she eats, but she ended up changing so much more. In just 90 days, she has made significant improvements to her lifestyle and her family's overall health.
Sarah had worked with a nutritionist before, but nothing ever really clicked for her. She knew she wanted to eat healthy, but she also wanted to have a better understanding of her body's individual needs. When I first sat down with Sarah she said, "I've tried weight watchers, Noom, Keto, and Ideal Protein. I've always seen results because I'm committed, but it's never been sustainable." She also complained about experiencing low energy and frequent headaches.
During the 90-day program, Sarah was able to identify 20 plus foods that actually helped her lose weight, discovered meals that her entire family enjoys, and developed a long-term strategy that fits her lifestyle and supports her goals. 
Sarah lost a total of 28 pounds, dropped below her initial goal weight, and practiced gaining and losing weight to ensure that she has the tools necessary to sustain what she had worked so hard for.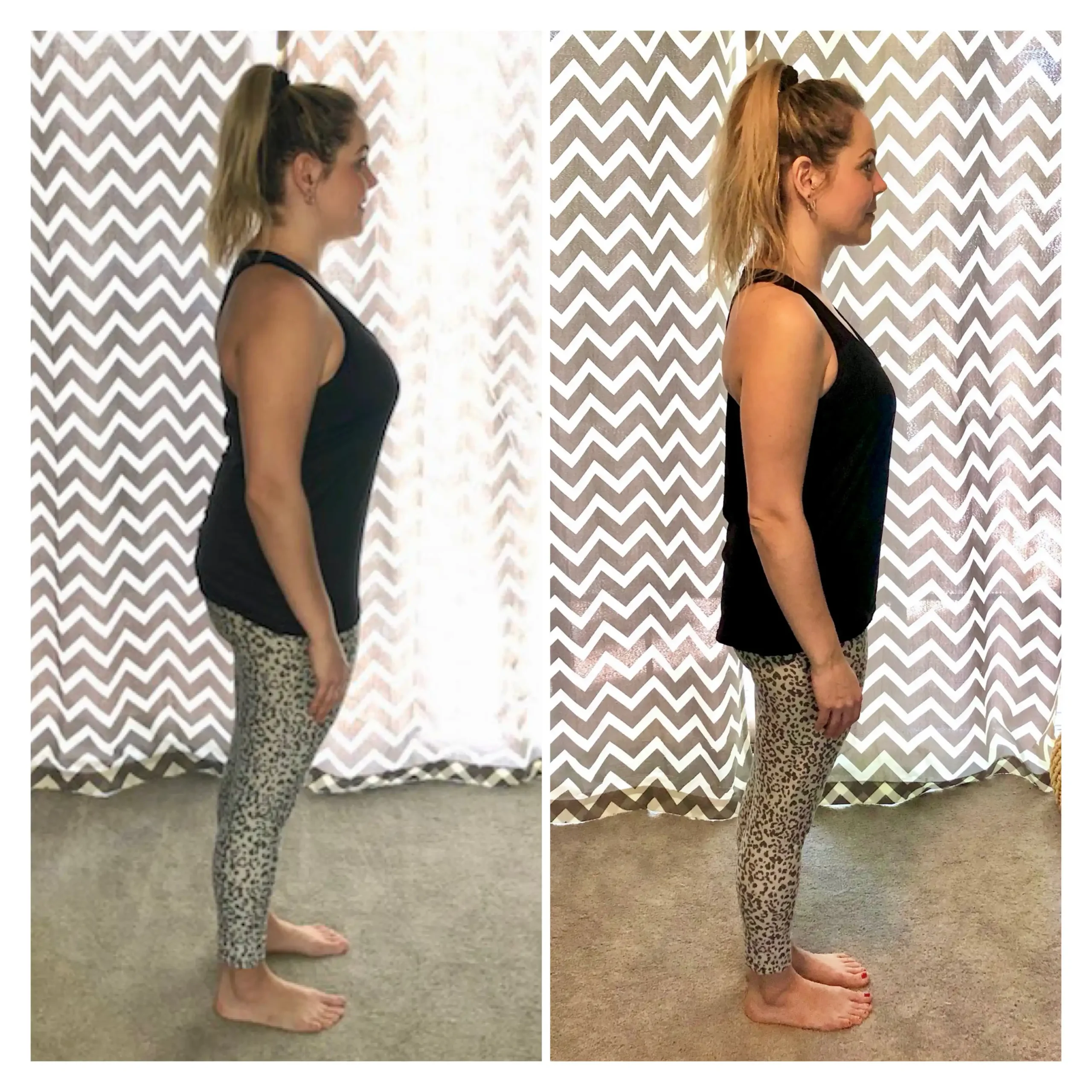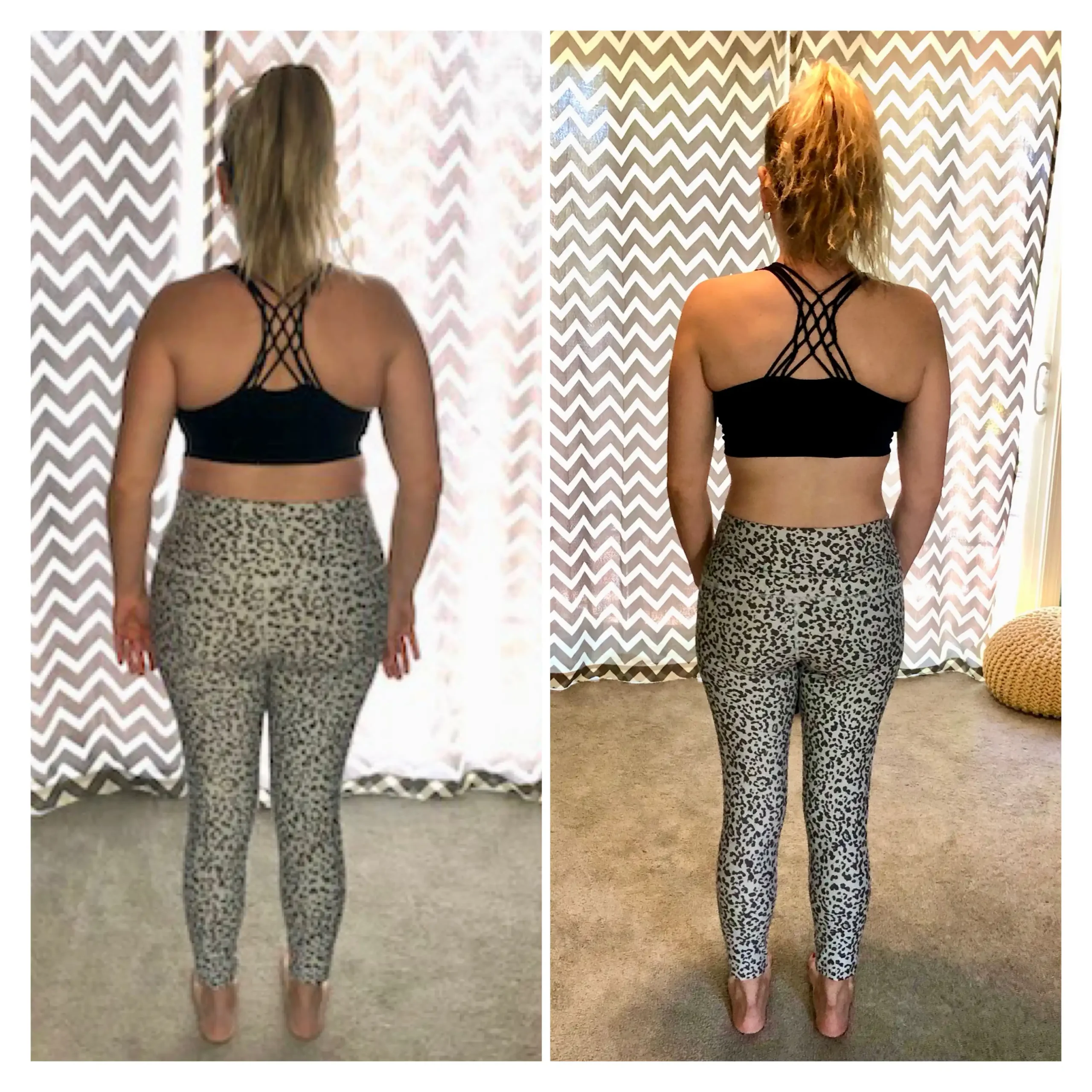 When asked if there was anything in particular that she wanted to share about her journey she said, "My headaches are gone, I have more energy, and I feel 100% confident that I am in control now. This is exactly what I had been searching for this entire time." She also shared that this has been a complete reset for her entire family, and now they actually prefer eating at home versus going out for dinner all the time.
Since graduating, Sarah now finds that she's actually craving whole foods! We have truly enjoyed watching this family embrace all of these healthy changes and look forward to seeing their continued success. As with all our clients, we will stay connected and will continue to support her journey!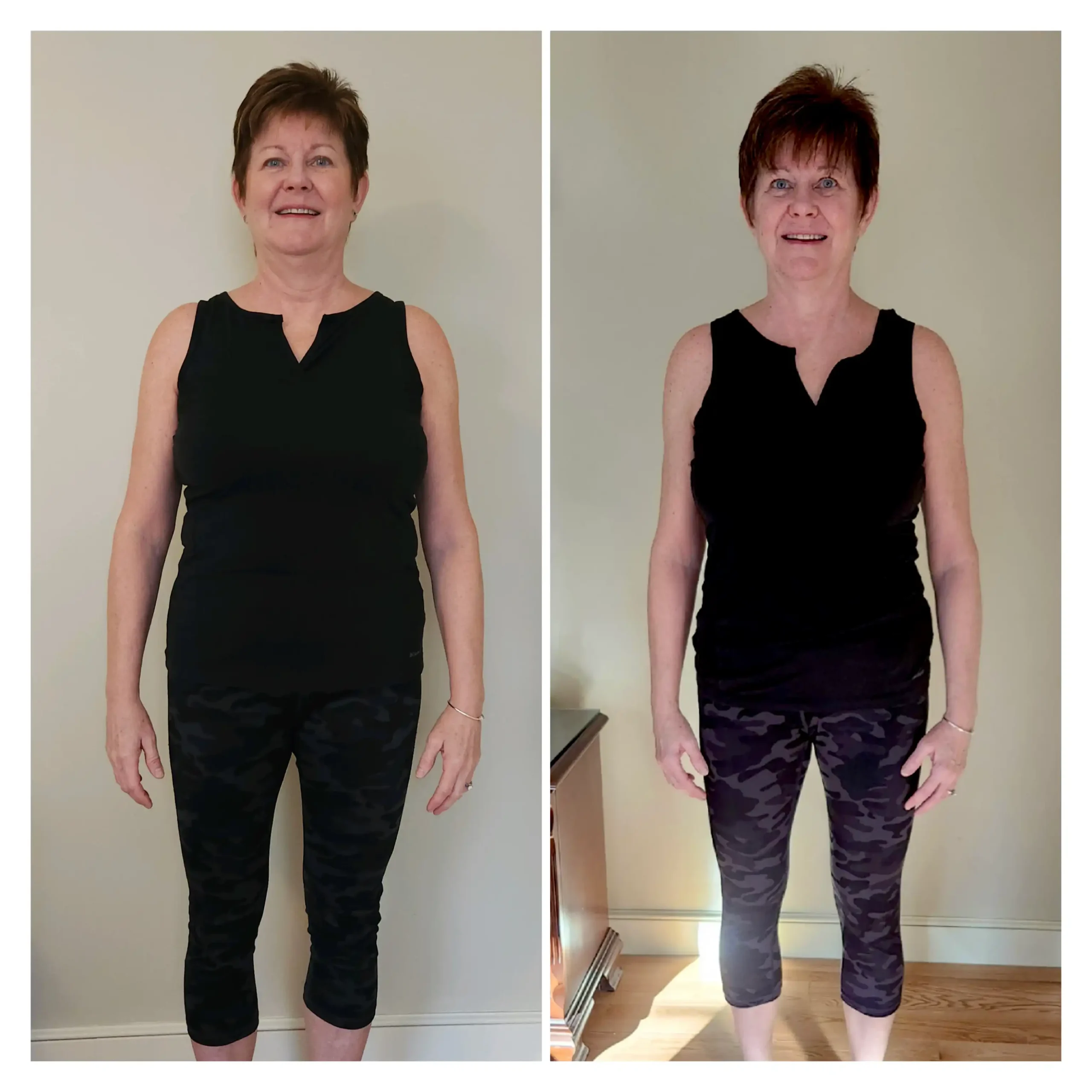 Donna came to us looking for a long-term solution for weight loss. She had been successful in a lot of programs in the past over the short term but struggled maintaining the loss long term. Donna also shared that she had been struggling with heartburn often
During our 90 days together, we focused more on finding food combinations that worked in her favor along with creating tools that would help her control the number on the scale. Within just a couple of weeks, Donna's heartburn was gone, and she was well on her way to hitting her goal weight!
Donna completed the 90-day program losing a total of 23 lbs. She surpassed her initial goal weight and has continued to lose. I checked in with Donna after graduating, and she shared that she's still going strong and that there are still temptations, but she knows the program works, and she has the tools needed to stay on top!
We love having Donna as part of our wellness team and look forward to future updates!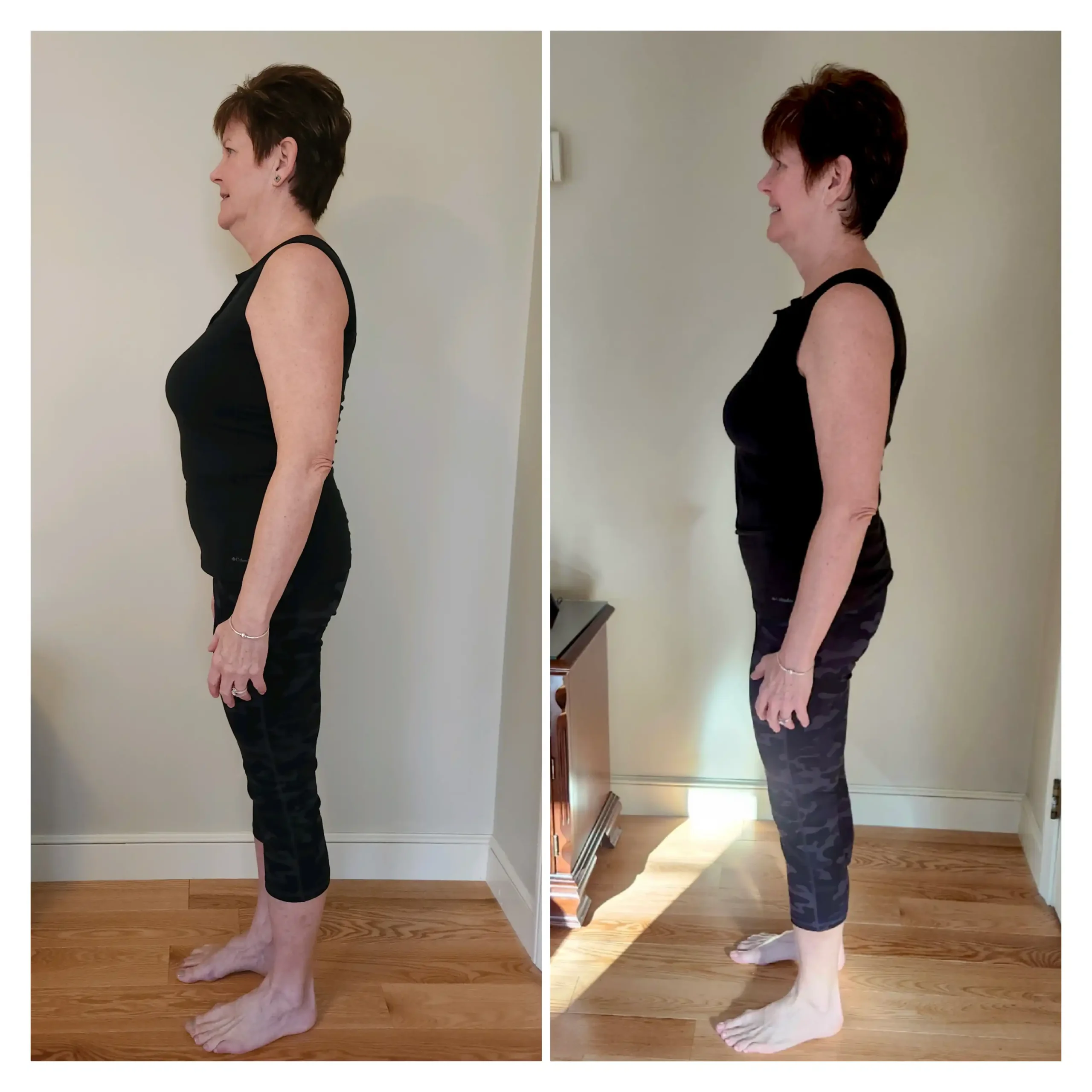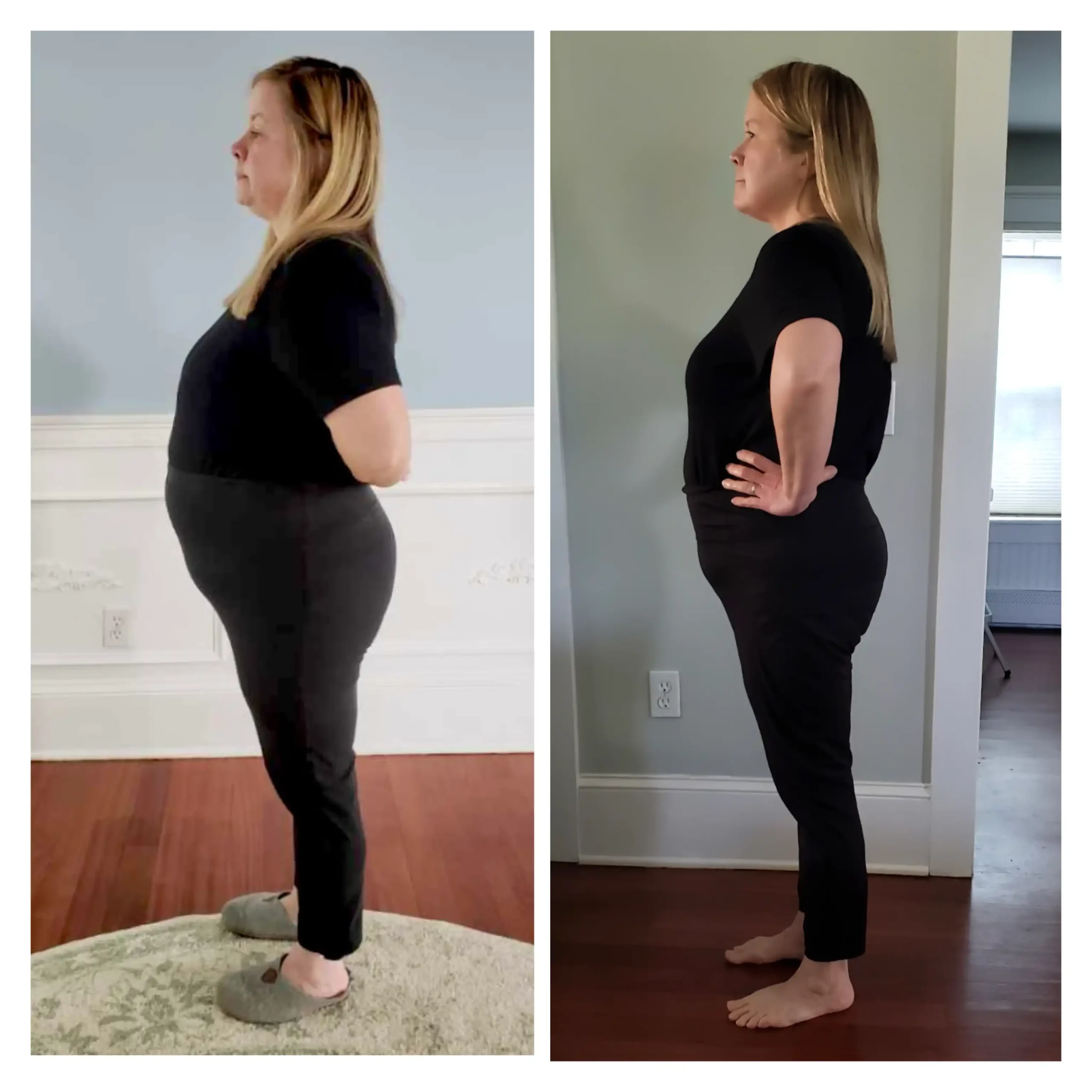 Donna came to us as many others do, frustrated, skeptical and lacking hope. It's easy for us coaches to see the potential because we've seen the program work over and over and over so our confidence with new clients is always high. I knew Donna would do well and I knew I could show her the same with a little time.
When I first met Donna she said, "I have tried every diet" and she had. Right there on her intake was a list of all the big-name diets. She said she would start out great and then get discouraged or she would lose weight only to gain it all back and then some.
During our 90 days together, Donna was able to test healthy fats and nutrient dense carbs to help find foods that would actually support her mission. She also learned to lean on her coach when she had questions or concerns. We focused our attention on the importance of healing the body first and weight loss second. With Donna being a nurse, this made a lot of sense to her, and she started to see that this wasn't just a weight loss program but instead we were undoing years of damage!
Donna suffered from the following when she started on day one:
Shortness of breath
Stomach issues
Headaches 3-4 times per week
Skin issues
Poor sleep
Hot flashes
I'm so happy to report that all of those symptoms are either completely gone or dramatically decreased or improved. In addition, she has some recent test done and her A1cs and cholesterol have also improved! Oh, and she lost 30 lbs. and now has the tools to continue to lose weight to hit her goal and then maintain her efforts.
We feel so fortunate that Donna chose to give our program a chance and we love having her as a part of our lifetime wellness team!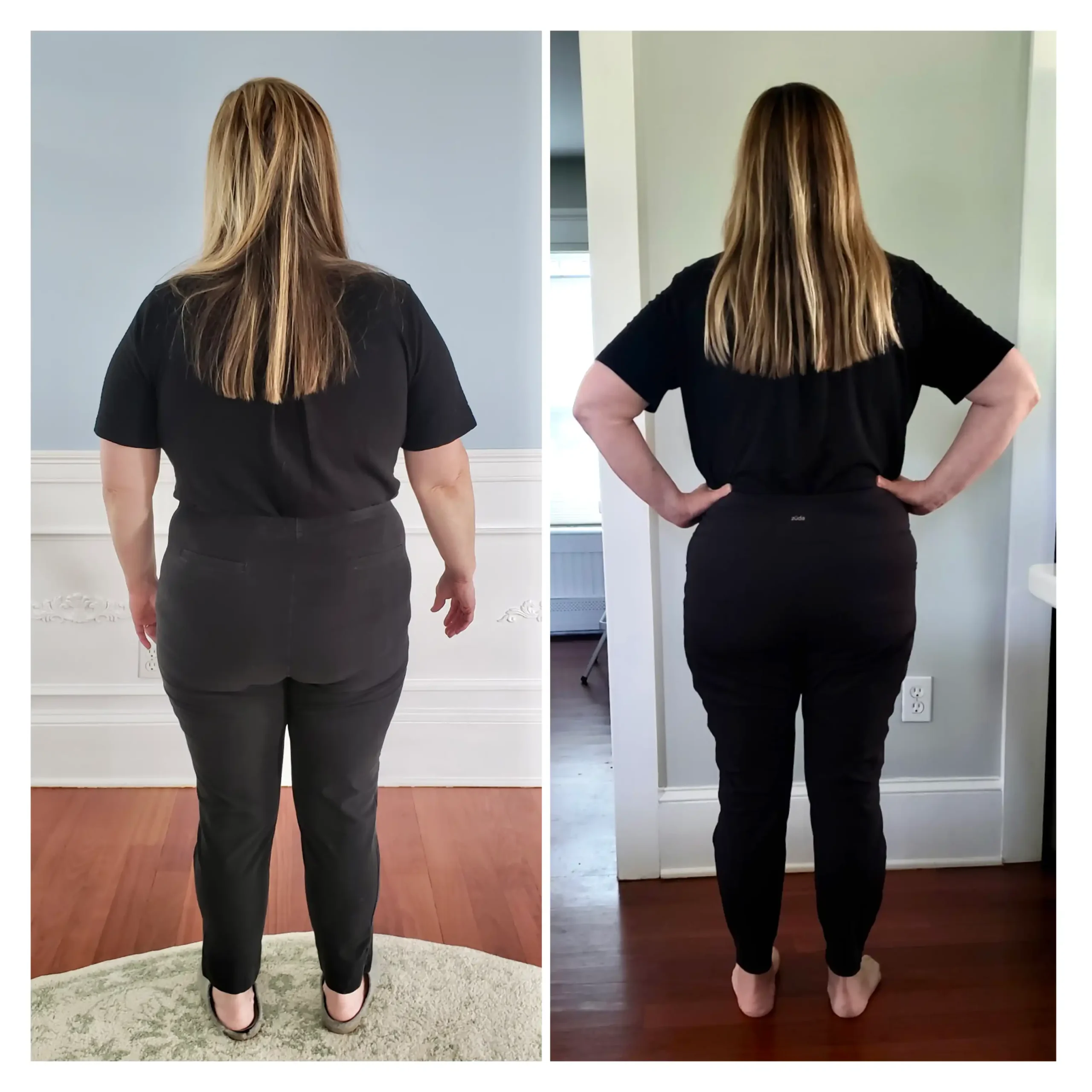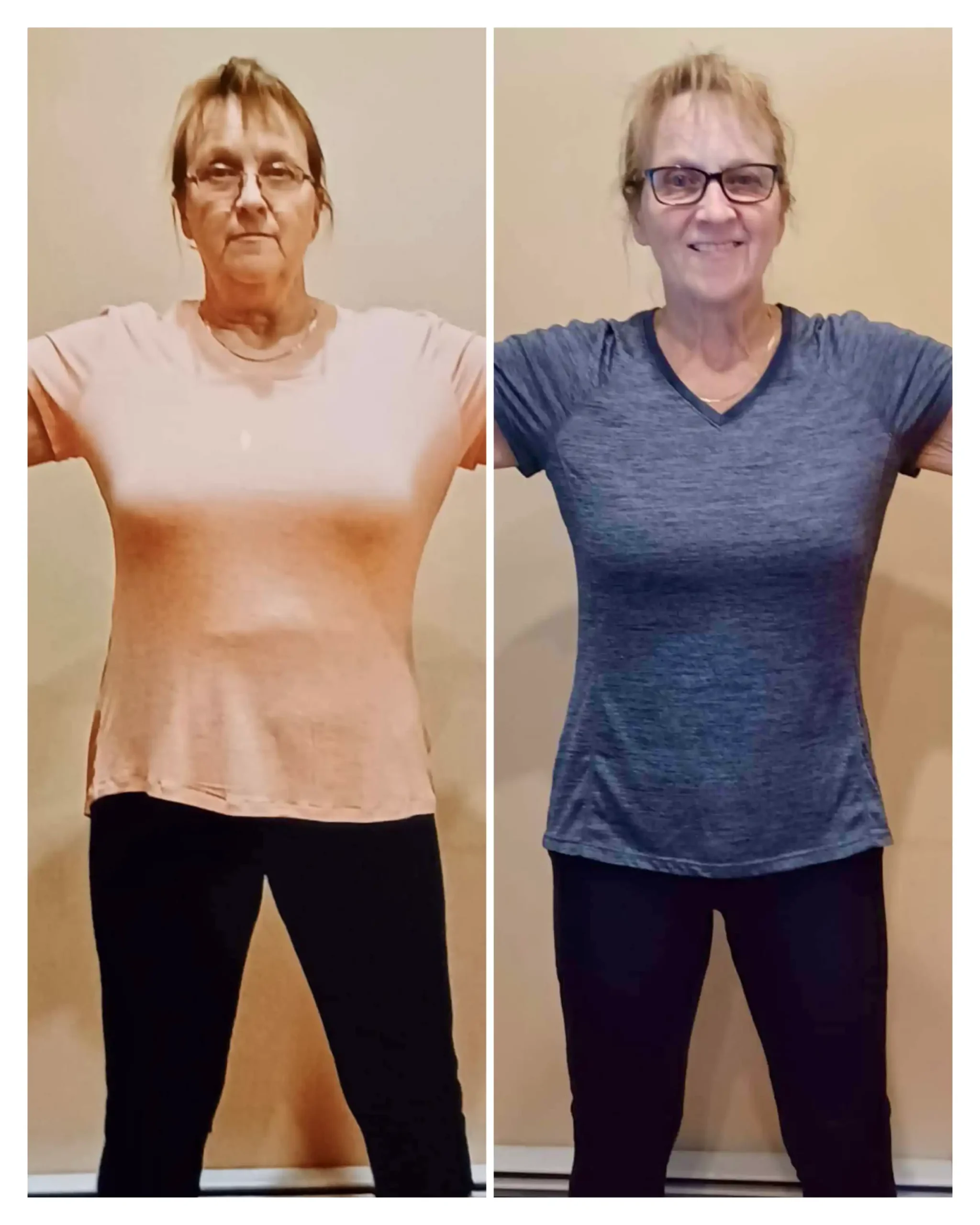 I am excited to share Tina's incredible journey and transformation as a client of our anti-inflammatory weight loss program. After following the social media page for over six months and reading each inspiring success story, she finally mustered the courage to prioritize her health and make a change. Her goals were clear: She wanted to improve her overall well-being, regain her energy, boost her self-confidence, and lose 20 pounds. Little did she know just how transformative this program would be for me. Despite my reassurances that she would achieve those goals and more, Tina initially expressed doubts about herself, as many of our clients do. However, she soon discovered her true determination and strength.
When she joined the program, she was dealing with arthritis pain, poor sleep, and constant fatigue. Today, I am delighted to report that Tina graduated from the program pain-free, without needing cortisone shots. Her sleep patterns have dramatically improved—no more restless nights or periods of wakefulness; she now enjoys a solid 7-8 hours of restorative sleep.
The most significant change is the incredible energy surge propelling her through each day. As a daycare provider, keeping up with young children demands endless energy. Thankfully, Tina no longer experiences fatigue and can actively and joyfully engage with the little ones.
And let's not forget the incredible weight loss! In total, she shed an astounding 40.2 pounds, going from a size 14 to a size 4! The physical changes have been astonishing, but the improvement in her overall health is even more remarkable.
Here are some key statistics that reflect her enhanced well-being: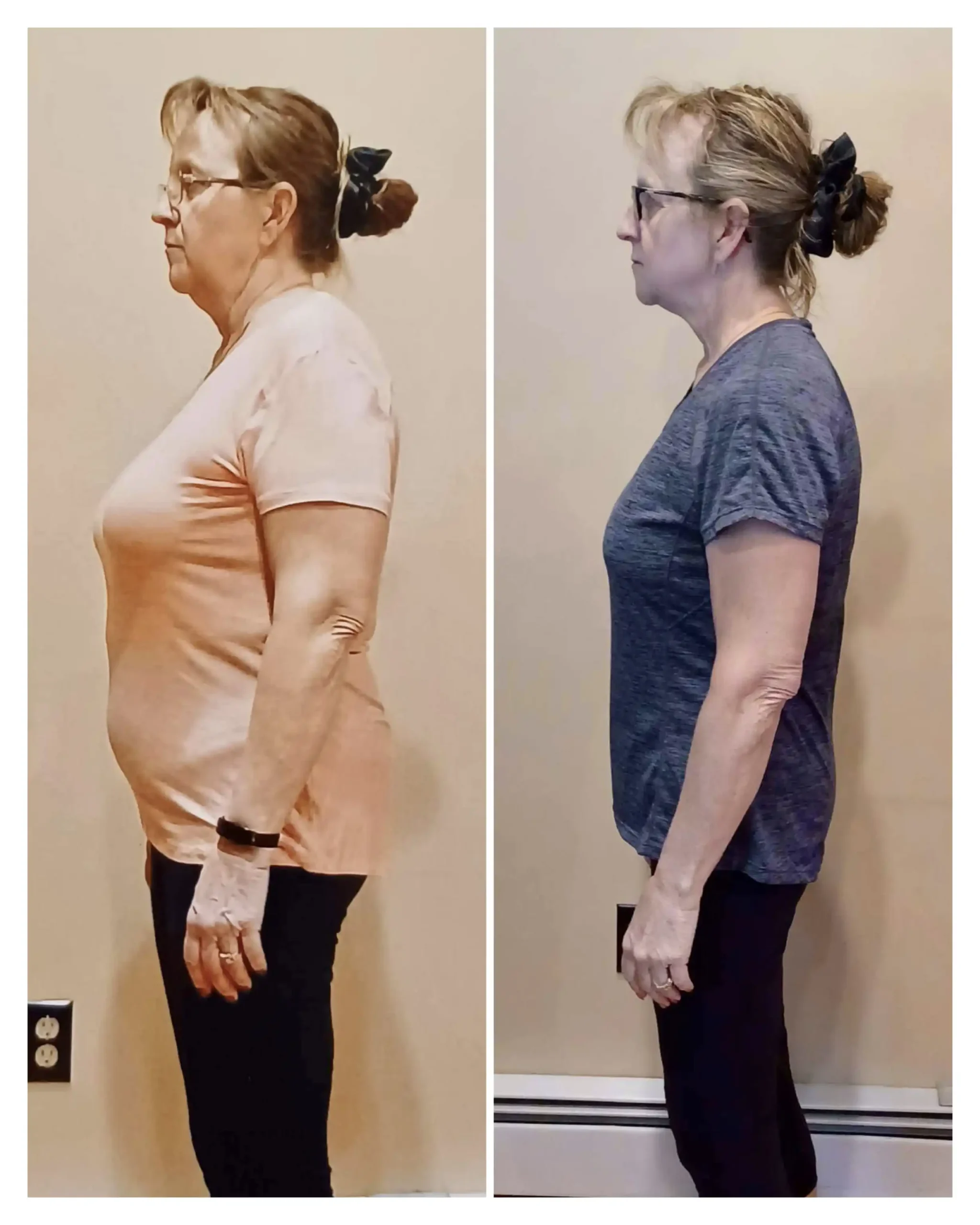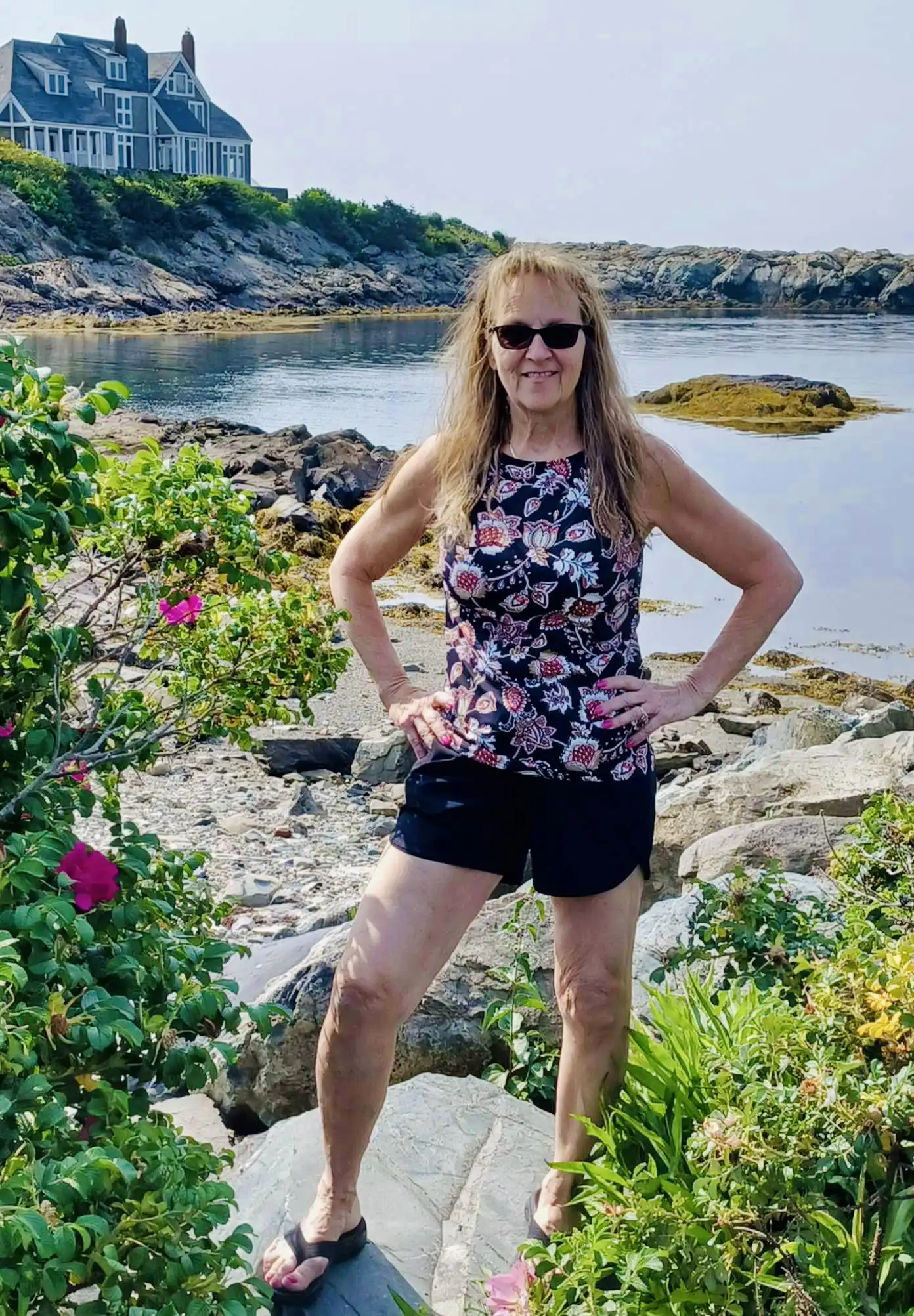 This weight loss journey has not only changed her appearance but also her entire outlook on life. She feels revitalized, confident, and empowered. The anti-inflammatory weight loss program has been nothing short of life-changing for her. I am eternally grateful to have been a part and witness to her journey.
To anyone who is contemplating taking the leap and making their health a priority, I urge you to do so. Tina was once where you are now, hesitating and unsure. But I can wholeheartedly attest that investing in your well-being is the greatest gift you can give yourself. Trust in the process, have faith in yourself and embark on this transformative journey. You won't regret it.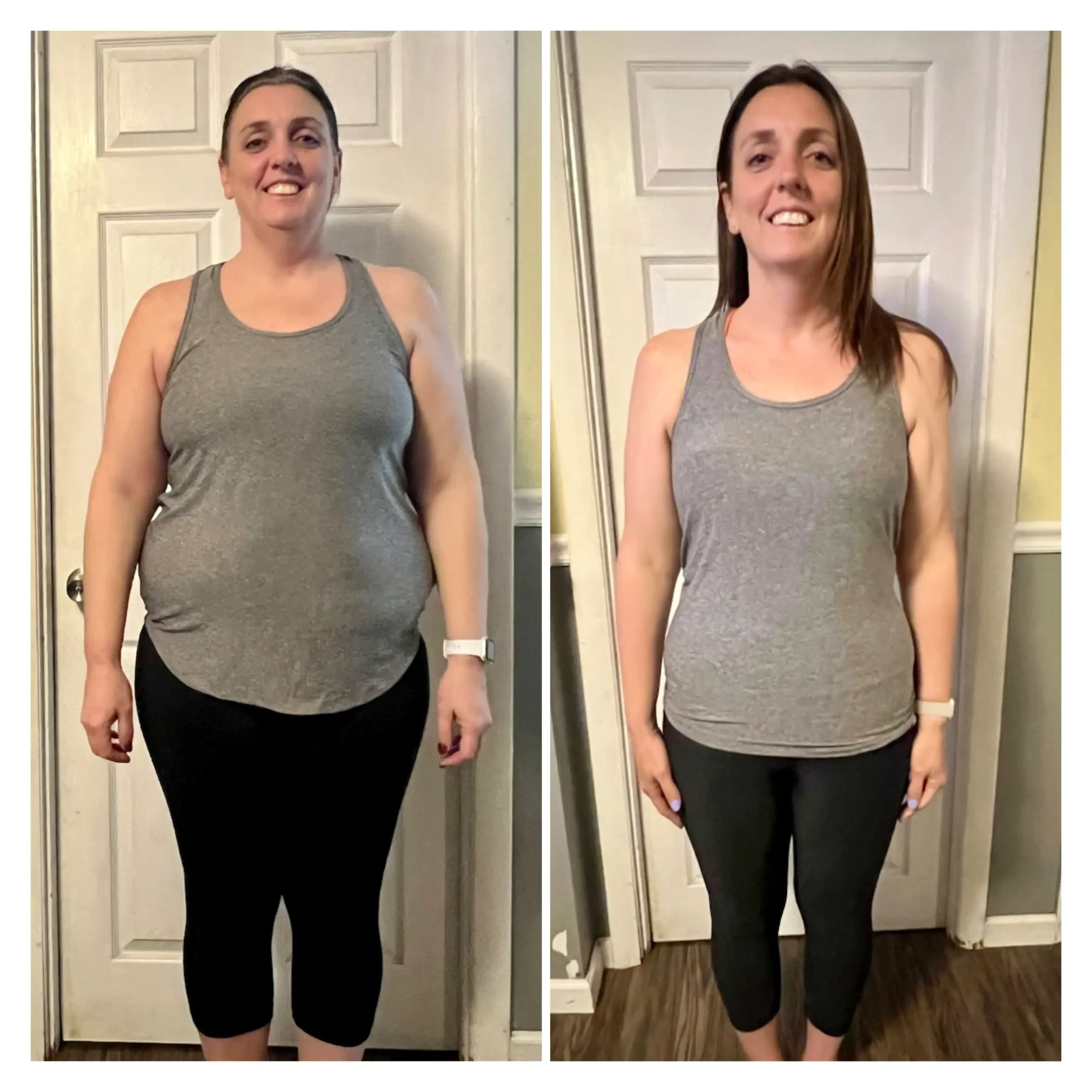 As a coach, when I reflect on what the qualities of a challenging client may be, a "picky eater" often comes to mind. With the abundance of proteins, vegetables, and fruits available in our plan, it's difficult to imagine someone not finding enjoyment in it. However, I was proven wrong when I met Julie, a self-proclaimed picky eater extraordinaire. She had trouble with textures, flavors, and vegetables, and even her friends who were also part of the program warned me in a heartfelt way that Julie would be my toughest challenge.
But guess what? Julie surprised us all by embracing the food, and lots of them! This once-picky eater not only expanded her palate but also discovered foods that she genuinely enjoyed. Julie and her husband embarked on the program together, tried new dishes, found their own "Fat Burners" and supported one another throughout the journey.
For Julie, weight loss wasn't the sole objective. She also struggled with headaches, poor sleep, extreme fatigue, and anxiety, which prevented her from living her best life. Over the course of the 90-day program, Julie managed to shed an impressive 41 pounds. Moreover, she now experiences the best sleep she's ever had, fewer headaches, increased calmness, and remarkable energy levels. Most importantly, she has gained complete control over her body, which is truly empowering. Her husband also had great success and lost 36 pounds!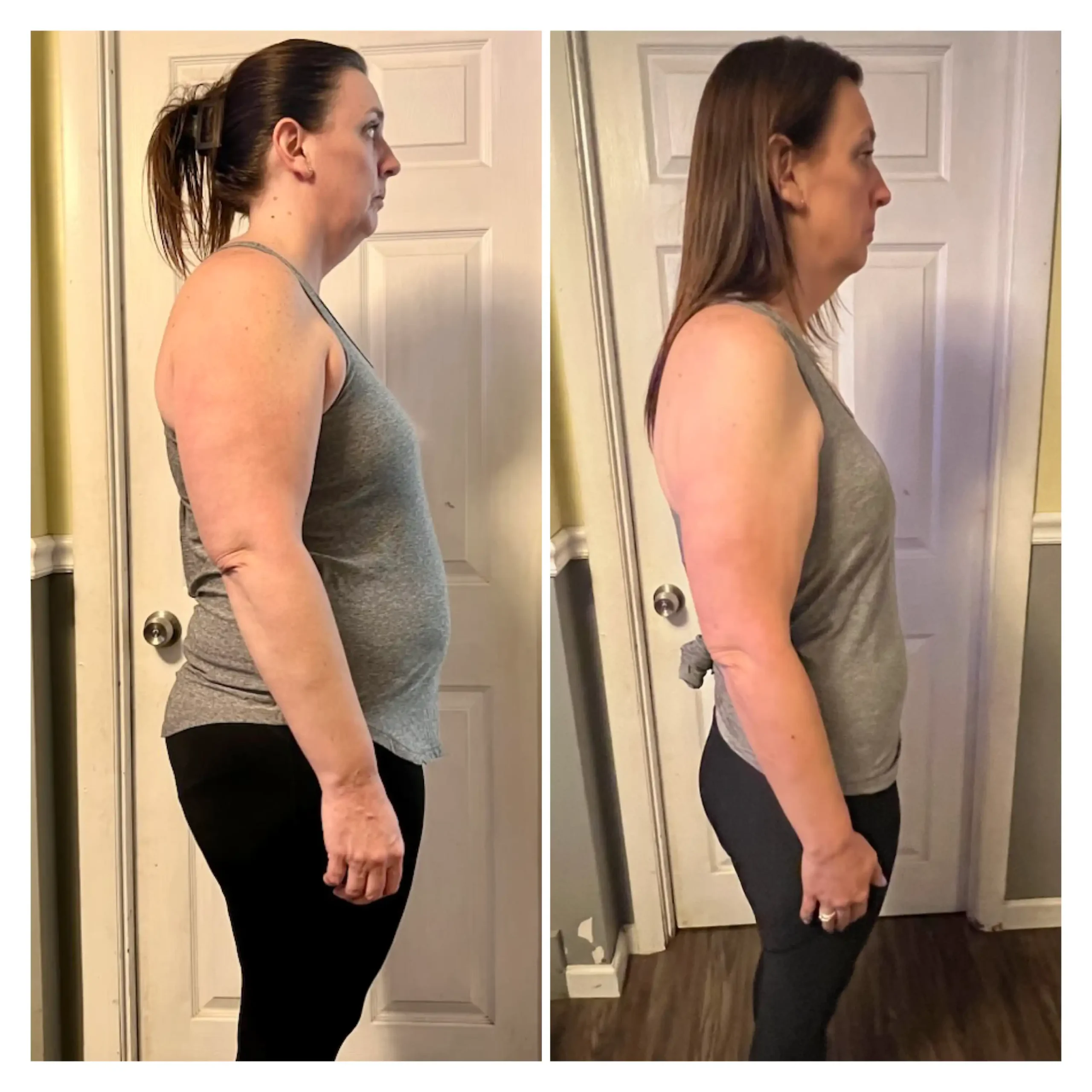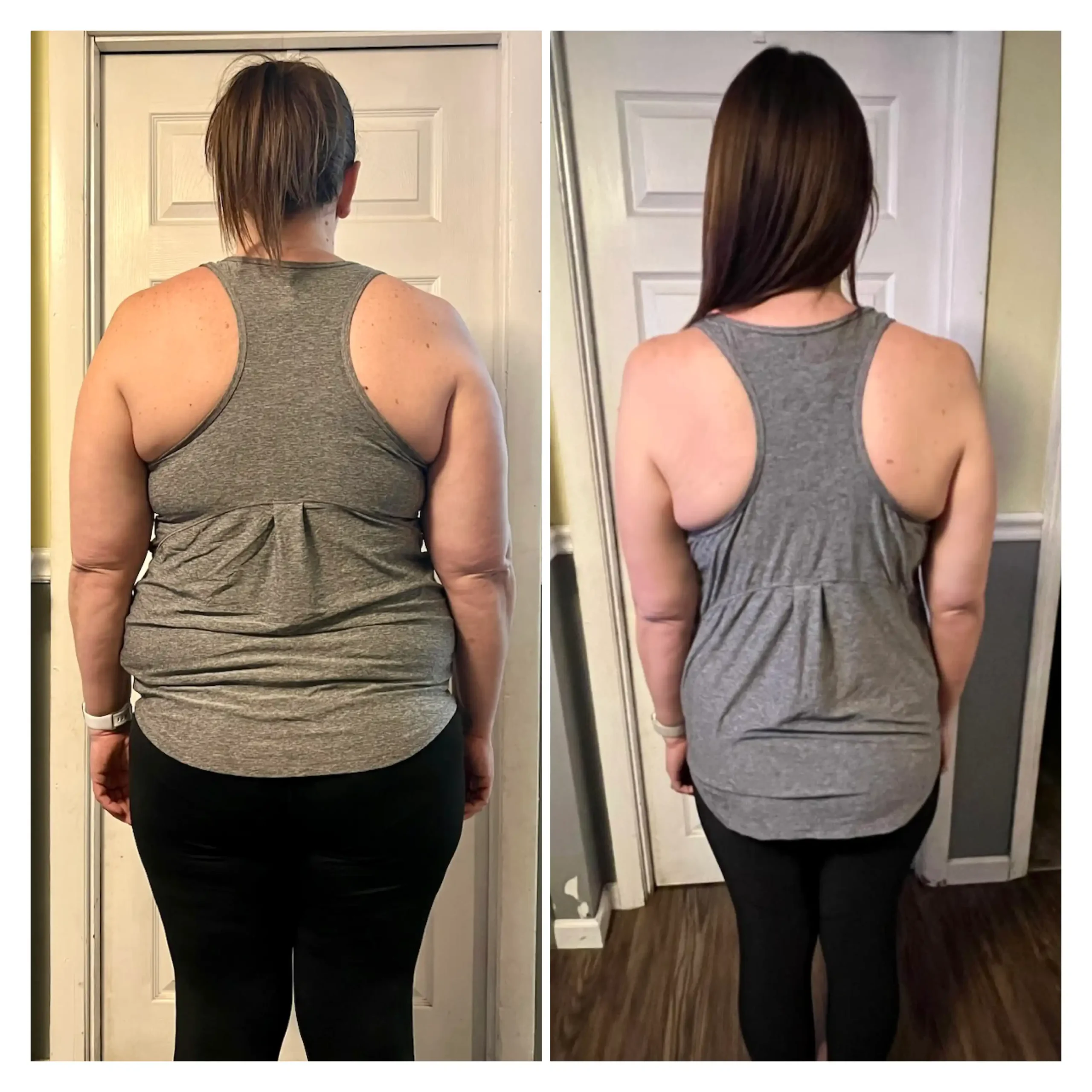 Working with this family on a weekly basis has been an absolute delight. Witnessing their transformation, witnessing them set new standards for their family, and observing their embodiment of healthy role models for their children has been inspiring. When I asked Julie what advice she would give to others considering the program, she simply said, "Just do it. You will learn so much and feel so good!"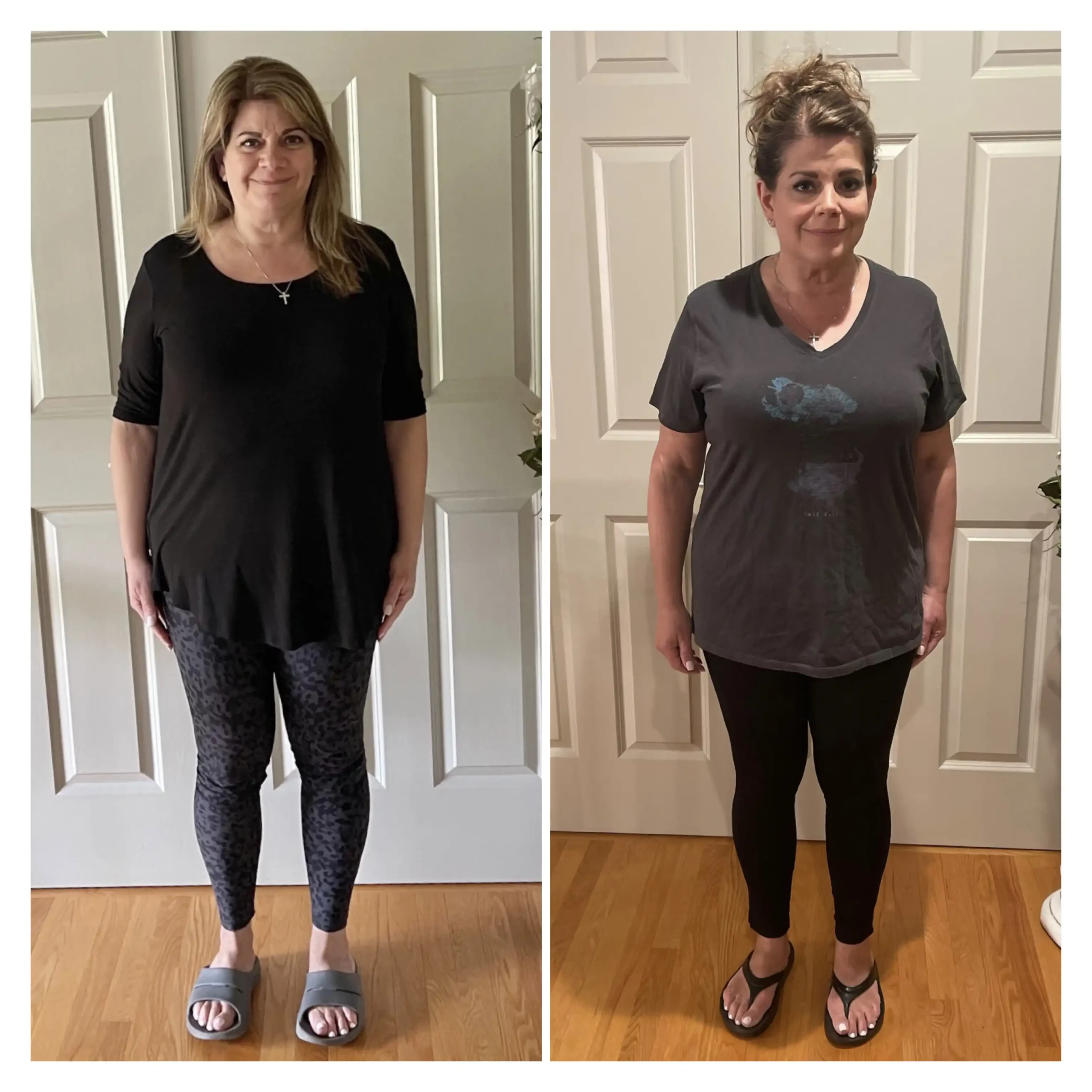 Allow me to introduce you to Martine and her incredible lifestyle transformation!
Before joining Ciccone Wellness Center, Martine tried numerous weight loss programs but grew frustrated with their lack of reliable results. She was tired of the one-size-fits-all approaches that didn't address her specific needs and failed to help her maintain her weight loss. When we first met, Martine shared the health concerns that she was enduring, which included back pain, stiffness, poor sleep, low energy levels, and hot flashes. I reassured her that our program has a proven track record of effectively addressing and reducing such issues. As a coach, it is empowering to know that our clients will experience significant improvements as early as the second week!
During our 90 days together, we worked daily to educate Martine on how to read labels, make smart choices when ordering from menus, and navigate grocery shopping. We also devoted considerable time to acknowledging and celebrating non-scale victories. It was important for Martine to understand that our approach wasn't just another diet; instead, we focused on healing her body, eliminating inflammatory items, and then carefully testing different foods to determine what worked best for her. It is rewarding to witness clients like Martine transition from being apprehensive about introducing healthy fats to eagerly seeking the next fat that will aid in their weight loss journey. While many individuals fear the fat testing phase, once they realize that indulging in treats like chocolate and cheese can contribute to moving the scale in the right direction, they are all in!
By the end of the program, Martine was 40 pounds lighter. She is now free from daily pain, her skin is radiating with a healthy glow, her energy levels soared, she enjoys restful sleep, and her hot flashes are a thing of the past. In addition to these incredible results, Martine no longer harbors a fear of regaining weight. She has demonstrated that she possesses all the necessary tools to continue her weight loss journey and sustain her achievements. It has been an absolute joy to coach Martine, and I am thrilled to have her as a part of our wellness family.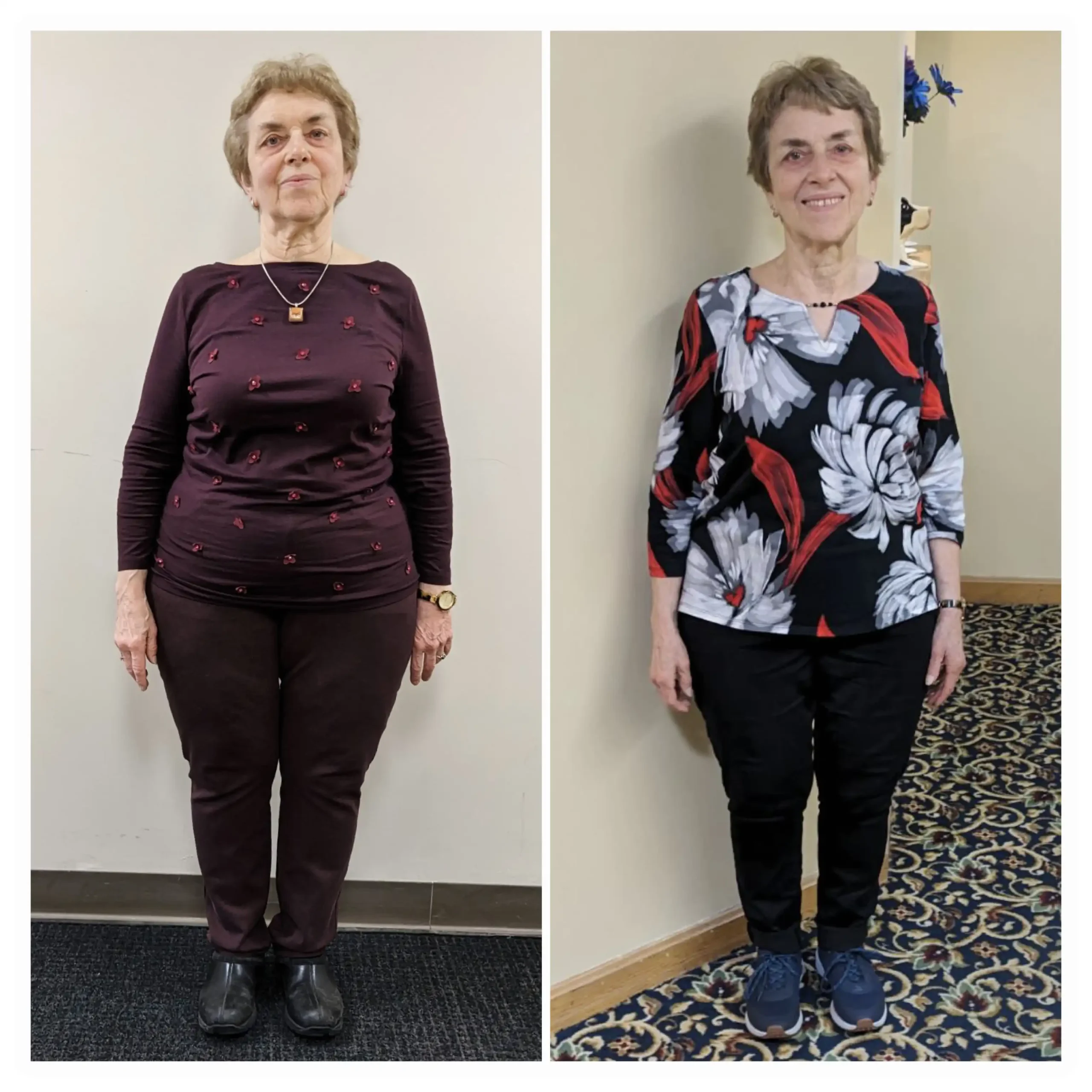 I am thrilled to share the inspiring success story of Diane, a dedicated long-time patient in my chiropractic and wellness practice. Throughout the years, Diane made significant progress, but she faced persistent challenges with her weight and blood pressure.
With great courage, Diane bravely decided to embark on our weight loss program, fully aware of potential difficulties. To her absolute delight, she managed to shed an impressive 23.4 pounds and, for the first time in years, achieved stable blood pressure. As a result, she now looks and feels her best in decades, and is equipped with the necessary tools to sustain her accomplishments and embrace a healthier lifestyle.
I am incredibly proud of Diane's achievements, which truly demonstrate the effectiveness of our program in providing the necessary support and accountability for individuals striving to attain their health and weight goals.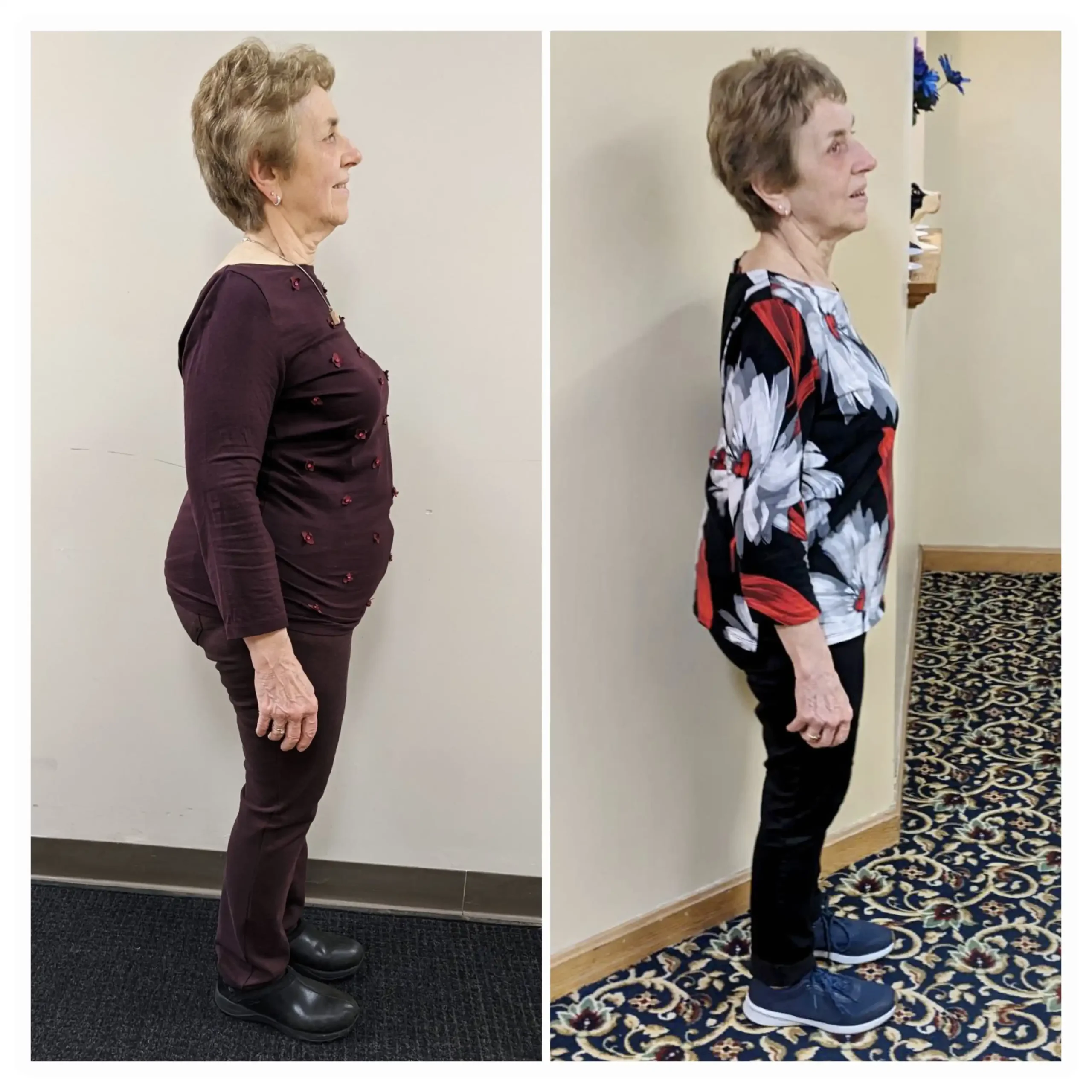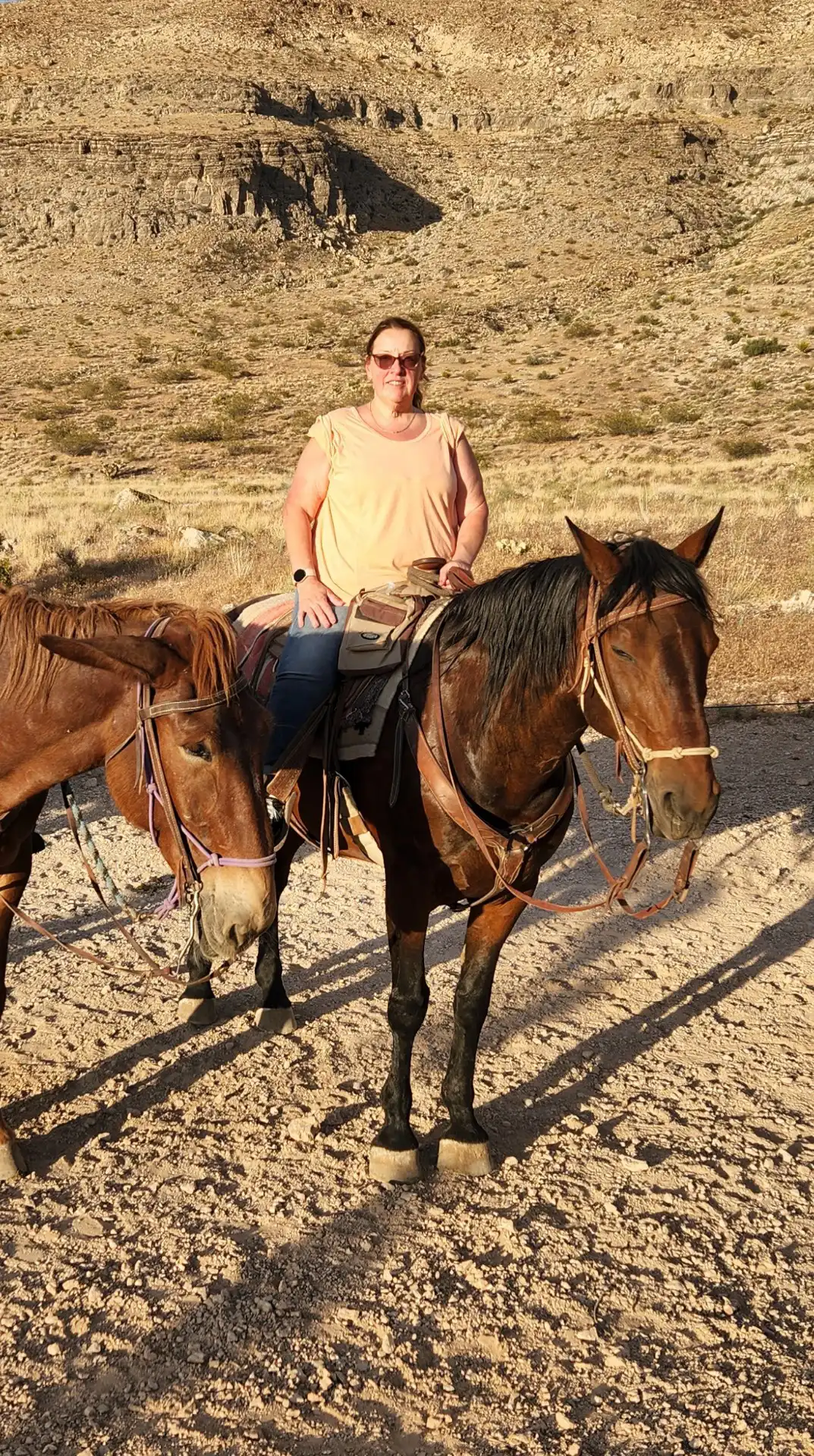 Meet Miss Molly!
I wish it were a rarity to meet clients who never put themselves first, but unfortunately, it's all too common. Nearly all of our clients are guilty of taking care of everyone else in their lives and fail to show the same love and compassion to themselves, and Molly was no exception.
When I first met Molly, it was clear that she had spent every day of her life giving to others, to the point of having nothing left for herself. It was starting to take a toll on her health—her intake form was riddled with symptoms, and she explained that she had lost the spark she once had. 
With clients like Molly, I'm particularly enthusiastic because I know that if they prioritize themselves for just a few weeks, it will lead to significant life-changing improvements.
It didn't take long for Molly to see improvements. She lost 9 pounds within the first week and gained more energy thanks to her new diet. By the end of the first month, she was 20 pounds lighter and enjoyed increased energy, fewer headaches, improved balance, and better sleep.
In addition to the physical improvements, Molly's relationship with food evolved. She made healthier choices when dining out and ensured balanced meals were available throughout the week. Together, we addressed the mental challenges associated with stress eating and developed strategies for recognizing and overcoming obstacles in real-time. By day 90 of our program, Molly had shed over 40 pounds, cultivated a healthier relationship with food, and experienced either relief or a significant reduction in most symptoms. Now, she's doing things that she hasn't been able to do in the past, like horseback riding! 
It's incredible how your life can change when you realize how valuable you are in this world and how important self-care and self-love are. Molly is now a permanent part of our wellness family! Though I will miss our weekly check-ins, I know that Molly is going to continue on in her journey with great success.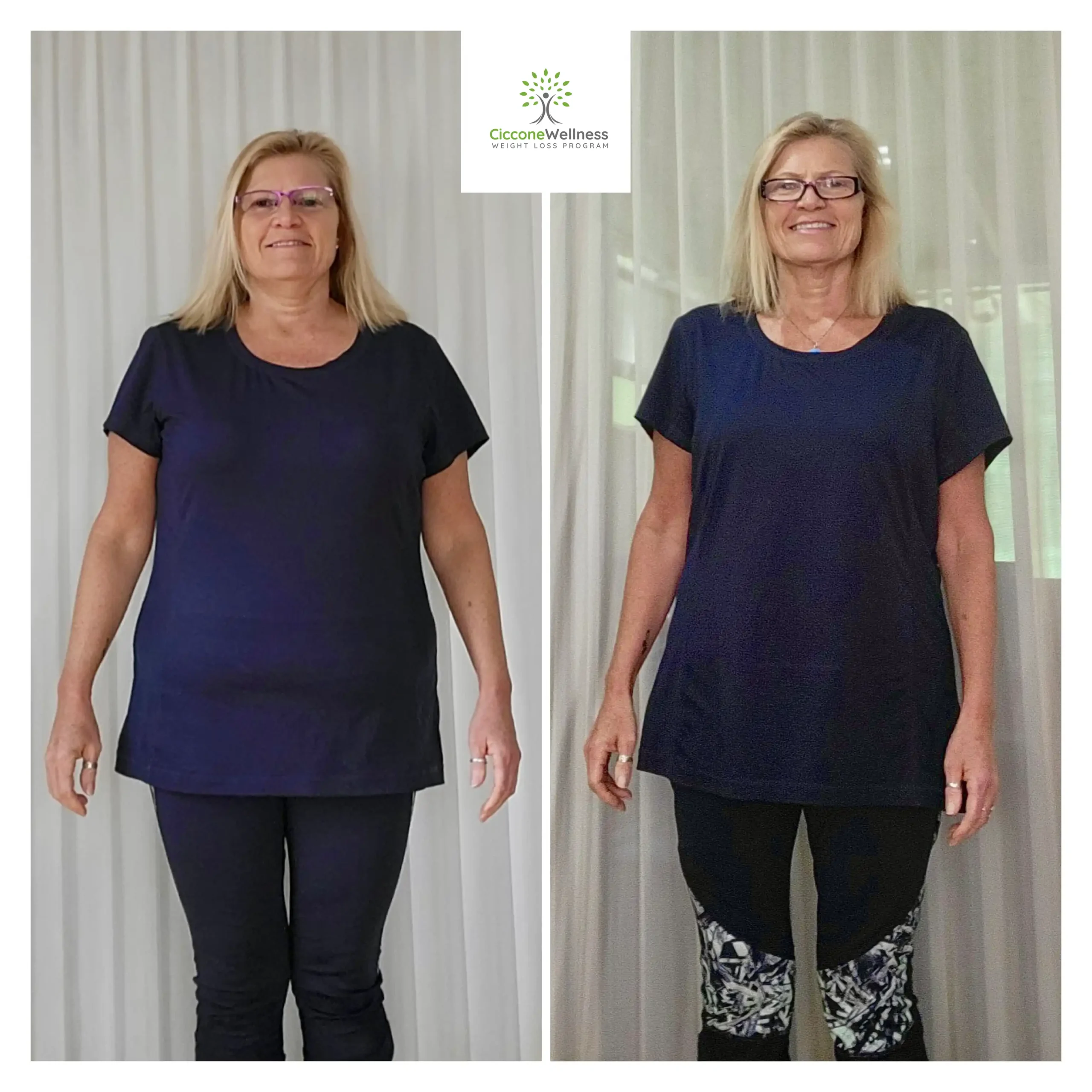 When Jerilyn began this program, she couldn't believe the promise of losing 20 pounds in 90 days. She previously tried countless diets, experiencing minimal weight loss without any long-term success. Before starting our program, she faced hot flashes, hip pain, disrupted sleep, and had a  pre-planned family vacation to St. Martin just 30 days into the program.
By day sixteen, she had already lost 7.4 pounds. When the 30-day mark arrived, she took her scale and program supplies on vacation with her. After returning a week later, she had managed to not only not gain but lost an additional .6 pounds while on vacation!
The real challenge for Jerilyn was breaking free from the emotional attachment to the scale's numbers. It was easy for her to celebrate when the numbers decreased but stressful when they increased. Learning to accept that fluctuations are part of the weight loss journey proved challenging at times. However, she persevered and gradually shifted her mindset and trusted the program. It allowed her to understand how different foods and fats affect her body individually. She started to think differently and started to believe in herself!
Her initial goal was to overcome mindless emotional eating and become confident in her own skin. As the program progressed, not only did her body change but also her perceptions of herself and food. For the first time in years – maybe ever – she felt in control of her weight and developed a newfound belief in herself.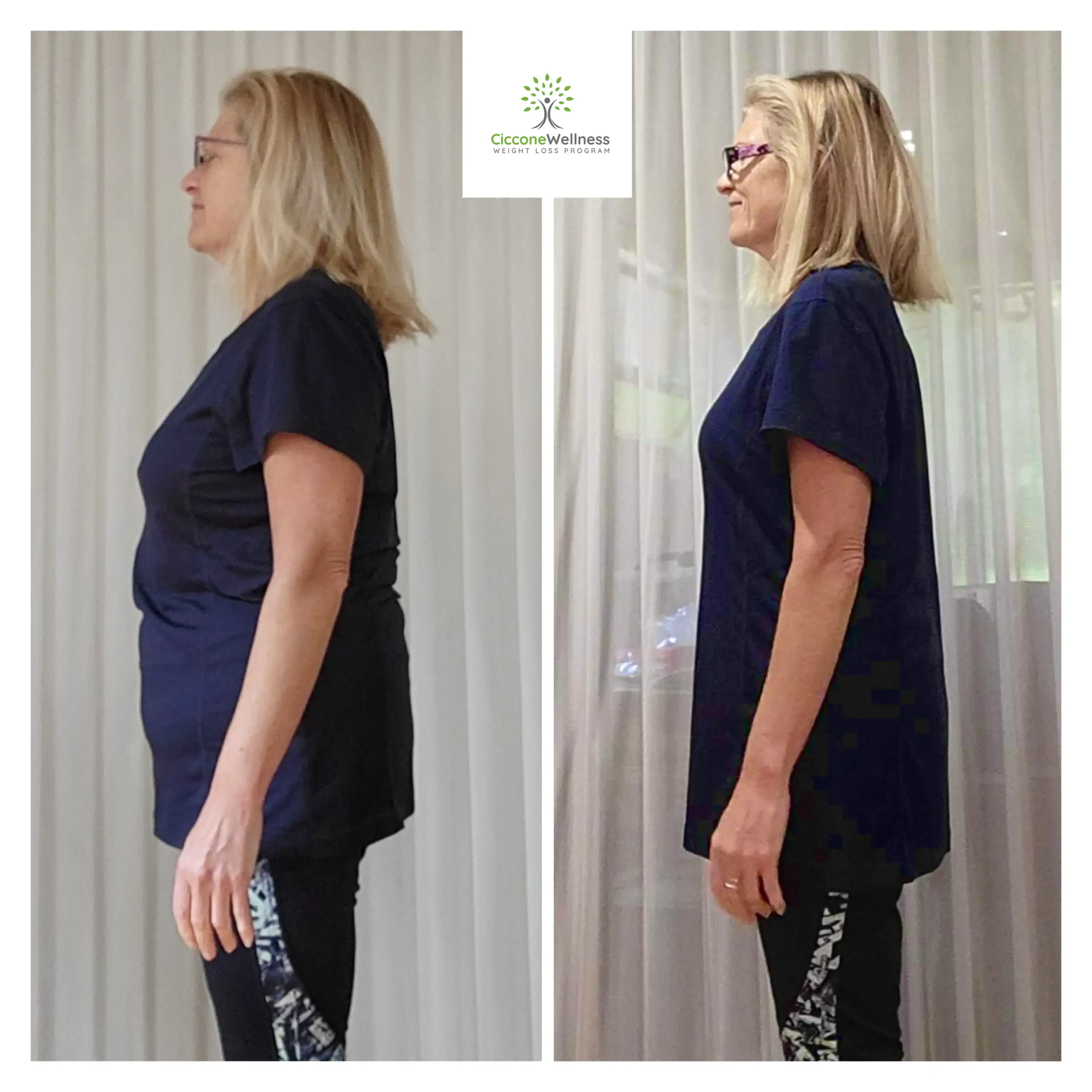 During her 90-day journey, she lost 24.2 pounds, and since graduating, she's lost an additional 4.2 pounds. She had to buy all new clothes, as she's gone from a size 12-14 to a 6-8! Her hot flashes have nearly disappeared, her sleep has improved, and her hip pain has almost vanished. Due to her weight loss, she had to reduce her thyroid medication. She now genuinely likes the way she looks and feels more confident.
Read more about Jerilyn's experience in her own words.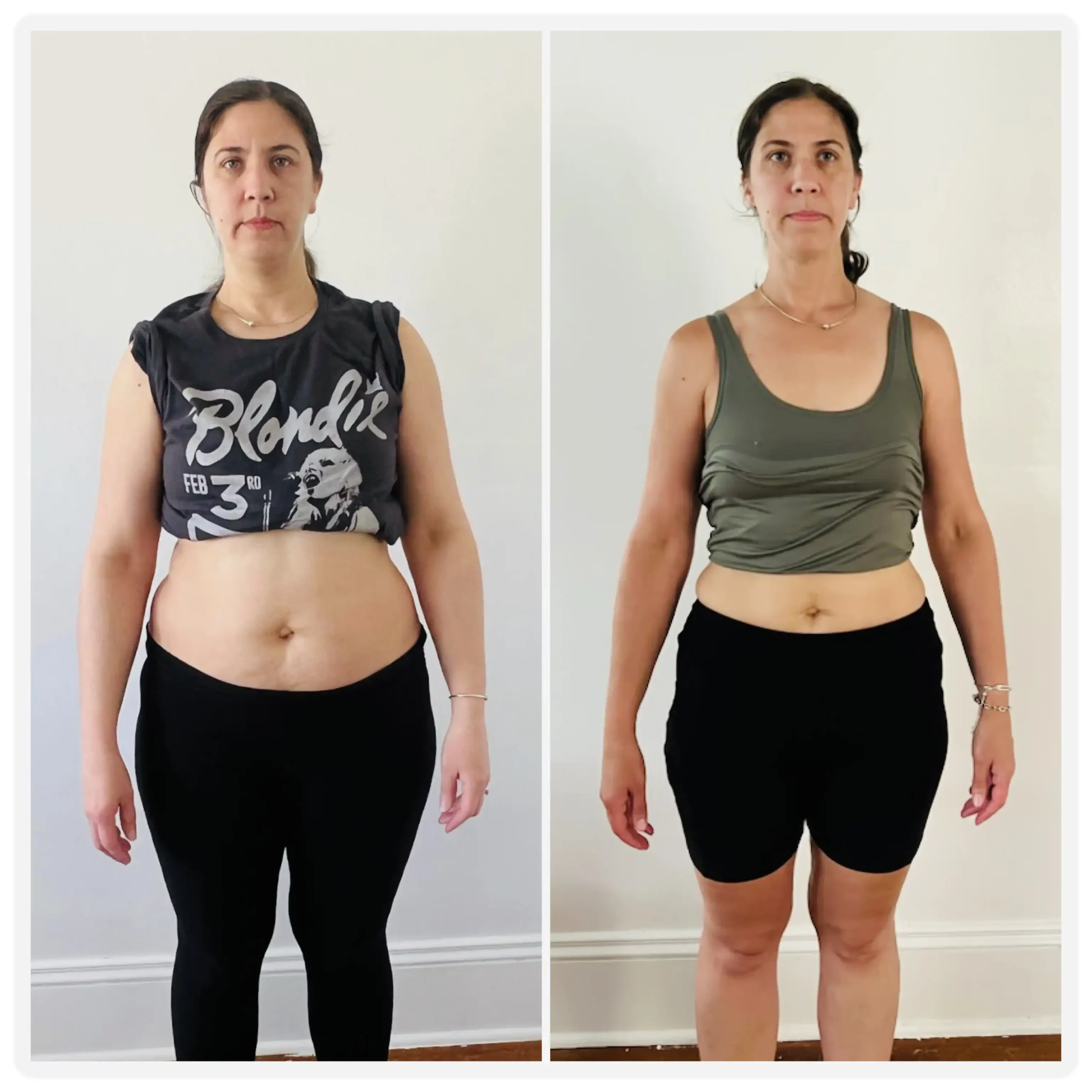 Daliana came to us as a referral from one of our employees. They've known each other since children and have stayed in touch through social media. It's incredible how these groups can keep us all connected and share our message with people worldwide. What's even more incredible is our ability to be so confident in this program that we can share it will our family and friends! 
During our initial meeting, Daliana expressed her desire to feel healthy again. Clients like her are always the easiest to work with because I know they will experience noticeable improvements in how they feel as early as week one, which in turn motivates them to continue on their journey. The weight loss is an added bonus!
Over the 90 days, we not only educated her about how food can heal the body, but we also focused on other aspects, such as label reading, making healthier choices when dining out, and incorporating indulgences in moderation when the time comes. Daliana grasped these concepts quickly, and before long, she was conquering all her temptations and understanding how clean eating directly impacts her day-to-day well-being.
One of her primary complaints before starting the program was experiencing daily headaches, a symptom we often encounter and have had significant success in eliminating. Remarkably, by week 2 of the program, her headaches were virtually gone. Additionally, she had been struggling with mood swings and anxiety, both of which showed significant improvement during the 90 days.
Upon completing her 90-day program, Daliana achieved remarkable success by losing almost 40 lbs, surpassing her weight loss goal. During our exit interview, I asked her what set this program apart from others she had tried, and she responded, "I never felt deprived, even in the beginning. Being able to eat so much food kept me satisfied." She also expressed her enjoyment in learning about the foods that fuel her body and cater to its specific needs. Furthermore, she shared that this transformation became a family affair, as there is now less junk food in her house, and she no longer finds herself digging for candy in the pantry! Like most of our clients, Daliana felt she finally gained control over her eating habits, conquered her cravings, and learned how to enjoy treats in moderation. She emphasized that she can have the piece of pie at the party but can remain in ultimate control of her choices.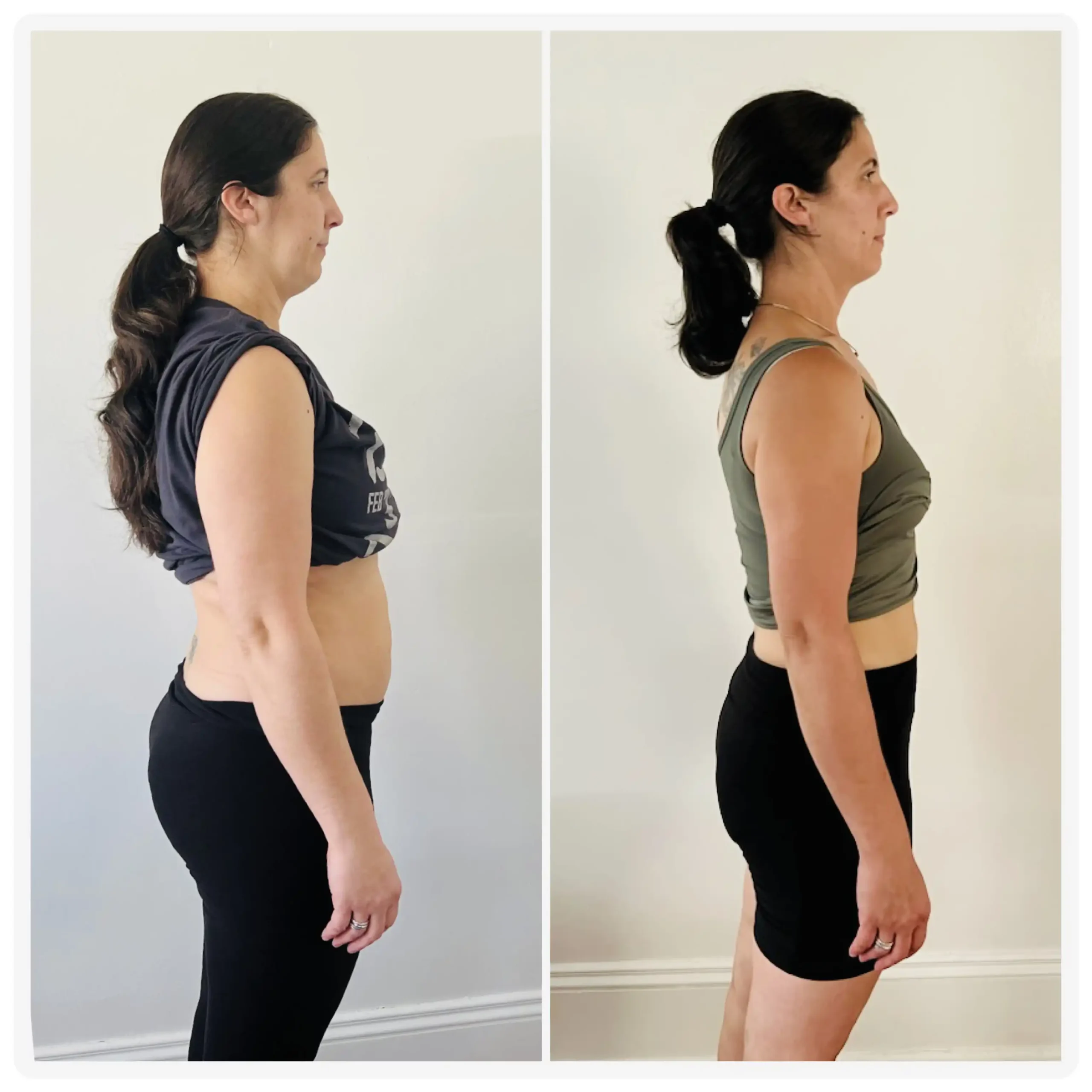 It was an absolute pleasure spending these 90 days with Daliana! I eagerly look forward to receiving all her future updates and continuing to stay connected, as she has become a valuable part of our lifetime wellness family!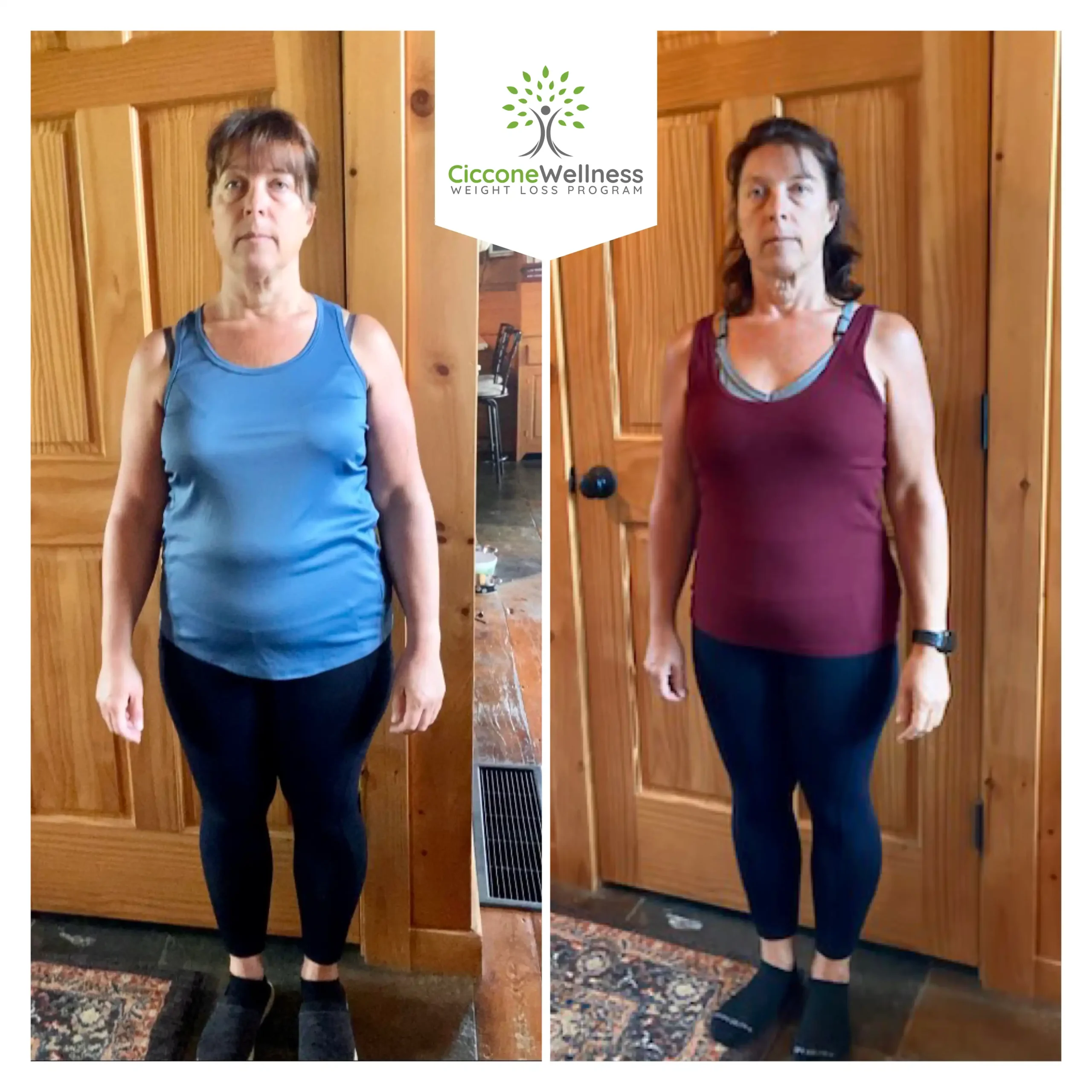 We generally have two kinds of clients—the first has some basic knowledge about nutrition, and the other has a lot of knowledge about nutrition. Donna falls into the "a lot of knowledge" category. She was already doing everything she knew to be right. 
As an avid long-distance cyclist, her health is a priority to her, and she was already eating whole foods. She came to us frustrated because even though she felt like she was doing everything right to stay healthy and lose weight, she wasn't seeing results.
In addition to losing some stubborn weight, Donna also wanted to come off her blood pressure medication, sleep better, and stop experiencing hot flashes. Donna had never "dieted" in the past because she didn't think traditional diets worked. I spent a lot of time with Donna just helping her understand how the program wasn't a diet, but more of a science experiment for her body. 
We wanted to find the foods that supported her body's needs and her efforts. During our time together we tested over 20 healthy fats and carbs, and we were able to identify which foods acted as fuel for her body as opposed to being stored as fat. We discovered foods that she loves and can incorporate daily to support her long workouts!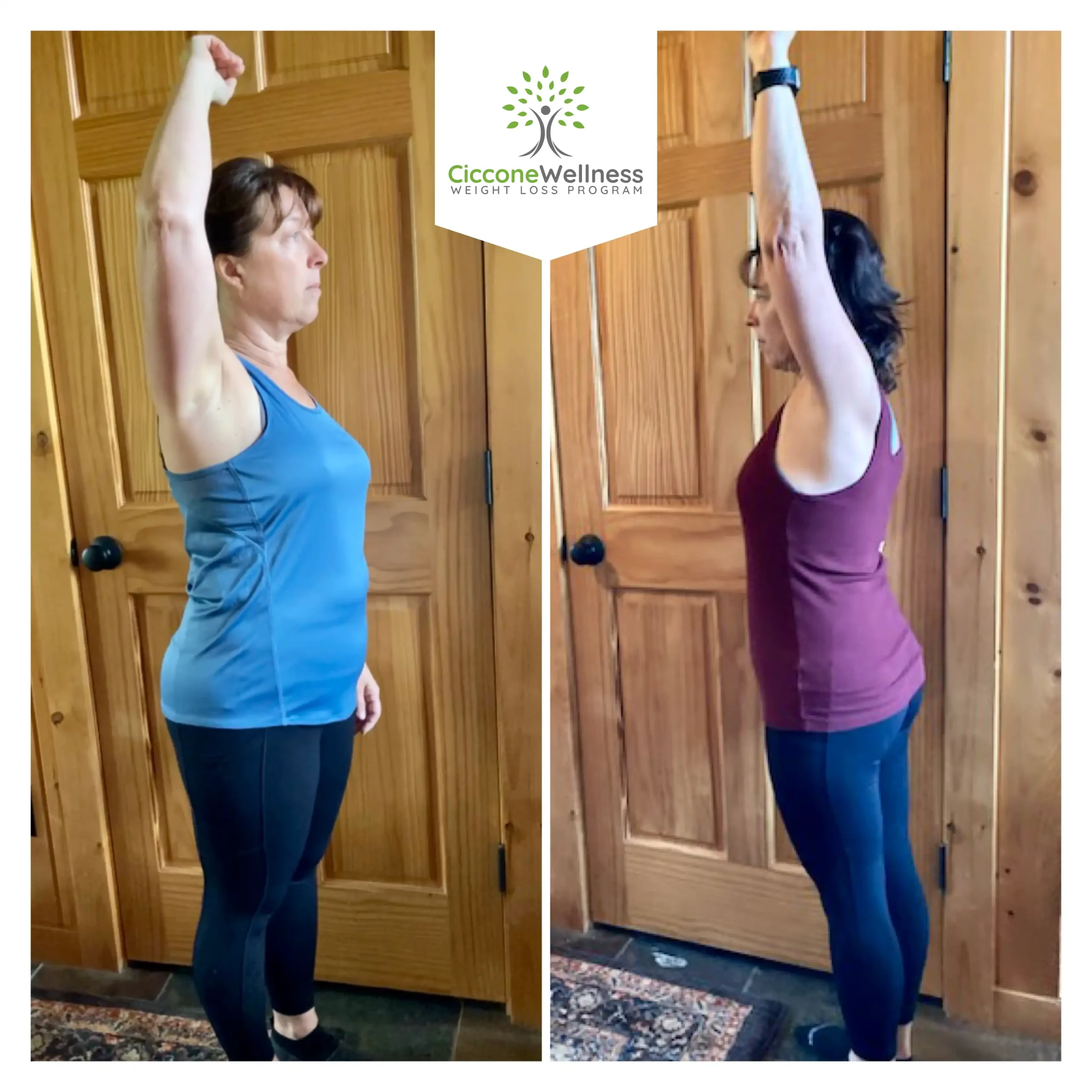 Donna lost 26 pounds during her 90 days, was able to come off of her blood pressure medication, stopped experiencing hot flashes, and she now has all the tools she needs to maintain what she's worked so hard for.
With Donna, it was just a matter of finding the right combinations of food and having a plan to support her body's needs rather than deplete it. Donna realized that she wasn't eating enough food and healthy fat to keep her body burning! When looking back at her time with us, she said, "I was thrilled to find a program that taught you about your body and how it works, showing you the right way to go about weight loss.
"In my mind, anyone can do this and it's your choice whether to keep the weight off or not because you have all of the tools and knowledge that you need and still enjoy food!"
If you are struggling with finding the keys to your body like Donna, reach out to us and let us help you get back in the driver's seat!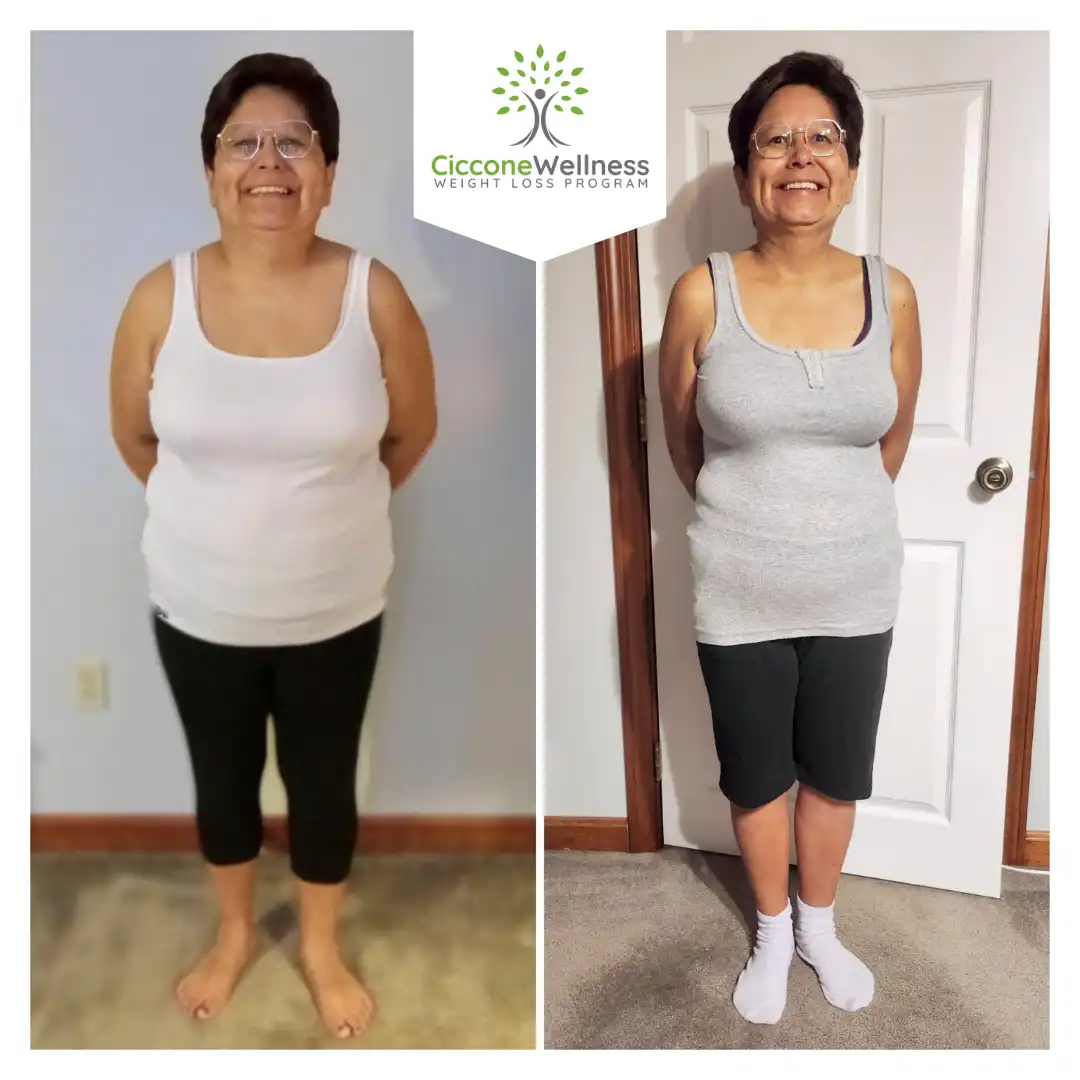 Let me introduce you to Miss Nelsey! She is our latest rock star graduate and, more importantly, she's sporting a brand-new body and mindset!
Nelsey came to us wanting to lose some weight and was frustrated after taking several different approaches to weight loss and not seeing results. She was eating healthily and trying to make the right choices when it came to food—the piece that she was missing was understanding which foods were healthy for her.
When I first sat down with Nelsey, she shared with me that she was struggling with fatigue, headaches, and shortness of breath. She was so tired at midday that she required a nap and just didn't have much left in the tank at the end of the day. During our 90 days together, we worked on reading nutrition labels to identify ingredients that are inflammatory and focused on fueling her body with whole foods. Once she was comfortable with both of those, we started testing healthy fats to see which fats she could use to support healing and weight loss. Nelsey was surprised by how simple fats like olive oil, cheese, or nuts could give her energy and actually support weight loss!
Once we figured out which healthy fats worked for her, we started slowly adding back some of the carbs and sugars that she had been missing, testing foods like potatoes, rice, and breads. We wanted to find out how her body responded to each of those because we don't want her to live her whole life without carbs! The goal of the program is to create a long-term balanced lifestyle without deprivation.
During Nelsey's 90 days on the program, she lost nearly 40 pounds, dropped from a size 8-10 to a 2-4, no longer experiences headaches or shortness of breath, and most importantly, her energy level has skyrocketed. No more naps for this busy lady!
We have thoroughly enjoyed partnering with Nelsey and we're so happy to have her as part of our wellness family!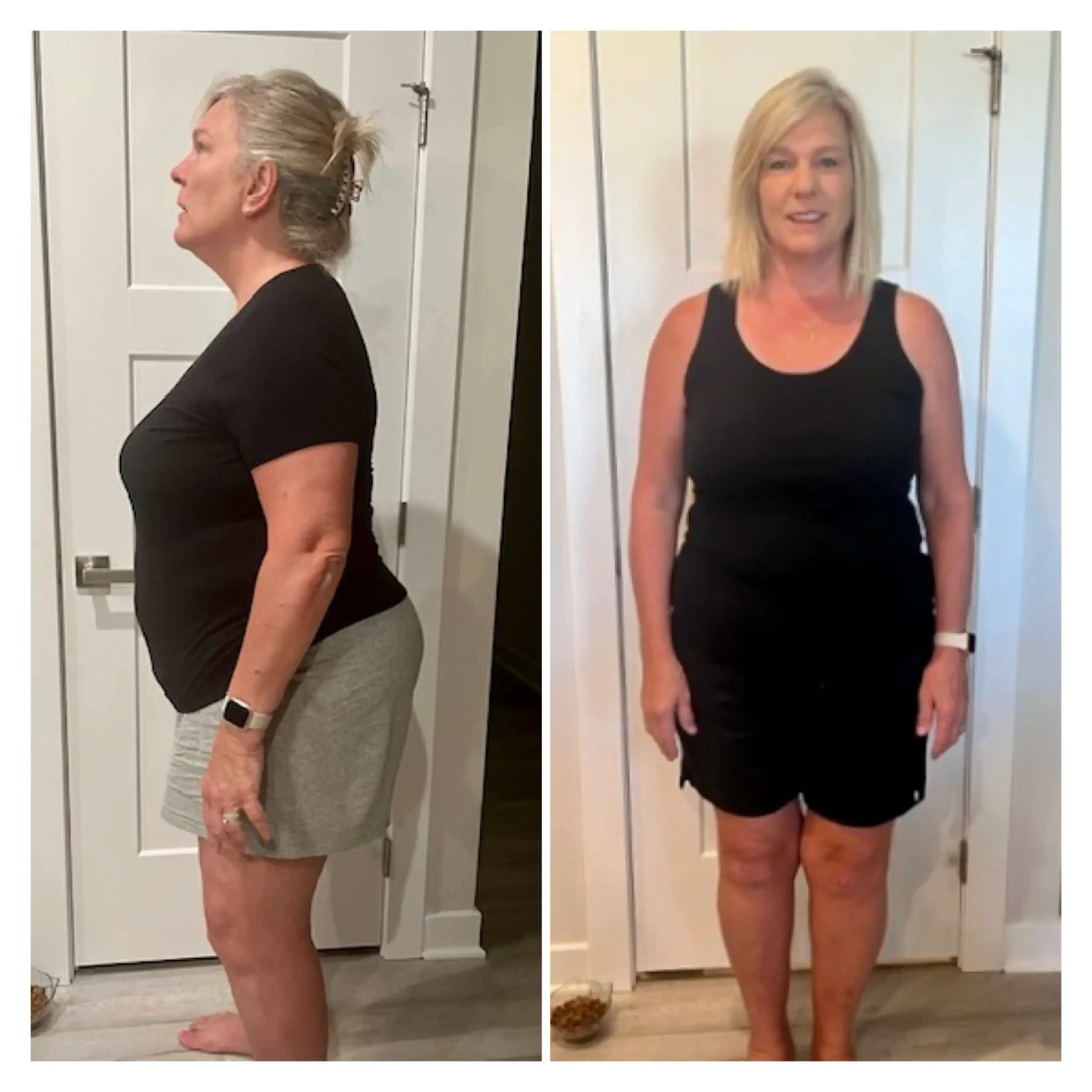 Sue is part of our beloved nursing crew. We love our nurses and appreciate all that they give every single day, which is also why we end up with so many in our programs! Nurses are the caregivers of the community, and they spend so much time caring for others that they often fall to the bottom of their own lists. We are always thrilled when they finally choose themselves and us!
Sue came to us looking for a lifestyle change. She was ready to make big, permanent changes to improve the quality of her life. She was also a referral from a friend and knew what to expect. When I first sat down with Sue, she shared with me that she suffered from severe arthritis and joint pain. She also experienced stomach issues, trouble sleeping, hot flashes and low energy. Like most of our clients, she had also participated in multiple weight loss program that produced short-lived results.
For someone with a busy work life like Sue, it's important to make food plans manageable. We started with meal prepping and keeping safe choices available to take on-the-go. The biggest mistake clients make with any plan is failing to actually plan. Fortunately, our program has done most of the planning for you—we have hundreds of recipes to choose from and there are no counting calories or measuring. We help set you up for success and guide you when it comes to making the right choices.
During our 90 days together, Sue learned how to eliminate inflammation, create balance in her life so she never feels deprived, and choose the right foods that support her weight loss. She has proven that she can healthily lose any additional weight she may gain with the tools she picked up along the way. Our goal with every client is to make them independent when it comes to their weight loss journey. When they graduate, they no longer need us or any other program out there.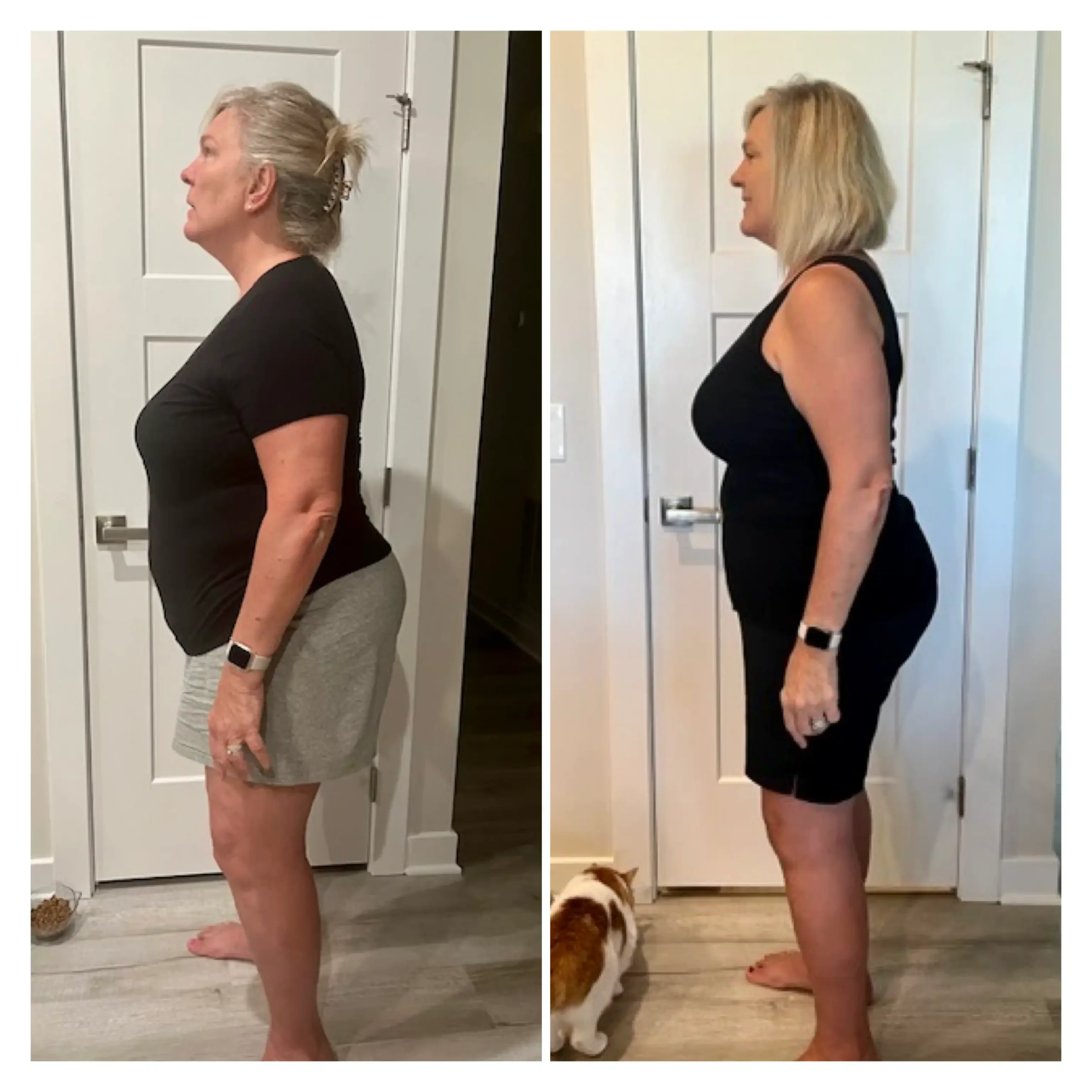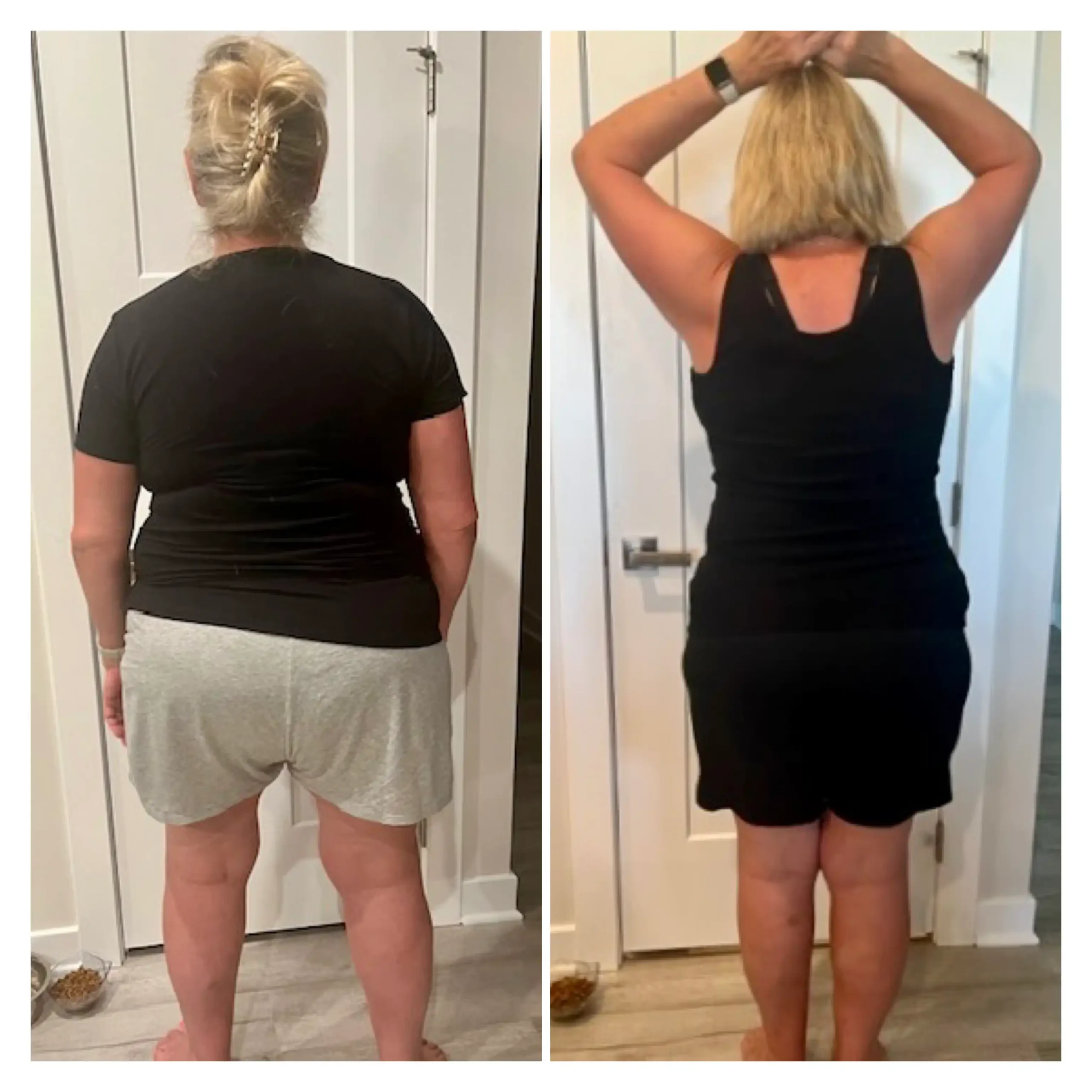 Sue will be leaving the program nearly 40 pounds lighter. Her stomach issues have been resolved, she has stopped her joint injections and anti-inflammatory medications, she sleeps through the night, and she no longer has hot flashes! She also shared with me that she has so much energy and she is back in the gym for the first time in over 10 years. This is a huge win for her as joint pain has prevented this in the past.
We love these client stories, and we hope that someone out there is inspired by Sue's journey. Sue will forever be a part of our wellness family and we look forward to our next check in with her!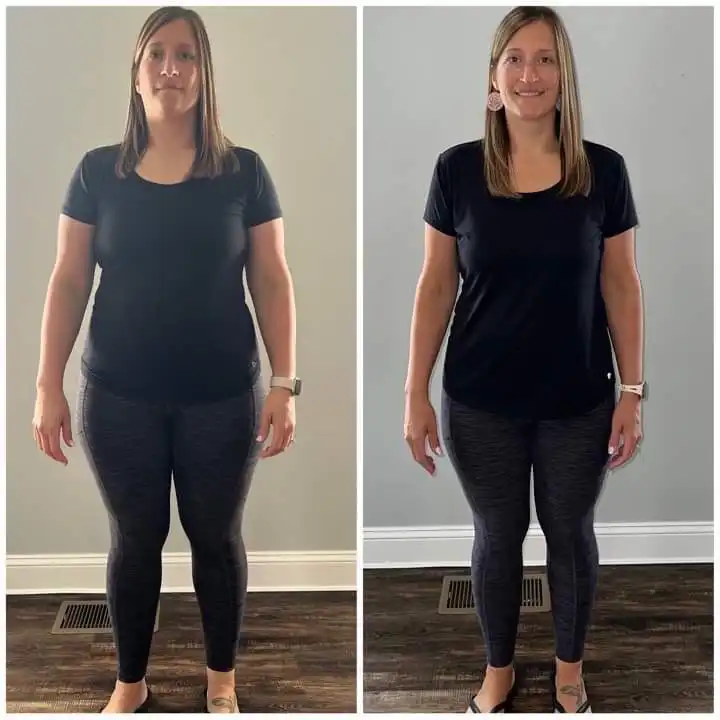 I've had the privilege of knowing Julie for more than two decades, and it has been truly exciting to collaborate with her on her journey toward better health, wellness, and weight management. I am deeply honored that she entrusted me with her personal journey.
Julie's life encompasses a demanding profession, the role of a wife, and the responsibilities of nurturing two young children. Many of us can empathize with the tendency to neglect our own well-being amidst the demands of work and family. It's a common experience for women to place others' needs ahead of their own, often putting self-care on hold. I am genuinely proud of Julie for recognizing the significance of her own health and making it a priority.
Her initial health goals included having more energy to engage actively with her children and family and improving her overall well-being with reduced bloating and inflammation.
She faced a range of primary symptoms including back and hip discomfort, inflammation, abdomen scar tissue pain, anxiety, diminished focus, and persistent fatigue.
Right from the outset, Julie exhibited an unwavering commitment by diligently following the program, meticulously completing her daily journal, and asking insightful questions. Her dedication and focus laid a solid foundation for her journey toward improved health.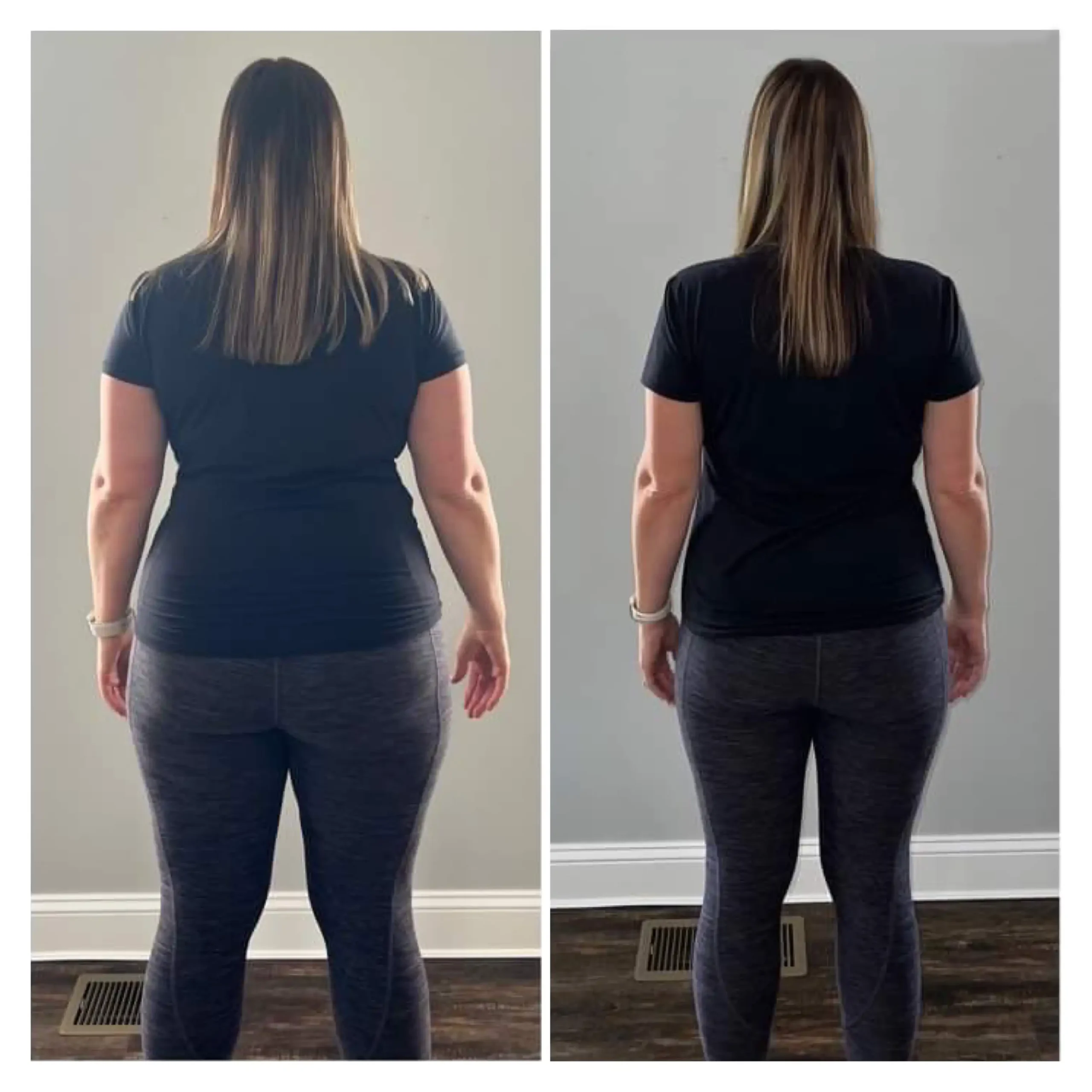 Throughout the course of the program, Julie acquired a wealth of knowledge about healthier choices, became adept at deciphering nutritional labels, discovered which foods affected her weight loss or gain, and practiced using the different program phases to continue her health journey after graduation. She mastered balancing life events, special occasions, and her health objectives, enjoying weekend camping trips and concerts while staying focused on her goals. Now equipped with all the necessary tools, Julie can confidently maintain control over her future well-being.
Over the course of her 90-Day program, she not only shed an impressive 43 pounds, exceeding her goal weight by 4 pounds but also effectively quelled inflammation, resulting in a substantial 6.4% reduction in her BMI. She achieved healthy levels of body fat and visceral fat, while remarkably turning back the metabolic clock by 4 years!
Julie's transformation extends beyond mere numbers. Her journey toward holistic well-being has translated into remarkable changes. Discomfort that once plagued her, such as back pain, hip discomfort, and scar tissue pain, has receded. Her sleep quality has improved, energy levels are revitalized, caffeine intake has decreased, and her ability to manage anxiety and sustain focus has notably heightened. Equally impressive is her triumph over sugar and carb cravings. Her inner change is evident in her glowing skin, and she now needs a new wardrobe!
Being Julie's coach was an incredibly gratifying experience, witnessing her evolution from initial skepticism to a newfound state of vitality and self-assuredness in her pursuit of current and future health goals.
During our time together, Julie often mentioned how easy it was to follow the plan without feeling hungry or deprived. Her gratitude for finding this program was apparent in her daily journal entries. In our final coaching session, she shared how this experience had completely changed her life and is the best thing she has done for herself, her body, and her family.
– Coach Malory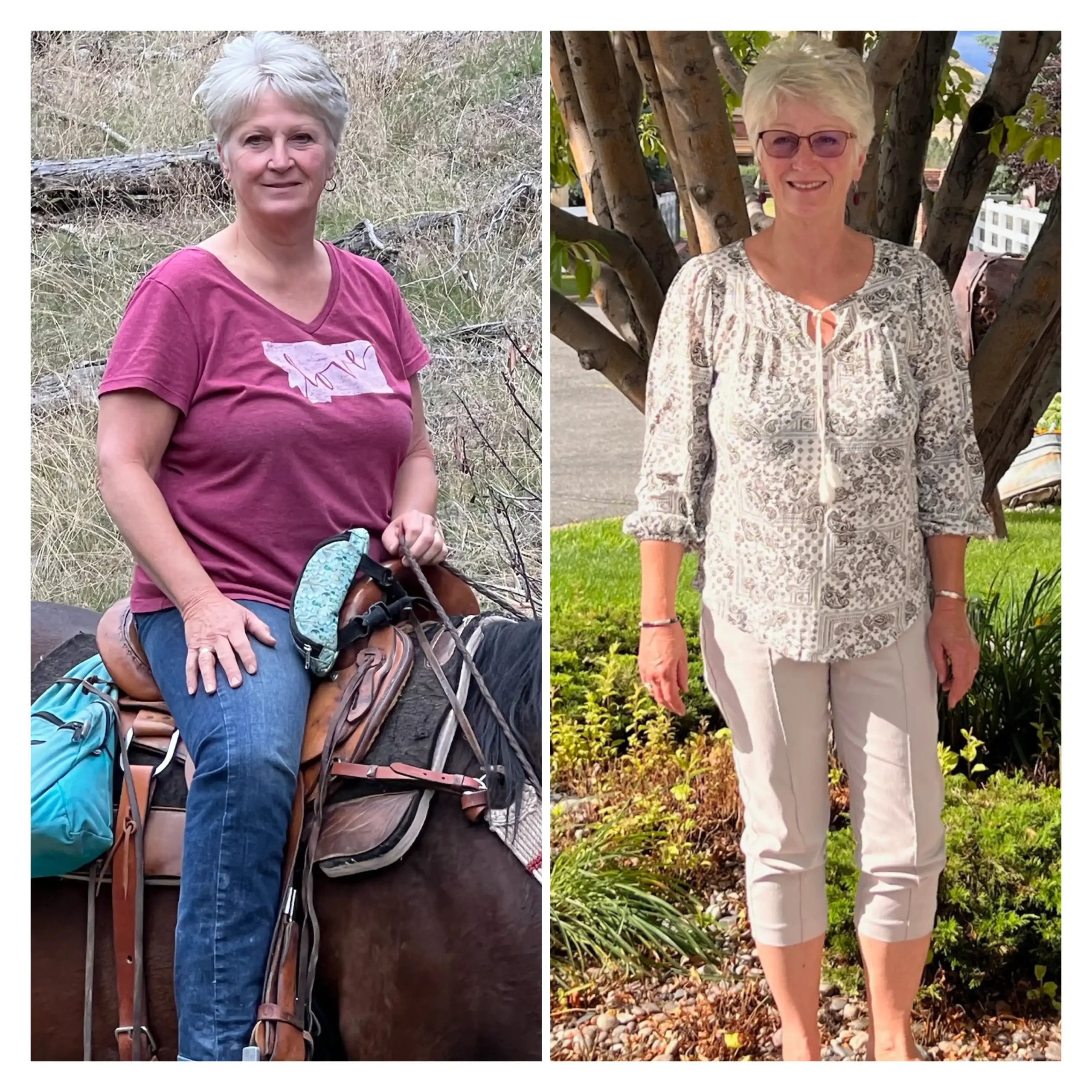 Sherri is one of many clients who come to us seeking post-menopause help. She shared with me that prior to menopause she had a very different body—one that was lighter and seemed to function better. For the first time in her life, she found herself 20 pounds overweight and unable to do anything about it. Sherri has a background in nutrition and holistic wellness and is very familiar with whole foods and inflammation—what she couldn't figure out was the right combinations of food for her body!
Sherri experienced shortness of breath, heartburn, joint stiffness, mood swings, poor sleep, fatigue, hot flashes, and anxiety. She also wasn't feeling as confident as she used to be and was uncomfortable with the way her clothes fit.
When we have a client like Sherri who is very educated on food and nutrition, the first thing we have to do is get them to let go of everything that they know to be true and become open-minded with learning and trying new things!
I wanted Sherri to learn more about how her body functions with and without certain foods. I wanted her to challenge her understanding of what being healthy really meant for her. We started with breaking down the importance of detoxing from all fats and monitoring her body's response. Within the first week Sherri was already experiencing less back and joint pain.
The next step was to test which healthy fats Sherri's body responded positively to too. This is such an important piece of the puzzle because a lot of clients cook with oils/fats every day but have no idea if that fat is actually helping or hurting them. If your body knows how to use a fat as a fuel, it will actually help you lose weight and maintain weight loss. This is one of the biggest components of our program, and often one of the biggest revelations for our clients.
Our goal with every client is to discover what works for each individual, create balance in their diets, and ensure they have the tools to maintain what they've achieved over the 90 days. We spend a lot of time in the last phase testing additional foods like cheese, avocado and even breads, so that clients get a good feel of what it's like to spike in weight but still have the ability to move the number back on the scale the very next day. We want clients to feel completely in control and we remind them that they are always in the driver's seat.
During Sherri's 90 days on the program, she lost over 20 pounds, her life-long battle with neck and back pain came to an end, and she no longer experiences heartburn or shortness of breath. Her energy level is higher than it's ever been, her hot flashes have dramatically improved, and she's finally sleeping through the night. Sherri is now feeling more calm, confident, and excited to start traveling and living her life to the fullest again.
Sherri also shared with me that at a recent horse show, she was climbing over fences, and she hasn't been able to do that in years!
We love our clients, and we hope that Sherri's story inspires someone else to take action and make a permanent change!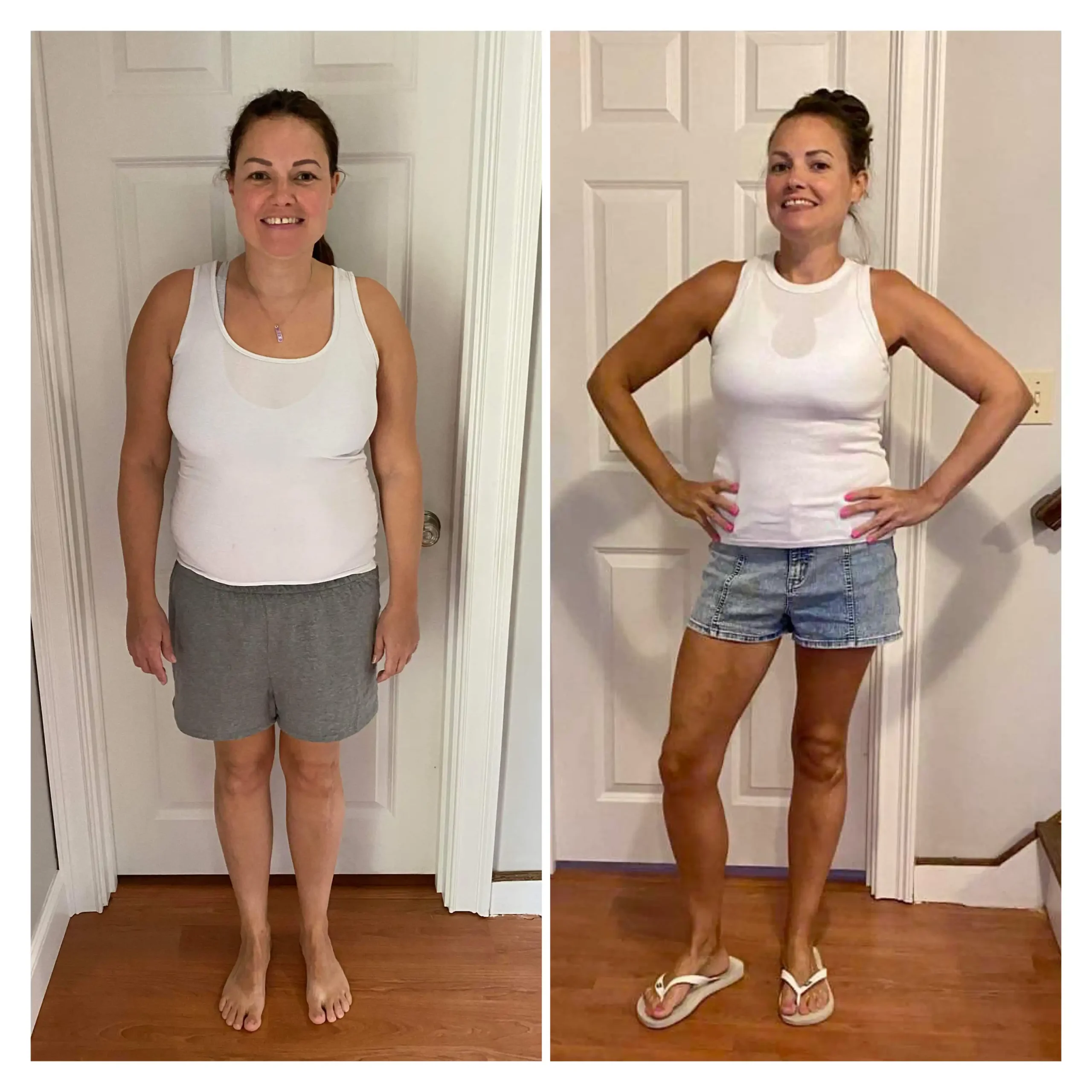 I am deeply passionate about what I do, and it's an incredible privilege to be an integral part of my clients' journeys towards better health. I wholeheartedly believe in the transformative power of our program, which is why I enthusiastically recommend it to those around me. This not only allows me to work with friends and acquaintances from various stages of my life but also brings me immense fulfillment in my role as a wellness coach.
One of the remarkable individuals I had the pleasure of working with is my former classmate and teammate, Amy. As a mother of four and a dedicated preschool teacher, she faced a myriad of health challenges, including chronic back pain, heartburn, trouble falling asleep, hot flashes, night sweats, and anxiety. The constant pain and disrupted sleep were draining her energy and affecting her mental well-being, making it challenging to meet the demands of motherhood and her teaching career. She also had a weight loss goal of approximately 19 pounds, and she finally made the decision many women find themselves grappling with – making themselves a priority.
Over the span of 90 days, Amy underwent a remarkable transformation through her commitment to our anti-inflammatory diet program. The positive changes were evident from the very beginning – her heartburn disappeared almost immediately due to the structured fasting hours. As week two came to a close, Amy found her energy levels steadily on the rise, and by the third week, her clothing felt noticeably more comfortable. By the fourth week, she was falling asleep effortlessly and experiencing restful sleep, free from the discomfort of hot flashes and night sweats, allowing her to greet each day feeling revitalized and full of energy.
The most exciting outcome appeared by the seventh week when her chronic back pain, which previously rated a persistent 3-4 on the pain scale, entirely dissipated. She no longer required pain medication or cortisone injections, and simple tasks such as bending down to her preschooler's level became effortless, a stark contrast to the challenges she faced before our program. By the conclusion of her journey, Amy had not only gained control over her anxiety but also witnessed a remarkable enhancement in her mental well-being and overall quality of life.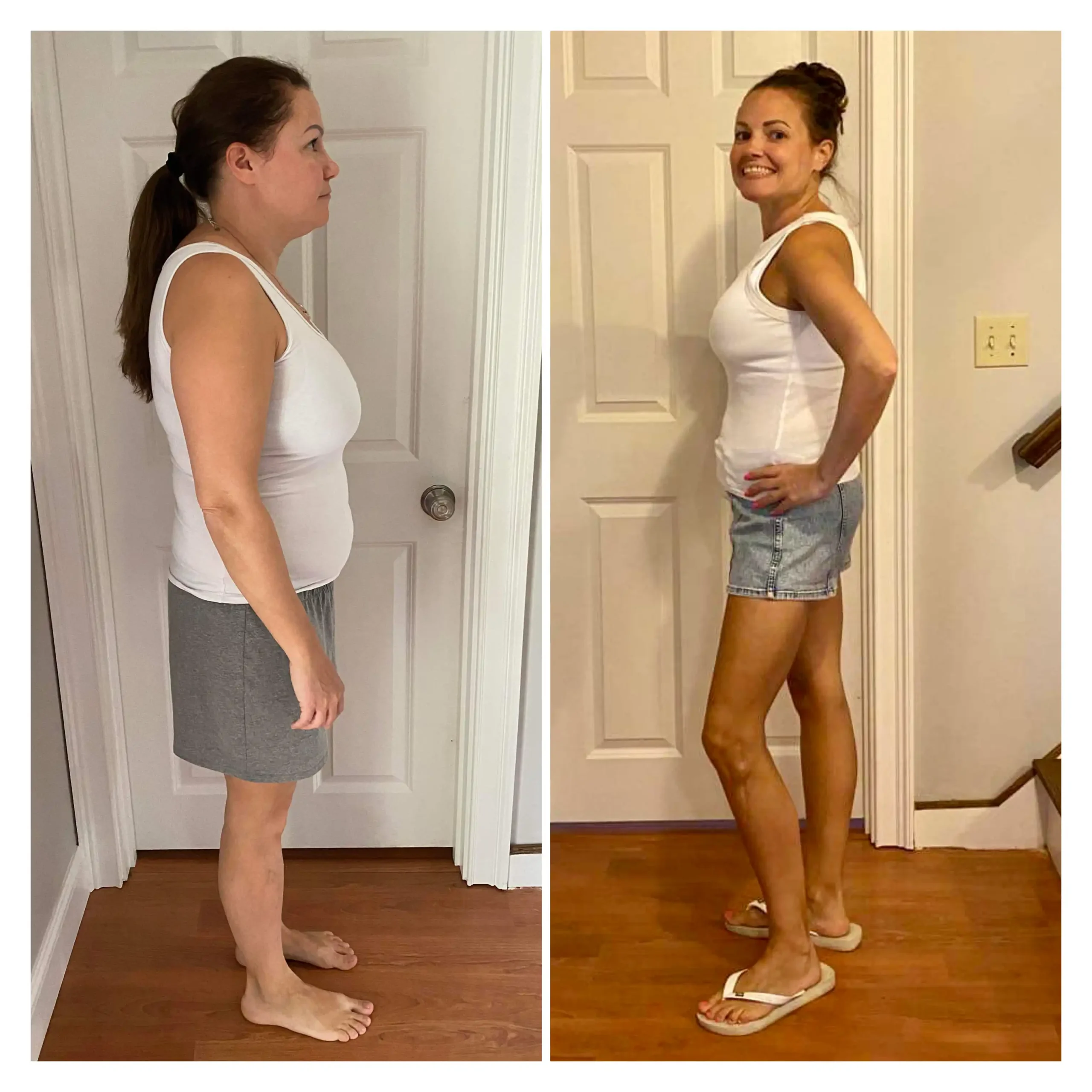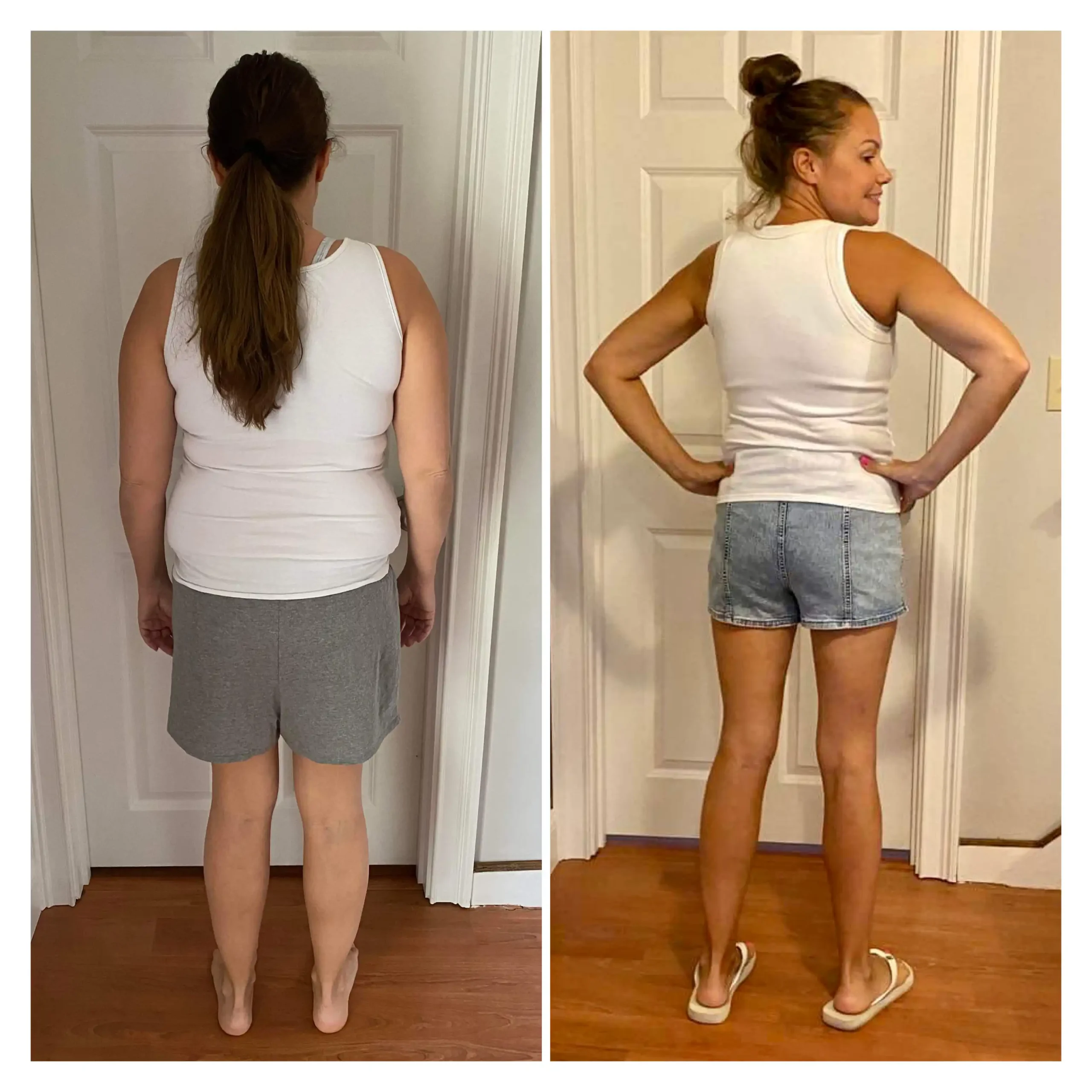 In addition to these remarkable health improvements, Amy gained valuable knowledge about foods that aid her in fat-burning and those she can consume in moderation. She successfully exceeded her weight loss goal by 11 pounds, shedding an impressive 30 pounds.
Today, Amy looks and feels incredible. She is grateful for the time she invested in prioritizing her well-being, as it has allowed her to be a more active and engaged mother and teacher. By filling her own cup, she now has the energy and stamina to pour into the lives of her children and students alike.
-Coach Malory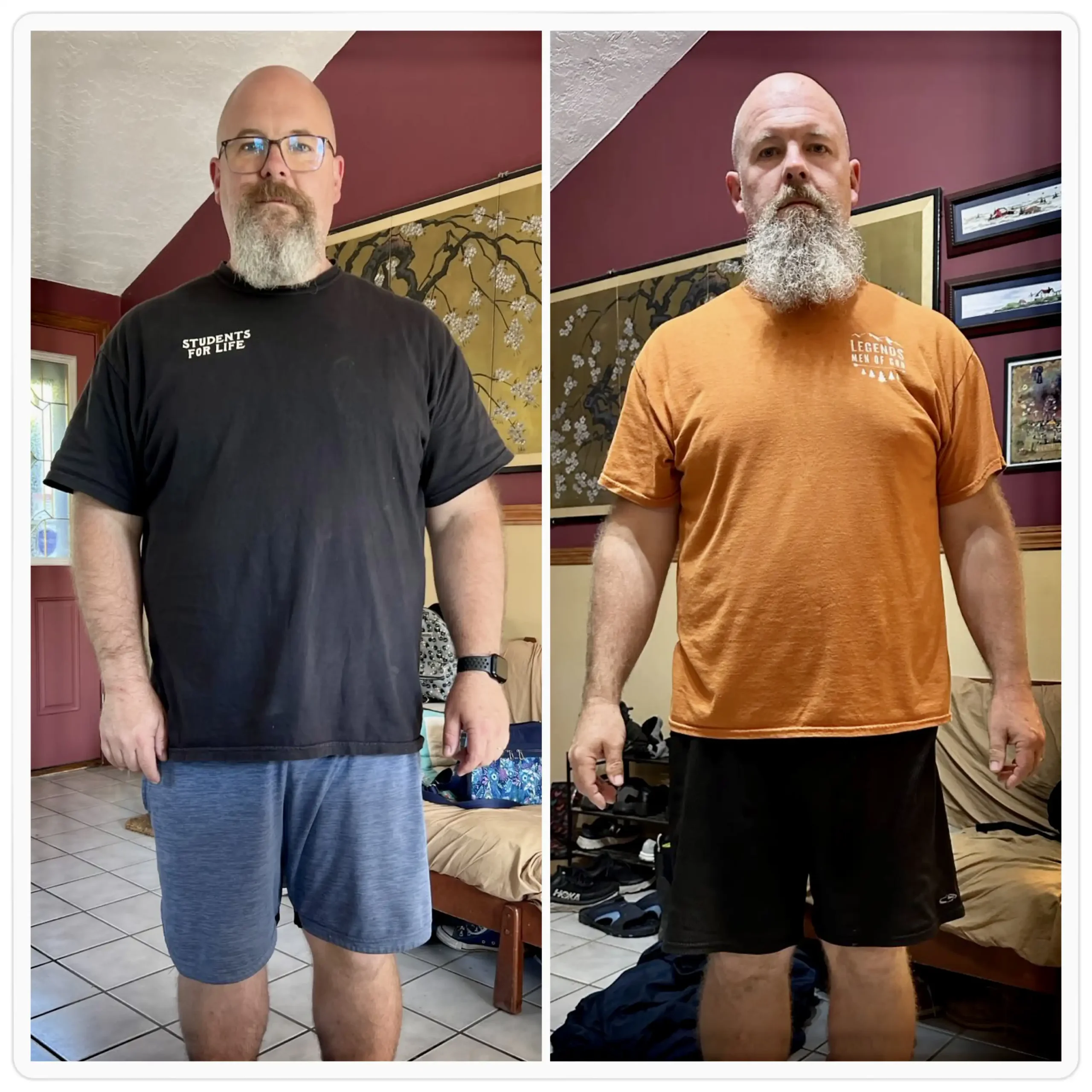 Jason finally found a weight loss program that works for him in the long run.  
He had tried several different programs in the past that did help him lose weight, but as soon as he stopped following their extreme, unsustainable diets, he would just put all the weight back on—I know this is true for so many because we hear it all the time.  
Through our 90 days together, not only did Jason have great success, but he completely changed his mindset around food and unlocked tools for long term success.
We established his "why" and kept focused on the reason he wanted to make these long-term lifestyle changes.
Jason lost 60 pounds, cut his body fat percentage from 45% to 32%, and cut his subcutaneous fat from 39 pounds to 27 pounds. Jason continues to share his results with others and keeps moving towards his weight loss goal! I'm excited to check in with him in the future and see his continued progress.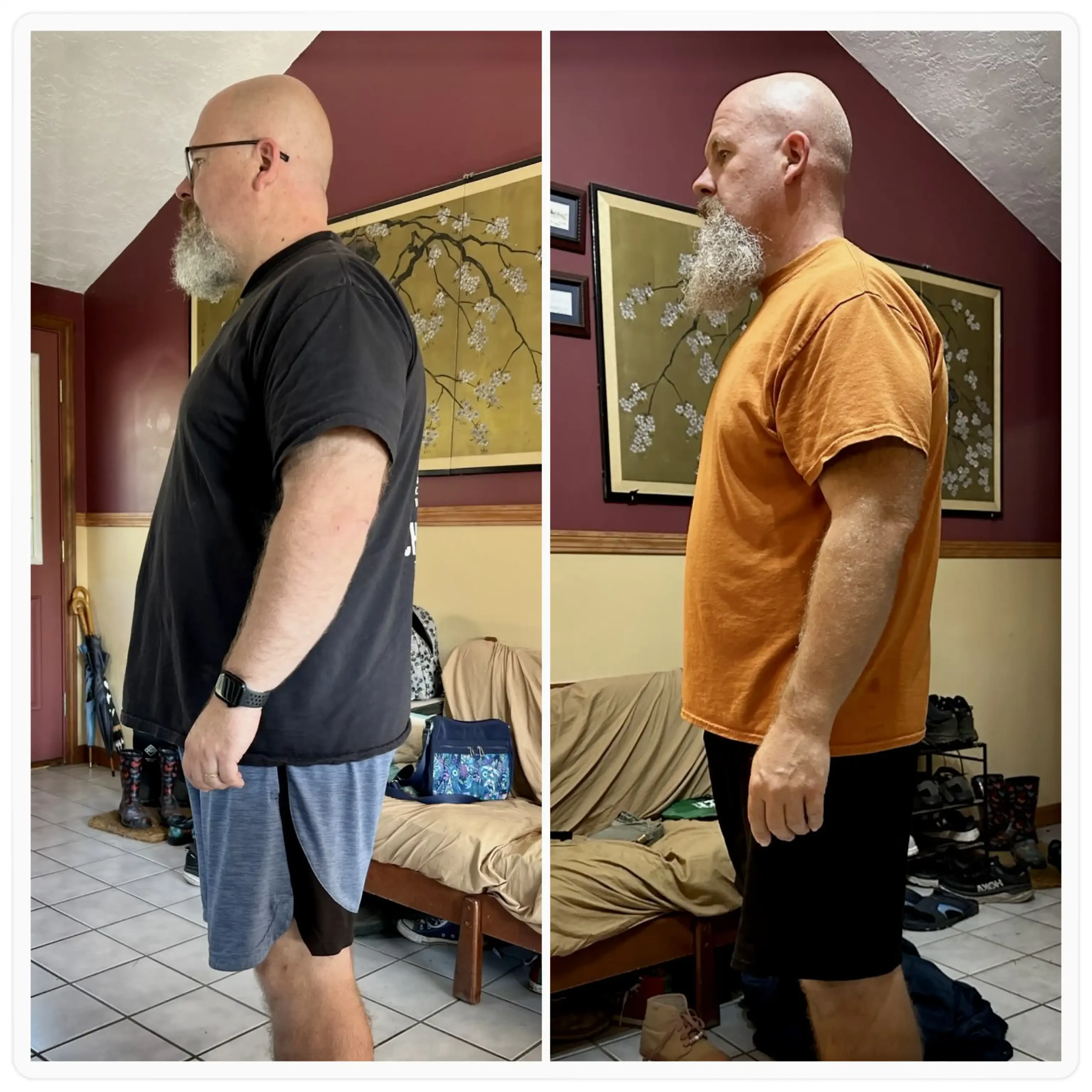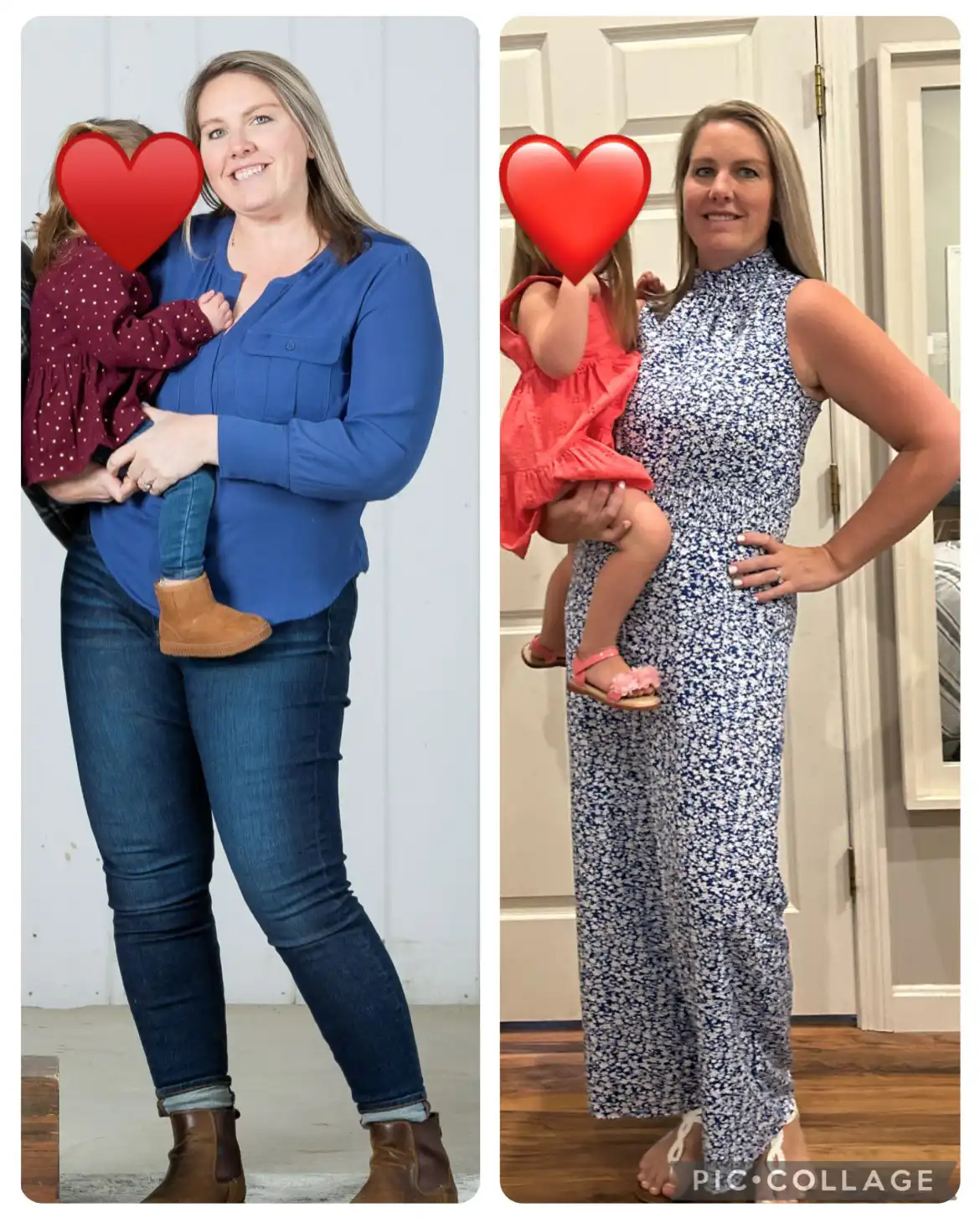 Erika came to us as a referral from one of our graduates, and boy are we glad she did! Erika was tired of the rollercoaster that comes along with traditional dieting. When I first sat down with her, she explained that she had tried just about everything to lose weight but couldn't keep it off. She also shared with me that she's very disciplined, and that when she decides to do something, she's all in.
During our 90 days together, Erika started to understand that our approach to sustainable weight loss is very different. We want to heal the body first so that it no longer needs to store weight. Inflammation causes the body to operate in crisis mode, and when it's in crisis mode, it holds onto everything. We spent time discussing inflammatory foods and how just removing those from her diet will immediately start to support her body's healing.
Then we started to look at foods that her body processed well and actually energized her (these foods are different for everybody, and the results may surprise you). We ultimately built a toolbox full of foods that supported her weight loss journey and, most importantly, will help her maintain her results down the road!
Erika graduated 43 pounds lighter. She's experiencing significantly less neck and back pain, feels more energized throughout the day, and hardly ever feels anxious anymore. We asked Erika what she thought was the key difference in our program and she said, "Enjoying the food I was eating made a huge difference. I enjoyed every meal. I never felt deprived, and I didn't need to starve myself for 48 hours like I have in other programs."
We are so proud of Erika and her accomplishments and are thankful to have her as a member of our wellness family! She is already paying it forward by referring us to her friends and co-workers as well. Thank you, Erika!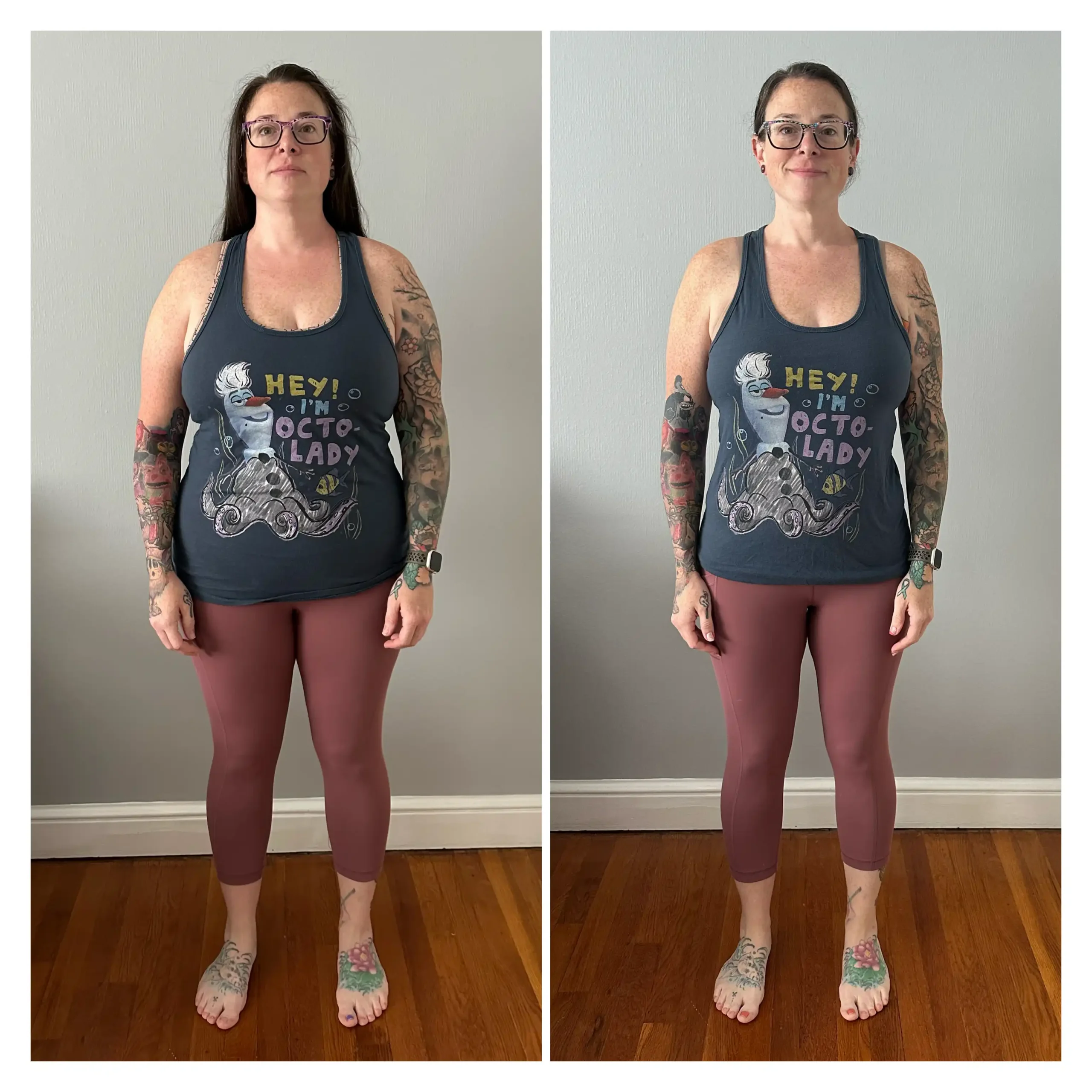 Recently, I had the honor of coaching a group of women whom I've known since my younger years. Among them was Amber, and I was very excited when she first reached out to me to inquire about the anti-inflammatory program and my weight loss coaching.
In the past, Amber had witnessed the life-changing effects of a diet abundant in whole, natural foods. Years ago, she moved overseas and adopted a diet solely dependent on fresh, unprocessed foods, leaving behind the processed options dominating our local supermarkets. Consequently, she returned 58 pounds lighter, proving the healing power of whole foods.
However, the transition back to the States reexposed her to our different food culture, and as it often happens, she found herself regaining approximately 32 pounds. This weight gain brought a host of health challenges, including chronic fatigue, inflammation, pain, sugar and carb cravings, and diminished self-esteem. Amber knew she needed to return to the approach that had previously worked wonders for her – an anti-inflammatory diet. This time, she sought our program's additional benefits – personalized coaching and tailored food testing at each stage.
Amber's main goals included enhancing her mental well-being and overall health, relieving joint pressure for improved comfort and reduced pain, and heightening her confidence in her body to embrace a more active lifestyle.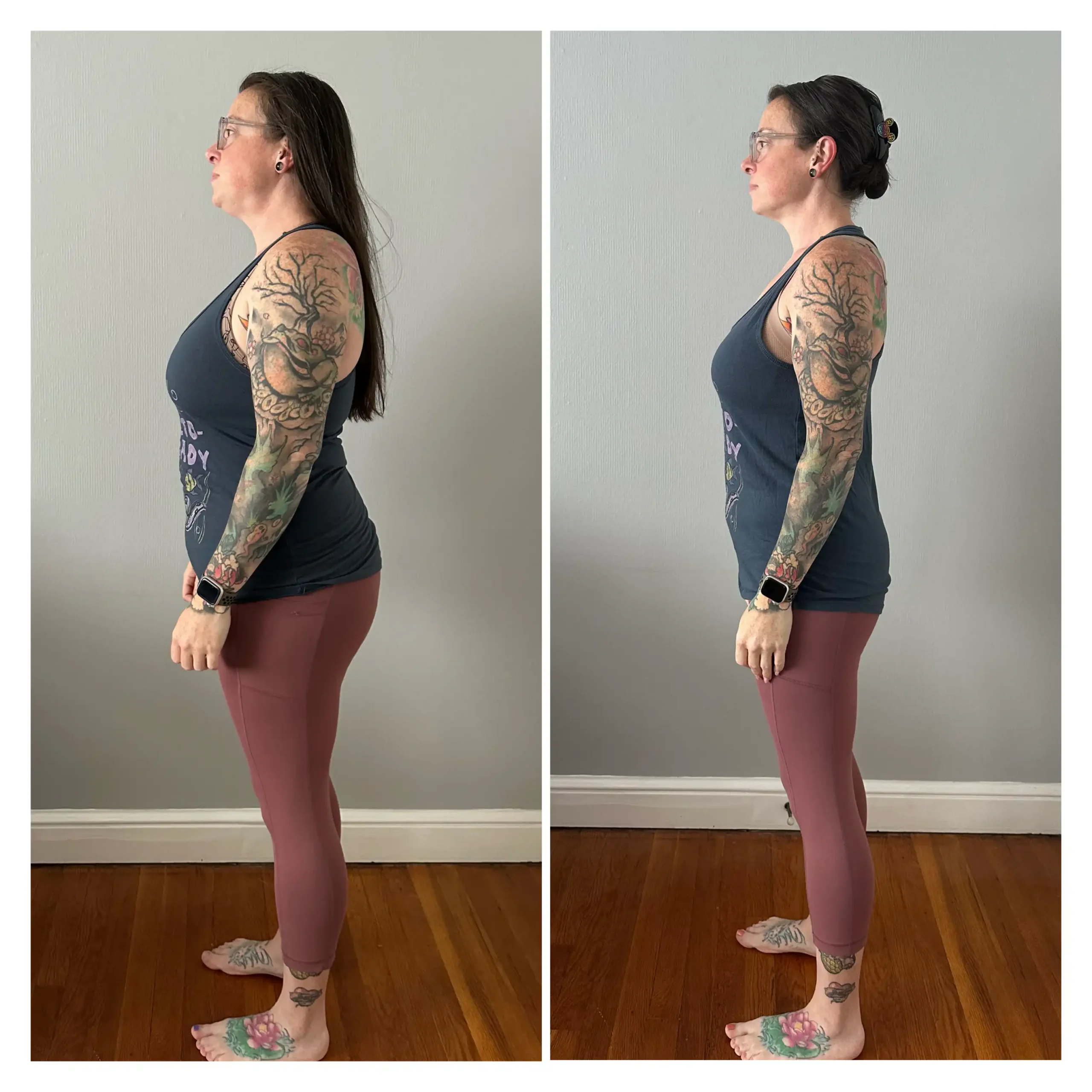 Through our comprehensive testing phase, Amber discovered that after healing her gut in the initial program phase, certain foods like coconut oil, butter, avocado, olive oil, chocolate, quinoa, and steak aided her in shedding excess weight. Simultaneously, she learned which foods had the potential to hinder her progress. Armed with this knowledge, Amber gained mastery over her relationship with food, enabling her to adjust her dietary choices to continue her weight loss journey or maintain her current healthy weight.
Amber embarked on this program with enthusiasm, an open mind, and unwavering determination.
The results were astounding:
Week 1:  Lost 7 pounds!
Week 2:  Regained control over sugar and carb cravings.
Week 3:  Facial and stomach inflammation vanished.
Week 4:  Conquered her habit of snacking between meals.
Week 5:  Reached the promised 20-pound weight loss milestone.
Week 7:  No longer suffered from afternoon energy slumps.
Week 11:  Began feeling comfortable in her skin and more self-assured about her looks.
Week 12:  Achieved a 41.4-pound total weight loss, exceeding her goal!
Amber's transformation was incredible. She went from a size 12/14 to a size 4/6! Her self-esteem soared, and she had more energy and less pain, relieving her knees of a remarkable 160 pounds of pressure. Amber now savors her new way of eating to the extent that she even catches herself dancing while enjoying her meals!
I'm so grateful she entrusted me with her journey back to healing, health, and happiness.
–Coach Malory
Teri came to us as a referral from a family that went through our program. She had watched their transformation and knew that she was also ready for a big change. Teri, like most people who work full-time and attend night classes, her diet was primarily made up of quick, on-the-go meals like fast food and pre-packaged items.
During our 90 days together, we spent a lot of time working to understand how those inflammatory foods were wreaking havoc on her body and causing a lot of the symptoms she was suffering from, including mood swings, anxiety, headaches, body stiffness, skin issues, weight gain, fatigue, high blood pressure and trouble sleeping.
I explained to her the importance of journaling during her program and making note of how these symptoms change from week to week. Within the first two weeks she noticed that she was feeling calmer and sleeping better. Over the next few weeks, she was not only losing weight, but she was able to come off of her blood pressure medicine.
By the end of the 90 days Teri had completely changed her body, losing 50 pounds and rewiring her metabolism! She's completely off her blood pressure medication, her skin looks amazing, her anxiety is gone, she's less depressed and feels more energized than ever!
Like most of the clients that we meet with, Teri came into the program skeptical and unsure if she could lose weight or if this would be another failed attempt. Over time, not only has she proven that she can do it, but she's also proven that she can maintain it—she is in the driver's seat! When I asked her what her biggest take away from the program is she said, "healthy food tastes good and there is power in the pen—writing things down keeps mindfulness!"
Welcome to our wellness family, Teri!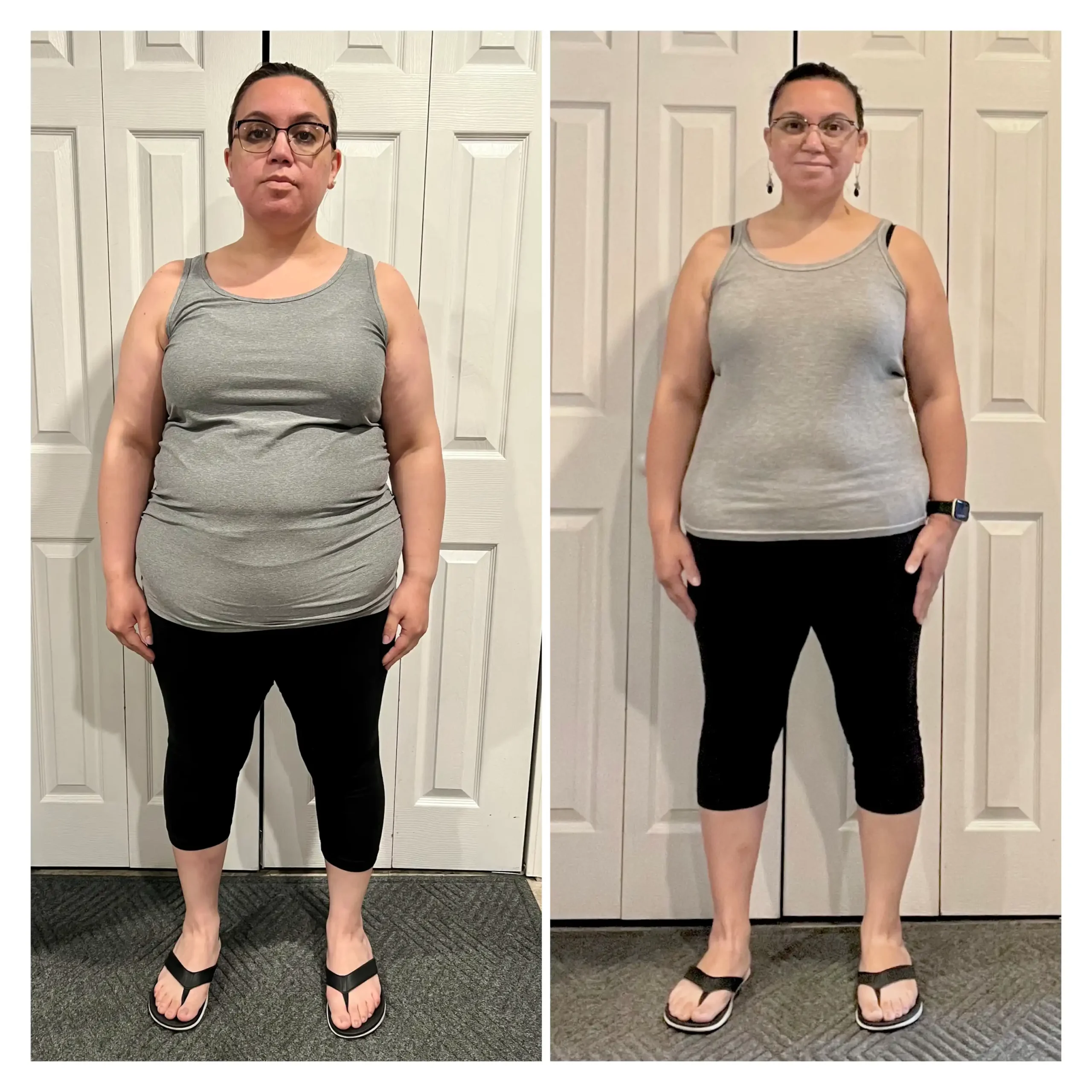 Tamara is one of those people who just wakes up every day determined to win—win the minute, win the hour, and win the day. She knew when starting this program that she was fully committed to making permanent changes in her life. She knew she was finally ready to do something big and impactful for not only herself, but her family as well.
Tamara shared that she was struggling with her appearance at her current weight and that she had been suffering from stiffness, headaches, lack of energy, and an overwhelming feeling of being unhealthy. She kept saying "It's time to make a change."
During Tamara's 90 days on the program, we worked together to find foods that her body responded positively to, including healthy fats and carbs that fueled her and gave her the energy back that she had been missing. She also found ways to incorporate foods that she enjoyed prior to the program back into her diet in moderation.
From day one we discussed the importance of creating balance and not feeling deprived. This was extremely important as Tamara's entire family would be joining her on her journey and eating the same foods that she was.
Tamara has lost nearly 30 pounds, dropped from size 16 to 12, and no longer experiences stiffness and headaches. With all of her new-found energy, she has even started going back to the gym!
When I asked her how she felt about graduating and her results she said, "I love it. I get so many compliments now. People just randomly tell me I look younger. I really had to get to know myself all over again going through this program. I now know what works for my body to lose weight and I have no fear of gaining!"
Tamara's husband lost 50 pounds during the 90 days and their daughter lost 23!
We are so excited and thankful to have this family as part of our wellness family.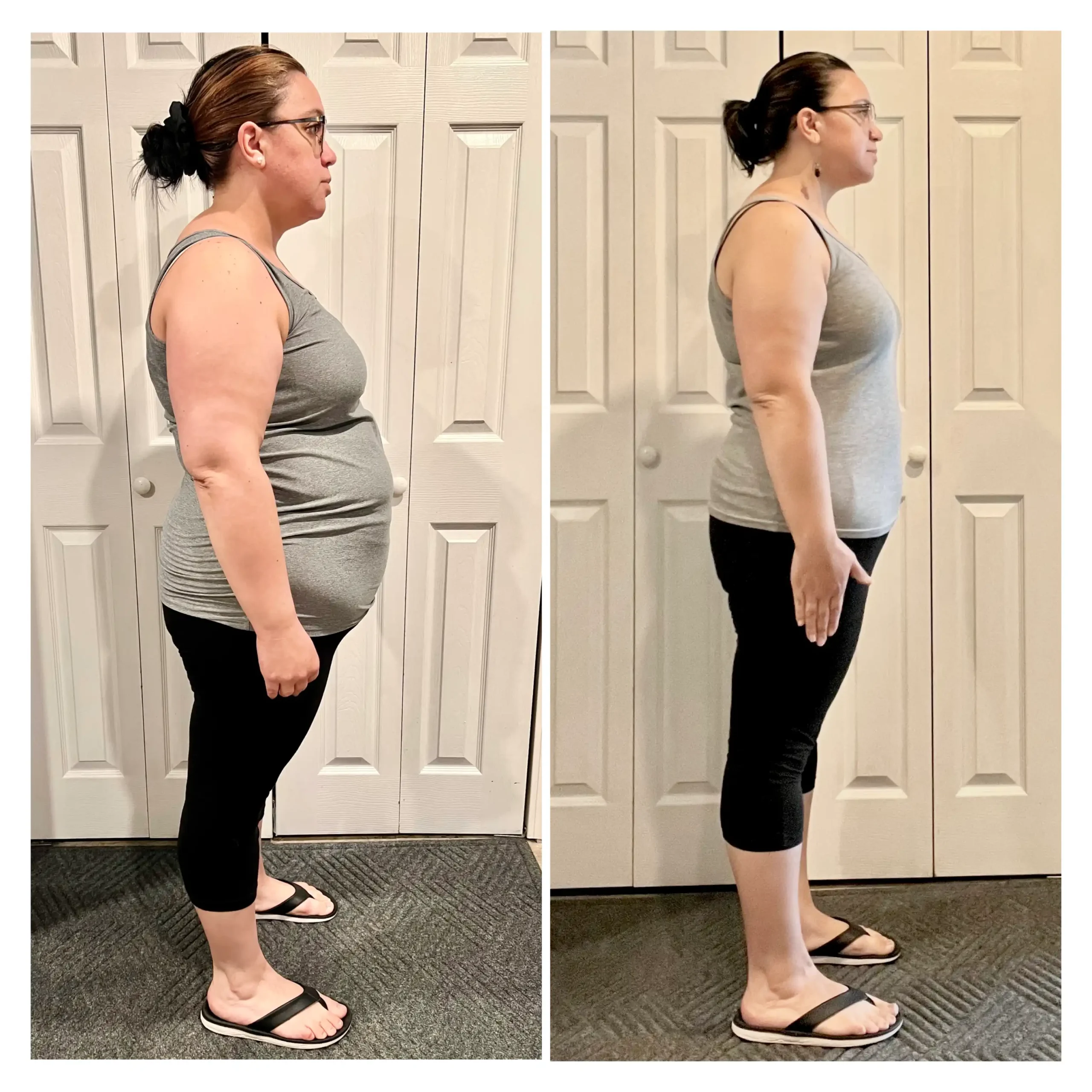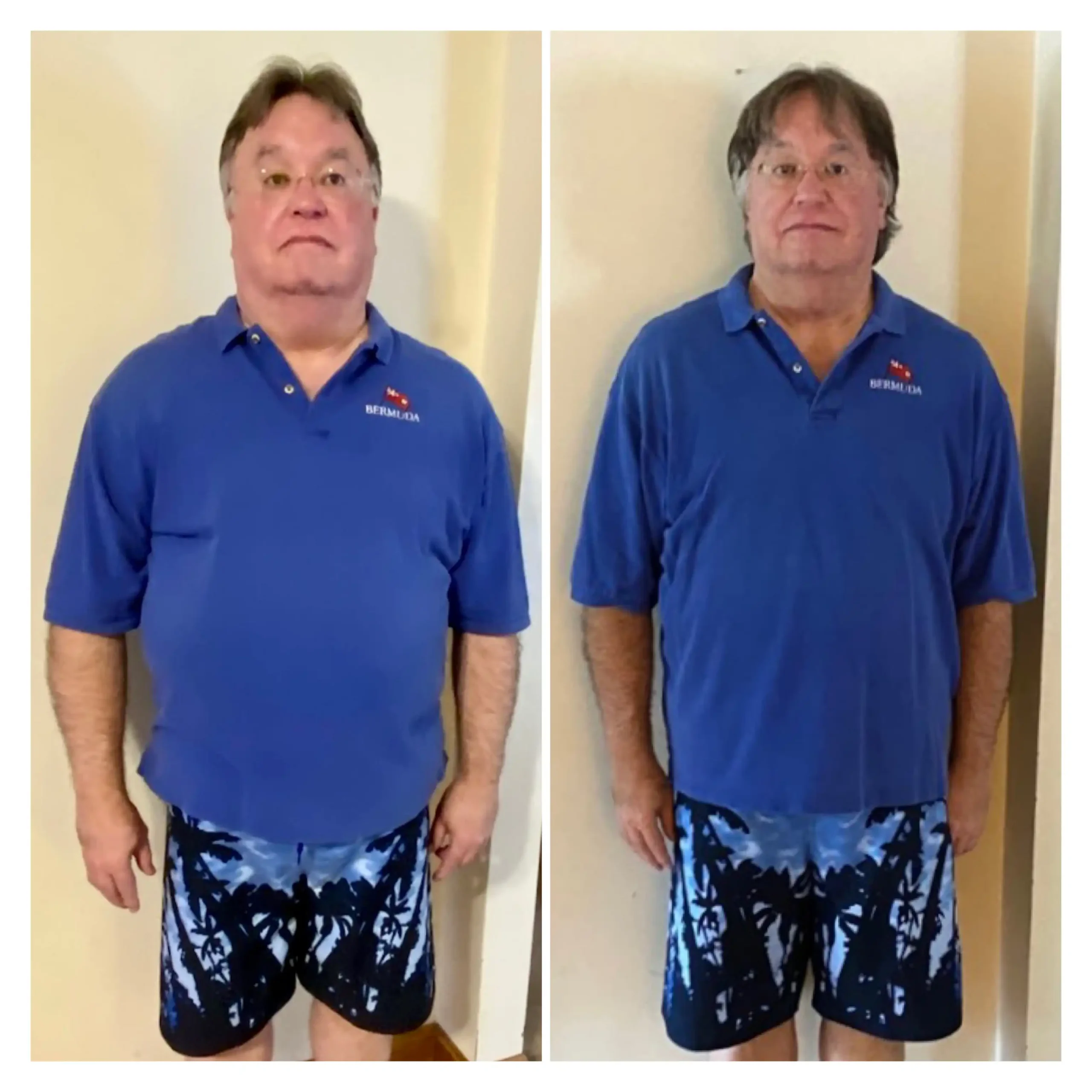 It's common for our clients to feel skeptical when they first come to us. They've been let down before by fad diets or bad nutritional advice, and Dan Smith was no different. He had tried everything to lose weight, and even consulted with a dietician his medical doctor had recommended. He followed all their guidelines but saw no results and was even accused of not following the plan properly. It was frustrating and deflating for him to say the least.
Fortunately, Dan regained hope when another one of our clients referred him to our 90-day weight loss program. Our program is different from anything he had ever tried, and we're so glad he gave weight loss another chance. Dan learned how to eat effectively to maximize his health and minimize inflammation in his body. Rather than following a temporary diet, he gained life-long tools to managing his health and weight for years to come.
Dan lost 39.5 pounds, his A1C is down from 6.7 to 5.9, and he has come off two of his three diabetes medications.
He has successfully graduated from our program and continues to use the tools he has learned to improve his overall health.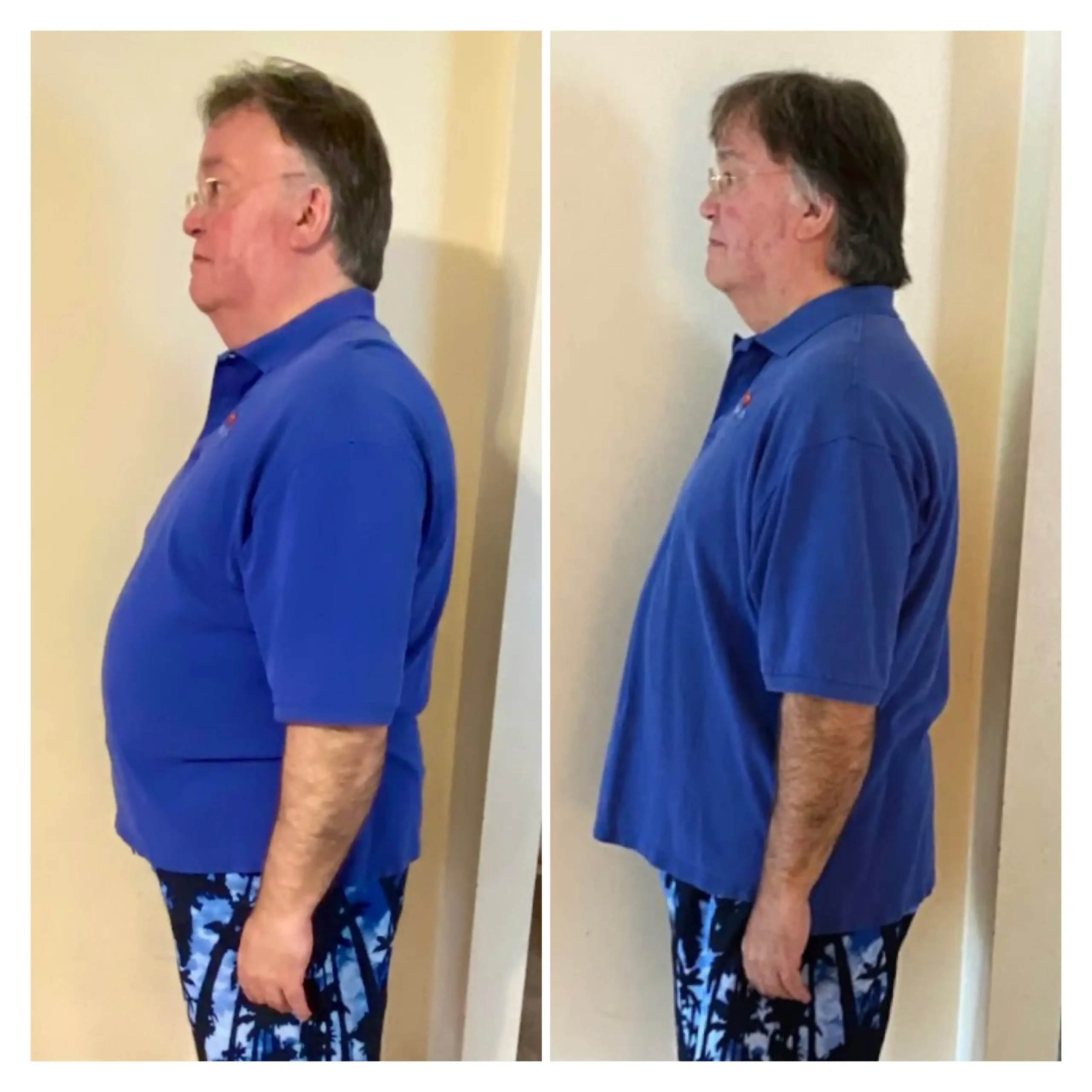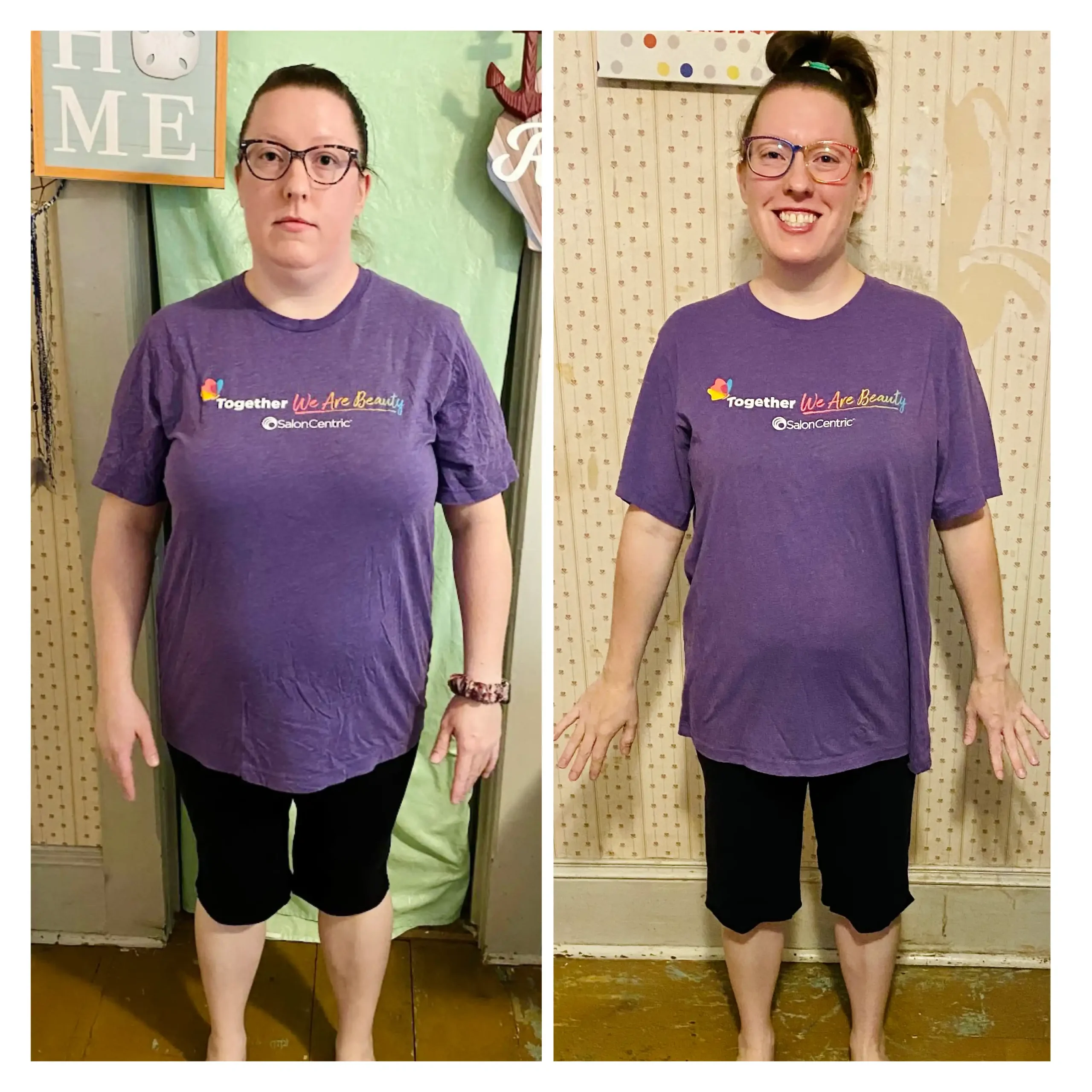 Nicole came to us with specific goals: lose weight, lessen headaches, lower inflammation, and get off her blood pressure medication. The inflammation in her body was contributing to all of these factors.
The biggest component of our program is that all of the food is anti-inflammatory. Our goal is to allow the body to heal naturally so that we don't see inflammatory responses like fat-storing and other symptoms like headaches.
During Nicole's 90 days, we worked to remove packaged foods from her diet and helped her find ways to make fresh, healthy foods more conveniently. We worked on meal prepping ideas, quick snacks and label-reading to ensure that she knew exactly what she was putting into her body. It wasn't long before she was cooking all of her meals and starting to understand how the food that you eat actually fuels your body.
It was also important to create balance in her diet so that she wasn't feeling deprived of the foods she enjoyed the most. We worked on swapping out the less healthy ingredients for better options and she was able to bake and enjoy things like muffins!
During our last meeting, Nicole shared with me that this program has created an amazing change for her and that she knows she can live a fully healthy life.
Nicole lost 38 pounds and her neck pain and heartburn are completely gone. She's slowly coming off her blood pressure medication, her breathing has improved, her headaches have reduced to just about one per week, her IBS is better, and she feels more energized and less anxious!
Nicole's dedication to the program has not only changed her life, but also her young son's as well. We are thankful to have them both as part of our wellness family and look forward to future updates!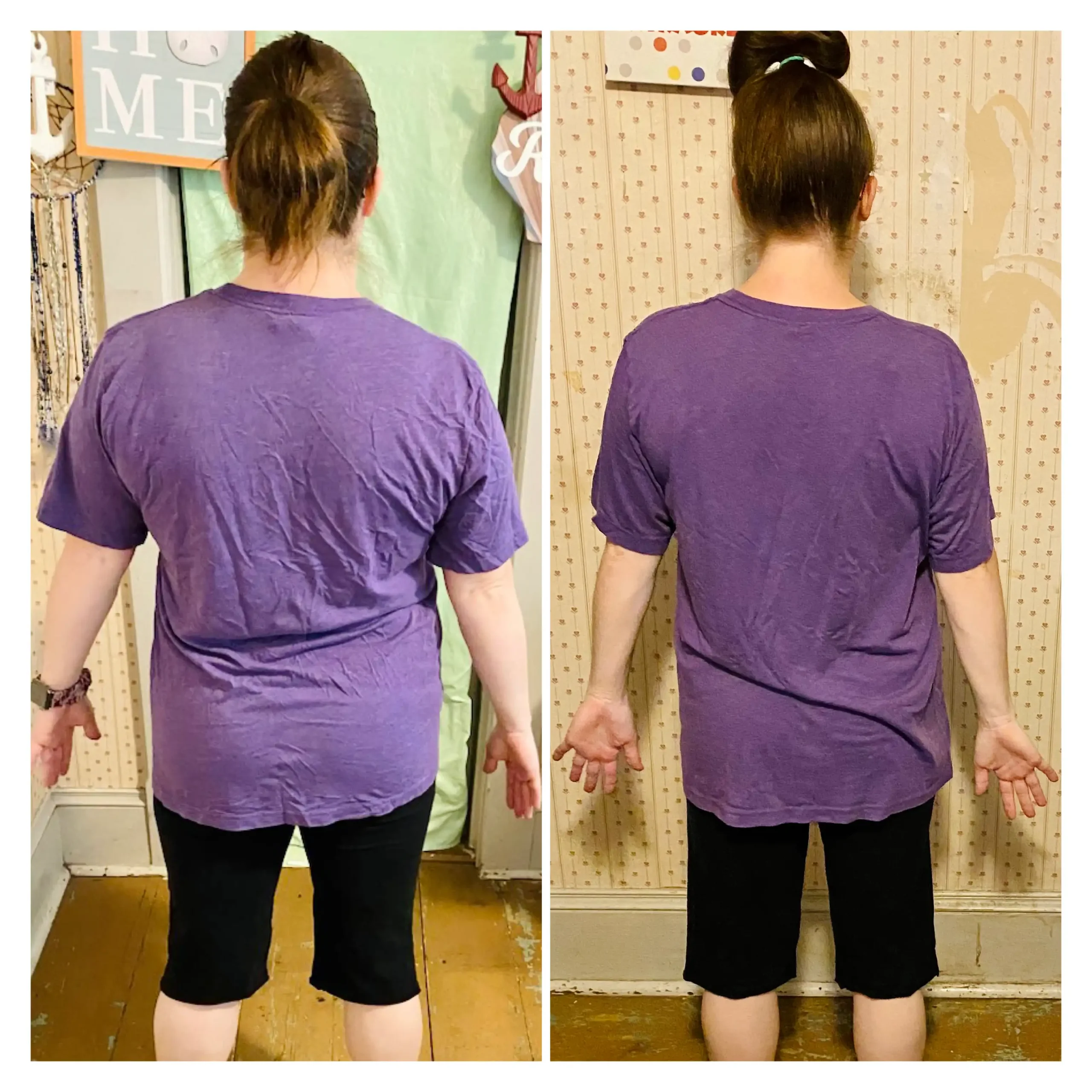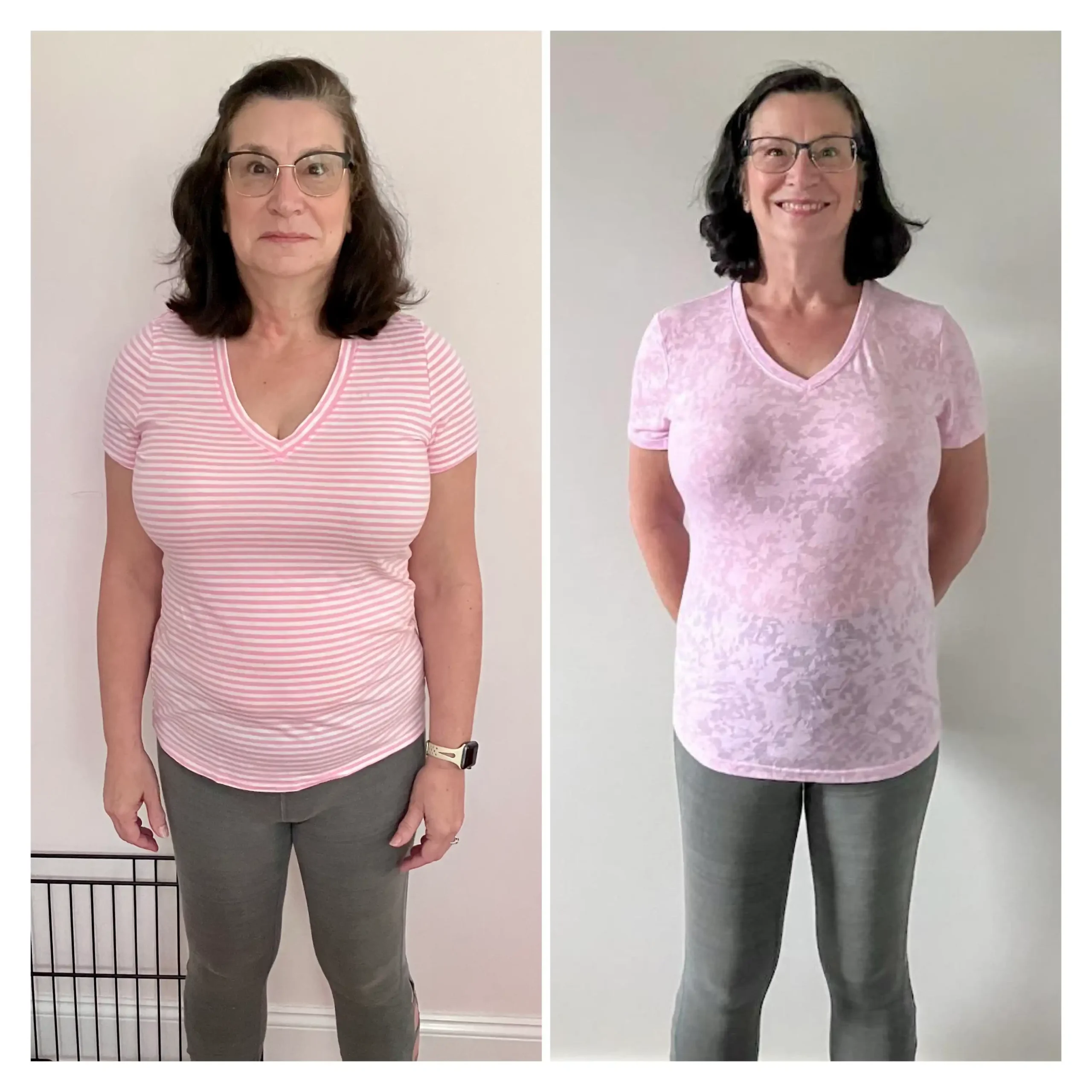 It was an absolute pleasure to coach Jane Shattuck through our 90-day weight loss program. She has been a wellness patient at our clinic for over two years and was already making great progress in terms of her health, but managing her weight was something she wanted to attack more effectively. Furthermore, she was amidst the challenges of constructing a new home and relocating, leading to elevated stress levels.
Following the program wasn't always convenient for her, and there were many challenges along the way, but she pushed through, followed the steps, and experienced outstanding results that were 100% worth it. Jane lost a total of 21.6 pounds, 4 pounds of visceral fat, and lowered her body fat by 7%. She exceeded her goals and is loving her new body!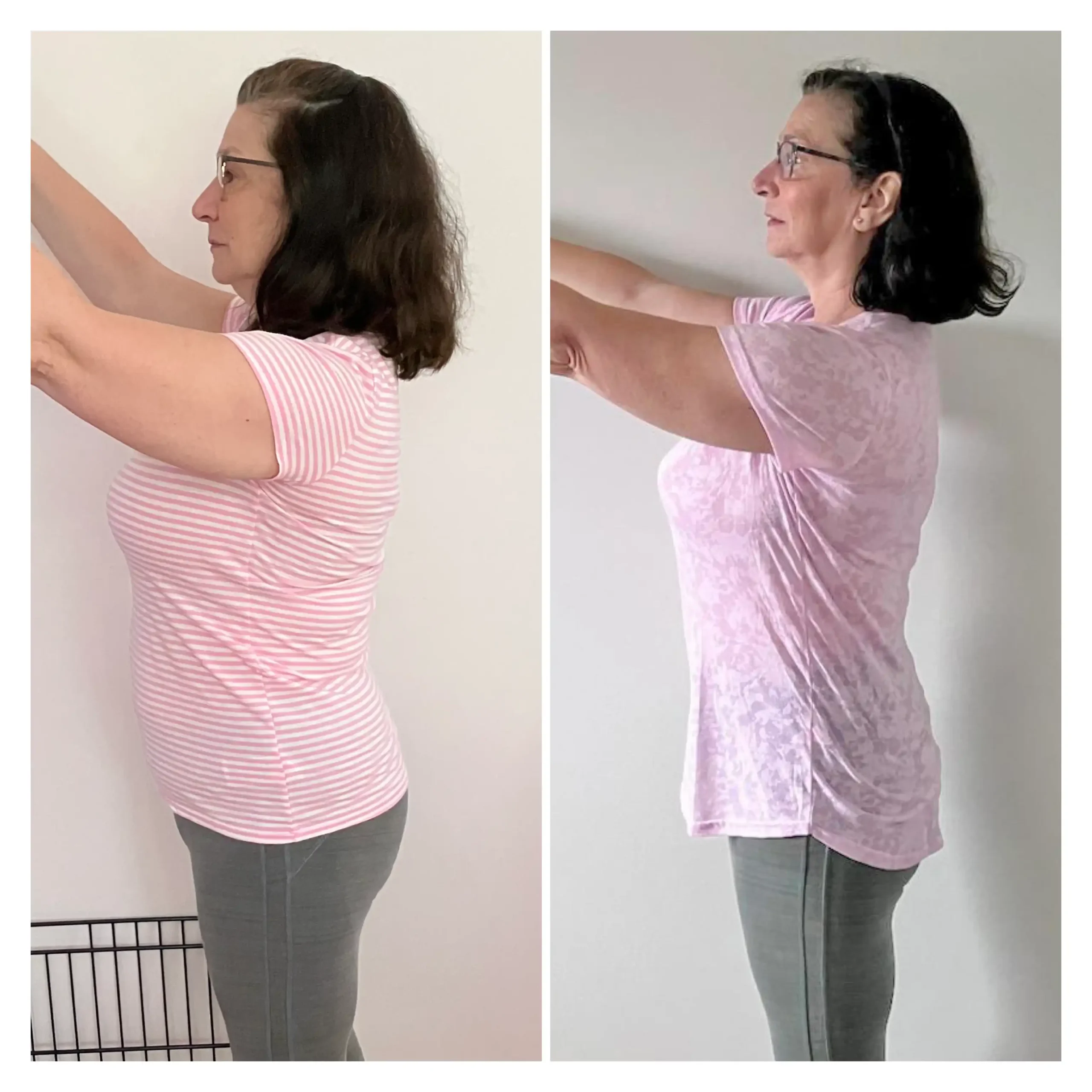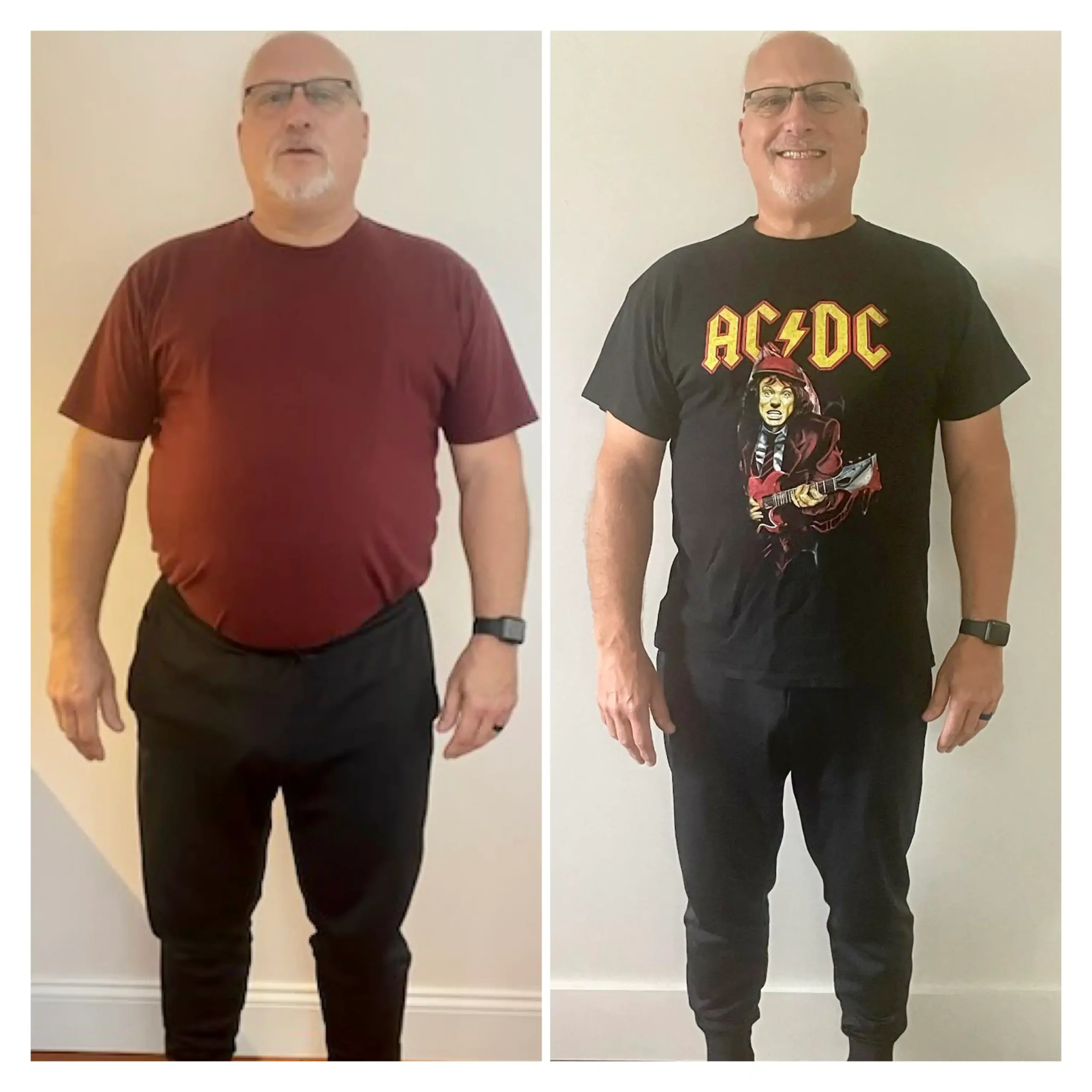 The weight loss program worked like magic for Dan! I really enjoyed coaching Dan Hajjar through our 90-day weight loss program. He had valid reasons for not starting the program when he did, but patients that start our program during stressful or turbulent periods of their lives have actually shown higher rates of long-term weight management success. Why? Because life is always going to have stressful periods, and having the tools to manage your weight and diet during stressful times is going to keep you from falling off the wagon and gaining weight, adding another stressor to your life. So, with that in mind, Dan decided to move forward with the program.
Dan is a trained magician, so many times we would discuss strategies in terms of magic since that was already something he was anchored to. This is just one example of the many ways we personalize our program to fit the needs and backgrounds of our patients.
Dan lost 42.6 pounds and dropped down from size XXL to Large. He is continuing with the strategies he has learned and continues to make great progress!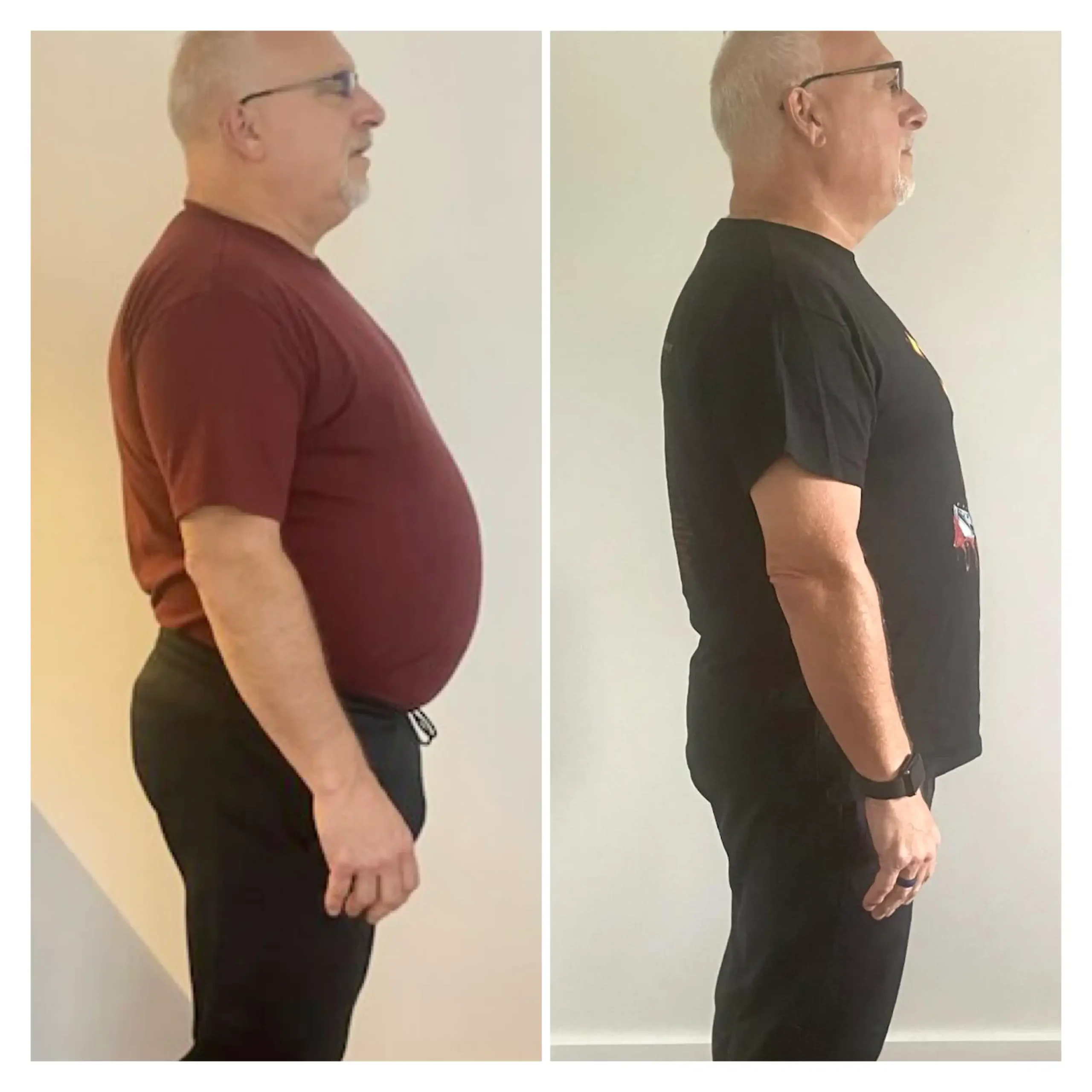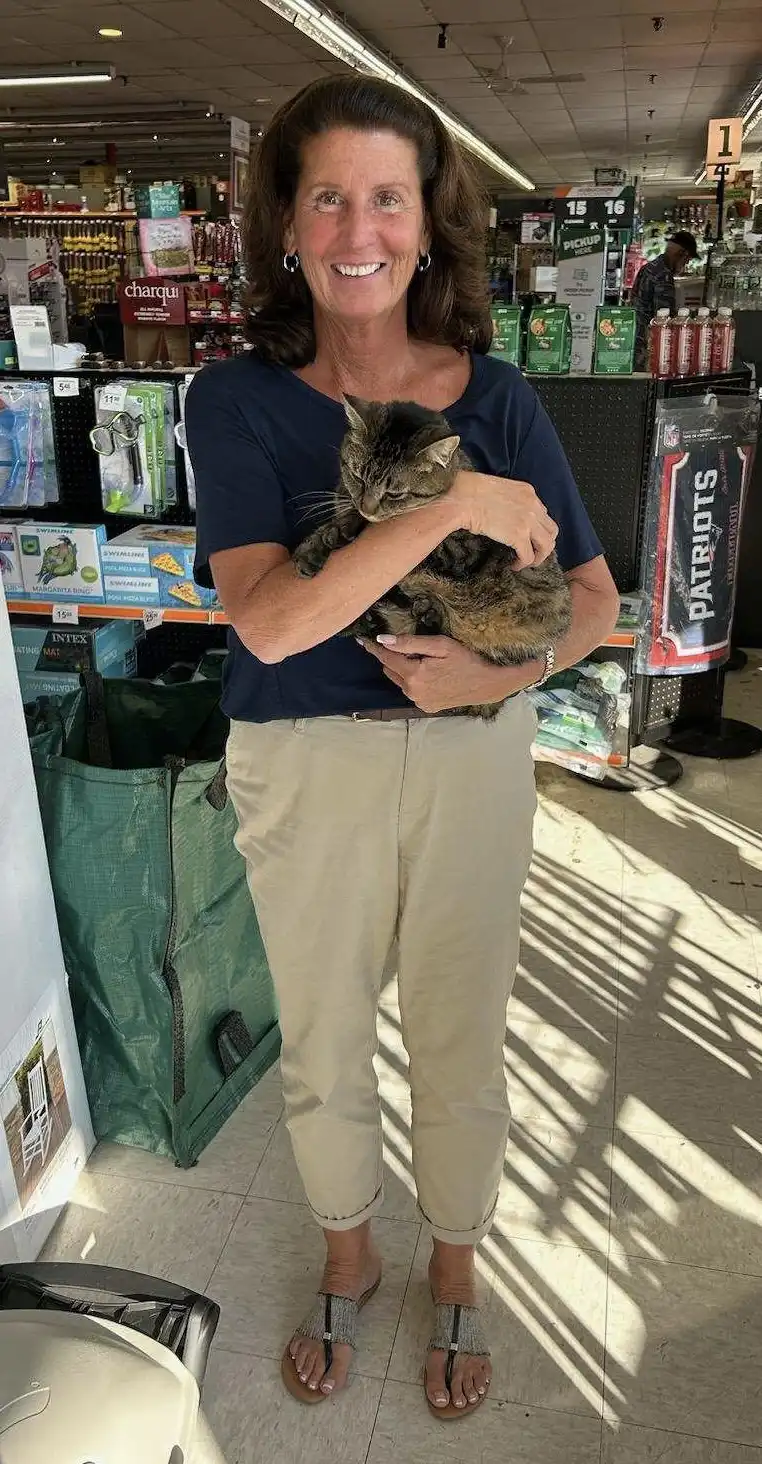 Elizabeth came to us looking for a long-term, maintainable solution for losing weight and relieving her pain. She, like many of our clients, have tried everything from keto to the cabbage soup diet! As a coach, it's such an incredible feeling knowing that we offer a program that's actually different and provides long-term solutions—not a quick fix that doesn't last.
During our initial consultation, we learned that she was experiencing bloating after every meal, hot flashes 4-5 times per day, and had trouble sleeping—all of which can be linked to inflammation. Inflammatory responses in the body can also cause fat storage, equaling weight gain. It was important in the beginning to make sure Elizabeth knew that this was going to be a slow and steady process—first we heal the body, and then we lose the weight.
During the 90-day program, we tested which foods her body loved and used as fuel, and which foods her body held on to and stored as fat. She became very in tune with her body and gained tools that gave her the power to lose or gain weight whenever she wanted to! It also gave her a new sense of freedom from fearing any type of weight gain in the future.
Along with feeling incredible, Elizabeth dropped from a size 14/16 to a size 8, she experiences zero bloating, and hasn't had a single hot flash since graduating. When I asked her what was different about this program she said, "I've gained so much more knowledge on how to prepare food. The education has been so helpful, and I know I now have the tools I need to get the weight off moving forward." She also shared that she's just so happy in her skin and truly enjoys getting dressed in the morning! She lost a total of 40 pounds in the 90 days and has lost a total of 55 pounds to date!
Her advice to those considering the program is, "Just do it."
We are so grateful that Elizabeth trusted us to help her with her weight loss journey and will share all of her updates as she is now part of our Wellness family.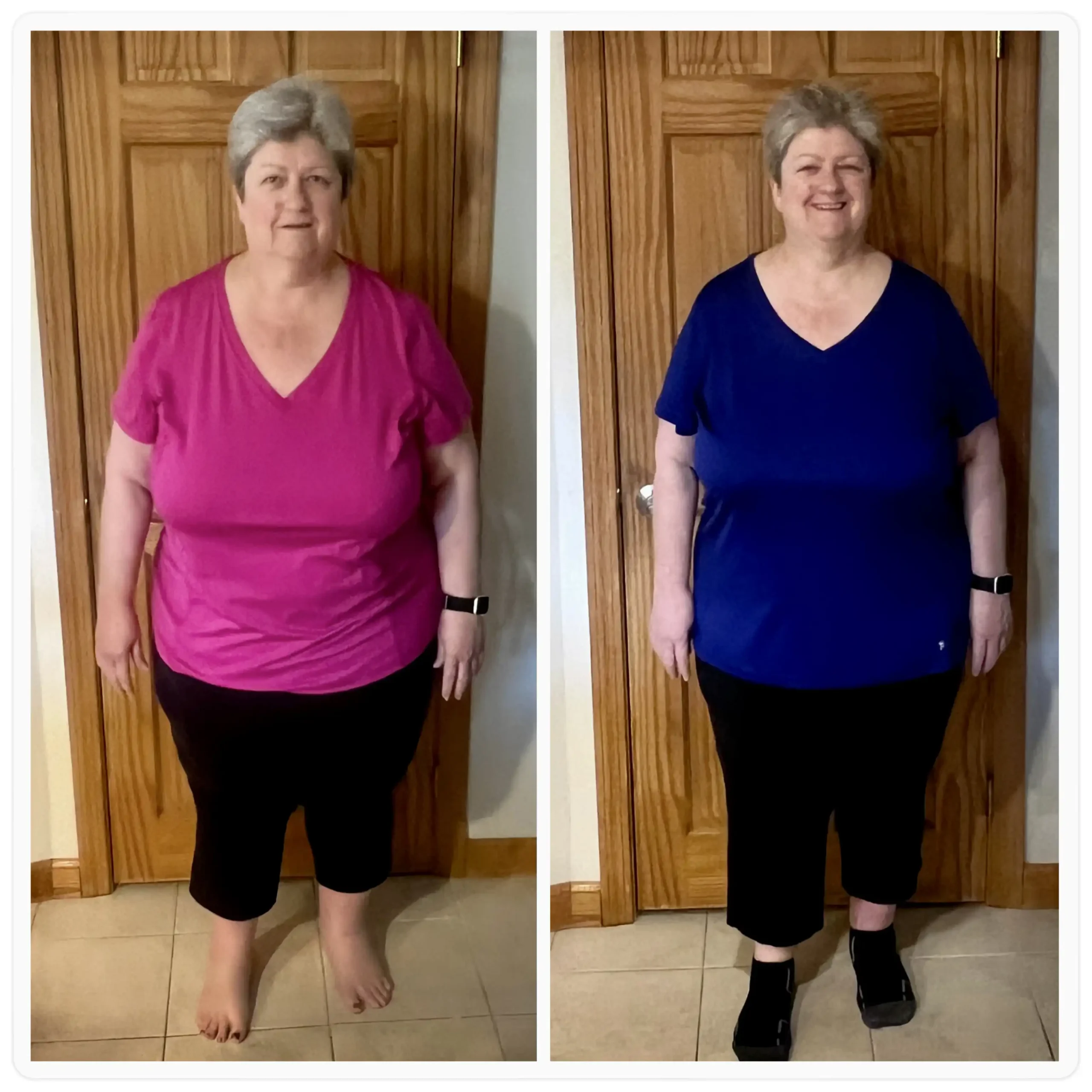 When our patients and clients enroll in our anti-inflammatory weight loss program, we encourage them to reflect on their motivations for pursuing a path to improved wellness and health. It's essential to identify that driving force, that "why," which will sustain their commitment. Among the many inspiring stories I've encountered, I don't believe anyone's why has moved me more than Linda's. Her primary goal for joining this program was to ensure she'd be a pillar of health for her granddaughter, to be present and vibrant when her little one turns five. I knew this path with her would be an incredible one because she recognized her need for lifestyle changes and besides doing this for herself, she had the sweetest reason and motivation to make them!
Linda eased seamlessly into the program with an incredibly positive mindset and her progress over the weeks speak for themselves:
Week 1: Down 6 lbs, felt energy boost, and wasn't hungry!
Week 2: Down 12.2 lbs, blood sugar reading decreased
Week 4: Down 20.2 lbs, noticed face inflammation was reduced, clothes looser
Week 5: Felt her "pep in her step" was back, conquered her afternoon crash
Week 7: Down 30.2 lbs and lost 18.25 inches!
Week 8: Officially lost her pandemic weight! (I know most can all relate to that!)
Week 9: Down 35.4 lbs! Visit with PCP was positive and he loved her health improvements
Week 10: Achieved weight she hadn't been in 15 years, an incredibly motivating accomplishment
Week 13: Down 42.2 lbs, 30 inches lost, and reduced her BMI by 7.7%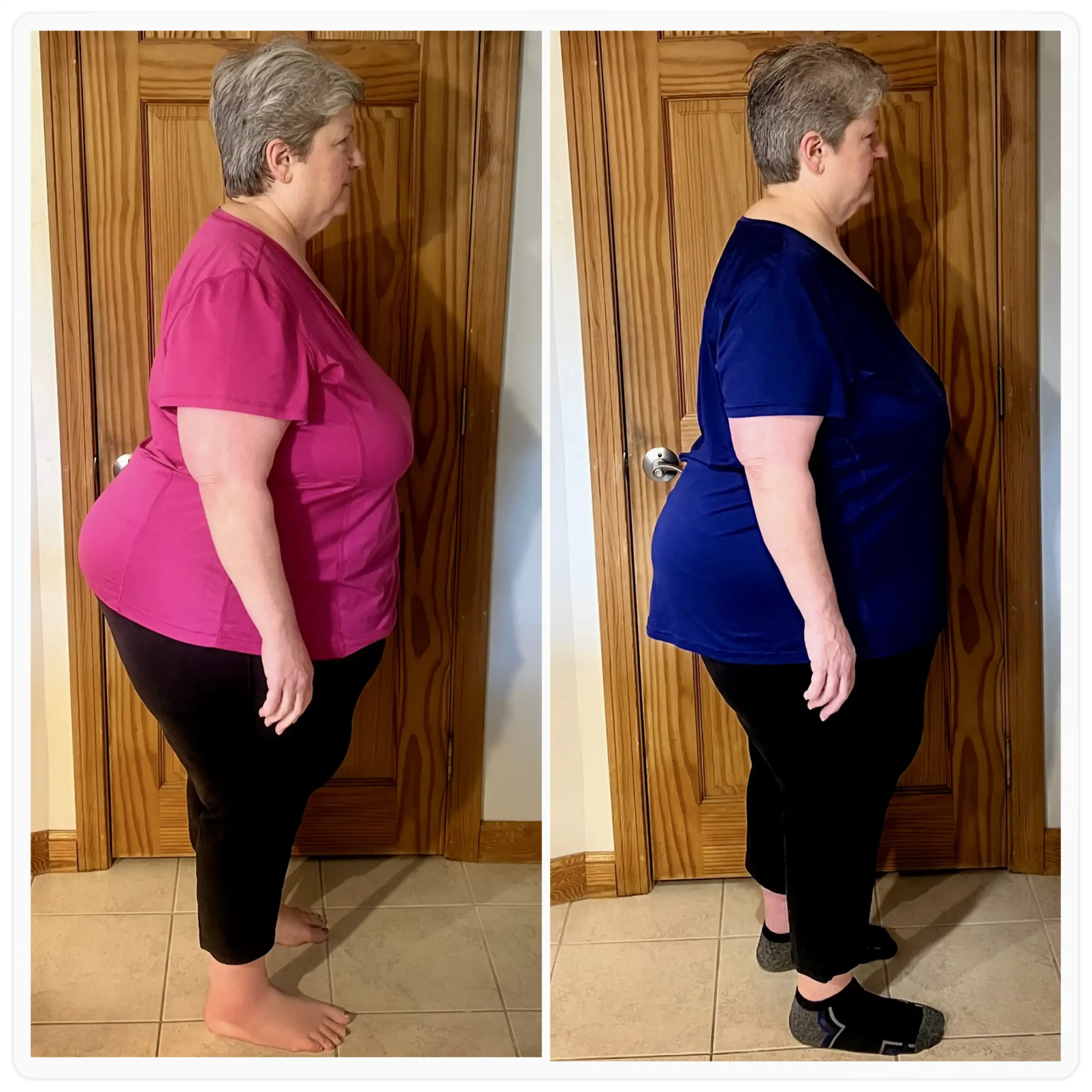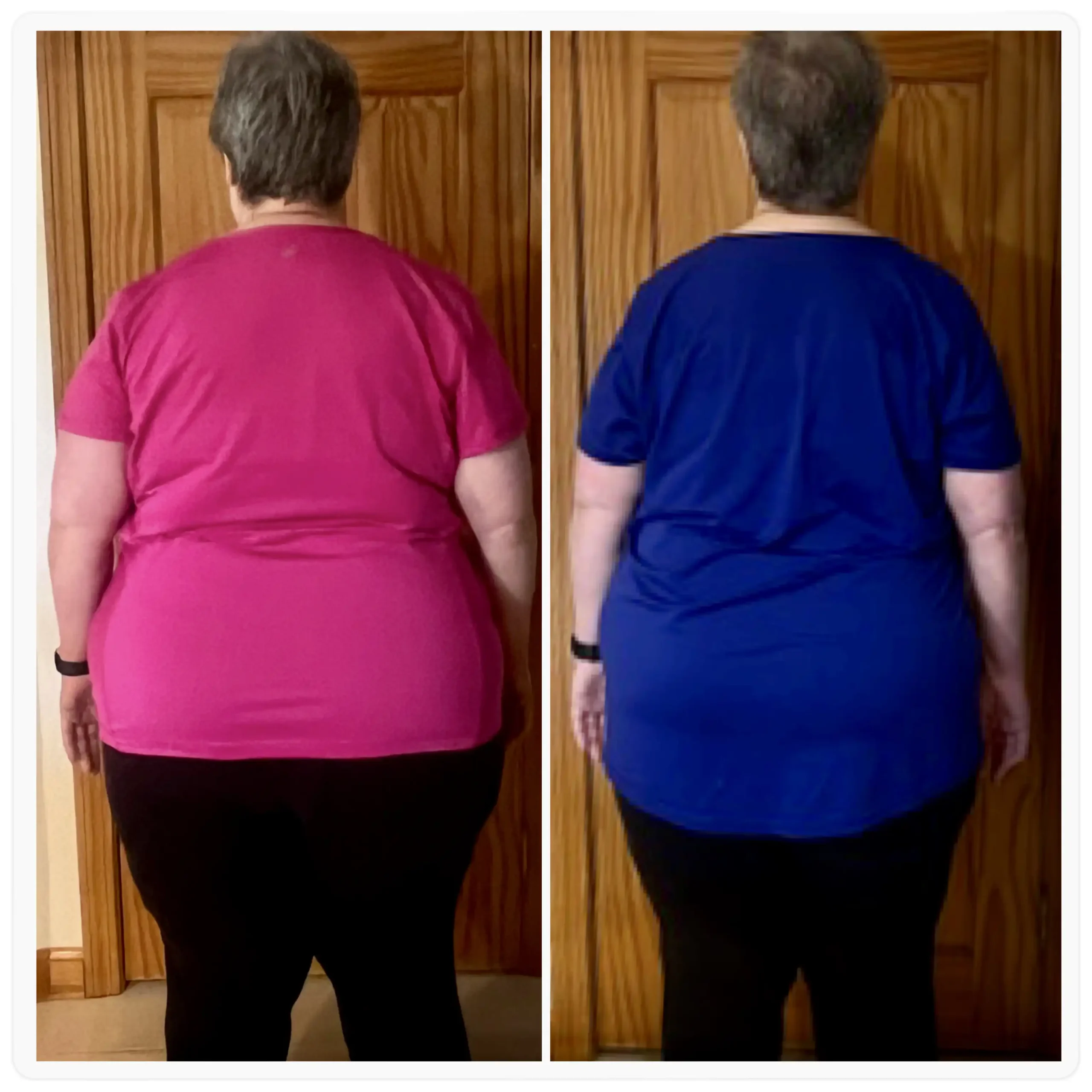 Linda's additional goals were to reduce her pain, live her life more actively, and have the energy to play with her granddaughter. I am incredibly proud to say that she has accomplished all of that! Her stamina increased and she's upped her workout intensity. Post-exercise aches and pains have dramatically reduced, leaving her invigorated and energized.
Linda also learned so much about her body and its unique nutritional needs. She found it exciting to discover through our food testing phases that foods such as avocado and avocado oil, lamb, duck, grass-fed butter, almonds, greek yogurt, sweet potato, applegate organic bacon, gruyere, cottage, ricotta, cheddar, and provolone cheeses all assisted her in losing weight. She also learned which foods to avoid as she continues her weight loss journey and which ones she can enjoy to maintain her newfound weight. She found our online support group and recipe suggestions incredibly inspiring and helpful throughout her program.
I consider myself fortunate to have been a part of Linda's journey, and I am thrilled to witness her improved mobility, vitality, and stamina as she relishes precious moments with her granddaughter. With grandbaby number two on the way, her newfound energy will come in handy! She has an exciting road ahead on her continuing health and wellness journey, with beautiful moments awaiting her and her family.
-Coach Malory
Debra discovered our clinic through our impressive weight loss success stories shared on Facebook. Having previously attempted three weight loss programs and undergone gastric bypass surgery years ago, she had only ever found temporary solutions.
Upon joining, Debra was navigating through a challenging year filled with grief, anxiety, depression, digestive issues, breathing difficulties, disrupted sleep, fatigue, and a weight gain of approximately 40 pounds. Acknowledging the pressing need for change and a different approach, she was determined to find a long-term sustainable lifestyle change this time around and her search led her to us.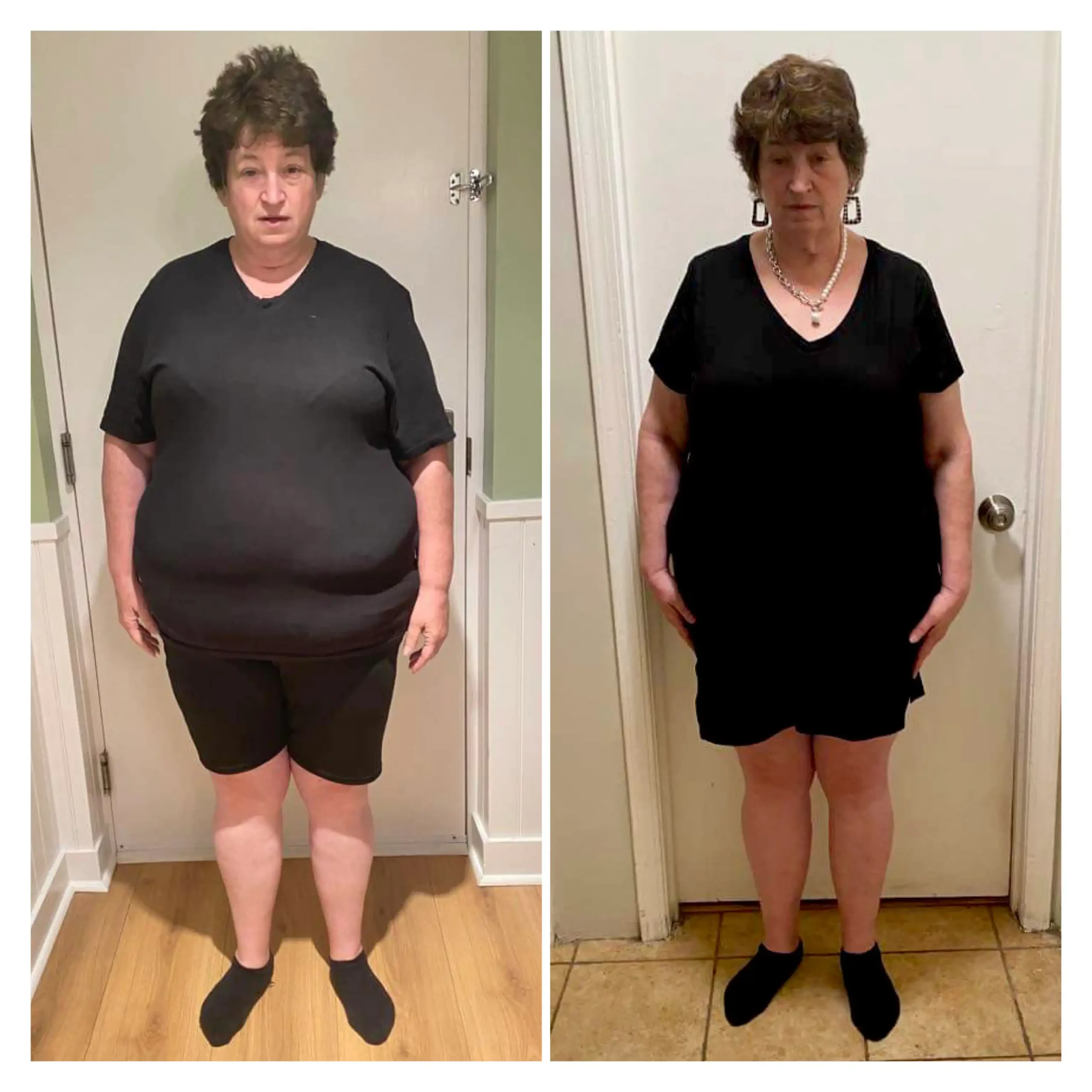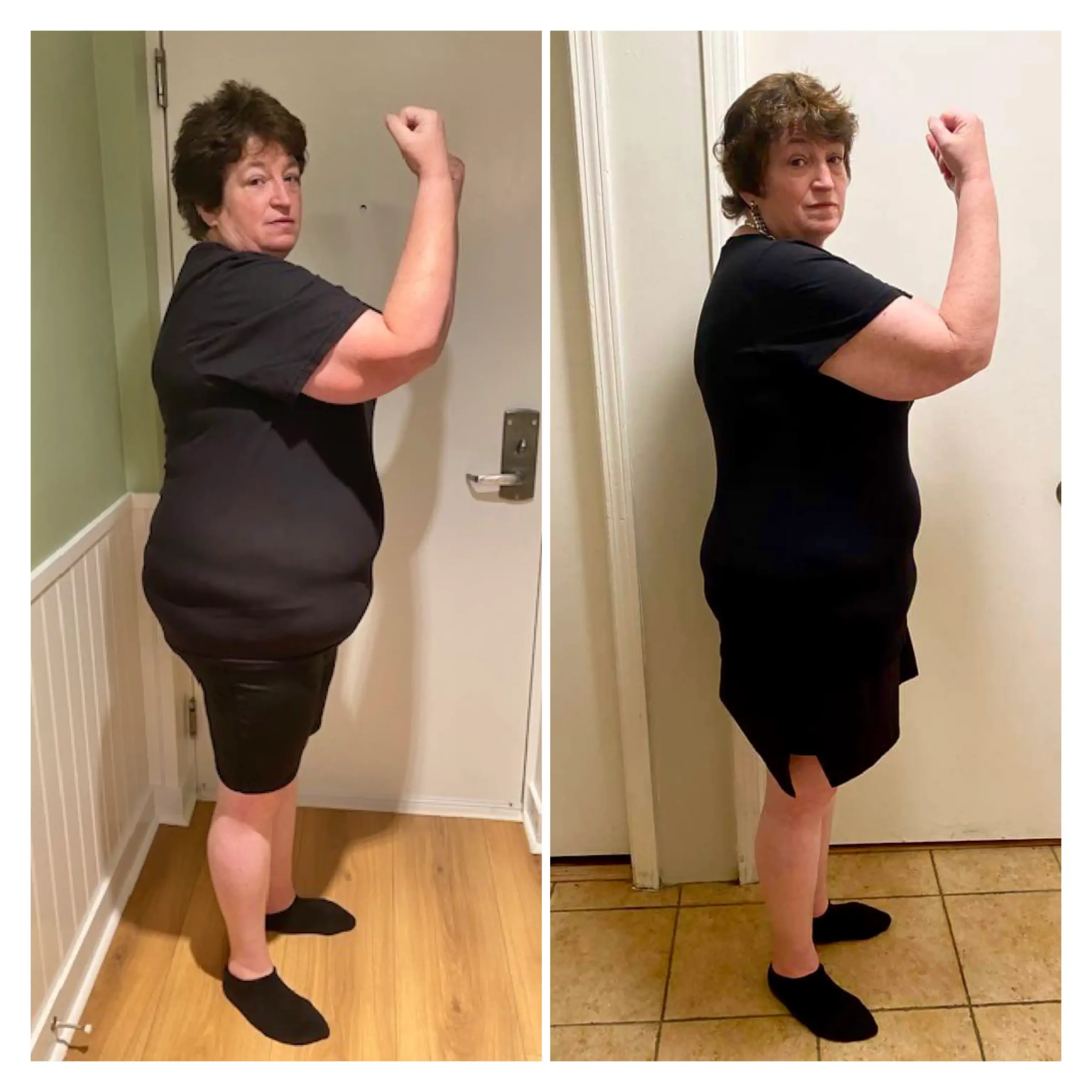 During her initial consultation, Debra expressed concerns about managing food preparation amidst her demanding career and upcoming master's degree courses. Together, we devised a plan and Debra displayed exceptional commitment, effectively planning and preparing her meals to suit her busy lifestyle. This empowered her to take control of her daily food choice intake and fully work our program, maximizing her results.
And results she achieved!
Week 1: Shed 8.4 lbs!

Week 2: Despite a 2-day beach trip, continued progress with a 4.6 lbs loss

Week 3: Improved sleep quality & could even hit the snooze button & fall back asleep!

Week 4: Experienced increased energy levels at work

Week 5: Reached the guaranteed 20lb milestone, losing 3" off waist, & noticing her clothing was looser

Week 6: Successfully navigated 2 BBQs by going prepared & sticking to plan; lost 4.2lbs

Week 7: Down a total of 26.5" after 1st phase of program

Week 8: Dined out to celebrate friend's b-day. Made a plan, stuck to it, enjoyed her meal, & lost weight the following day!

Week 9: Reported ZERO food cravings

Week 10: Drastically improved concentration aiding her at work and in school

Week 11: Achieved a 3-dress-size drop & reached her personal program goal weight

Week 12: Down a total of 47.4 lbs and lost 50.75"!
In addition to the above wins, Debra is no longer out of breath, her mood has improved, her anxiety is lessened, and she is loving the need for some new clothing.
During the program phases she learned that foods such as Bison, Venison, Olive & Avocado oil, Salmon, Grass-fed butter, Goat, Mozzarella, & cheddar cheese, Almonds, Healthy chocolate, Greek Yogurt, Sweet & white potato all aided her in burning fat!
She also reduced her:
BMI by 7.2
Body Fat by 11.2%
Visceral Fat by 6
Subcutaneous Fat by 8.3%
Each day, Debra chose to prioritize her well-being, and I am immensely proud to have accompanied her on this transformative journey. She eagerly looks forward to her future, and I am equally excited to witness her continued success as she sets new goals for herself!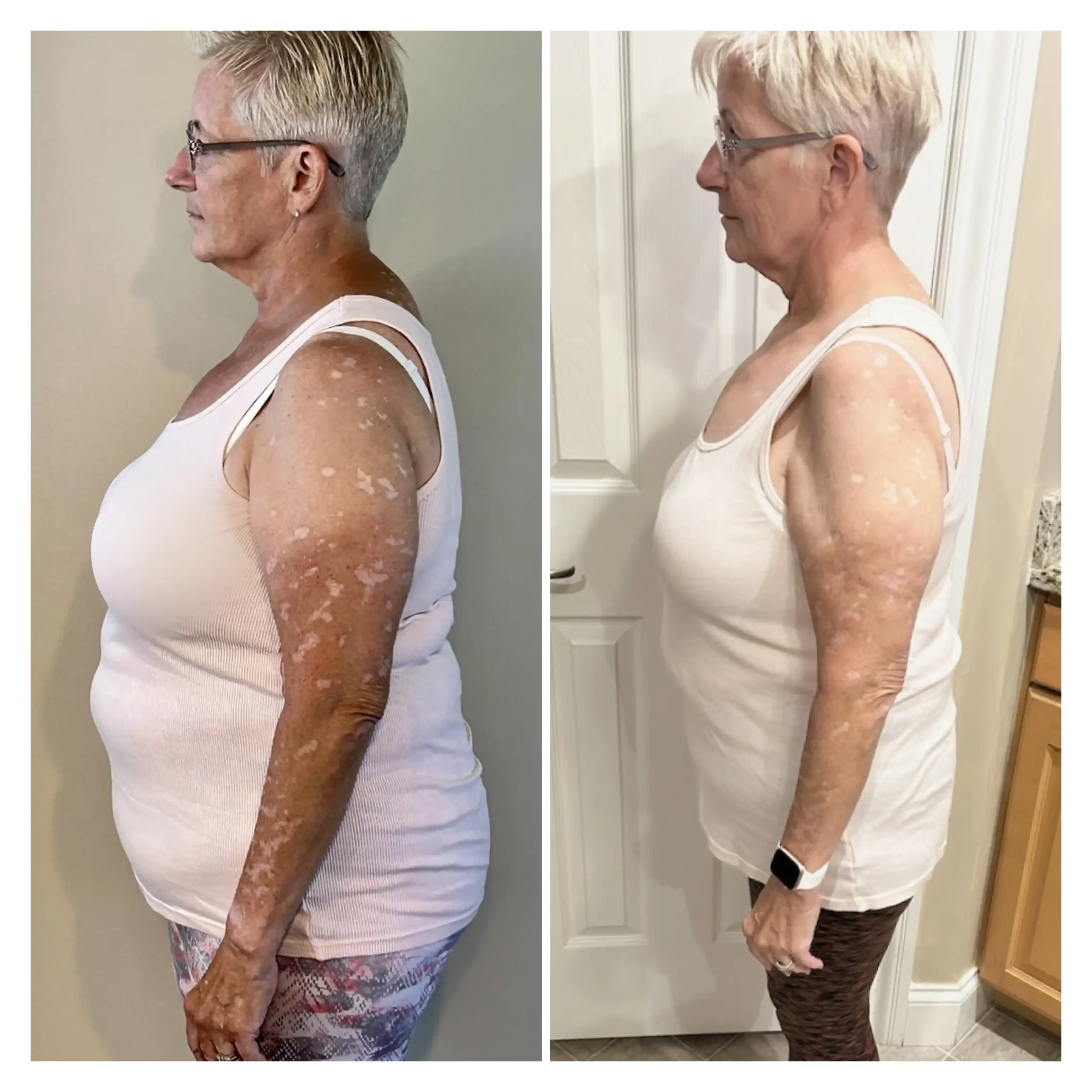 We're adding another name to our list of weight loss super-stars—Lori Lynch! We're excited to share Lori's incredible results after graduating from our 90-day anti-inflammatory weight loss program.
Initially introduced to our office through a referral by her daughter who wanted her mom to become healthier, Lori had previously attempted various diets and weight loss plans without much success. Understandably cautious about trying another plan, she eventually embraced our program's uniqueness – centered on combating inflammation and weight gain through all-natural whole foods, and that's it. You won't find any gimmicky weight loss bars or shakes here.
We're happy to share that this program worked wonders for Lori. Not only has she experienced a significant improvement in her overall well-being, but her blood pressure has improved, headaches have vanished, and she now enjoys long-lasting energy throughout her days.

Lori lost an impressive 33.8 pounds including 6 pounds of visceral fat and reduced her body fat by 10.1%. Lori, we are immensely proud of your achievements! Your dedication is commendable – keep up the good work!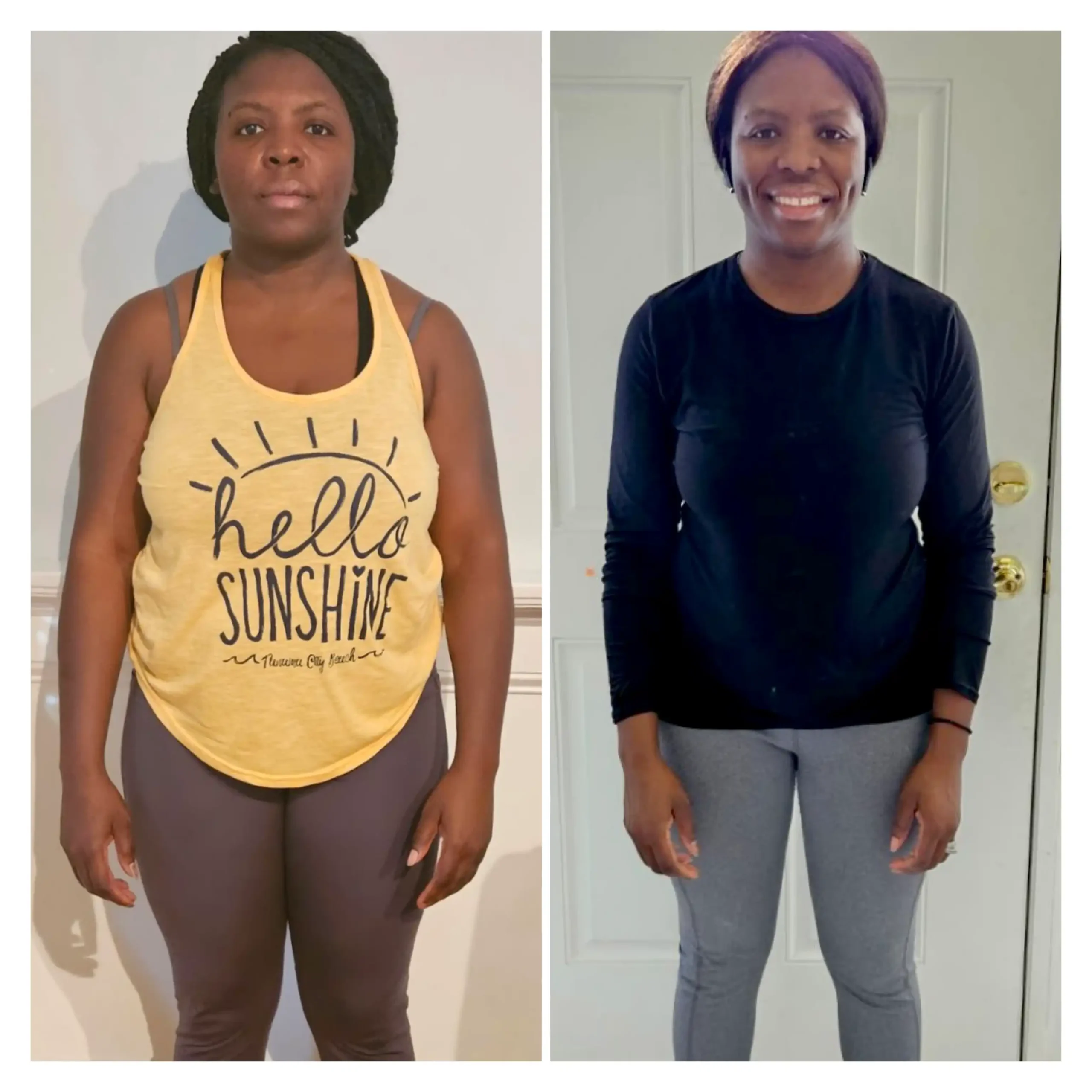 If you've lost weight but are struggling to burn the rest of your stubborn body fat, you are not alone!
Tamara has been a wellness patient of ours for many years, and although she was overall in good health, she was interested in joining our anti-inflammatory weight loss program to drop a few pounds. She had already lost quite a bit of weight before even starting the program, so it was time to turn up the heat and burn the remaining body fat that she was struggling to lose.
Tamara was accountable and achieved the specific goals we were working towards, which we tracked by the scale. Her hard work paid off and she lost a total of 31 pounds, 6.4% body fat, and 4 pounds of visceral fat. In addition, she has more energy, sleeps better, has clearer skin, and experiences less brain fog. More importantly than all of this, she has the tools to maintain her results long-term.
Tamara is now focused on working on her hormones in our DETOX to DUTCH program. We're excited to help her continue moving towards health and living her best life so she can continue to help so many people in her community.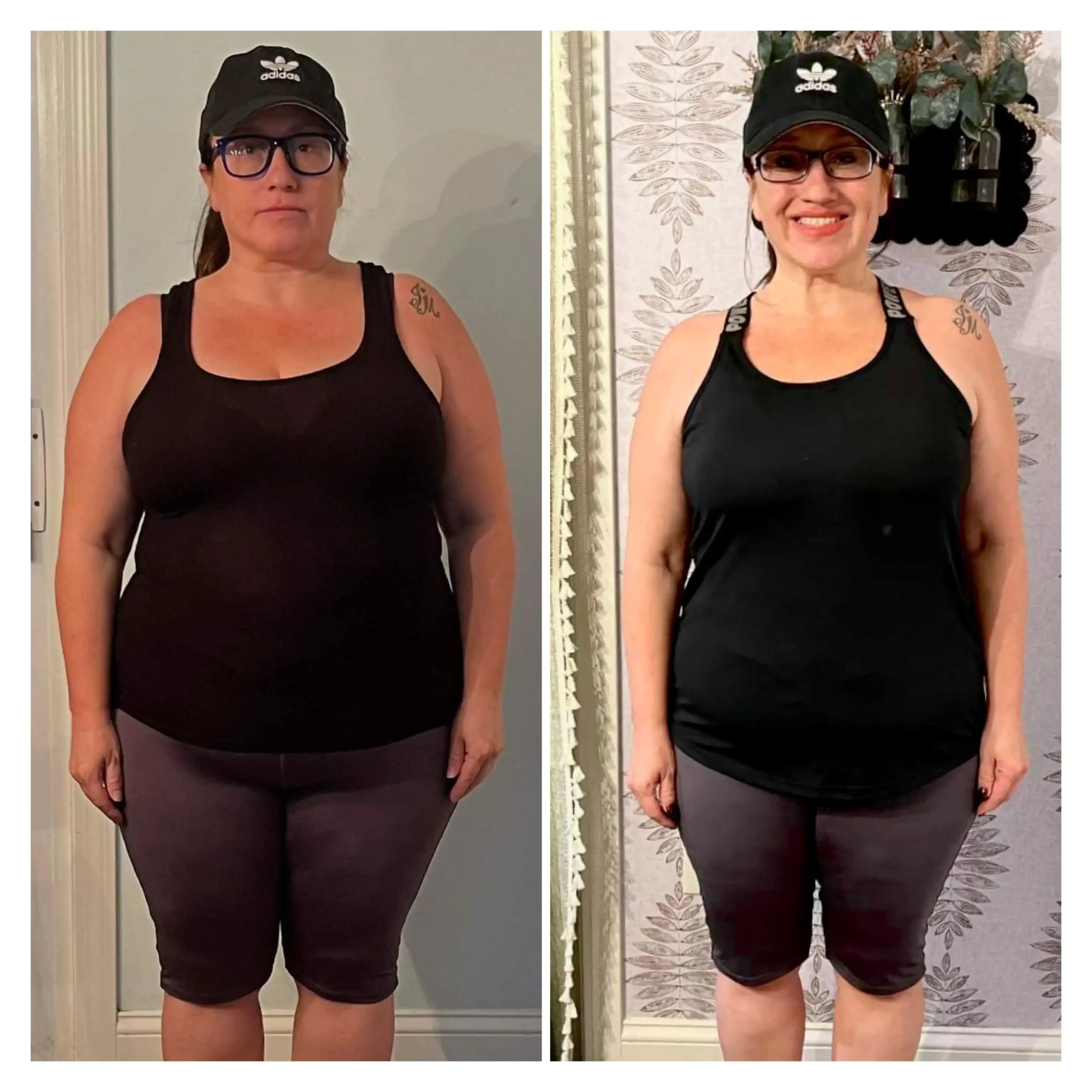 Inspired by the success stories of Malory's clients on social media, Maritza reached out to her in March to inquire about our anti-inflammatory weight loss program. Although she attended her consultation in April, doubts held her back from joining the program until August after she saw numerous additional before-and-after transformations. She put her skepticism aside and made the leap! And we're so glad she did!
When Maritza joined us, she was grappling with shortness of breath, disrupted sleep, fatigue, hot flashes, anxiety, diminished self-confidence, and a lack of motivation. Her life had become more confined, and she wasn't getting out and living life as she once was. Her goals were to enhance her overall health, regain vitality, boost confidence, feel comfortable in her skin and clothes, and alleviate anxiety.
Working with her coach, she learned how to efficiently decipher nutrition and ingredient labels, identifying those additives not aligned with our whole-food, anti-inflammatory approach. They focused on identifying healthy foods aligned with Maritza's health objectives and understanding which ones to moderate or avoid. Finally, Maritza applied the tools learned to establish a post-program routine, ensuring she could continue on in her health and wellness journey.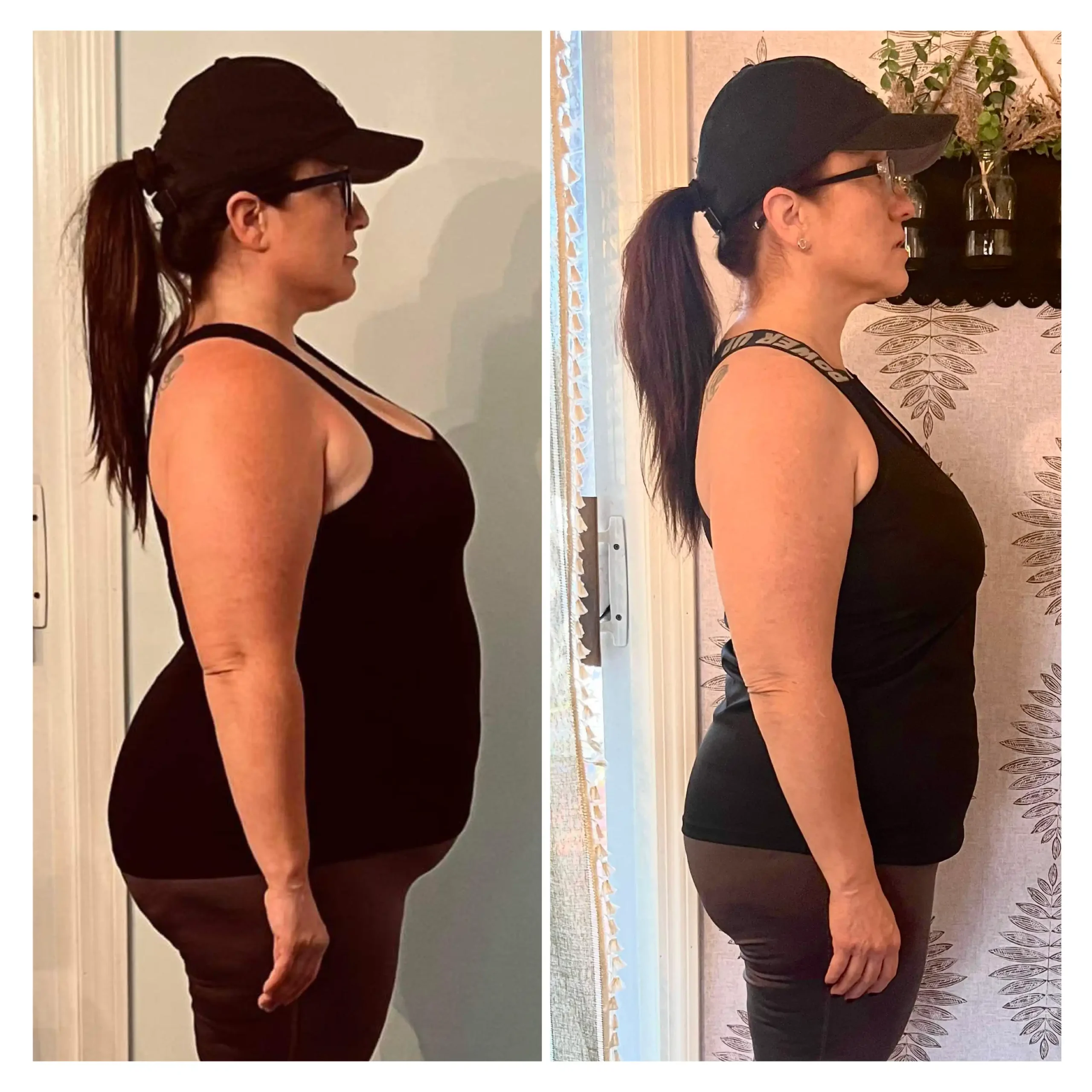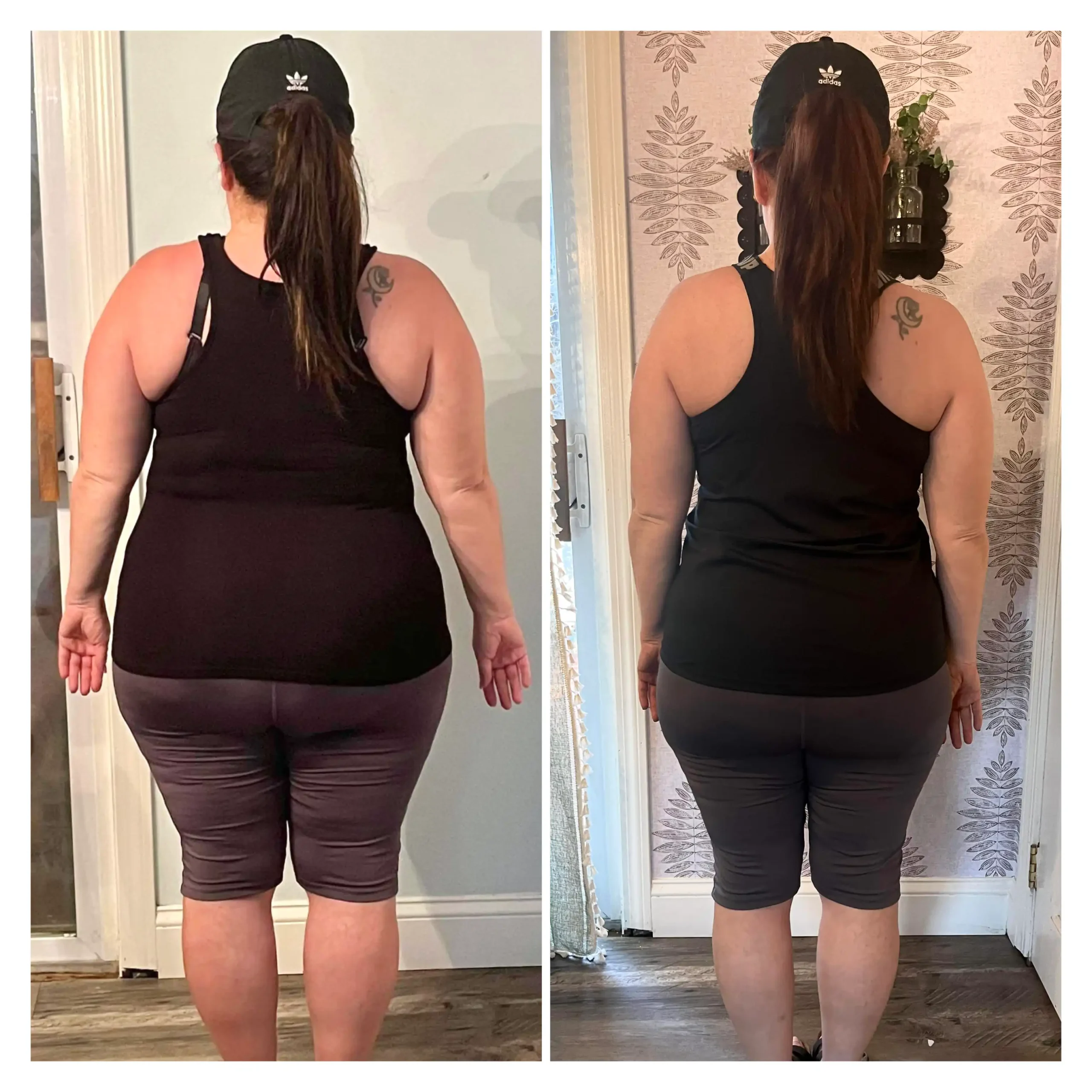 Despite initial skepticism, Maritza wasted no time in working the program—and the results were immediate:
Week 1: Down 7.2 lbs
Week 2: Learned strategies for navigating social events while staying on track
Week 3: Improved sleep quality, eliminating the need for afternoon naps
Week 4: Down 20 lbs and felt proud of her hard work
Week 5: Gained control over cravings and food
Week 7: Clothes felt loose
Week 8: Down 30 lbs
Week 9: Hot flashes almost non-existent
Week 10: Shortness of breath resolved
Week 11: Blood pressure lowest in many years
Week 12: Down 42 lbs & lost 38.25"
During her last coaching session, Maritza expressed that this was the best thing she has ever done for herself and felt her life had been changed. Additionally, her anxiety has been reduced, she's feeling better overall, her energy level and motivation has increased, and she's using that to get out there and enjoy life! We are ecstatic for her and look forward to her updates.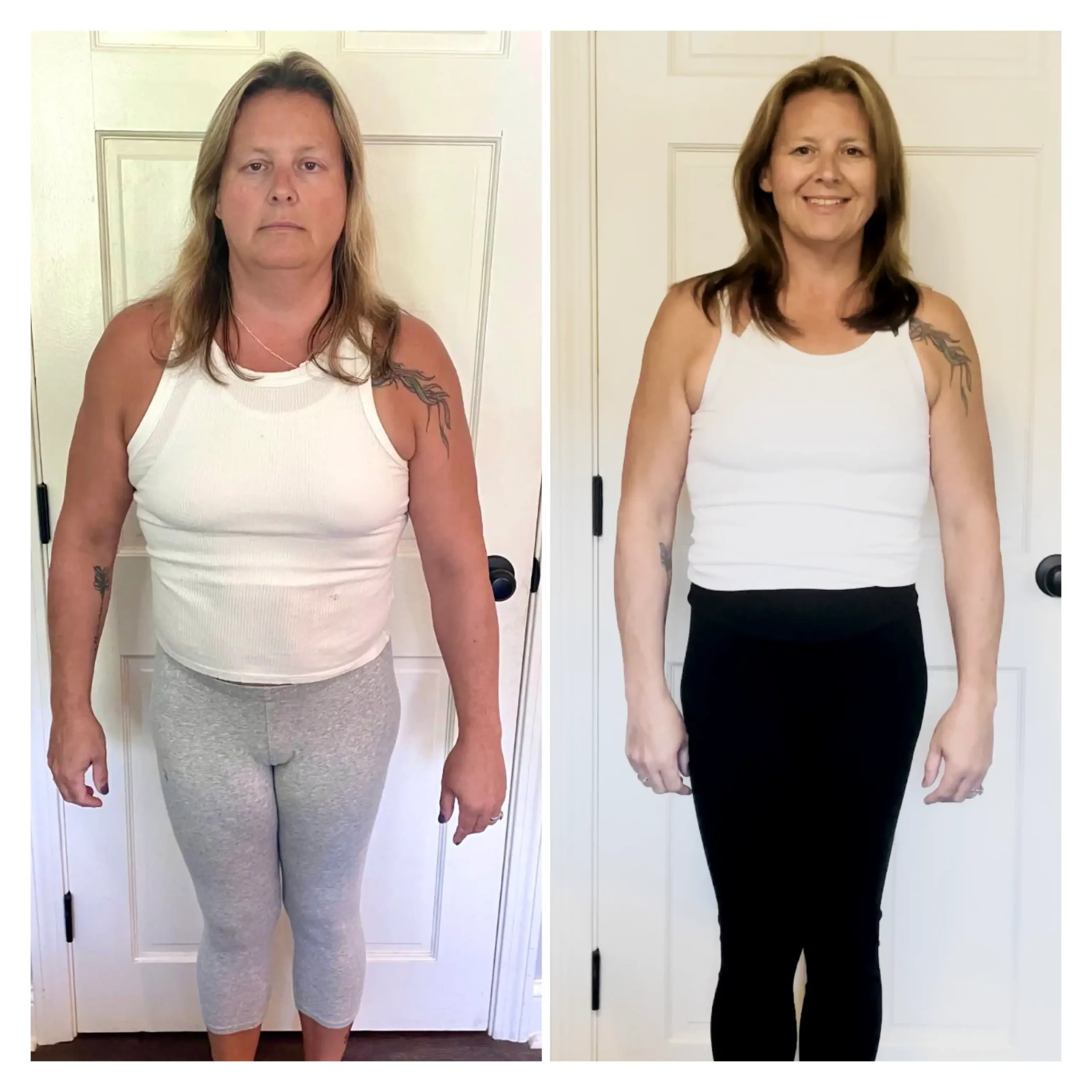 Jennifer is a self-proclaimed expert in fad diets—in her quest for health and weight loss she has tried them all. When Jennifer commits to something, she is all in and is used to seeing results from her hard work. However, she started to struggle with maintaining these diets and sustaining her weight loss, even with additional exercise. Our goal with Jennifer was to show her that balance would get her to her goals faster than the extreme plan would and create a sustainable plan for her that would work well beyond graduating the program.
Jenn was surprised that in just a week she was not only losing weight while eating an unlimited amount of food, but she also started to feel better. When we first met with her, she was suffering from high blood pressure, weekly headaches, fatigue, and anxiety, but what was most apparent was that she just wasn't happy in her skin. She was ready for a big change, and we were excited to give her the tools to make that happen.
During Jennifer's 90 days on the program, she was able to identify foods that worked in her favor and filter out foods that were preventing her from losing weight. She mastered the art of label-reading and balancing diet and exercise in a way that gave her the results she wanted. She also learned that fueling her body with more food was actually the key to having more energy and less pain!
Jennifer lost a total of 29 pounds during her journey, and she gained invaluable knowledge that she hadn't been able to figure out on her own. She no longer has headaches, she was able to stop taking her blood pressure medication, her anxiety dramatically decreased, her mobility improved, and her skin is glowing!
We want all our clients to leave with a newfound sense of hope and confidence that they have the tools they need to reach their goals beyond the program. Jennifer is now ready for whatever life throws her way. When we asked her what she wanted to share, she said she really enjoyed not feeling deprived, and that the program helped her see a long-term, manageable plan, and that she loves how good she feels in her skin! This program was exactly what she needed.
Motivated?! How can you not be?! Want to have a free 10-minute phone call with Dr. Dennis, and learn more about the Ciccone Wellness' Weight Loss Program? Sign up here.
The testimonials provided on our website and promotional materials for our weight loss program are submitted voluntarily by individuals who have participated in our program. These testimonials are unpaid and are reflective of their personal experiences and achievements.