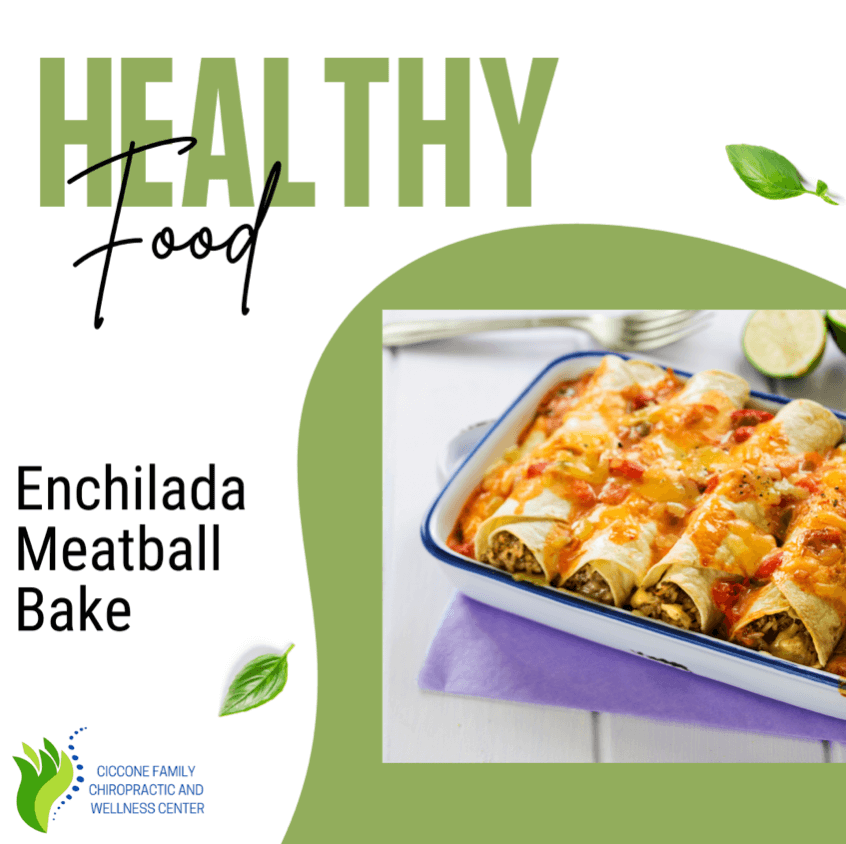 You probably have figured out that we LOVE our food! But we also know there is a balance between delicious and healthy and this recipe hits that balance perfectly!
This recipe is so good! You can omit half of the cheese and substitute the beef and pork for chicken or turkey for a lower fat version. We served this with some sauteed veggie and it was a hit.
This Enchilada Meatball Bake encompasses everything you know and love about enchiladas. These enchilada meatballs are made with pork and beef, baked to perfection in an enchilada sauce and smothered with cheese.
Before making your meatballs, you can place the meatball mixture in the fridge for 1 hour to up to a day. This will help the meatballs hold their shape while cooking. Since I baked these, I wasn't afraid of them losing shape, but if you choose to fry them instead, you might want to refrigerate the meat first for about an hour.
Alternatively you can fry these meatballs in a large skillet until brown all over. Do not remove them from the skillet, simply pour the sauce over them then top with cheese, then place in the oven and bake for 20 minutes as specified. This will turn this recipe into a one pot dish.
There are multiple ways of serving these meatballs. You can serve them as they are as an appetizer. You can make tacos with them and top them with your favorite taco toppings. Serve them over rice, or make enchiladas with them.
In an airtight container these meatballs will keep for up to 3 – 4 days in the fridge. To freeze, just spread the cooked meatballs separately on a baking sheet and place in the freezer till they're just frozen. Remove them and place in a freezer bag or other airtight container and place back in the freezer for up to 3 months.
When ready to eat allow these meatballs to thaw overnight in the fridge and pop them in your rolls and follow the instructions above to finish the dish.
Nutritional information assumes about 5 meatballs and sauce per serving, no mashed potatoes.
Please keep in mind that nutritional information is a rough estimate and can vary greatly based on products used.
1. Preheat your oven to 400 F degrees. Line a baking sheet with parchment paper; set aside.
2. In a large bowl add all the meatball ingredients and mix well using your clean hands. Shape the meat mixture into balls around the size of a golf ball. You should get around 30 meatballs.
3. Place the meatballs onto the prepared baking sheet and bake for 30 minutes until golden brown.
4. In a large skillet or a casserole dish, pour the enchilada sauce over the entire bottom. Sprinkle with about half of the cheese. Place the meatballs over the sauce then top with the remaining cheese.
5. Bake the casserole for another 20 minutes until the cheese melts and starts to brown on top.
6. Sprinkle with the optional toppings, if preferred.